With the help of easy.jobs, you can take advantage of remote hiring by setting up remote interviews. This way, you can hire the right people for the right job vacancies in your organization in a faster, and more efficient way. 
How To Configure Remote Interviews In easy.jobs #
To get started, you need to update your recruitment pipeline by adding a stage for remote interviews. Follow these steps to add a new 'Remote Interview' stage in your Job Pipeline.
Step 1: Update Pipeline For Remote Interviews #
Log in to your easy.jobs account and click on Jobs from the left sidebar. After that, you need to click on the Pipeline button of the job as shown below to update your hiring stages.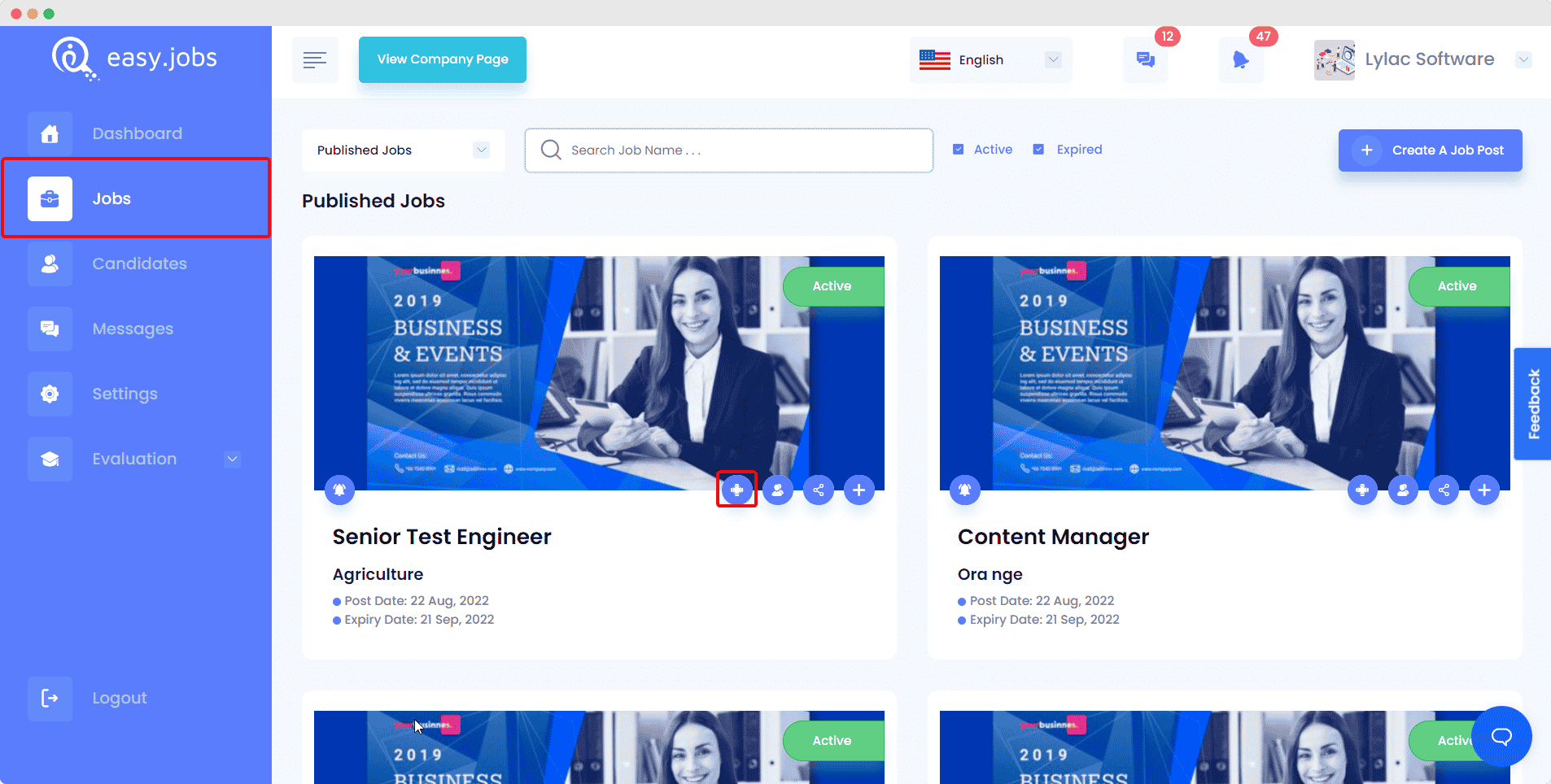 Step 2: Add Remote Interview To Your Recruitment Pipeline #
This will redirect you to the Jobs page in your easy.jobs Dashboard. Here you can see your recruitment pipeline and edit it to add 'Remote Interview' by clicking on the blue Edit Pipeline button.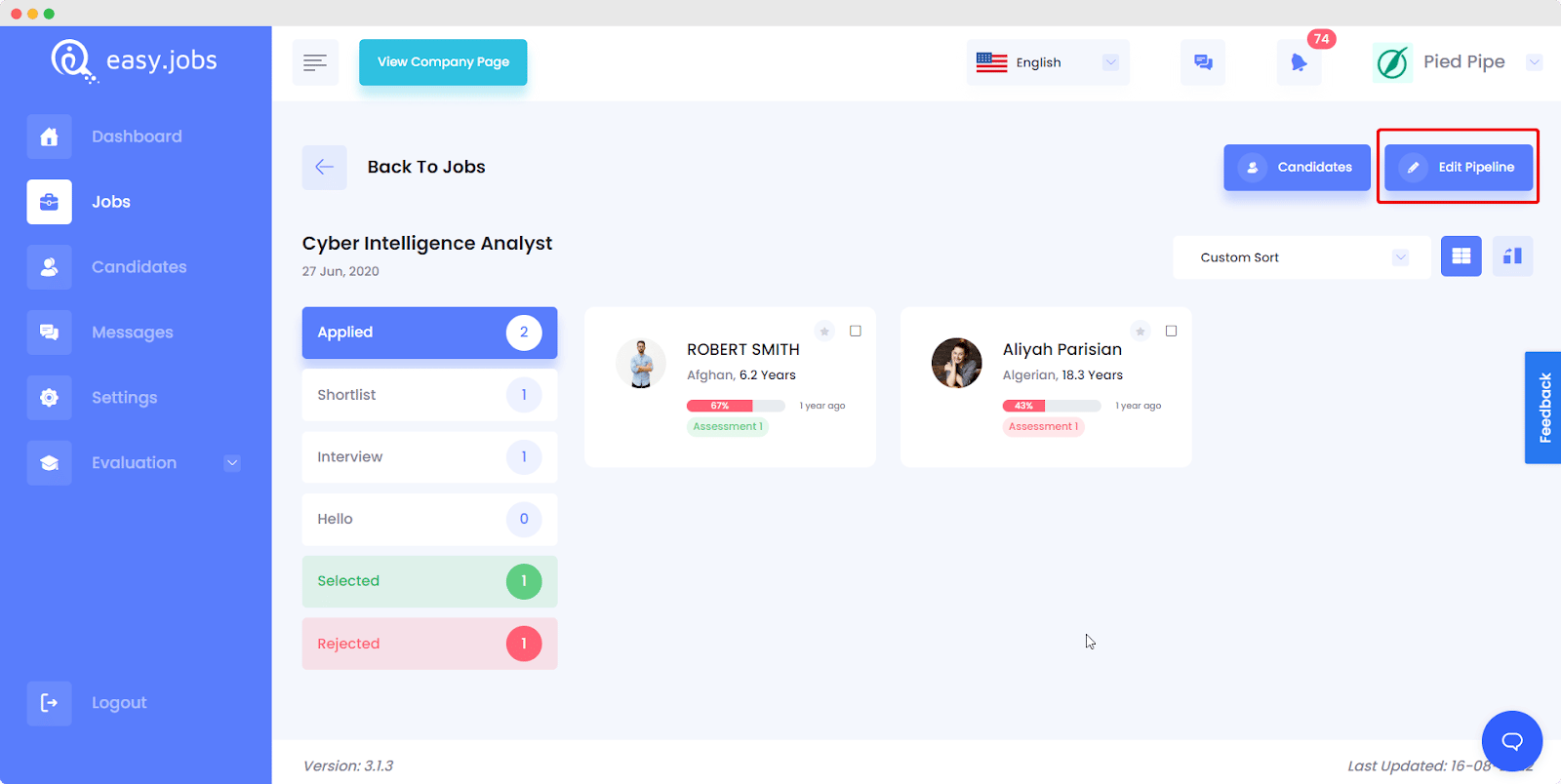 This will open a new pop-up window. Simply check the 'Remote Interview' box to add this stage to your Job Pipeline. Make sure to save your changes.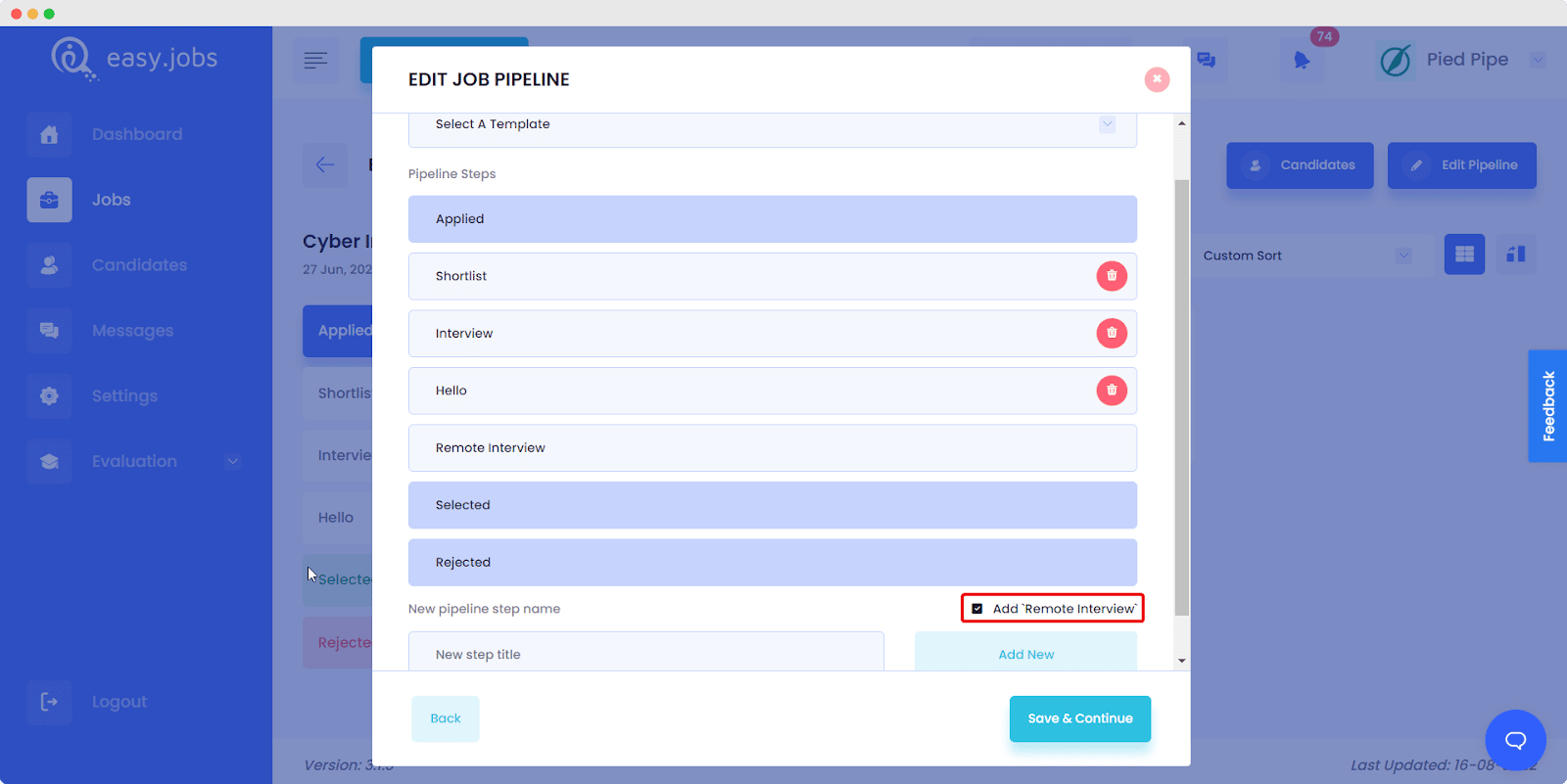 You should be able to see a new stage called Remote Interview appear in your pipeline when you go back to Jobs page from your dashboard.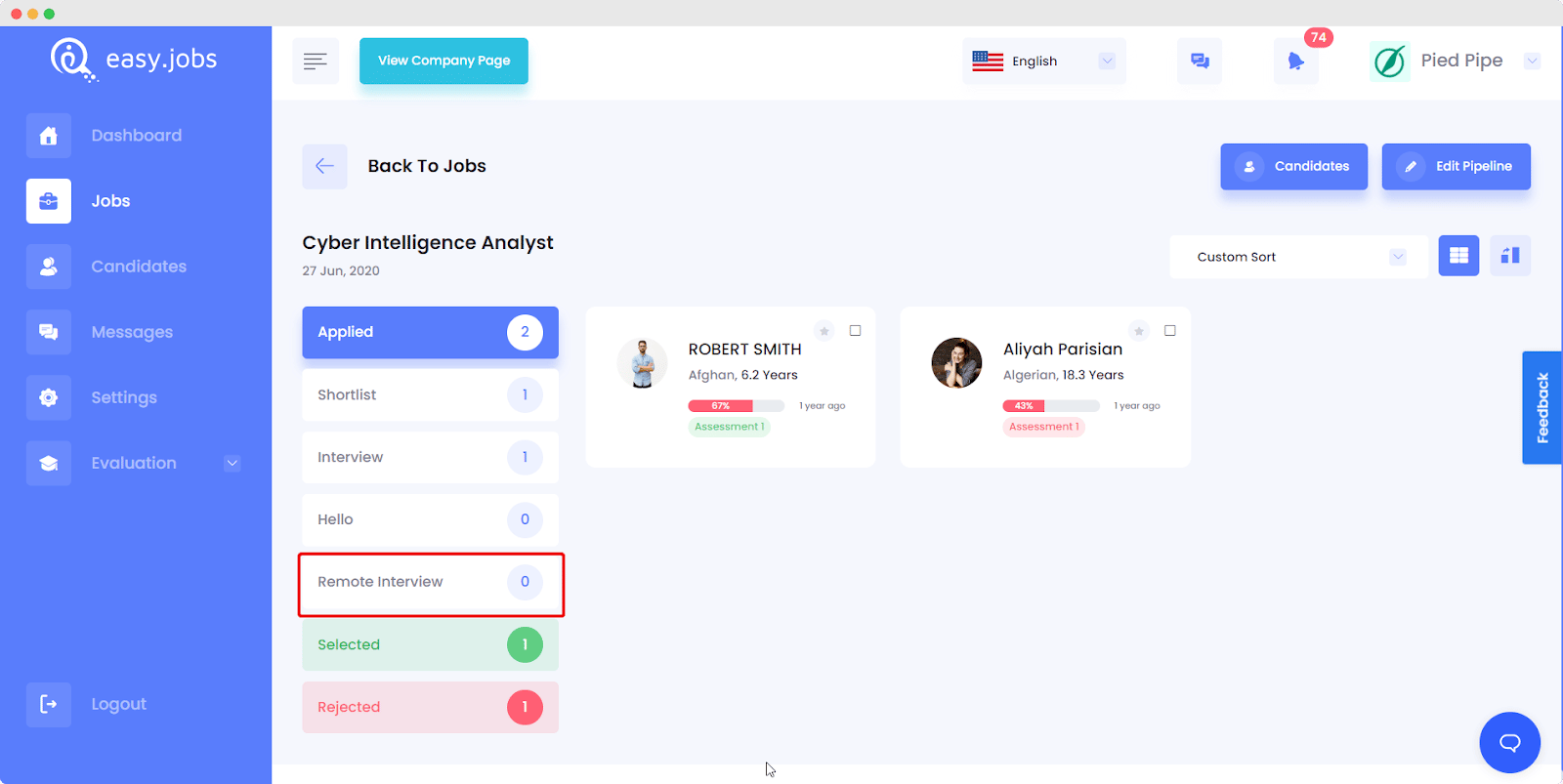 How To Set Up Remote Interview While Creating A New Job Post #
In easy.jobs, you can enable remote interview while creating a new job post as well.  Follow the below steps to enable remote interview while creating a new job post:
From your easy.jobs dashboard, go to Jobs –> Create A Job Post. there you will find the toggle bar to Allow Remote interview.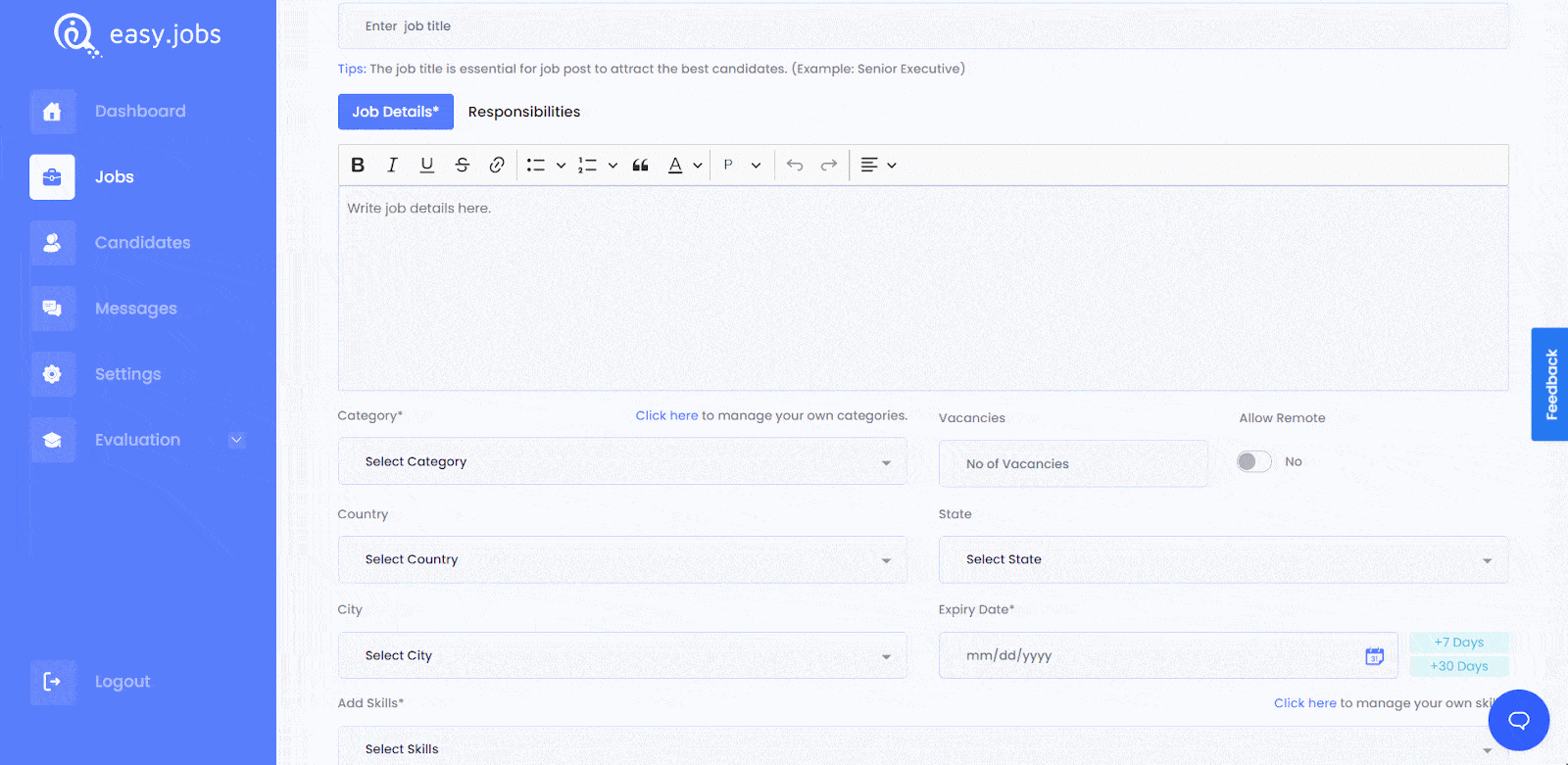 Toggle the button to enable remote interview and it will be added to the pipeline as well.
Setting Up Remote Interviews For Candidates #
To start scheduling remote interviews for shortlisted candidates either through Google Meet or Zoom, follow the steps below.
Step 1: Move Candidates Along Pipeline For Remote Interviews #
You can choose which candidates you want to schedule remote interviews with by dragging and dropping shortlisted candidates to the Remote Interview stage in your pipeline. A pop-up will appear where you will be able to choose additional details for the remote interview.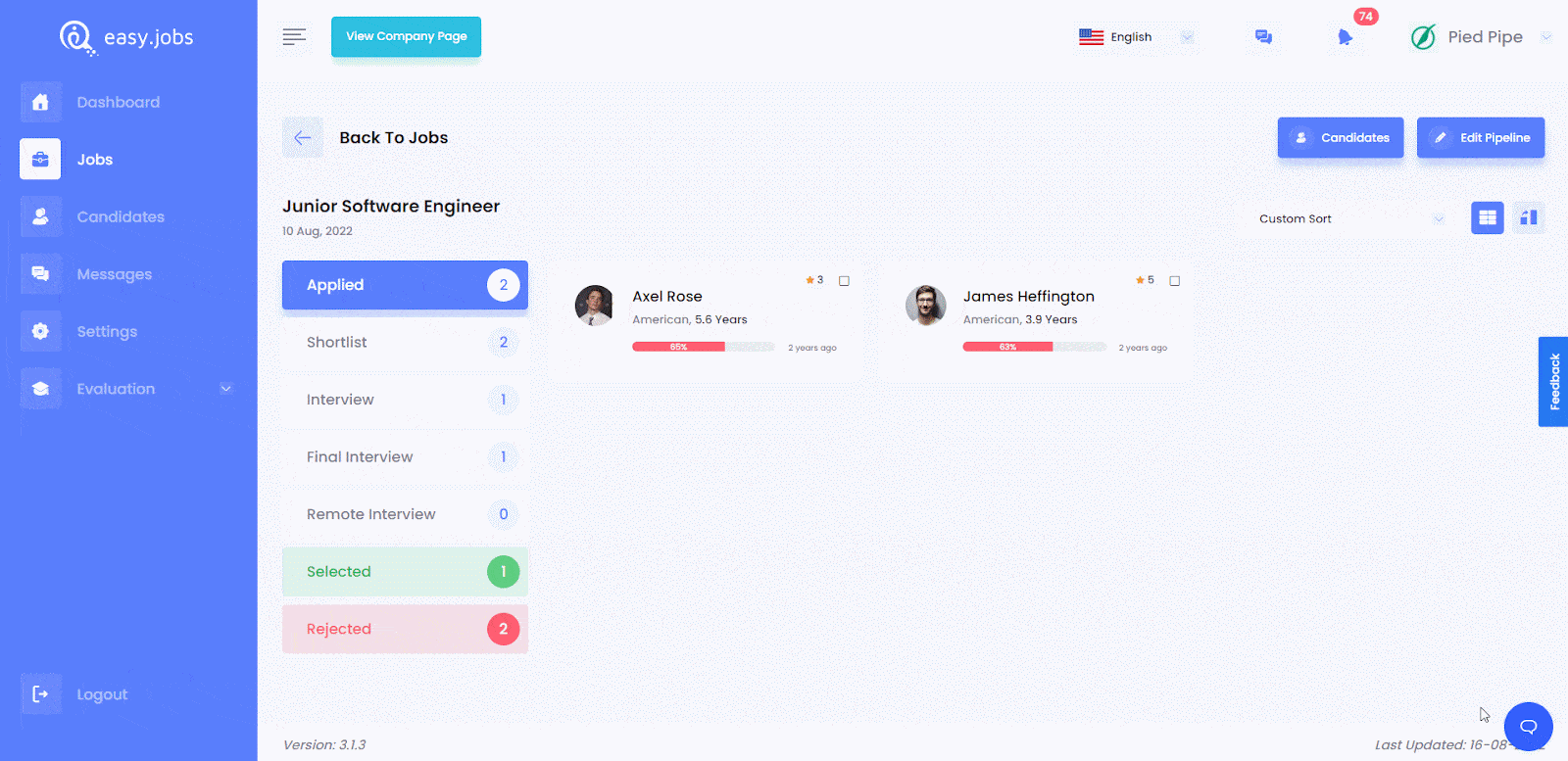 Step 2: Set Up Platforms For Remote Interviews #
After filling out all the necessary details for your remote interview, such as the duration of the interview, date and time, and location, you need to choose how you are going to conduct your interview. You can choose to configure Google Meet with easy.jobs to conduct your remote interviews.
Note*: Follow the step-by-step guide to configure the Zoom app to conduct remote interview on Zoom meetings.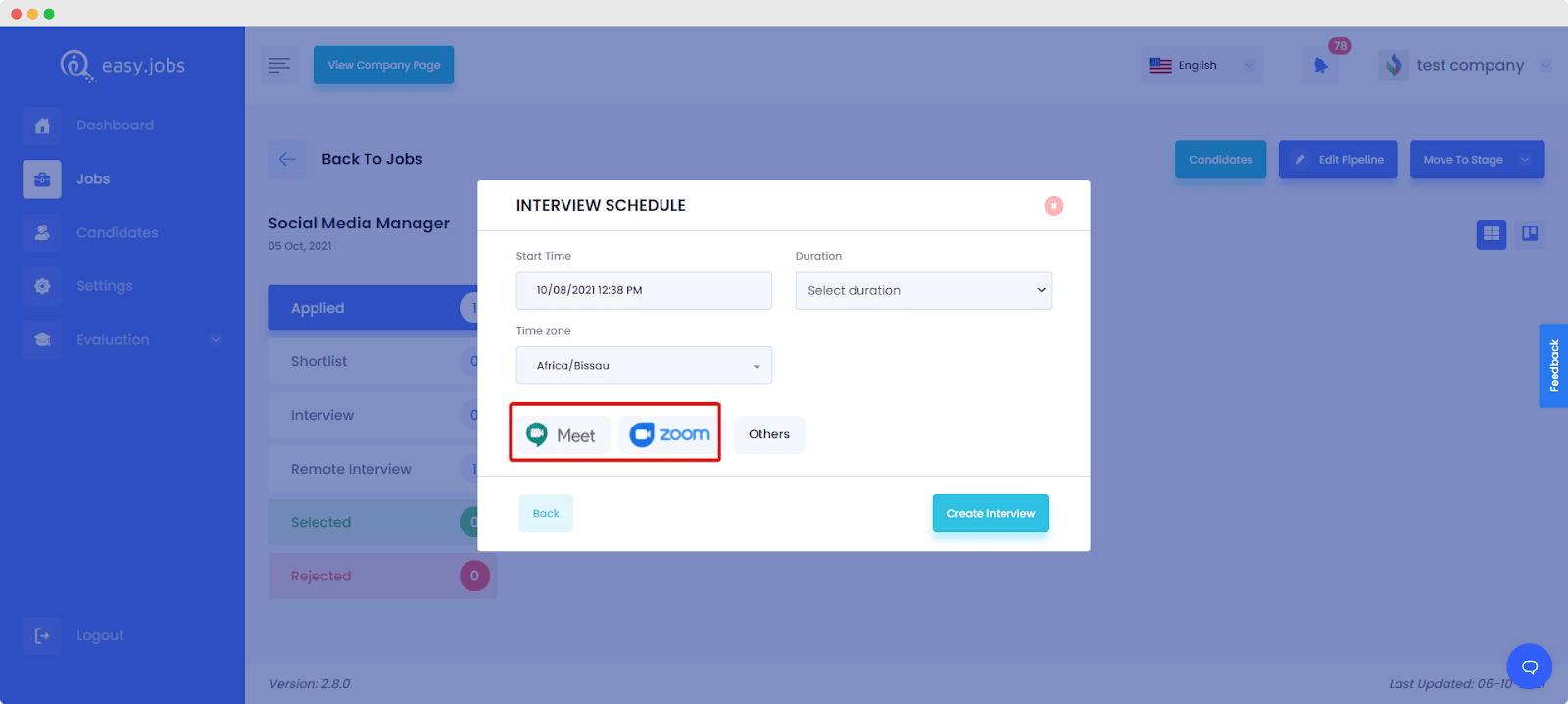 Step 3: Connect easy.jobs With Google Calendar #
To conduct a remote interview in Google meet, select it as your platform and you will be directed to log in to get access to your Google account. Continue to get the access successfully. Click on the 'Create Interview' button Now. Go to your Google Calendar account and click on 'Interview Event'. Thus, Google Calendar will be connected with easy.jobs for remote interview.
Step 4: Set Up Remote Interviews On Other Communication Media #
If you want to set remote interviews using other communications channels like phone calls, Skype, Hyrell, etc. then you can do that easily in easy.jobs. To mention alternative communication media for remoter interviews, click on the 'Others' option. Now provide the information or URLs there and then click on the 'Create Interview' button.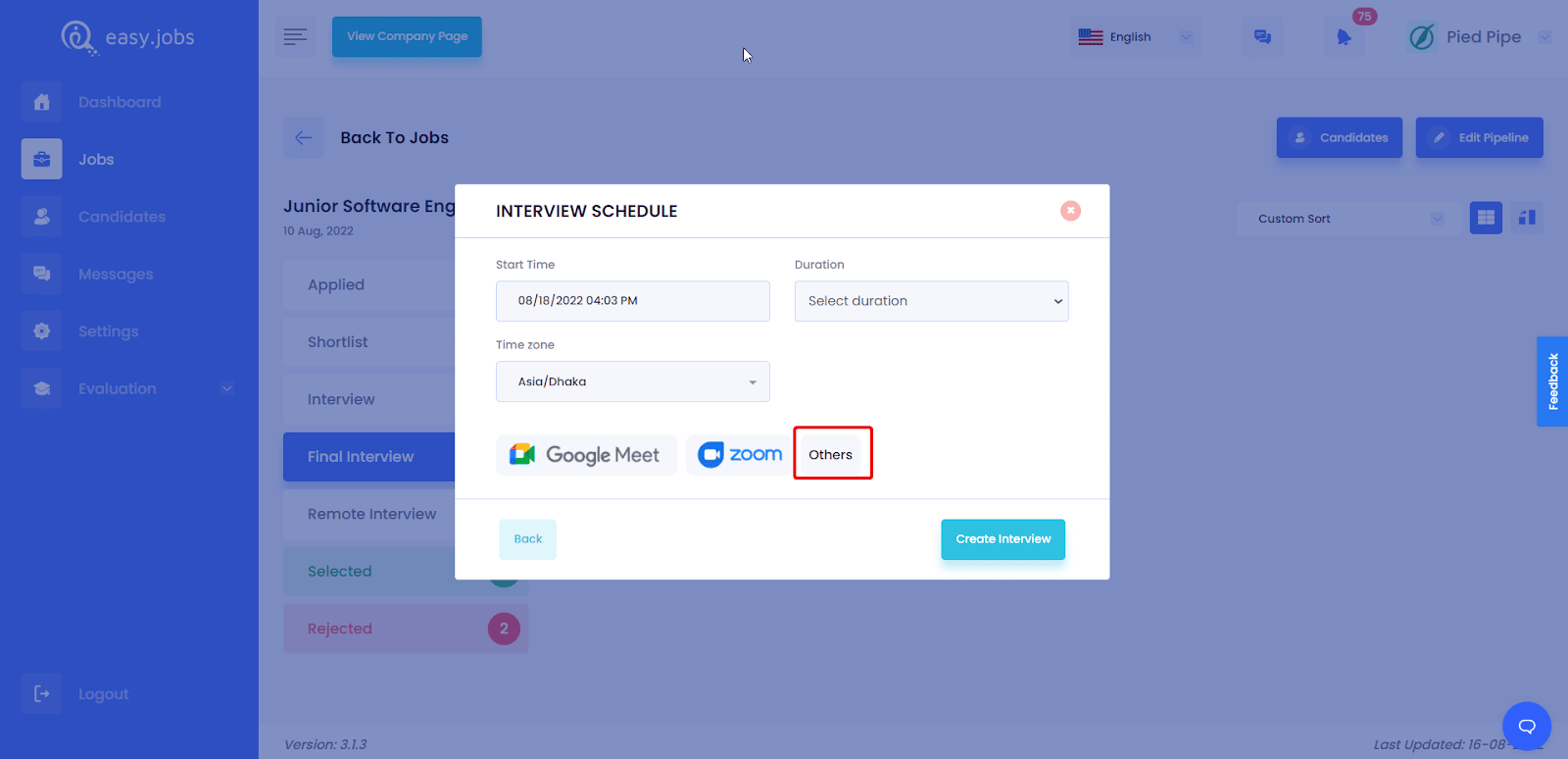 By following these basic steps, you can easily set up remote interviews in easy.jobs in a matter of minutes.
If you face any difficulties, feel free to contact us for further assistance, or