With the help of easy.jobs, you can take advantage of remote hiring by setting up entrevistas remotas. Dessa forma, você pode contratar as pessoas certas para as vagas de emprego certas em sua organização, de maneira mais rápida e eficiente. 
How To Configure Remote Interviews In easy.jobs #
Para começar, você precisa atualizar seu pipeline de recrutamento adicionando um estágio para entrevistas remotas. Siga estas etapas para adicionar um novo 'Entrevista Remota' estágio no seu Job Pipeline.
Etapa 1: atualizar o pipeline para entrevistas remotas #
Faça login no seu conta easy.jobs e clique em Empregos da barra lateral esquerda. Depois disso, você precisa clicar no Pipeline botão do trabalho, como mostrado abaixo, para atualizar suas etapas de contratação.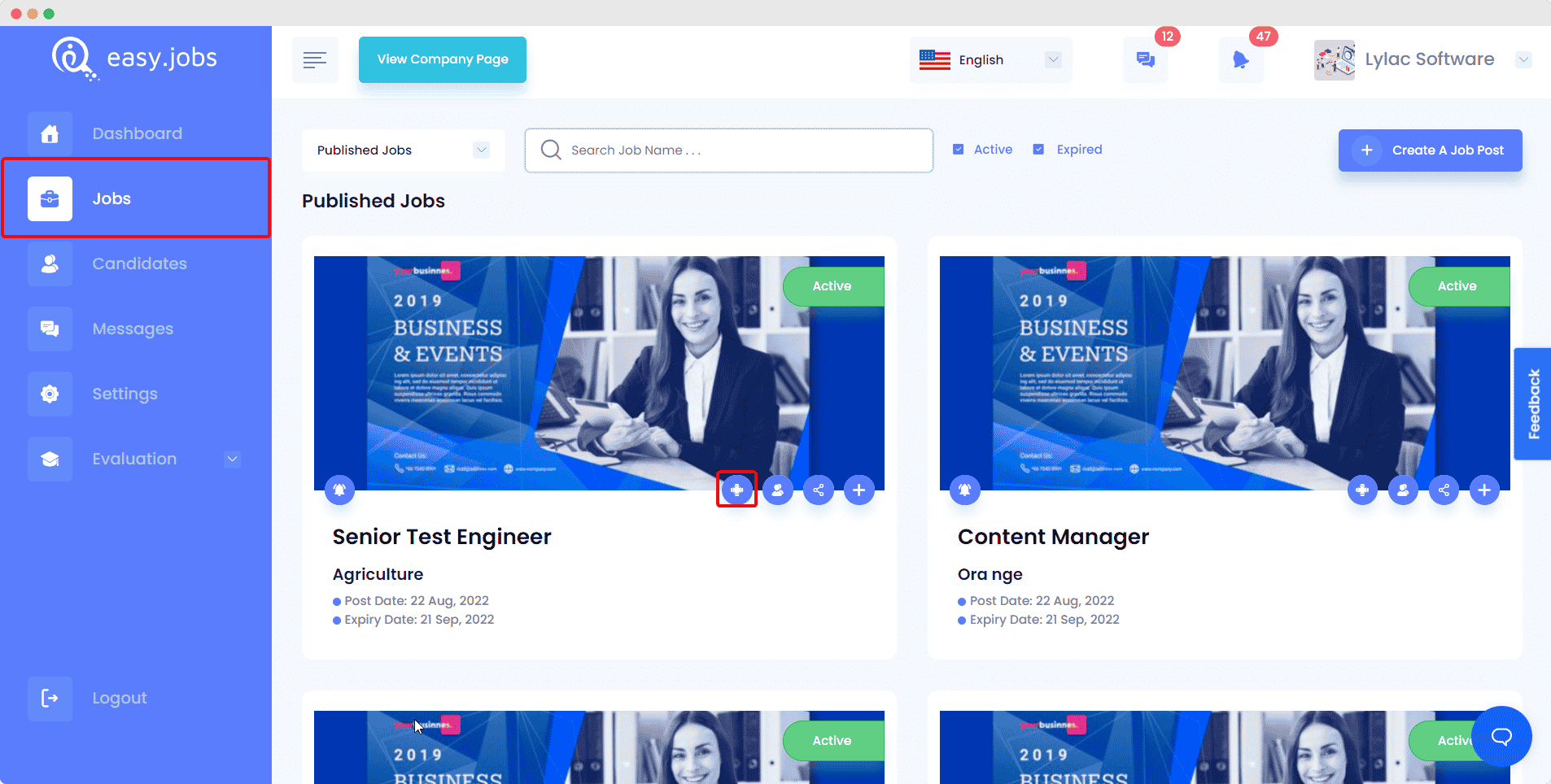 Etapa 2: adicione uma entrevista remota ao seu pipeline de recrutamento #
Isso o redirecionará para o Empregos page in your easy.jobs Dashboard. Here you can see your recruitment pipeline and edit it to add 'Remote Interview' by clicking on the blue Editar pipeline botão.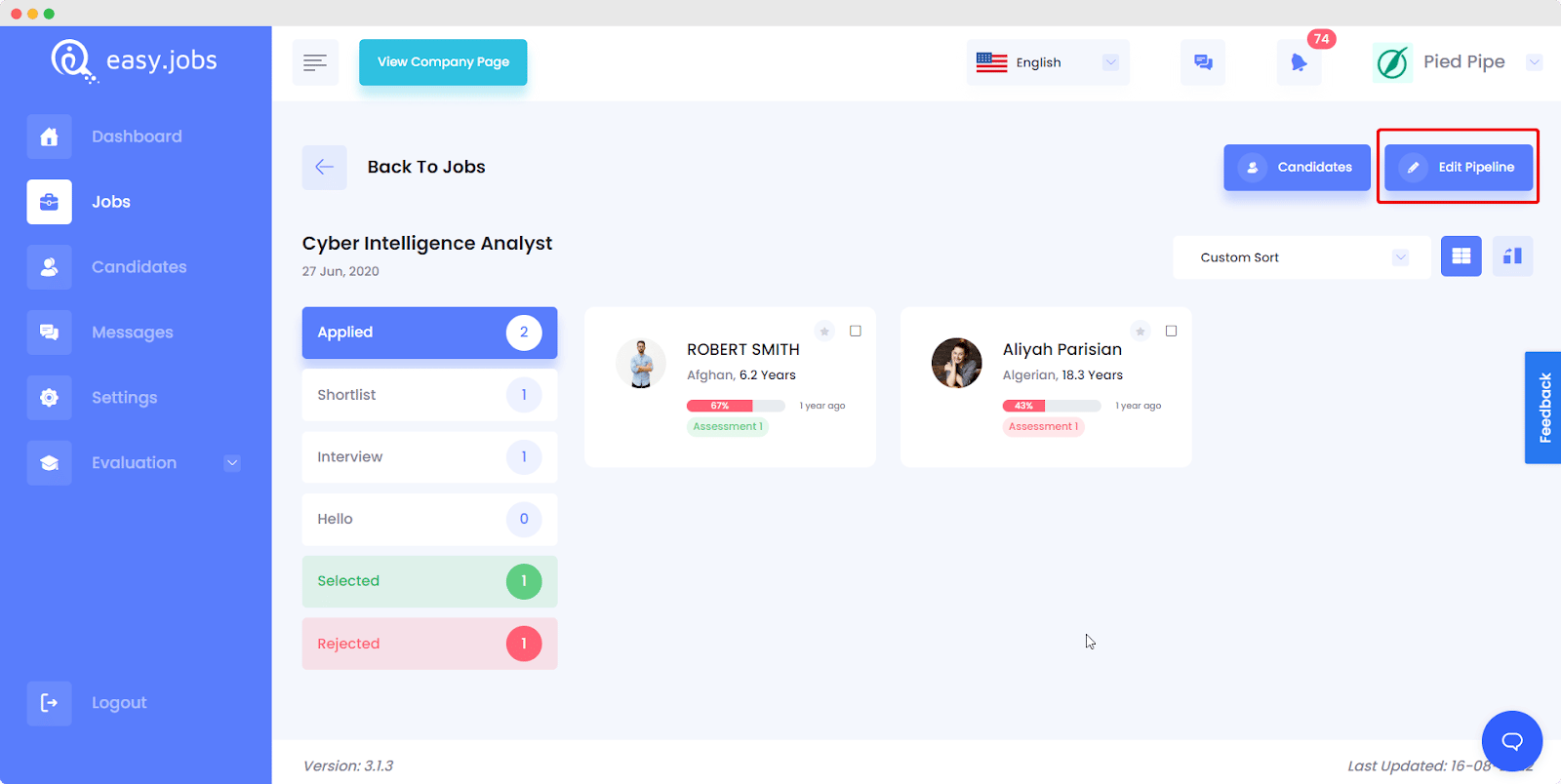 Isso abrirá uma nova janela pop-up. Basta verificar o 'Entrevista Remota' para adicionar este estágio ao seu Job Pipeline. Certifique-se de salvar suas alterações.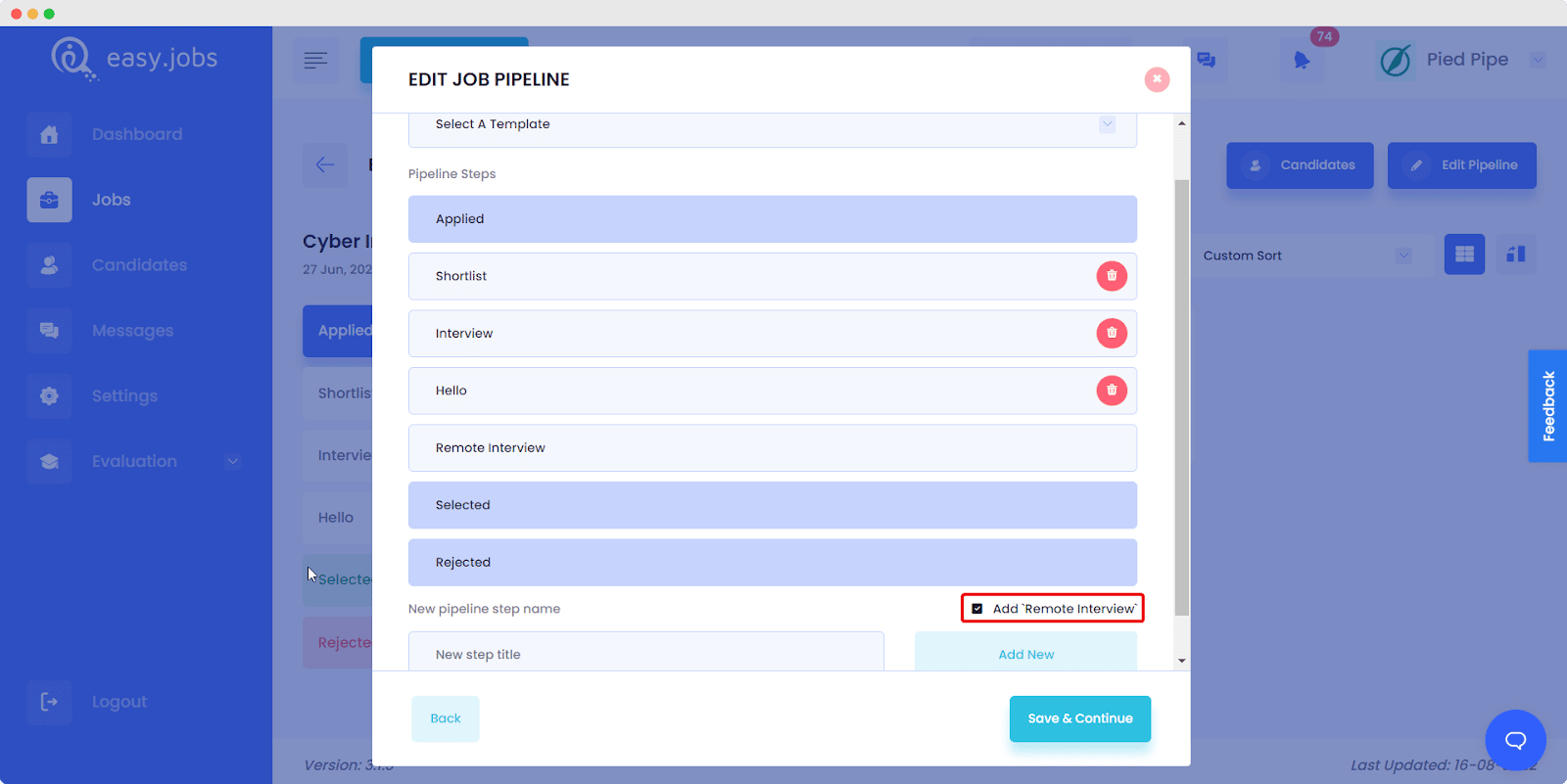 Você poderá ver uma nova etapa chamada Entrevista Remota aparecer no seu pipeline quando você voltar à página Trabalhos no seu painel.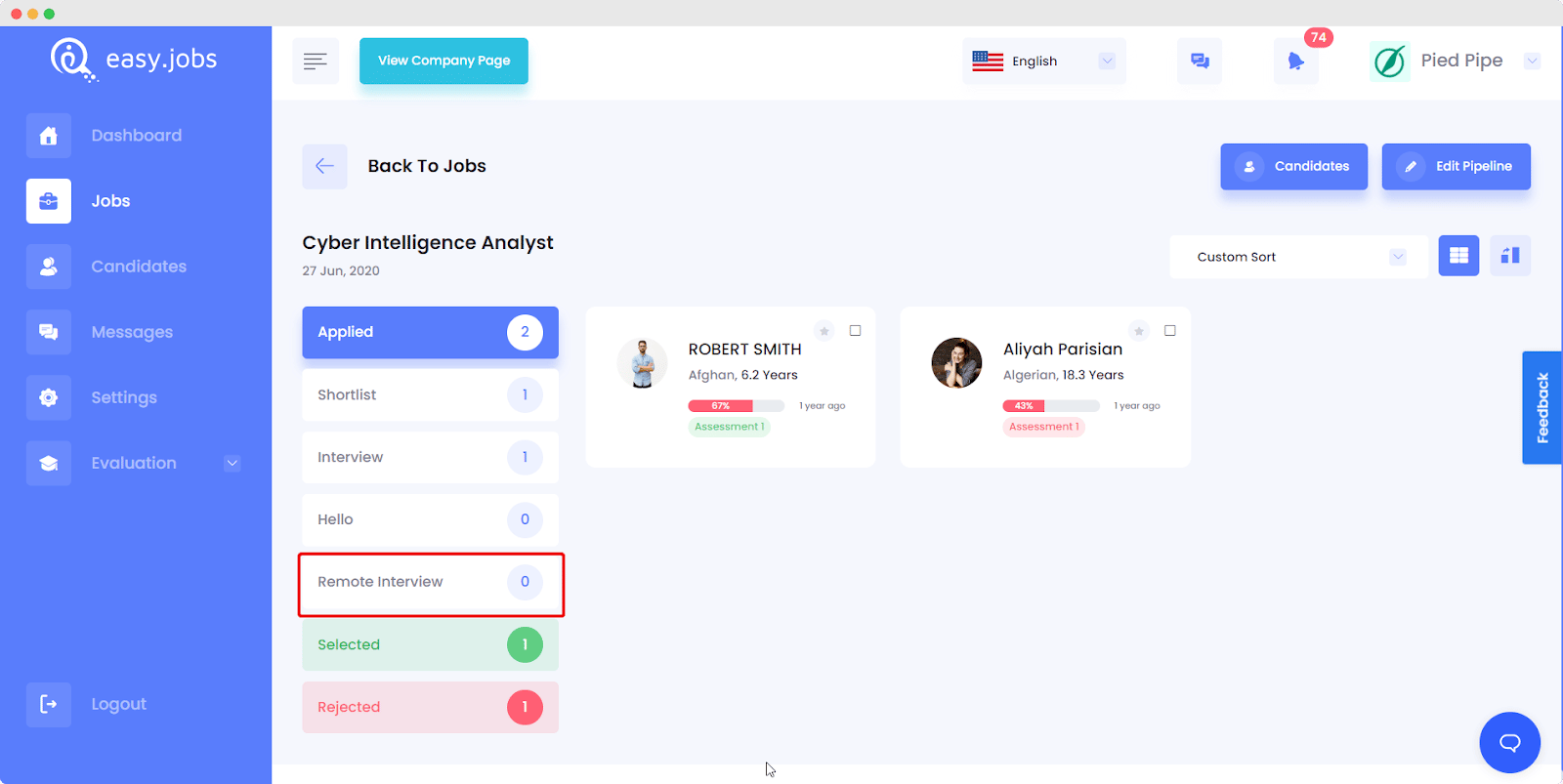 How To Set Up Remote Interview While Creating A New Job Post #
In easy.jobs, you can enable remote interview while creating a new job post as well.  Follow the below steps to enable remote interview while creating a new job post:
From your easy.jobs dashboard, go to Jobs –> Create A Job Post. there you will find the toggle bar to Allow Remote interview.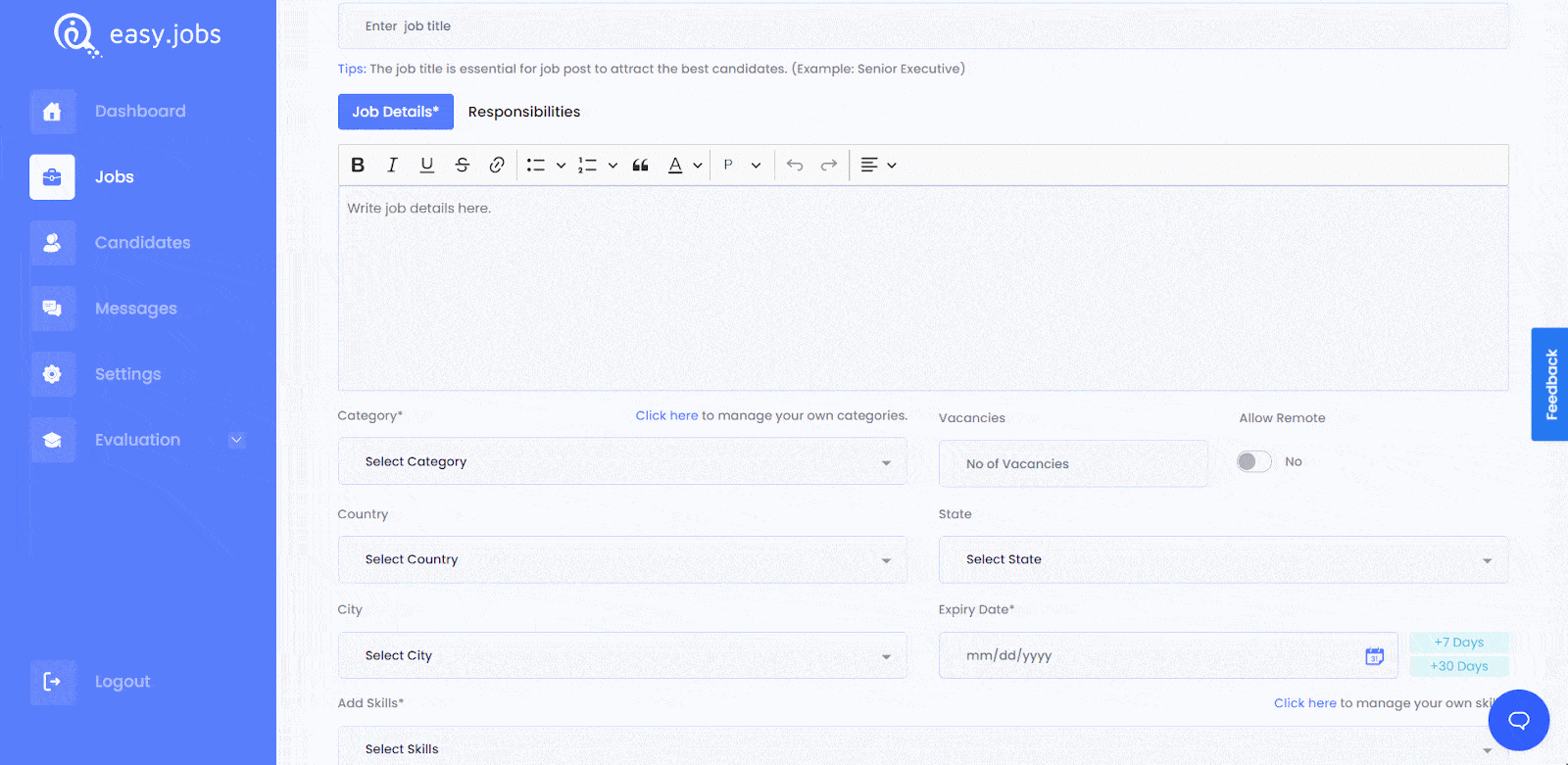 Toggle the button to enable remote interview and it will be added to the pipeline as well.
Configurando entrevistas remotas para candidatos #
Para começar a agendar entrevistas remotas para candidatos pré-selecionados pelo Google Meet ou Zoom, siga as etapas abaixo.
Etapa 1: Mover candidatos ao longo do pipeline para entrevistas remotas #
Você pode escolher com quais candidatos deseja agendar entrevistas remotas arrastando e soltando candidatos pré-selecionados para o estágio Entrevista remota no seu pipeline. Aparecerá um pop-up onde você poderá escolher detalhes adicionais para a entrevista remota.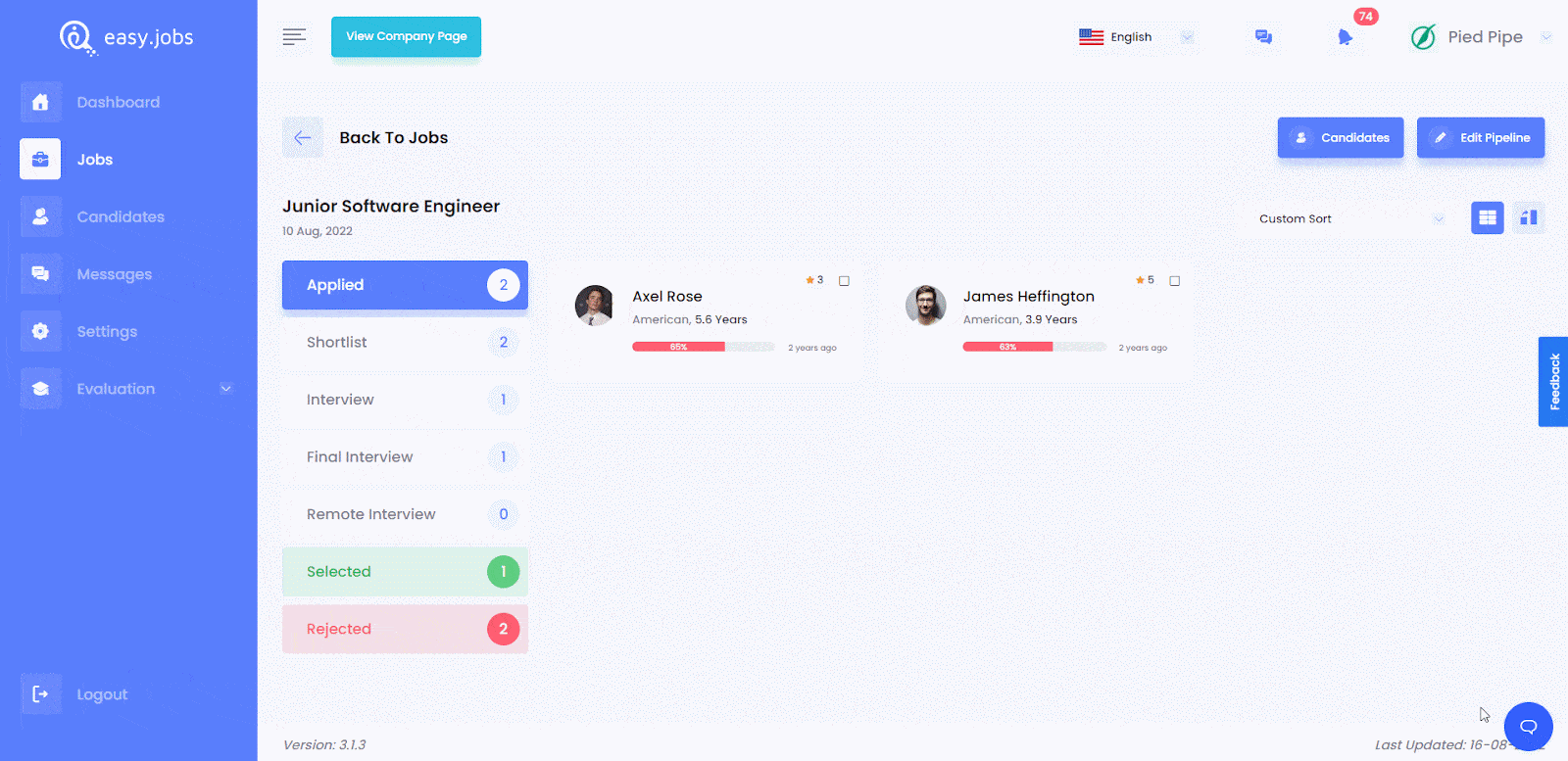 Step 2: Set Up Platforms For Remote Interviews #
Depois de preencher todos os detalhes necessários para a sua entrevista remota, como a duração da entrevista, a data, a hora e o local, você precisa escolher como irá conduzir sua entrevista. Você pode optar por configurar o Google Meet with easy.jobs to conduct your remote interviews.
Note*: Follow the step-by-step guide to configurar o aplicativo Zoom to conduct remote interview on Zoom meetings.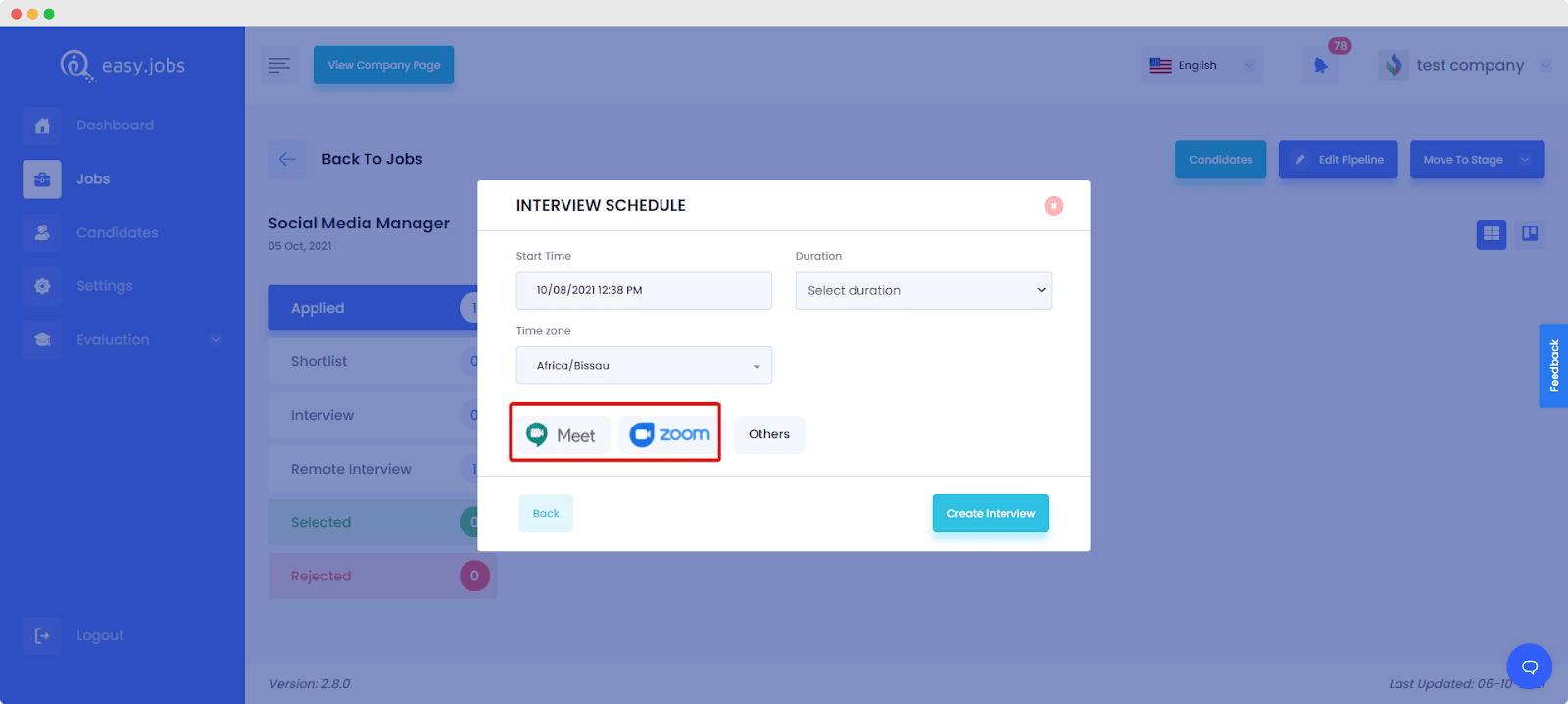 Step 3: Connect easy.jobs With Google Calendar #
To conduct a remote interview in Google meet, select it as your platform and you will be directed to log in to get access to your Google account. Continue to get the access successfully. Click on the 'Create Interview' button Now. Go to your Google Calendar account and click on 'Interview Event'. Thus, Google Calendar will be connected with easy.jobs for remote interview.
Step 4: Set Up Remote Interviews On Other Communication Media #
If you want to set remote interviews using other communications channels like phone calls, Skype, Hyrell, etc. then you can do that easily in easy.jobs. To mention alternative communication media for remoter interviews, click on the 'Others' option. Now provide the information or URLs there and then click on the 'Create Interview' botão.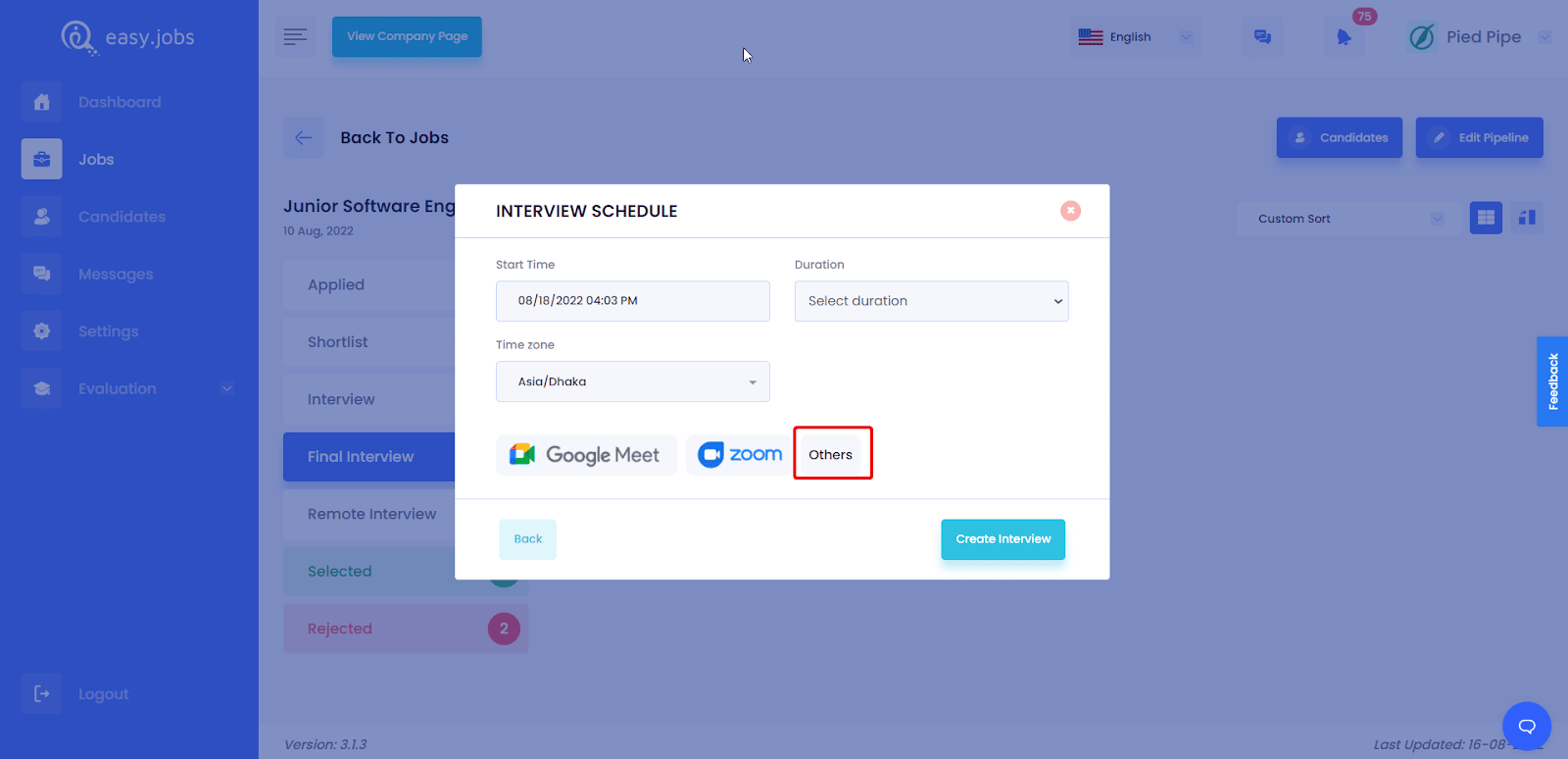 Seguindo estas etapas básicas, você pode configurar facilmente entrevistas remotas no easy.jobs Numa questão de minutos.
Se você tiver alguma dificuldade, sinta-se à vontade para Contate-Nos para obter mais assistência, ou