With the help of easy.jobs, you can take advantage of remote hiring by setting up interviews op afstand. Zo kunt u sneller en efficiënter de juiste mensen voor de juiste vacatures in uw organisatie inhuren. 
How To Configure Remote Interviews In easy.jobs #
Om te beginnen, moet u uw wervingspijplijn bijwerken door een podium toe te voegen voor interviews op afstand. Volg deze stappen om een nieuwe toe te voegen 'Interview op afstand' fase in uw Job Pipeline.
Stap 1: Update pijplijn voor interviews op afstand #
Log in op uw easy.jobs-account en klik op Jobs vanaf de linkerzijbalk. Daarna moet u op de klikken Pijpleiding knop van de baan zoals hieronder getoond om uw aanwervingsfasen bij te werken.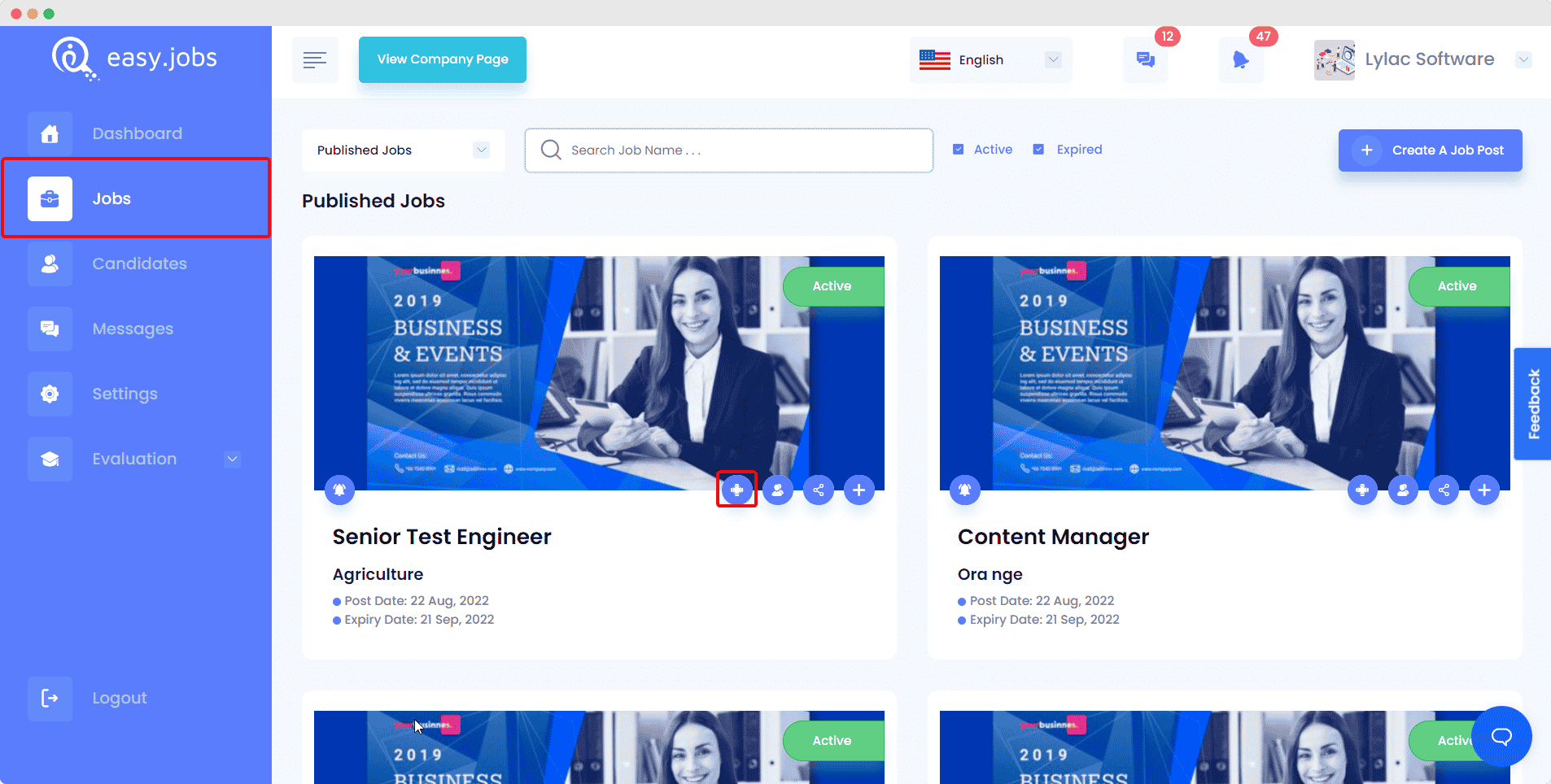 Stap 2: voeg een interview op afstand toe aan uw wervingspijplijn #
Dit zal je doorverwijzen naar de Jobs page in your easy.jobs Dashboard. Here you can see your recruitment pipeline and edit it to add 'Remote Interview' by clicking on the blue Pipeline bewerken knop.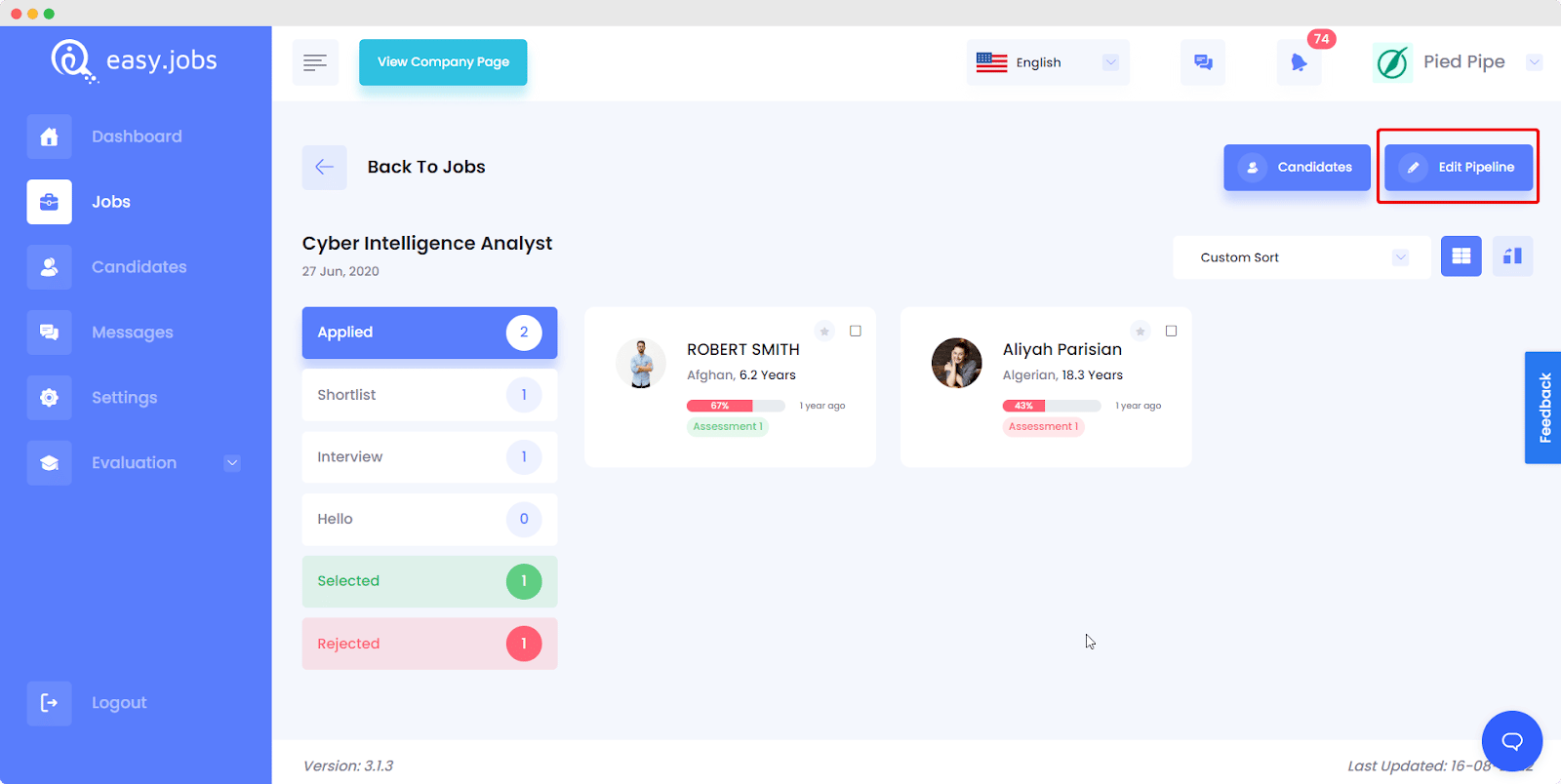 Dit opent een nieuw pop-upvenster. Controleer gewoon de 'Interview op afstand' vak om deze fase toe te voegen aan uw Job Pipeline. Zorg ervoor dat u uw wijzigingen opslaat.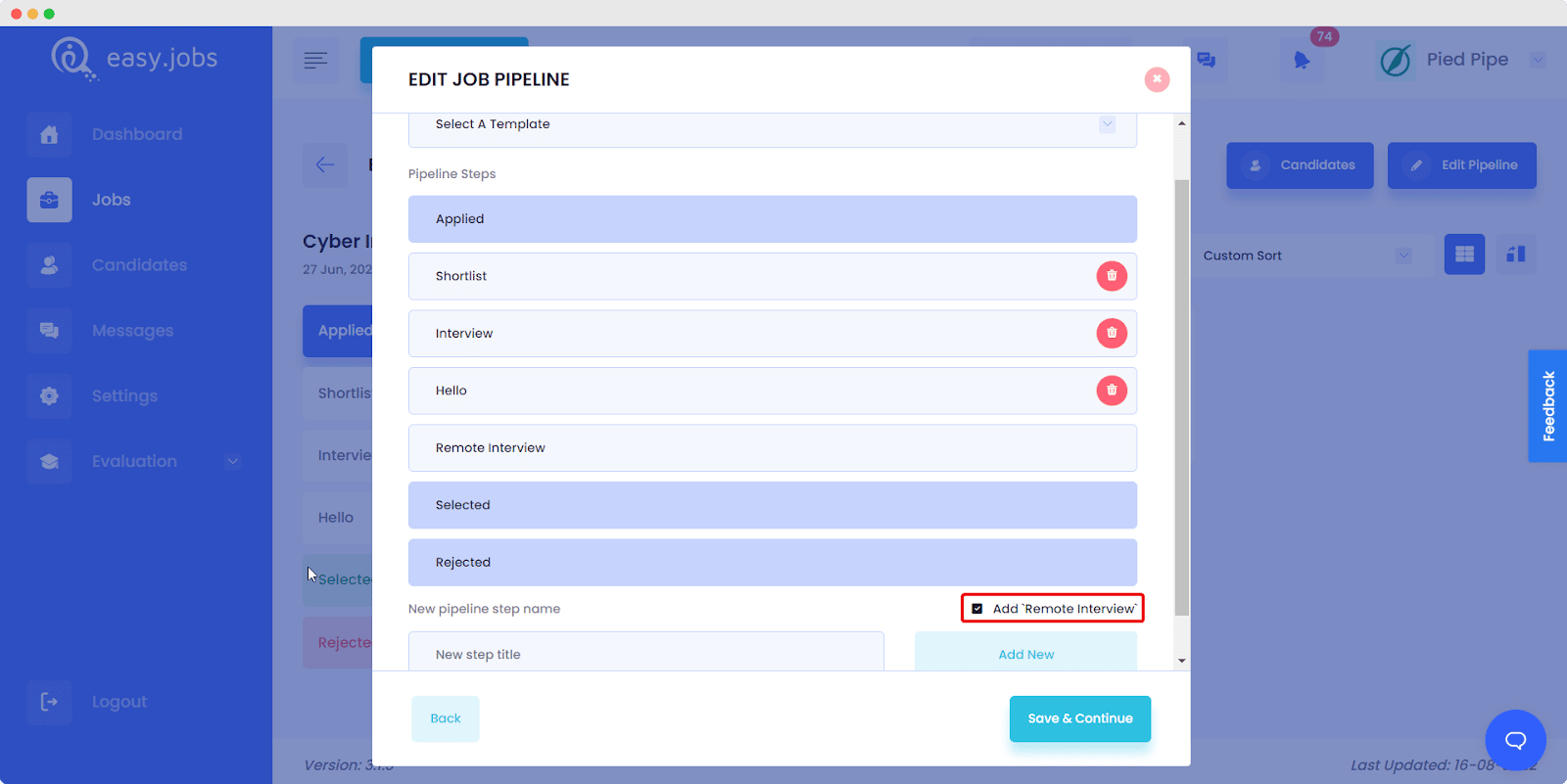 Je zou een nieuwe fase moeten kunnen zien genaamd Interview op afstand verschijnen in uw pijplijn wanneer u vanuit uw dashboard teruggaat naar de pagina Jobs.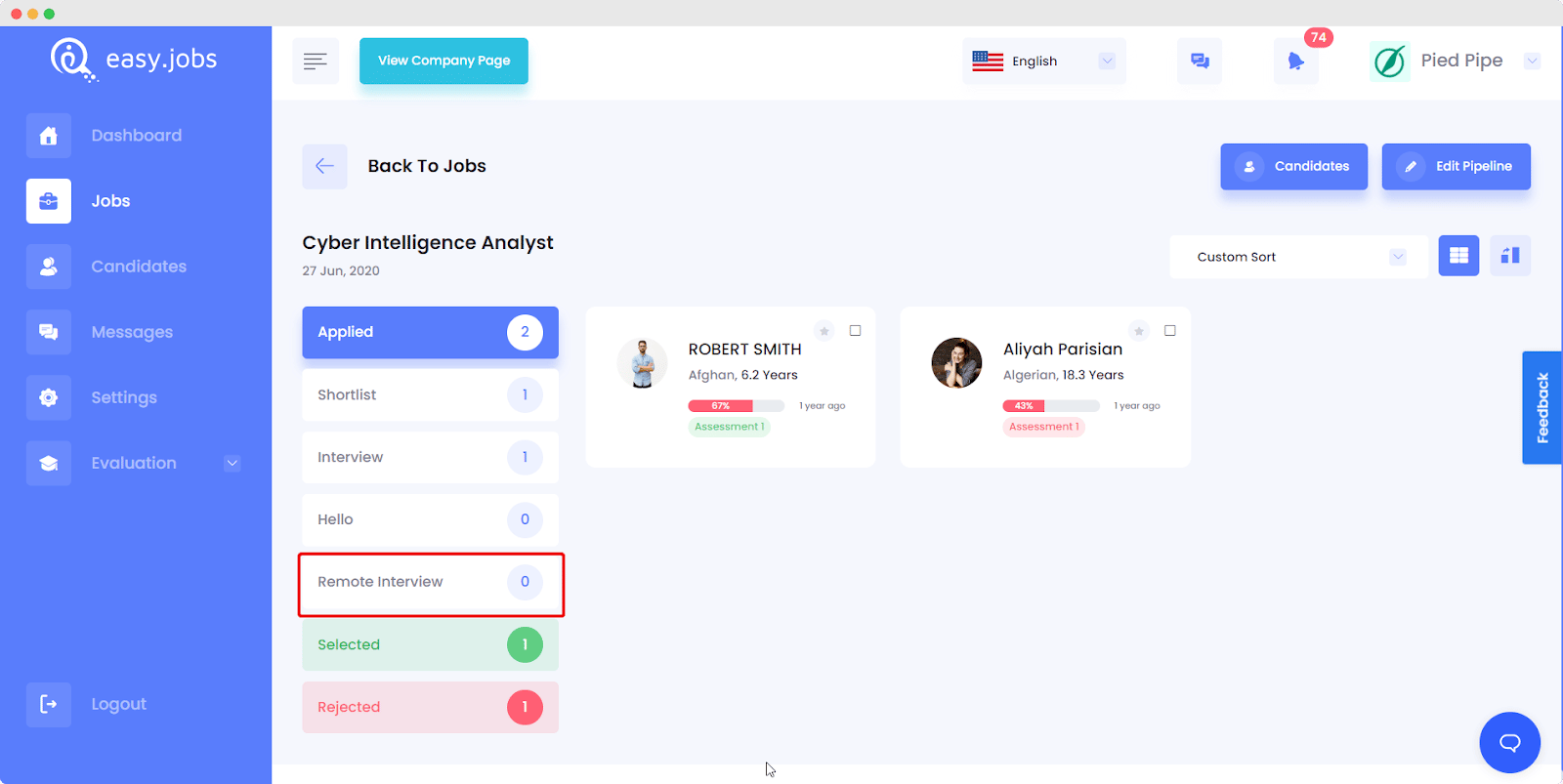 How To Set Up Remote Interview While Creating A New Job Post #
In easy.jobs, you can enable remote interview while creating a new job post as well.  Follow the below steps to enable remote interview while creating a new job post:
From your easy.jobs dashboard, go to Jobs –> Create A Job Post. there you will find the toggle bar to Allow Remote interview.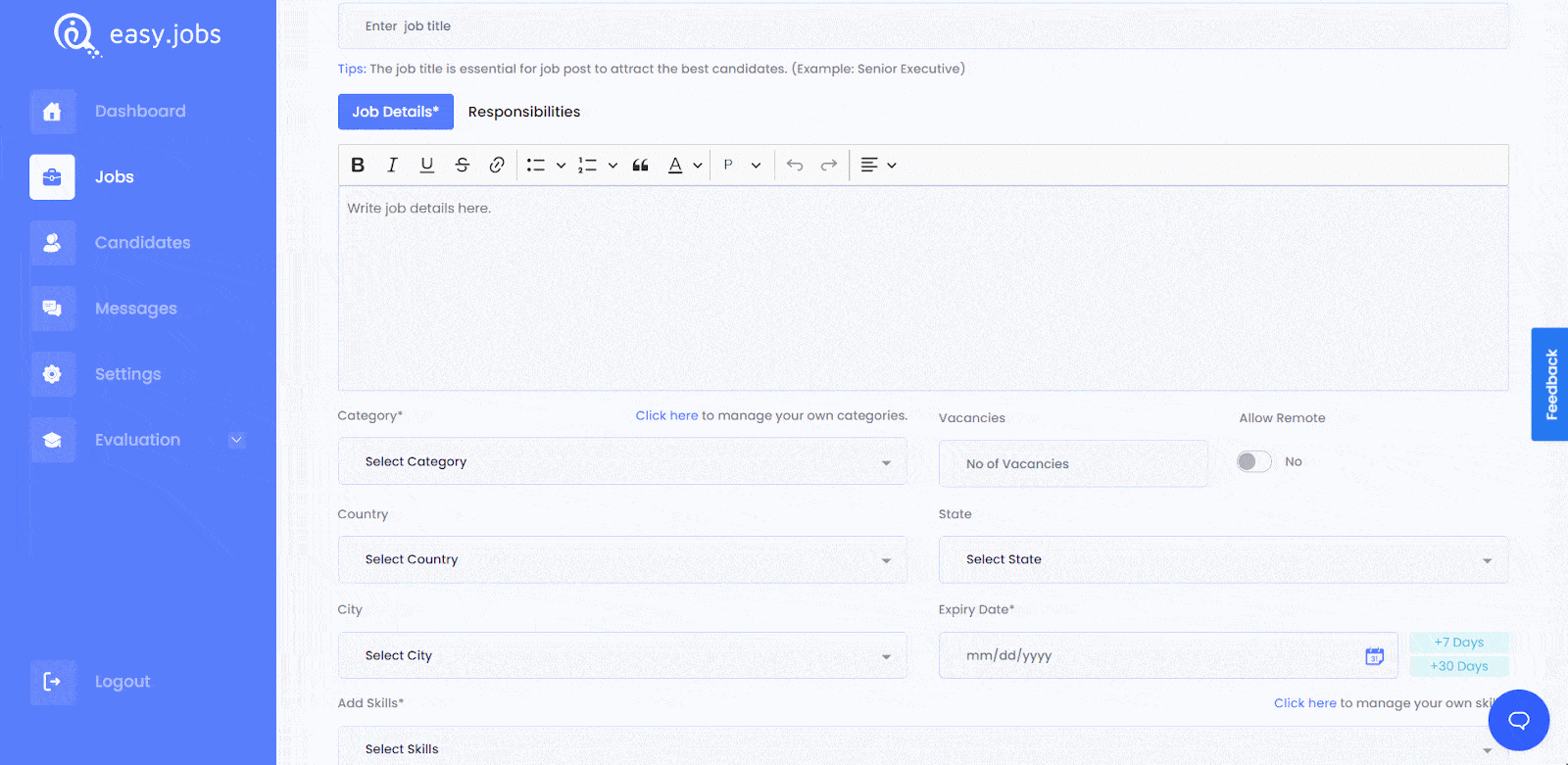 Toggle the button to enable remote interview and it will be added to the pipeline as well.
Opzetten van sollicitatiegesprekken op afstand voor kandidaten #
Volg de onderstaande stappen om te beginnen met het plannen van interviews op afstand voor kandidaten op de shortlist via Google Meet of Zoom.
Stap 1: Verplaats kandidaten langs pijplijn voor interviews op afstand #
U kunt kiezen met welke kandidaten u sollicitatiegesprekken op afstand wilt plannen door kandidaten op de shortlist te slepen en neer te zetten in het stadium Interview op afstand in uw pijplijn. Er verschijnt een pop-up waarin u aanvullende details voor het interview op afstand kunt kiezen.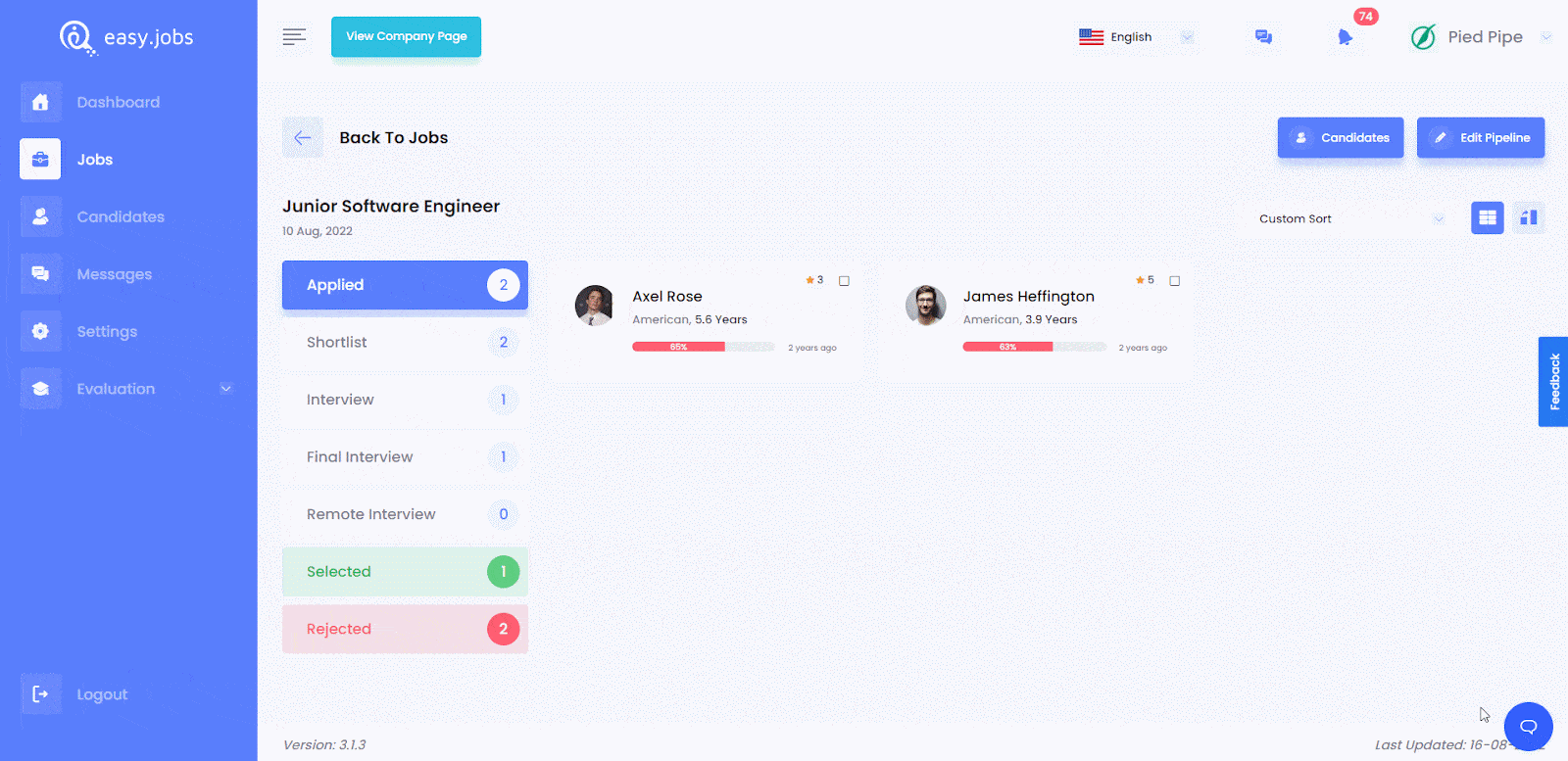 Step 2: Set Up Platforms For Remote Interviews #
Na het invullen van alle noodzakelijke details voor uw interview op afstand, zoals de duur van het interview, datum en tijd en locatie, moet u kiezen hoe u uw interview wilt houden. Je kunt ervoor kiezen configureer Google Meet with easy.jobs to conduct your remote interviews.
Note*: Follow the step-by-step guide to configureer de Zoom app to conduct remote interview on Zoom meetings.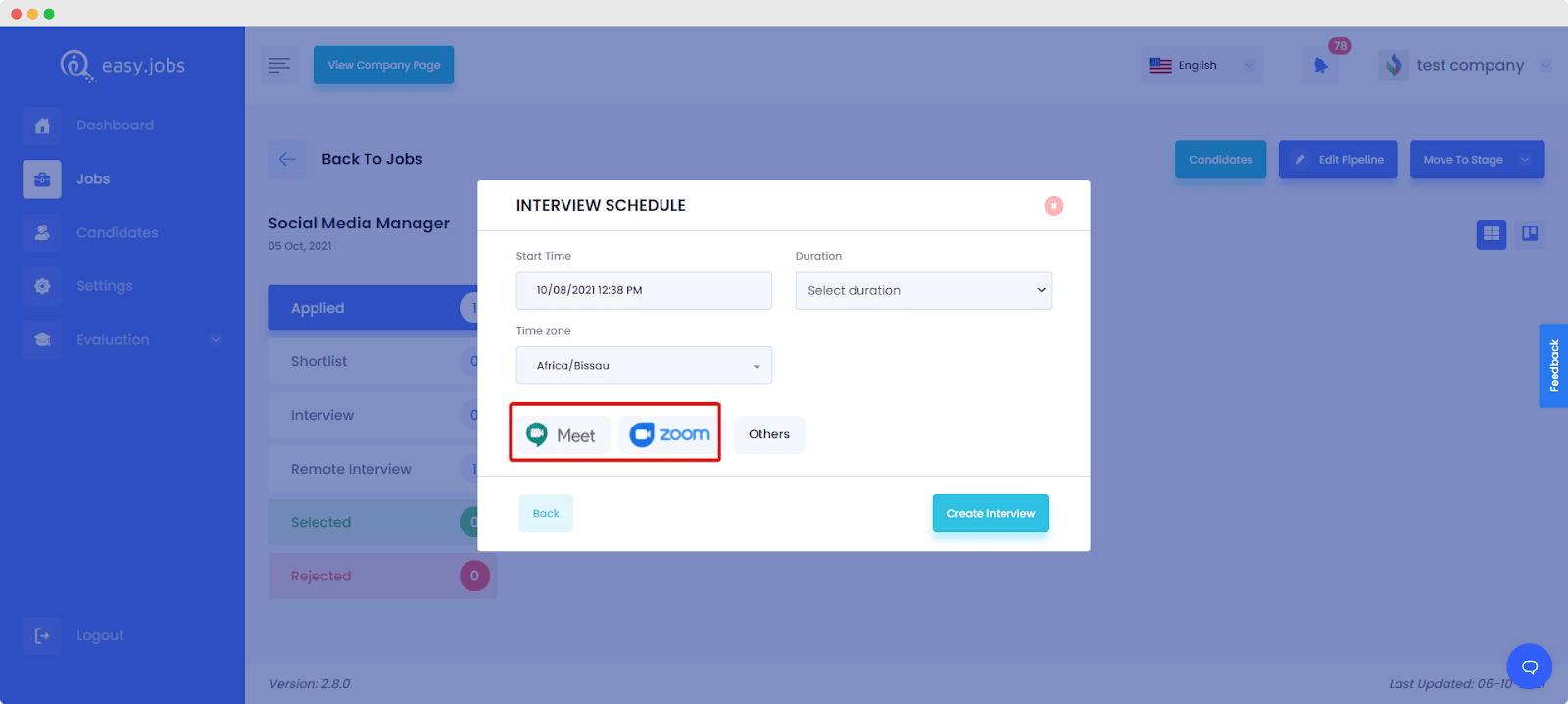 Step 3: Connect easy.jobs With Google Calendar #
To conduct a remote interview in Google meet, select it as your platform and you will be directed to log in to get access to your Google account. Continue to get the access successfully. Click on the 'Create Interview' button Now. Go to your Google Calendar account and click on 'Interview Event'. Thus, Google Calendar will be connected with easy.jobs for remote interview.
Step 4: Set Up Remote Interviews On Other Communication Media #
If you want to set remote interviews using other communications channels like phone calls, Skype, Hyrell, etc. then you can do that easily in easy.jobs. To mention alternative communication media for remoter interviews, click on the 'Others' option. Now provide the information or URLs there and then click on the 'Create Interview' knop.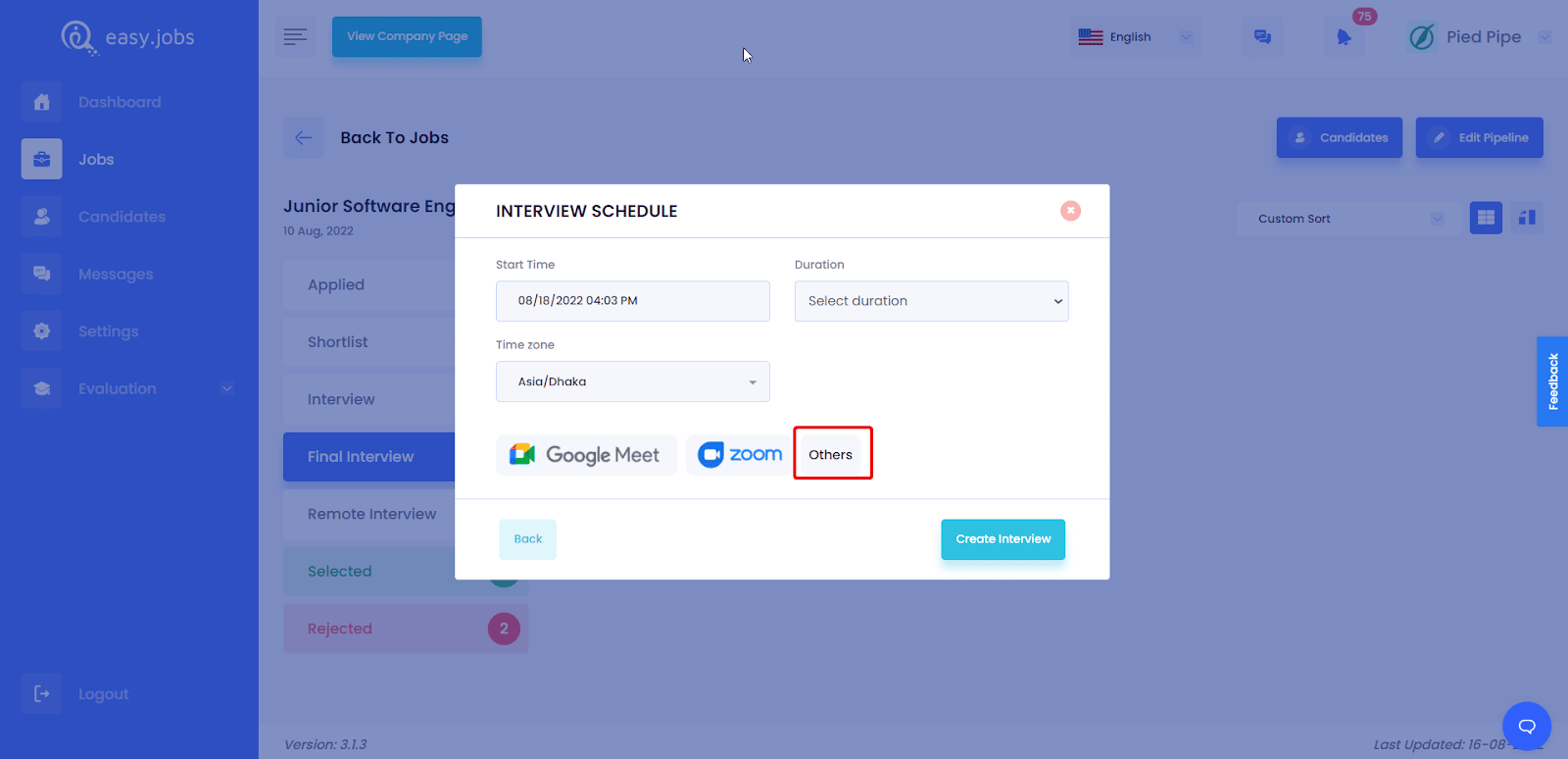 Door deze basisstappen te volgen, kunt u eenvoudig interviews op afstand opzetten easy.jobs in enkele minute.
Als u problemen ondervindt, kunt u dat gerust doen Neem contact met ons op voor verdere hulp, of