easy.jobs now allows candidates to upload and submit videos with resumes when they are applying to a new job. Learn how you can easily configure custom fields in job posts to allow video submission during job applications from the step-by-step guideline below.
Note: You can allow video submissions in multiple formats, such as Google Drive links, YouTube links, etc.
How To Configure & Allow Video Submission Fields In easy.jobs? #
Follow the step below to learn how you can configure and allow video submissions in easy.jobs in just a few clicks:
Step 1: Configure Custom Fields In Job Posts #
To get started, navigate to 'Jobs' tab from your easy.jobs dashboard and head over to the job post where you want to allow candidates to upload videos. Then, click on the 'More' button and hit 'Edit'.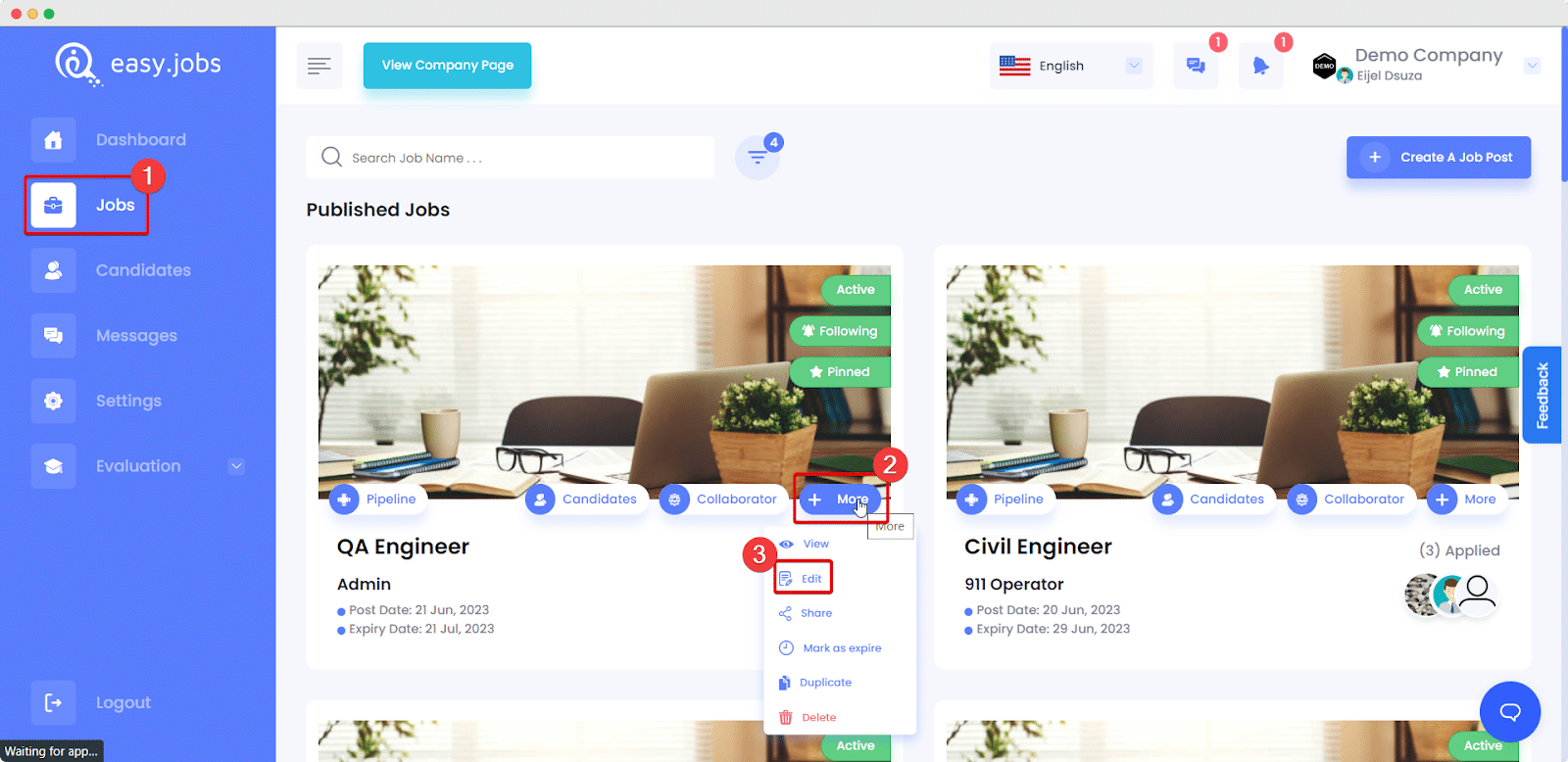 Step 2: Click On The Customize Fields Option #
Then, you need to add related custom fields in your job posts. Click on the 'Customize Field' option as shown below.
Note: Learn how you can update or customize fields in easy.jobs from this detailed documentation here.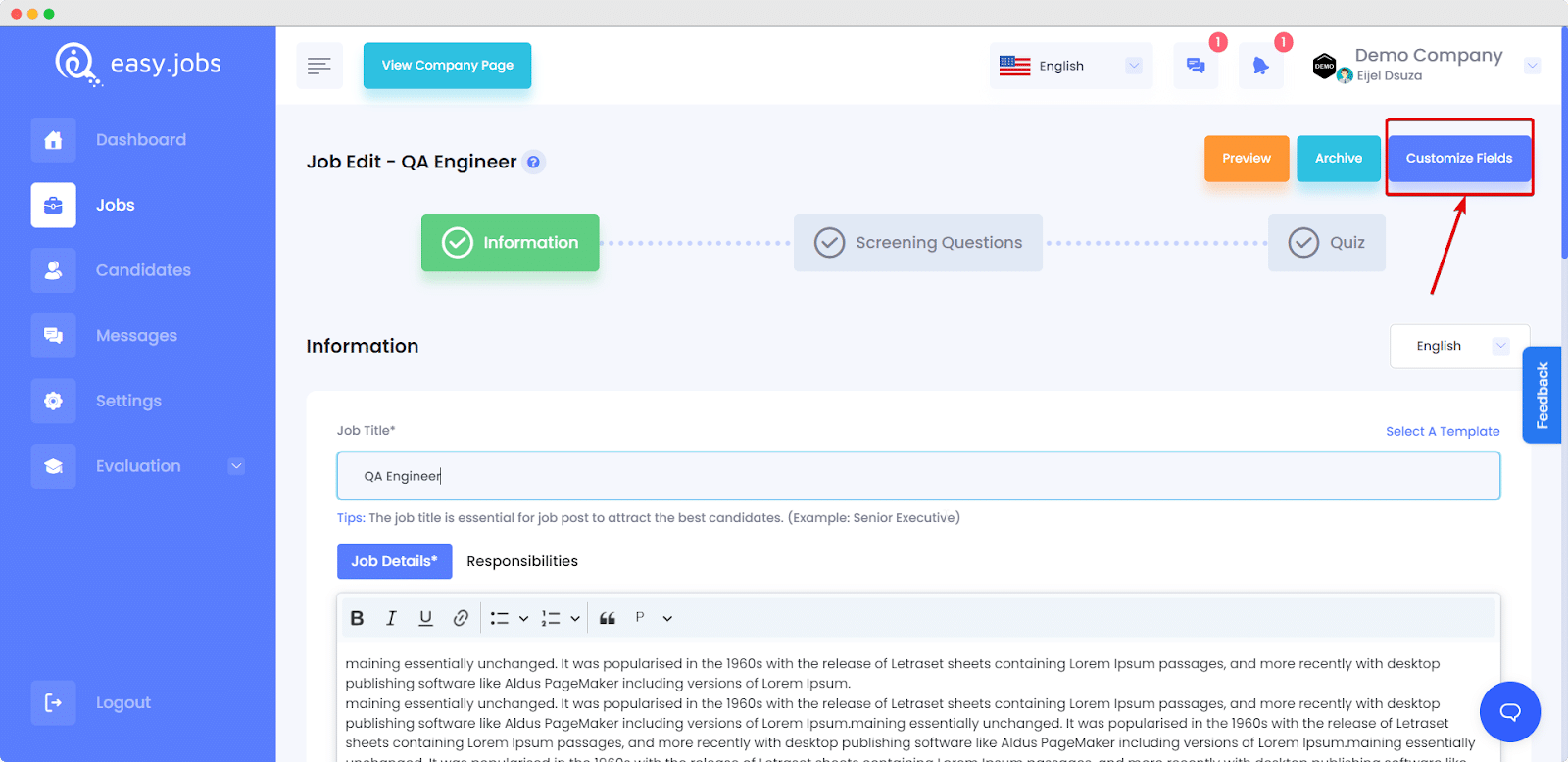 Step 3: Select The 'Video' Field To Allow Submission #
Scroll down to the 'Documents' section and click the checkbox next to the 'Video' field. Then, click on the button 'Save & Continue.'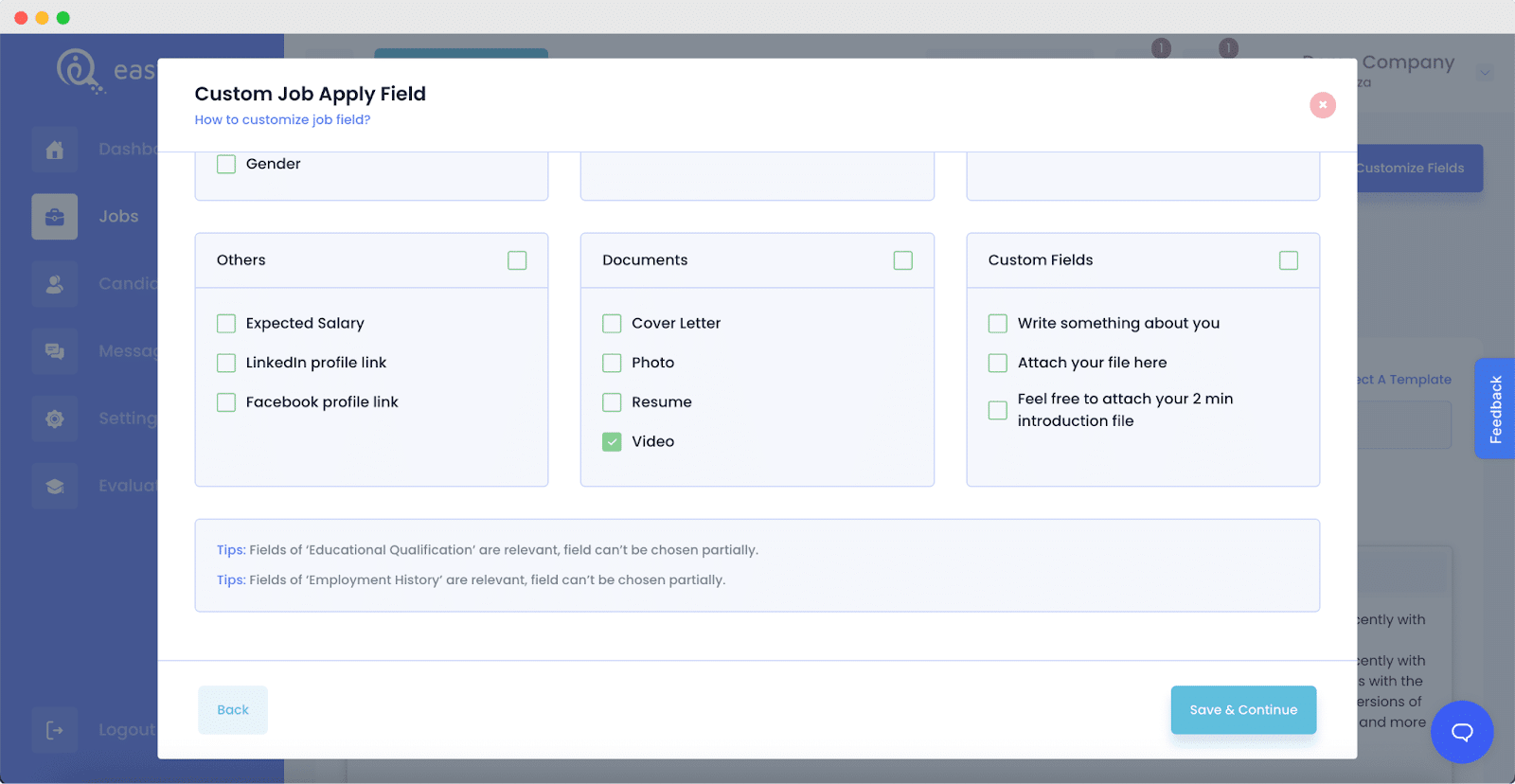 And that's how easily you can allow video submission with a resume when candidates are applying to new job posts using easy.jobs.
Note: If you uncheck this custom field box after the job post has already been published, the option to submit videos with resumes with be disabled, and new candidates will no longer be able to upload videos. However, if candidates have already submitted videos before this field was disabled, the videos will remain on the candidate profiles and you will still be able to check/view them.
How To Check Video Submissions By Candidates In easy.jobs? #
To check or view video submissions by candidates in easy.jobs follow the quick and easy steps below:
Step 1: Head Over To The Candidate Profile #
To check videos submitted by a specific candidate, head to the Candidate Tab from the easy.jobs dashboard. Then click on the 'View Detail' button on the candidate's profile that you want to view.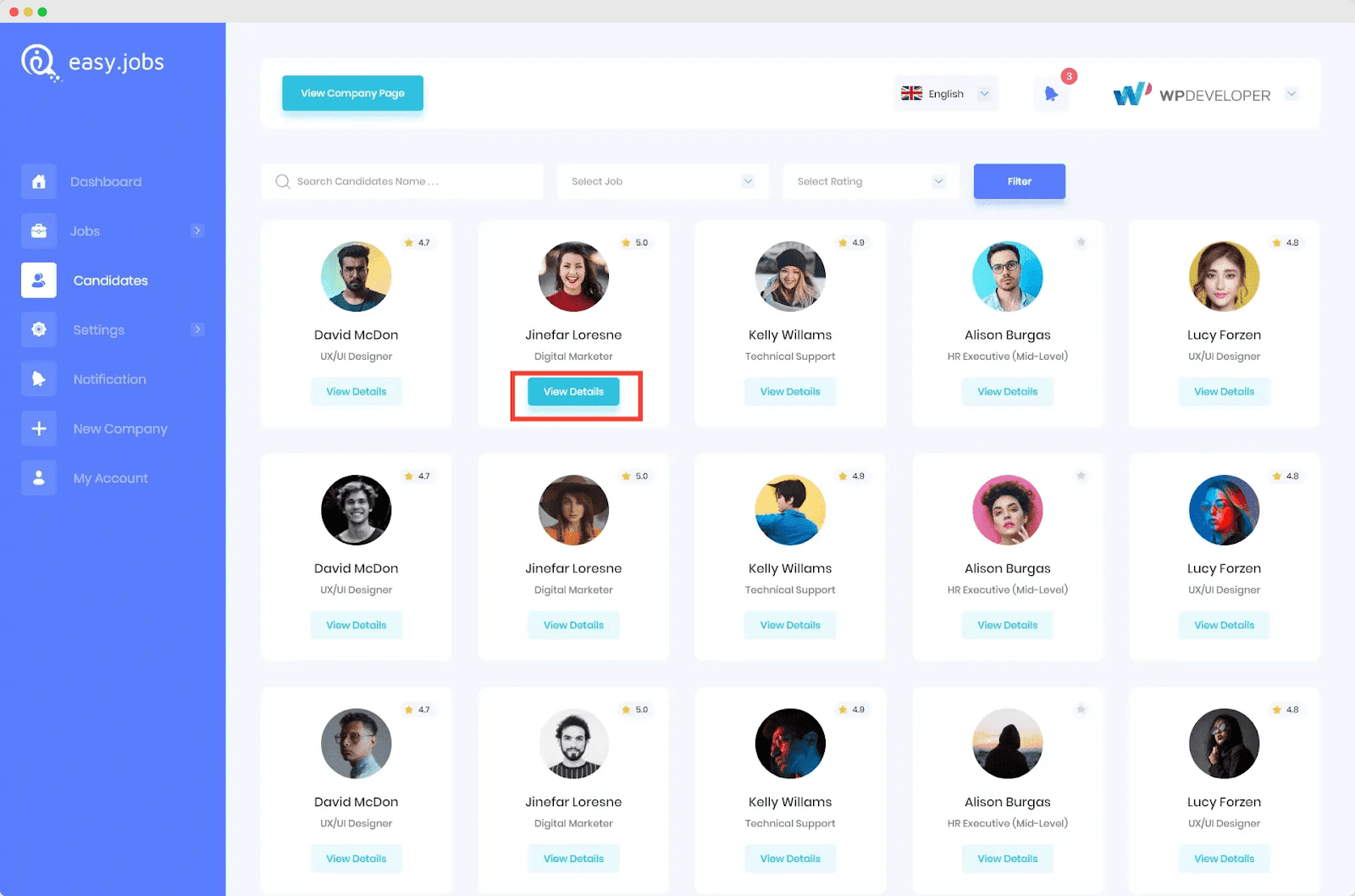 Step 2: Navigate To The Video Tab #
Then, click on the 'Video' tab in the Candidate Profile. Here, you will be able to view the submitted video and check which link or type of file the candidate has uploaded.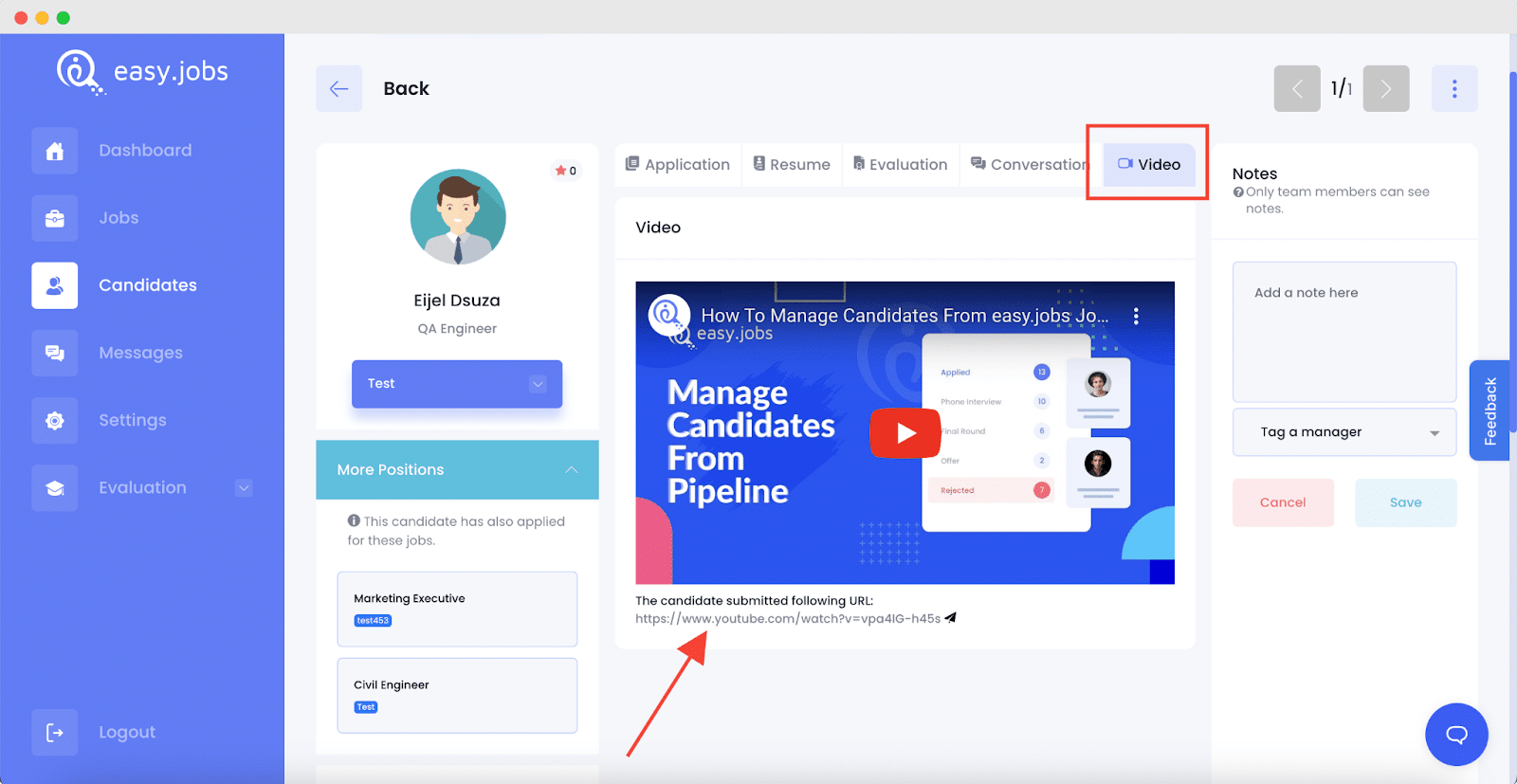 And that is how easily you can allow video submissions with resumes in easy.jobs and check afterwards.
If you need any help, feel free to contact us or join our Facebook community to get connected with other company owners like yourself.