With the help of easy.jobs, you can take advantage of remote hiring by setting up Ferninterviews. Auf diese Weise können Sie schneller und effizienter die richtigen Mitarbeiter für die richtigen Stellenangebote in Ihrem Unternehmen einstellen. 
How To Configure Remote Interviews In easy.jobs #
Um zu beginnen, müssen Sie Ihre Rekrutierungspipeline aktualisieren, indem Sie eine Phase für Remote-Interviews hinzufügen. Befolgen Sie diese Schritte, um eine neue hinzuzufügen 'Remote Interview' Stufe in Ihrer Job-Pipeline.
Schritt 1: Pipeline für Remote-Interviews aktualisieren #
Melden Sie sich bei Ihrem an easy.jobs Konto und klicken Sie auf Arbeitsplätze von der linken Seitenleiste. Danach müssen Sie auf das klicken Pipeline Taste des Jobs wie unten gezeigt, um Ihre Einstellungsphasen zu aktualisieren.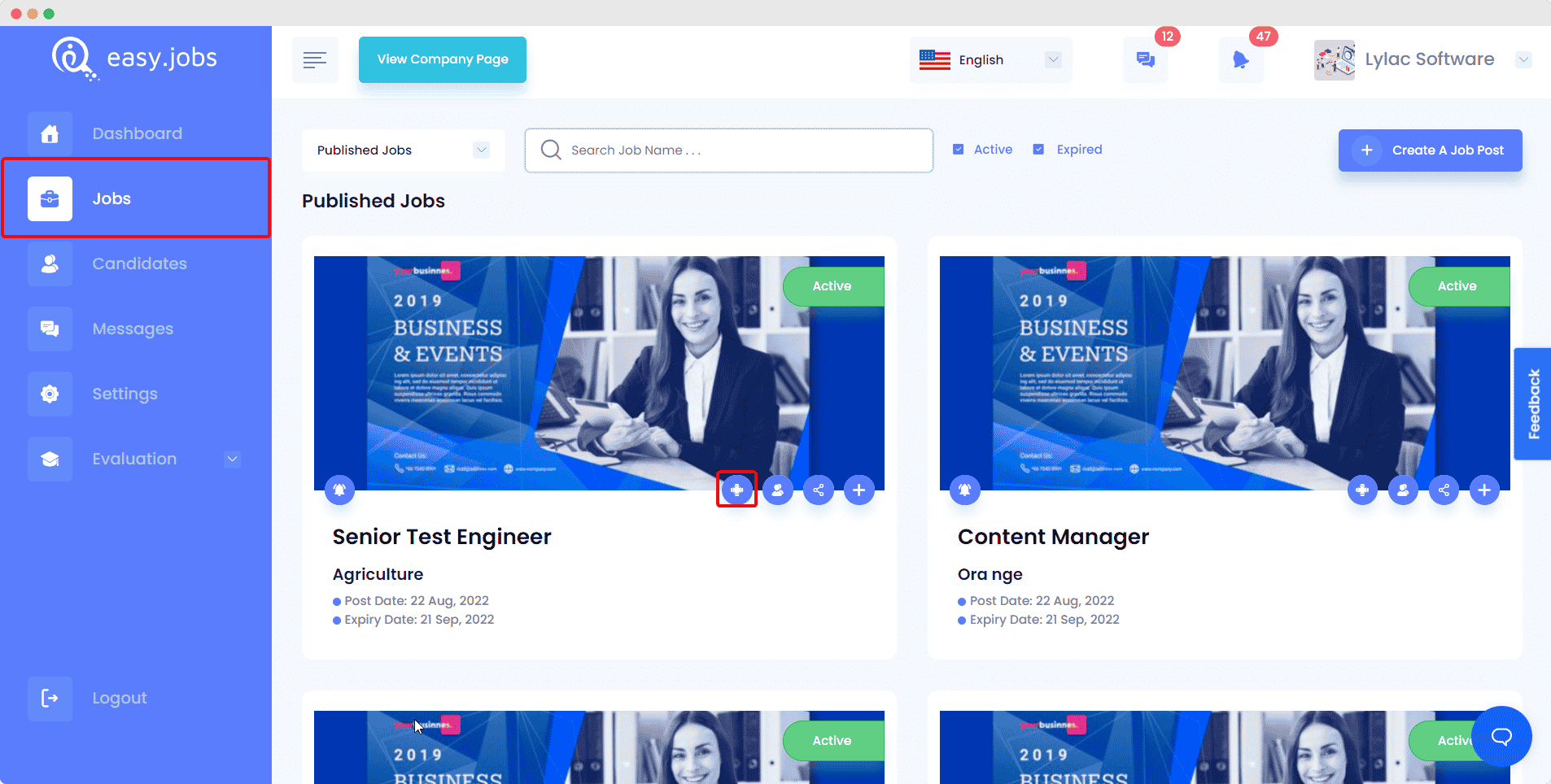 Schritt 2: Fügen Sie Ihrer Rekrutierungspipeline ein Remote-Interview hinzu #
Dadurch werden Sie zum weitergeleitet Arbeitsplätze page in your easy.jobs Dashboard. Here you can see your recruitment pipeline and edit it to add 'Remote Interview' by clicking on the blue Pipeline bearbeiten Taste.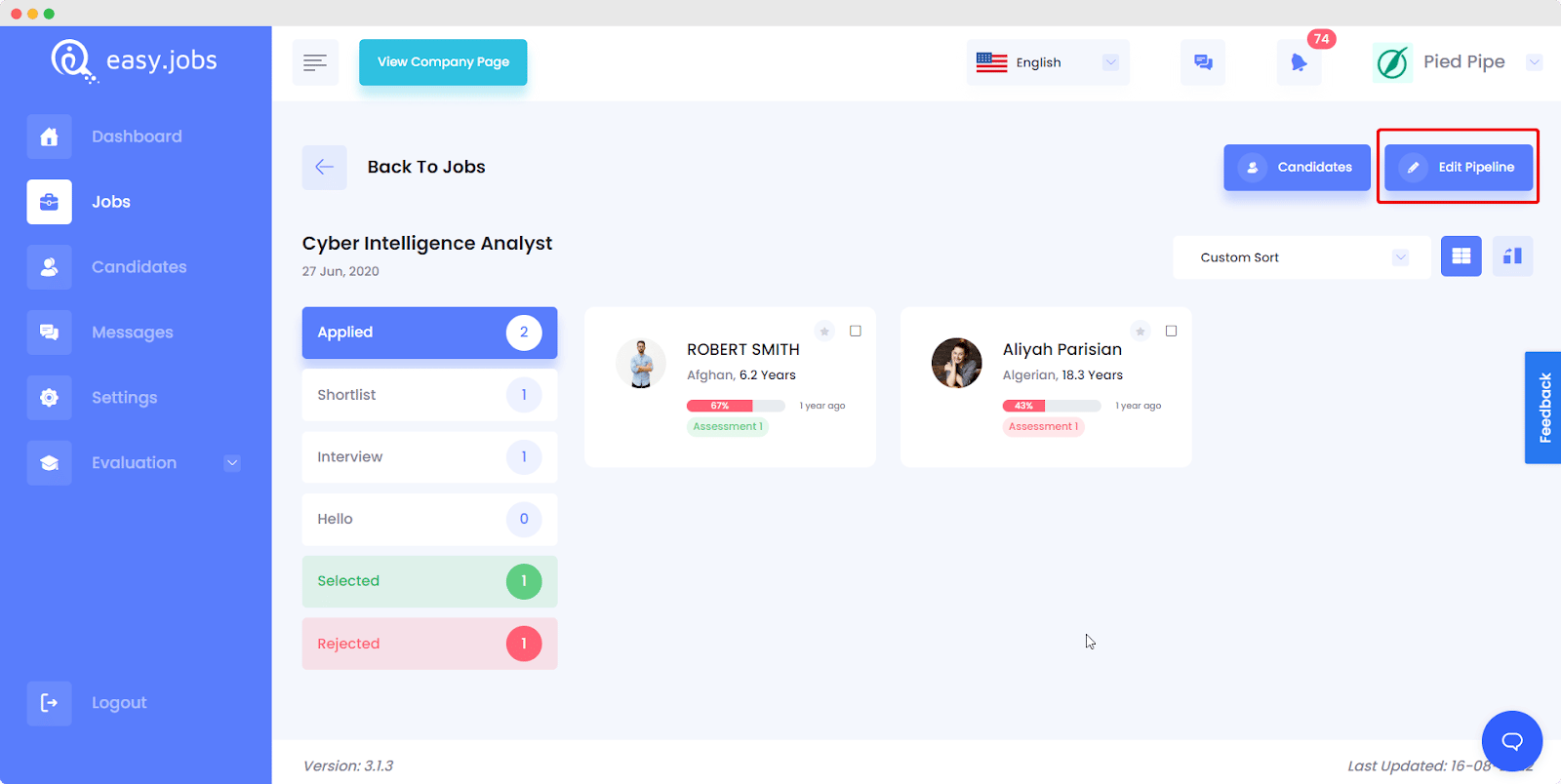 Dies öffnet ein neues Popup-Fenster. Überprüfen Sie einfach die 'Remote Interview' Feld, um diese Phase zu Ihrer Job-Pipeline hinzuzufügen. Stellen Sie sicher, dass Sie Ihre Änderungen speichern.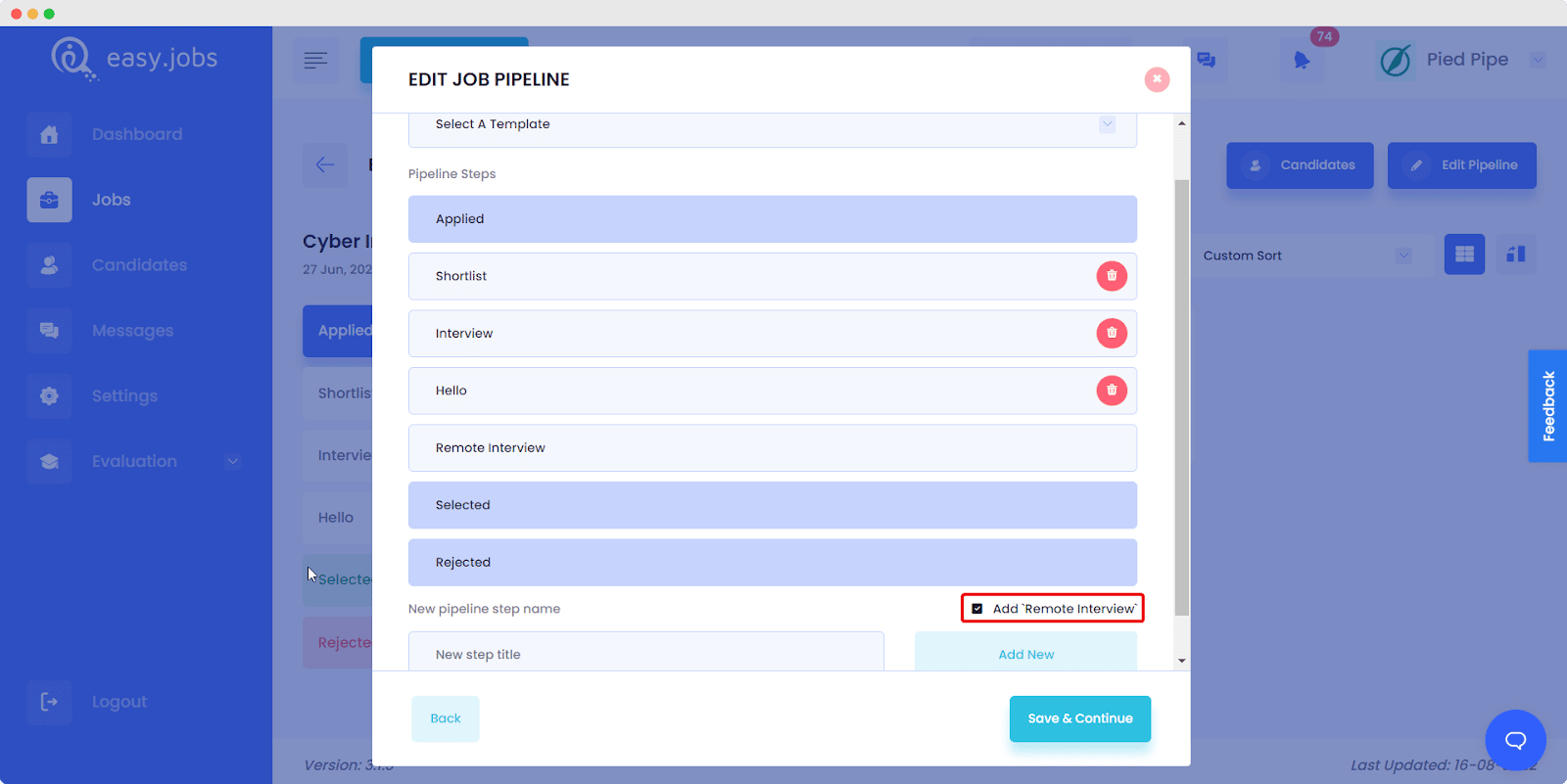 Sie sollten in der Lage sein, eine neue Stufe namens zu sehen Ferninterview wird in Ihrer Pipeline angezeigt, wenn Sie von Ihrem Dashboard zur Seite "Jobs" zurückkehren.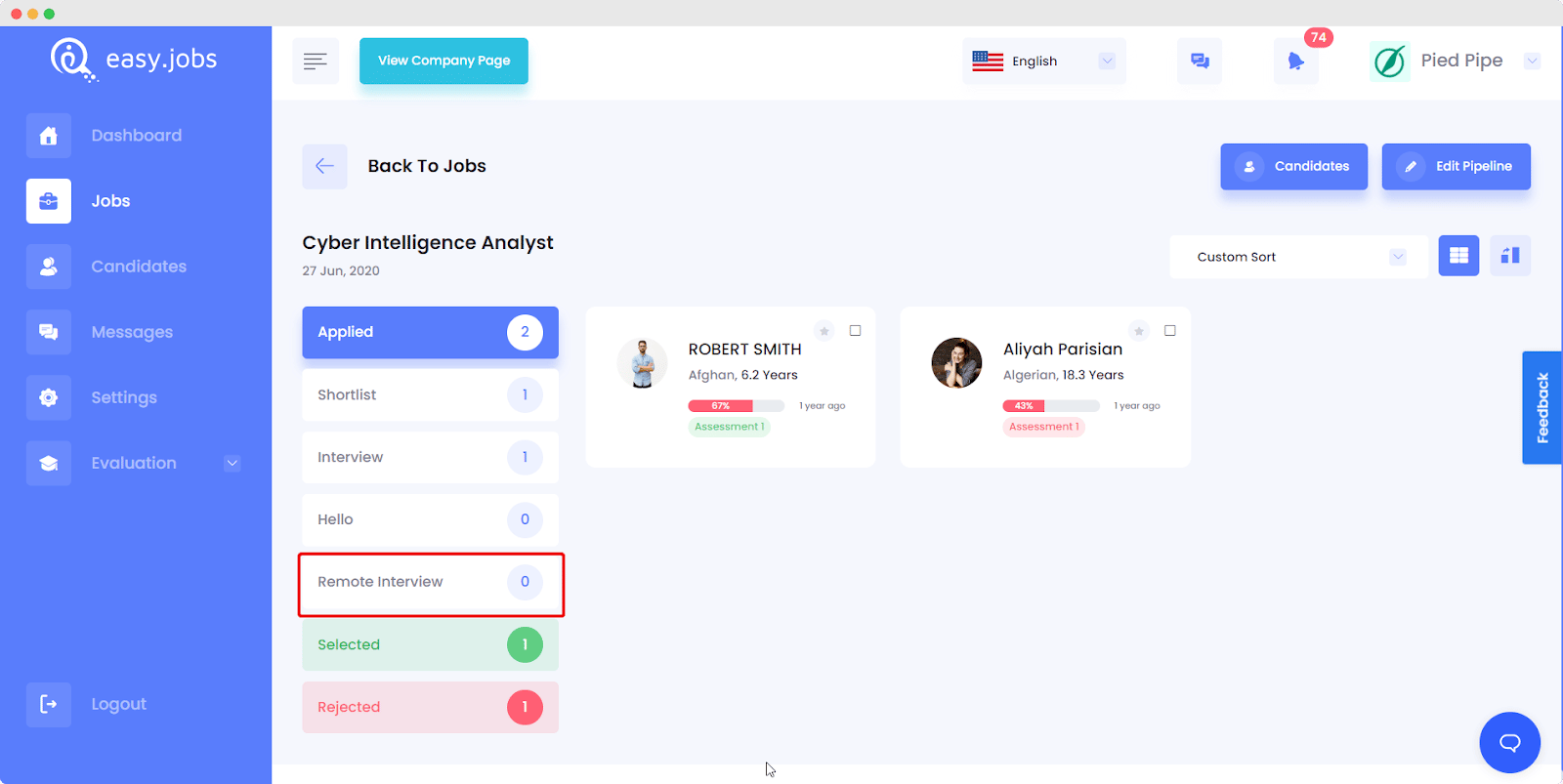 How To Set Up Remote Interview While Creating A New Job Post #
In easy.jobs, you can enable remote interview while creating a new job post as well.  Follow the below steps to enable remote interview while creating a new job post:
From your easy.jobs dashboard, go to Jobs –> Create A Job Post. there you will find the toggle bar to Allow Remote interview.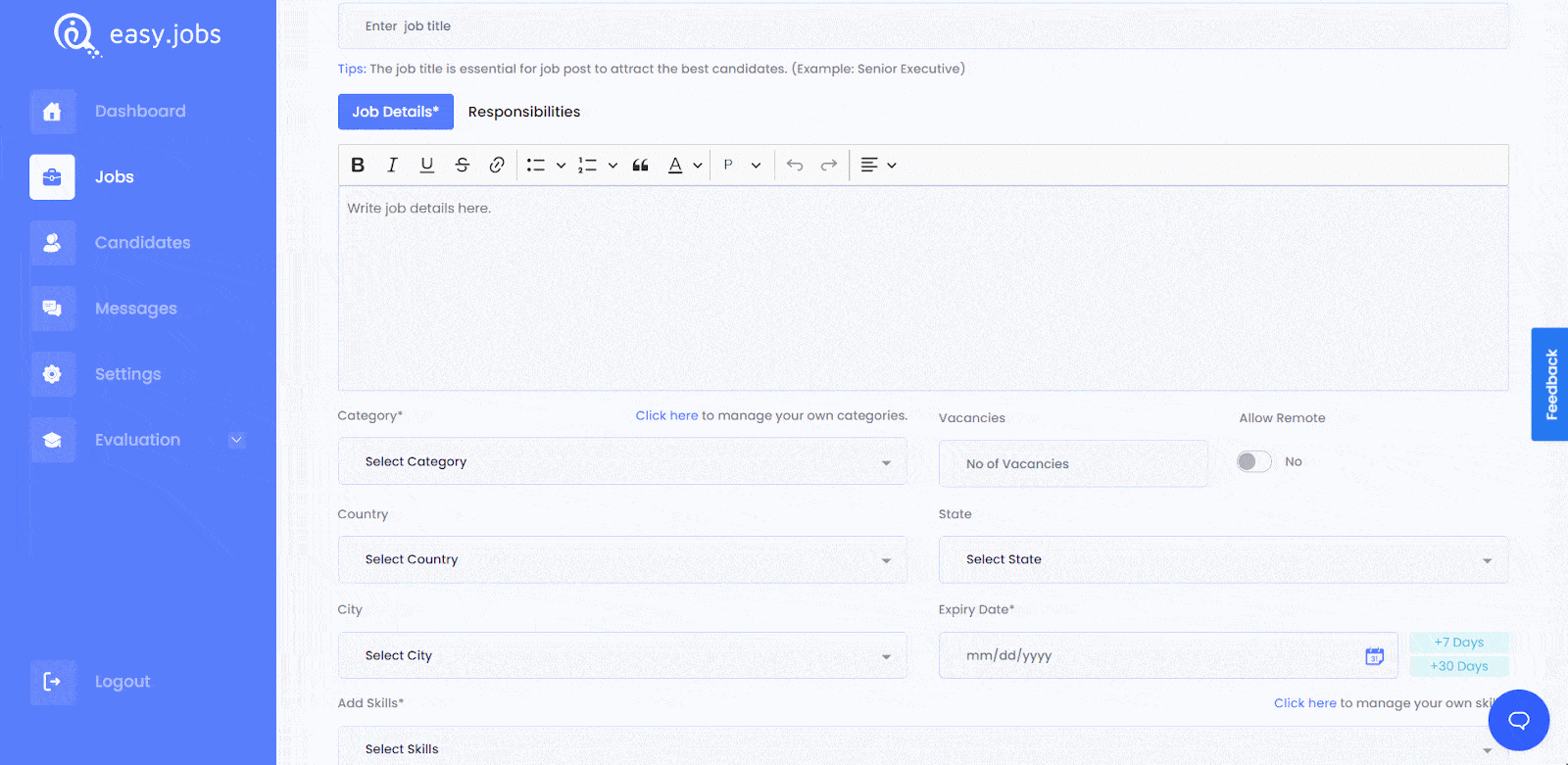 Toggle the button to enable remote interview and it will be added to the pipeline as well.
Einrichten von Remote-Interviews für Kandidaten #
Führen Sie die folgenden Schritte aus, um Remote-Interviews für Kandidaten in der engeren Auswahl entweder über Google Meet oder Zoom zu planen.
Schritt 1: Verschieben Sie Kandidaten entlang der Pipeline für Remote-Interviews #
Sie können auswählen, mit welchen Kandidaten Sie Remote-Interviews planen möchten, indem Sie Kandidaten in die engere Wahl ziehen und in die Phase des Remote-Interviews in Ihrer Pipeline verschieben. Ein Popup wird angezeigt, in dem Sie zusätzliche Details für das Remote-Interview auswählen können.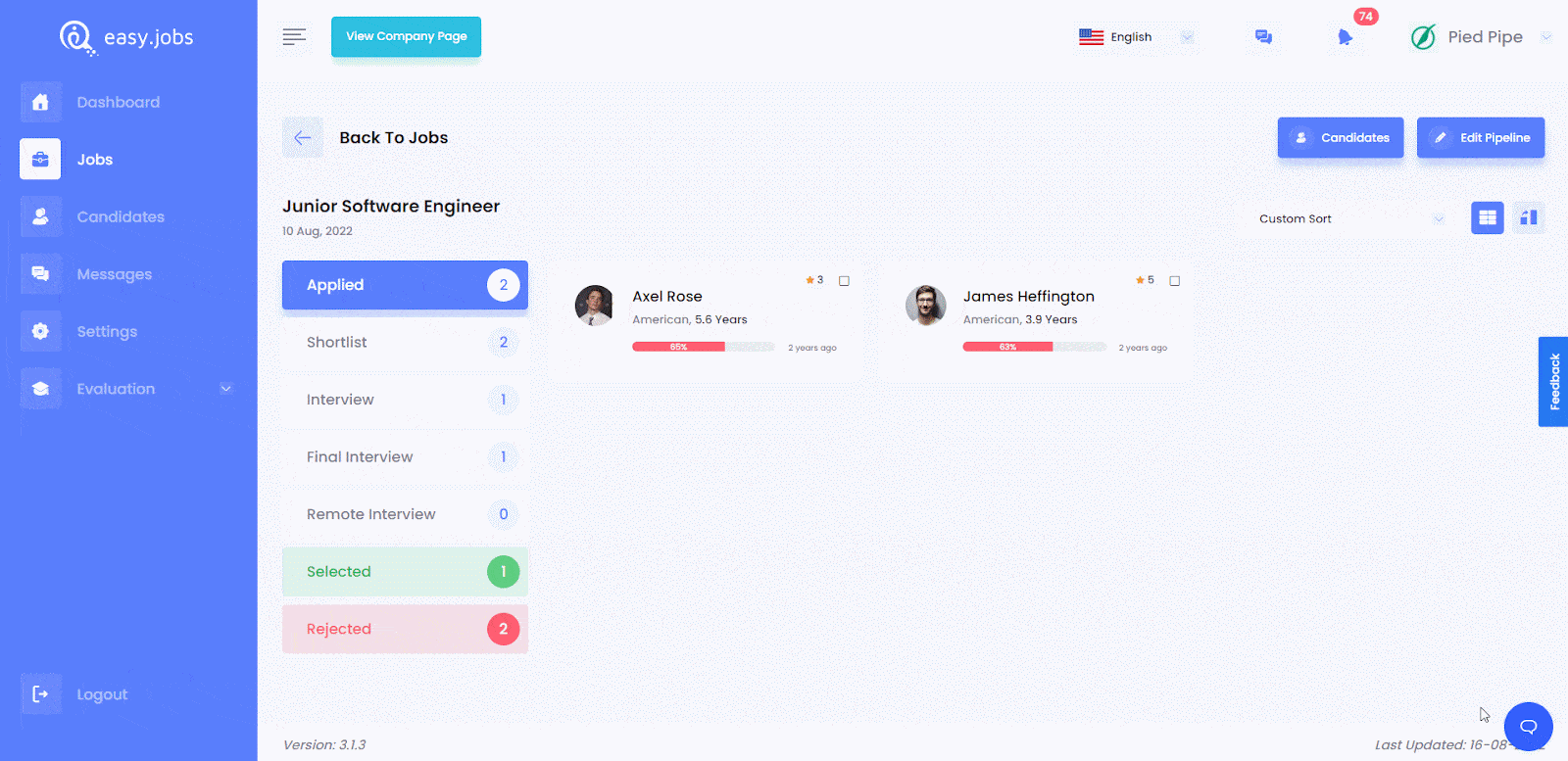 Step 2: Set Up Platforms For Remote Interviews #
Nachdem Sie alle erforderlichen Details für Ihr Remote-Interview ausgefüllt haben, z. B. die Dauer des Interviews, Datum und Uhrzeit sowie den Ort, müssen Sie auswählen, wie Sie Ihr Interview durchführen möchten. Sie können wählen Konfigurieren Sie Google Meet with easy.jobs to conduct your remote interviews.
Note*: Follow the step-by-step guide to Konfigurieren Sie die Zoom-App to conduct remote interview on Zoom meetings.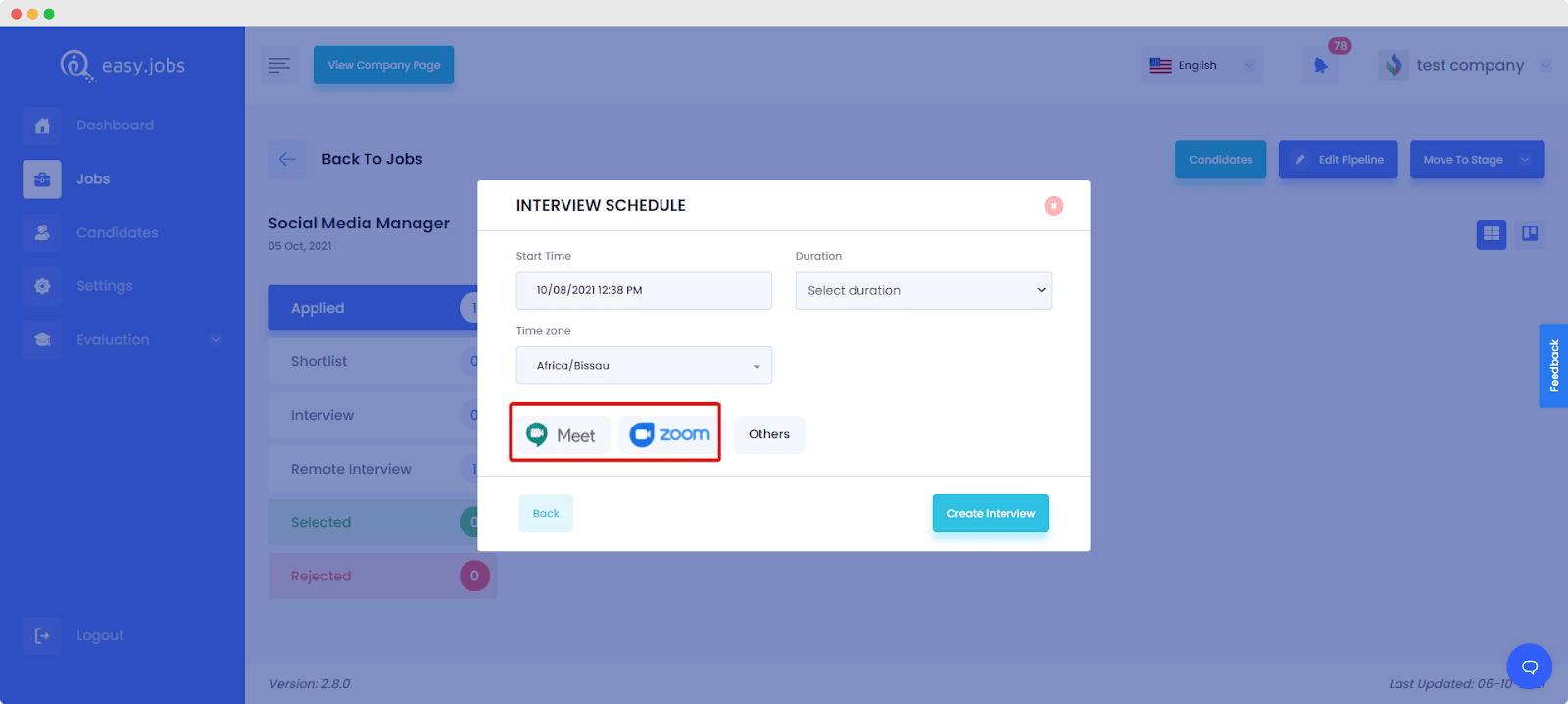 Step 3: Connect easy.jobs With Google Calendar #
To conduct a remote interview in Google meet, select it as your platform and you will be directed to log in to get access to your Google account. Continue to get the access successfully. Click on the 'Create Interview' button Now. Go to your Google Calendar account and click on 'Interview Event'. Thus, Google Calendar will be connected with easy.jobs for remote interview.
Step 4: Set Up Remote Interviews On Other Communication Media #
If you want to set remote interviews using other communications channels like phone calls, Skype, Hyrell, etc. then you can do that easily in easy.jobs. To mention alternative communication media for remoter interviews, click on the 'Others' option. Now provide the information or URLs there and then click on the 'Create Interview' Taste.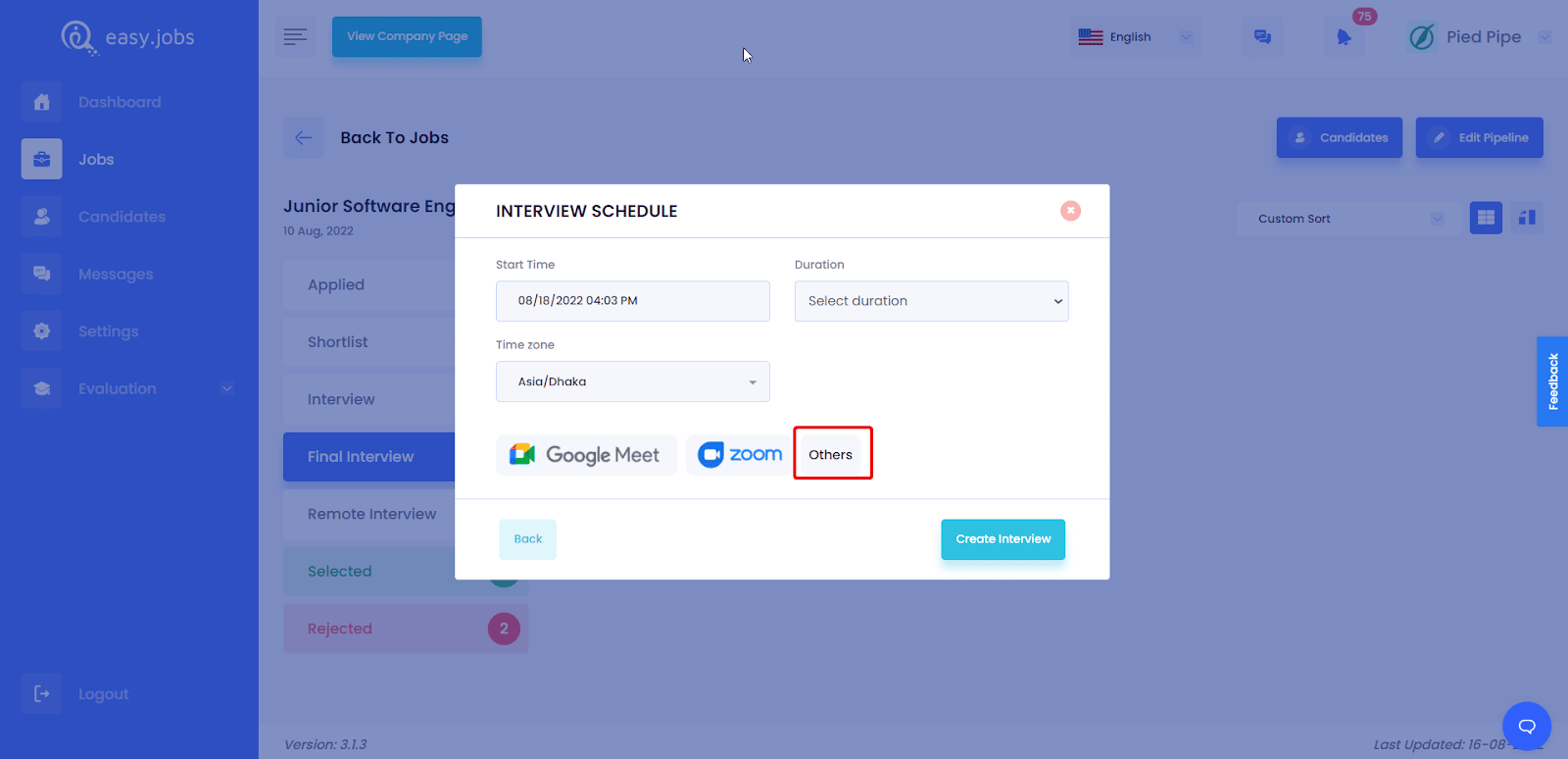 Wenn Sie diese grundlegenden Schritte ausführen, können Sie problemlos Remote-Interviews in einrichten easy.jobs eine Sache von Minuten.
Wenn Sie auf Schwierigkeiten stoßen, wenden Sie sich bitte an kontaktiere uns für weitere Unterstützung oder