With the help of easy.jobs, you can take advantage of remote hiring by setting up eksterne intervjuer. På denne måten kan du ansette de rette menneskene for de rette ledige stillinger i organisasjonen din på en raskere og mer effektiv måte. 
How To Configure Remote Interviews In easy.jobs #
For å komme i gang, må du oppdatere rekrutteringsrørledningen ved å legge til en scene for eksterne intervjuer. Følg disse trinnene for å legge til en ny 'Eksternt intervju' scenen i Job Pipeline.
Trinn 1: Oppdater rørledning for eksterne intervjuer #
Logg inn på din easy.jobs-konto og klikk på Arbeidsplasser fra venstre sidefelt. Etter det må du klikke på Pipeline knapp av jobben som vist nedenfor for å oppdatere ansettelsesstadiene.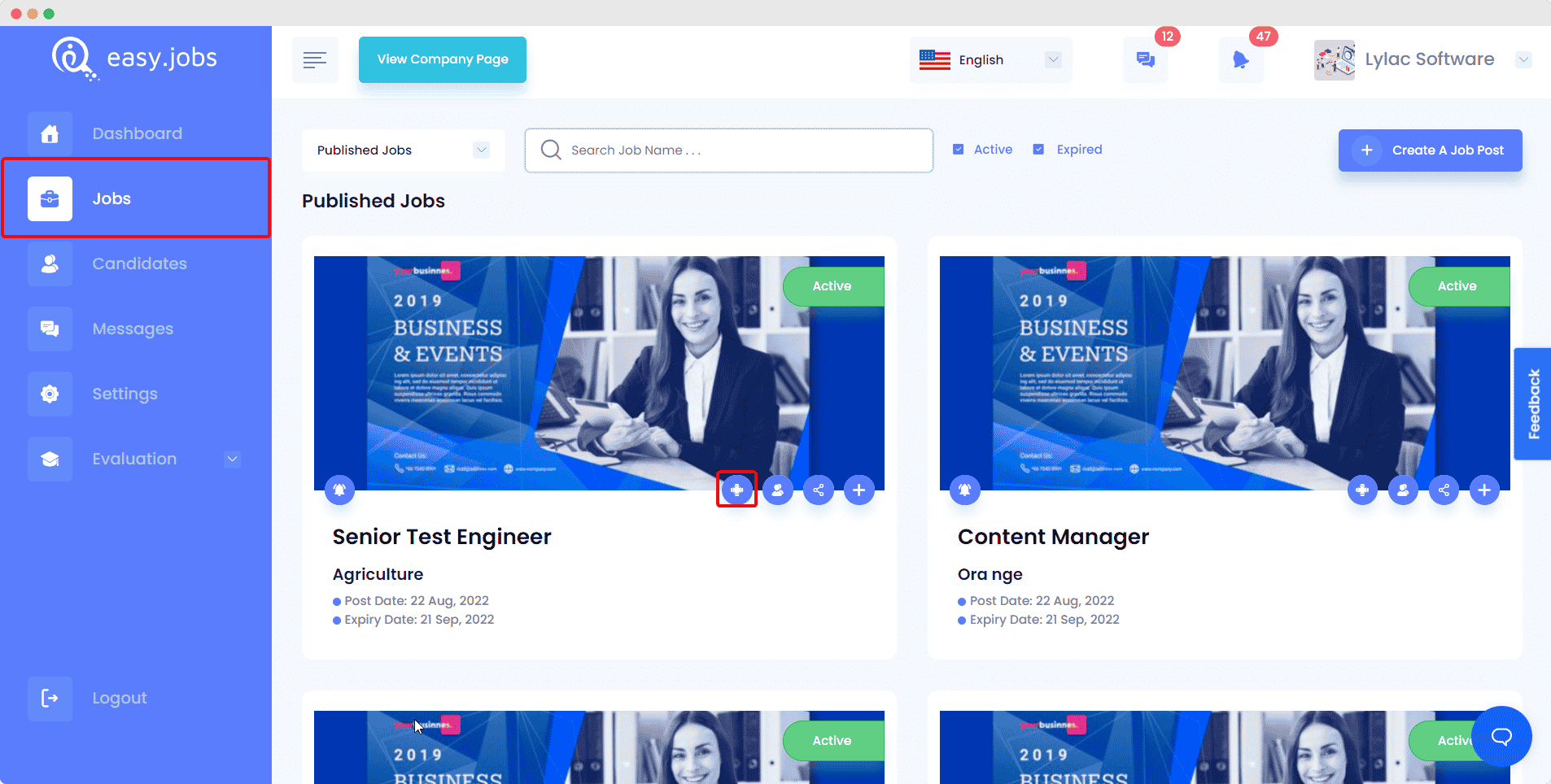 Trinn 2: Legg eksternt intervju til rekrutteringsrørledningen #
Dette vil omdirigere deg til Arbeidsplasser page in your easy.jobs Dashboard. Here you can see your recruitment pipeline and edit it to add 'Remote Interview' by clicking on the blue Rediger rørledning knapp.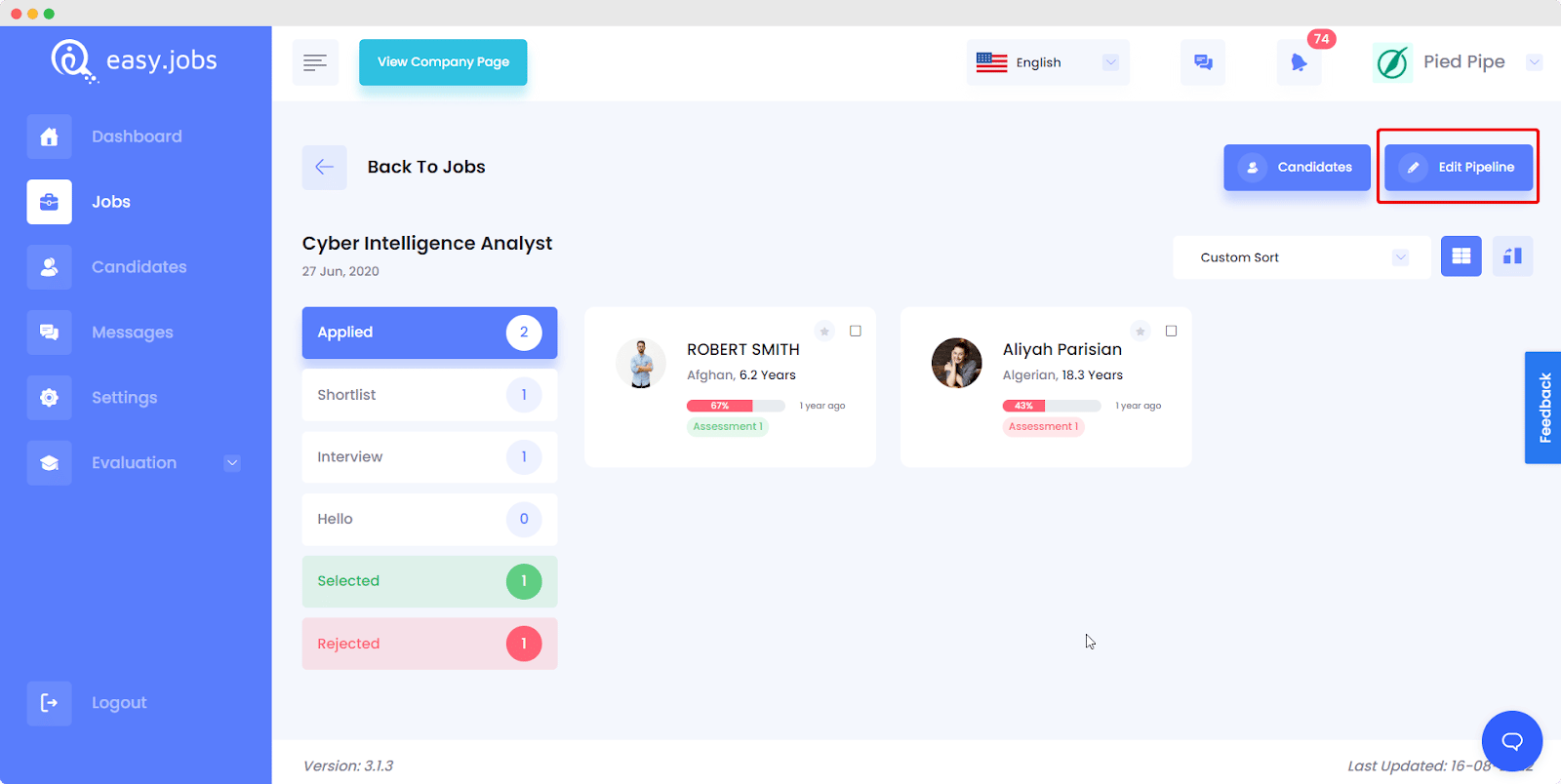 Dette åpner et nytt popup-vindu. Bare sjekk 'Eksternt intervju' for å legge til dette stadiet i Job Pipeline. Sørg for å lagre endringene.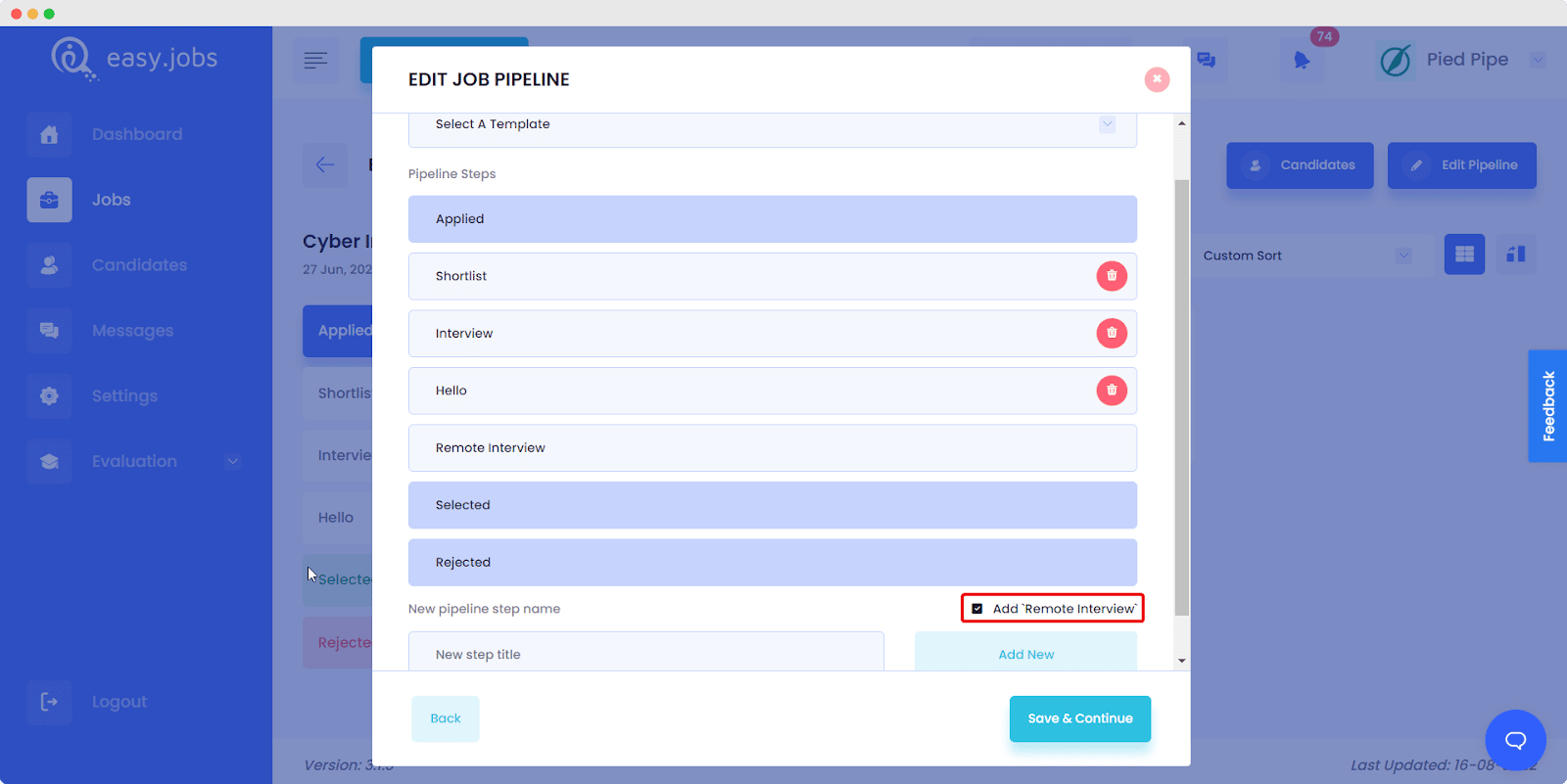 Du skal kunne se en ny scene som heter Eksternt intervju vises i rørledningen din når du går tilbake til Jobs-siden fra dashbordet.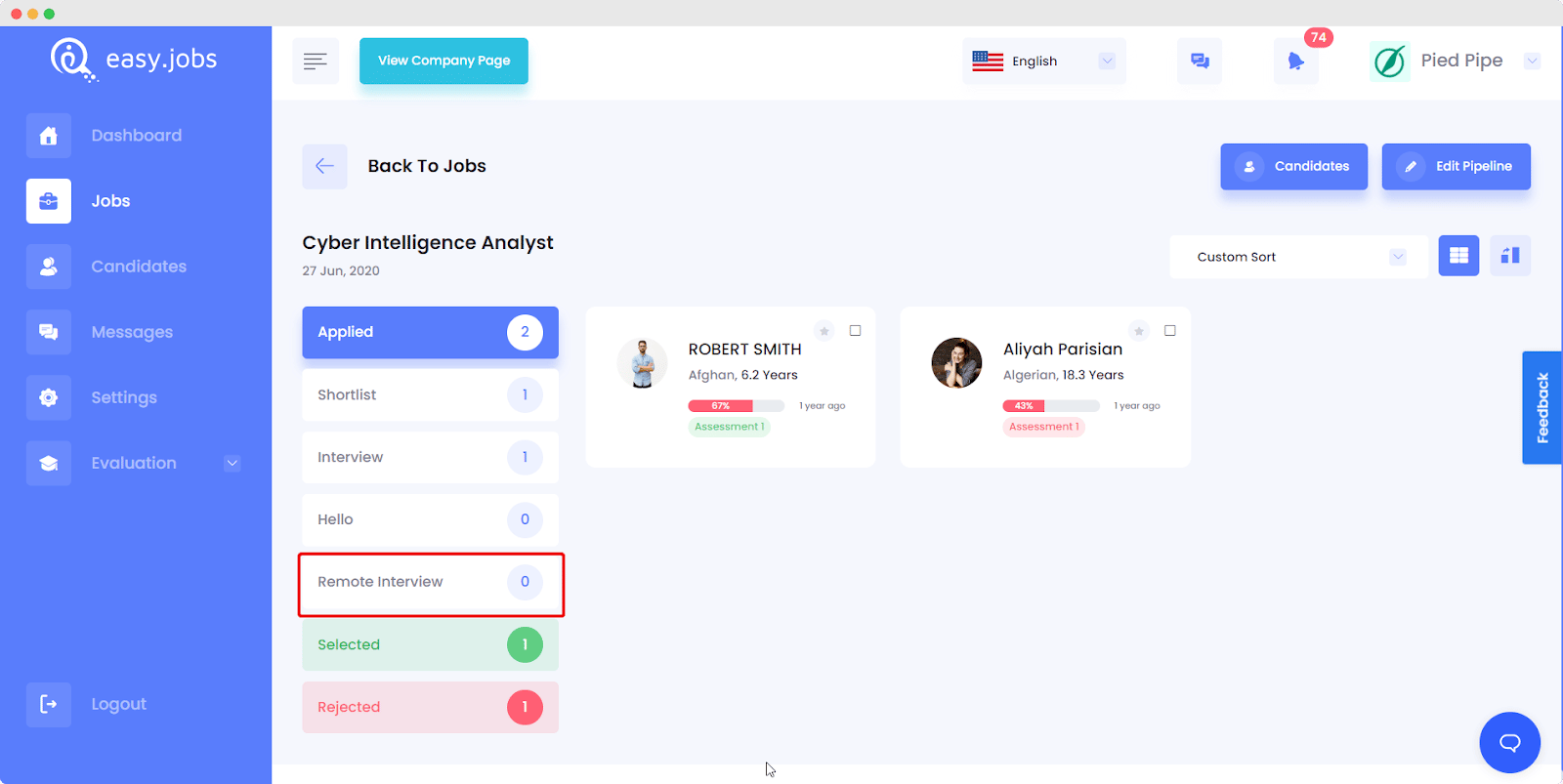 How To Set Up Remote Interview While Creating A New Job Post #
In easy.jobs, you can enable remote interview while creating a new job post as well.  Follow the below steps to enable remote interview while creating a new job post:
From your easy.jobs dashboard, go to Jobs –> Create A Job Post. there you will find the toggle bar to Allow Remote interview.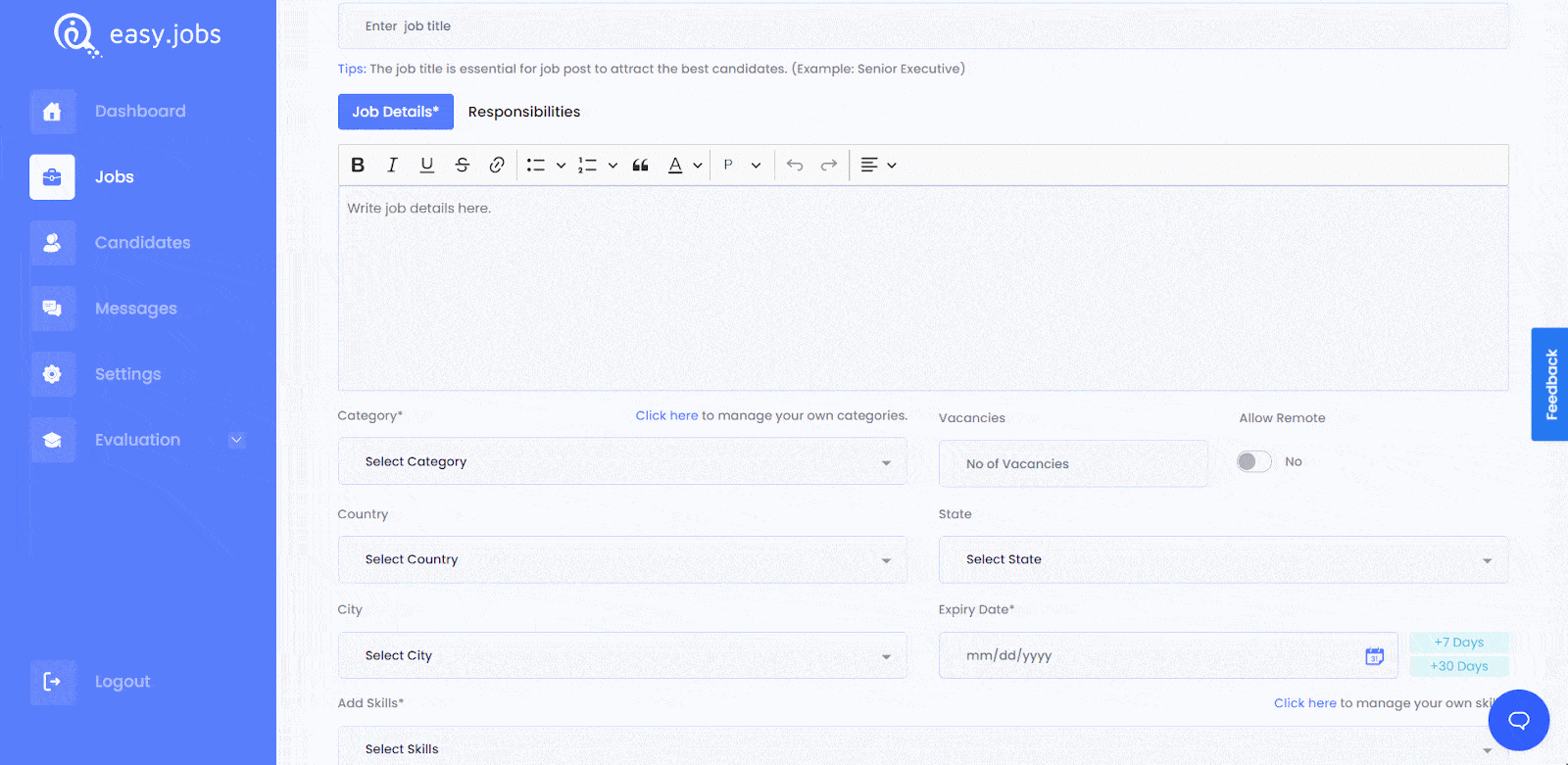 Toggle the button to enable remote interview and it will be added to the pipeline as well.
Sette opp eksterne intervjuer for kandidater #
Følg trinnene nedenfor for å planlegge eksterne intervjuer for kandidater på kort liste, enten gjennom Google Meet eller Zoom.
Trinn 1: Flytt kandidater langs rørledningen for eksterne intervjuer #
Du kan velge hvilke kandidater du vil planlegge eksterne intervjuer med ved å dra og slippe kandidater til listen over eksterne intervjuer i pipeline. Det vises en popup-vindu der du kan velge ytterligere detaljer for det eksterne intervjuet.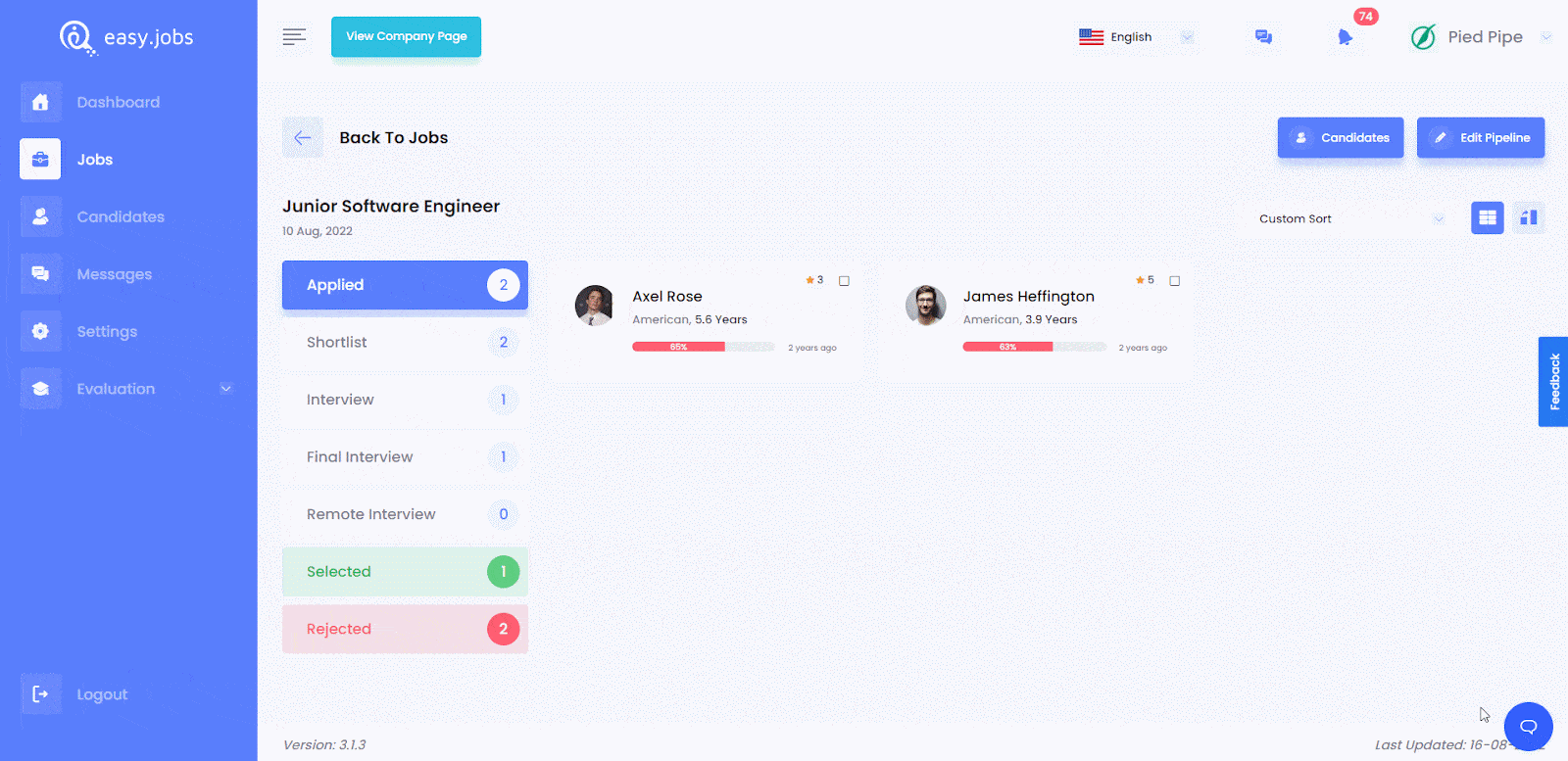 Step 2: Set Up Platforms For Remote Interviews #
Etter å ha fylt ut alle nødvendige detaljer for det eksterne intervjuet, for eksempel varigheten av intervjuet, dato og tid og sted, må du velge hvordan du skal gjennomføre intervjuet. Du kan velge å konfigurere Google Meet with easy.jobs to conduct your remote interviews.
Note*: Follow the step-by-step guide to konfigurer Zoom-appen to conduct remote interview on Zoom meetings.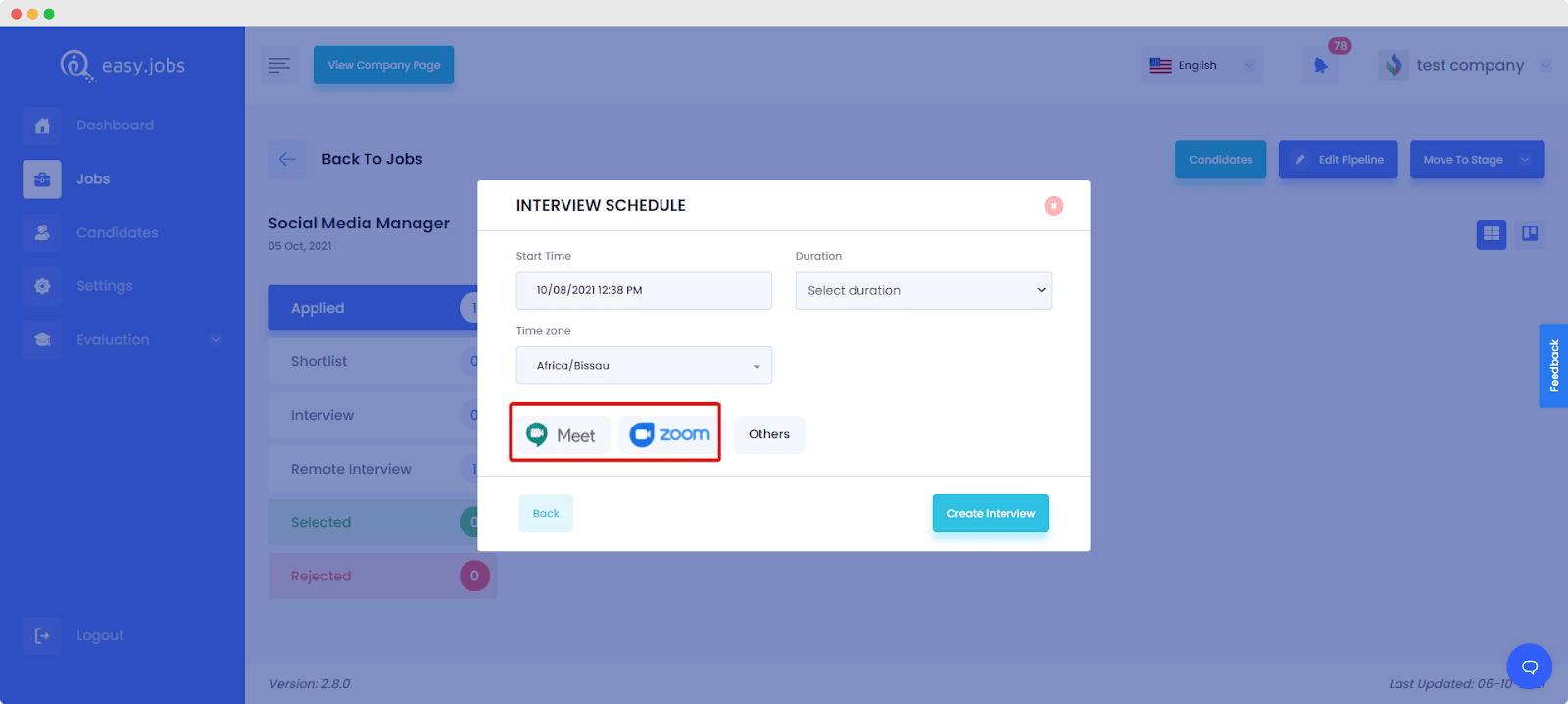 Step 3: Connect easy.jobs With Google Calendar #
To conduct a remote interview in Google meet, select it as your platform and you will be directed to log in to get access to your Google account. Continue to get the access successfully. Click on the 'Create Interview' button Now. Go to your Google Calendar account and click on 'Interview Event'. Thus, Google Calendar will be connected with easy.jobs for remote interview.
Step 4: Set Up Remote Interviews On Other Communication Media #
If you want to set remote interviews using other communications channels like phone calls, Skype, Hyrell, etc. then you can do that easily in easy.jobs. To mention alternative communication media for remoter interviews, click on the 'Others' option. Now provide the information or URLs there and then click on the 'Create Interview' knapp.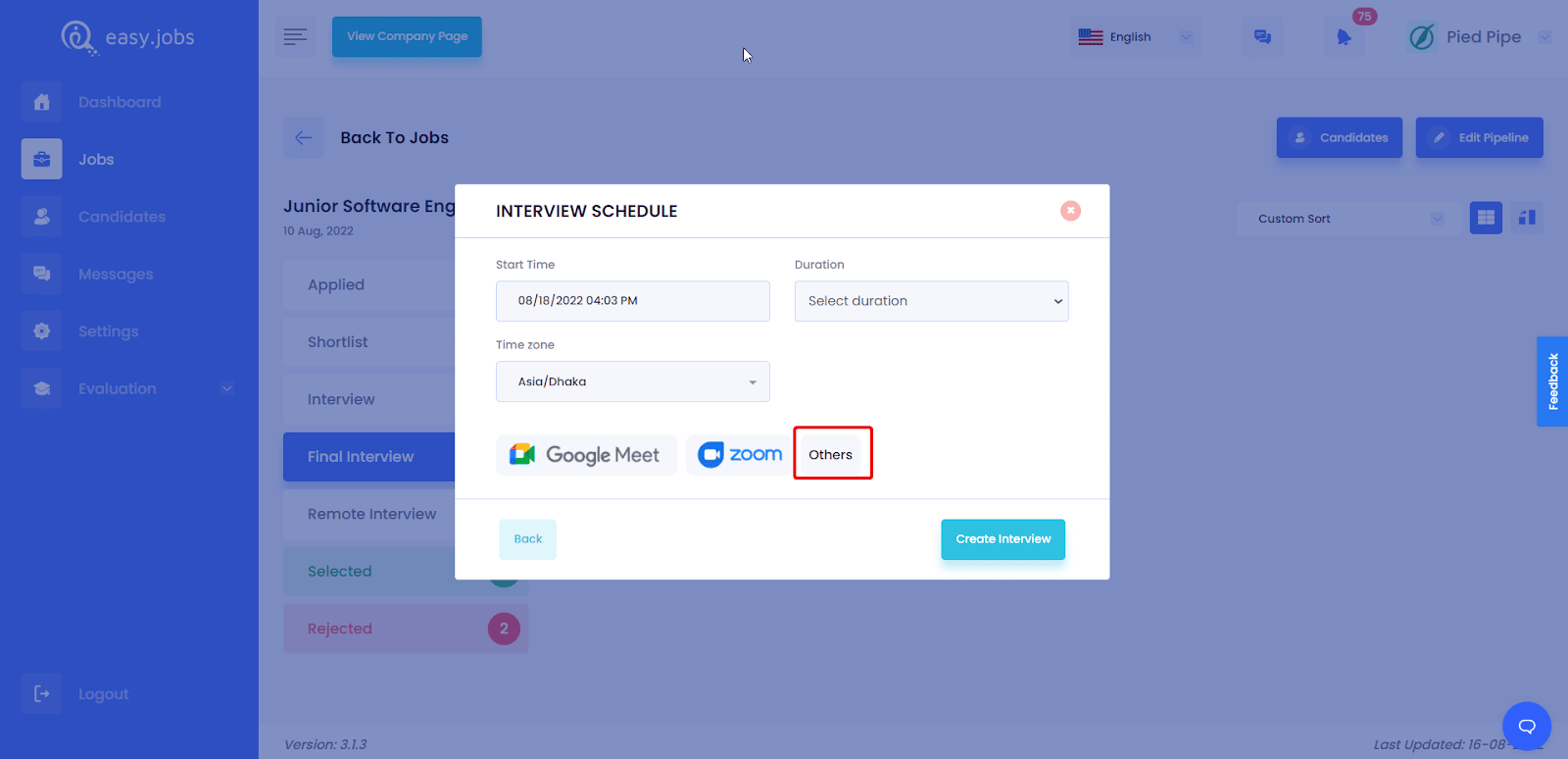 Ved å følge disse grunnleggende trinnene, kan du enkelt sette opp eksterne intervjuer i easy.jobs i løpet av minutter.
Hvis du har noen vanskeligheter, må du gjerne gjøre det kontakt oss for ytterligere hjelp, eller