Easy.Jobs offer you to set up a custom domain and verify your company page with ease. You can then represent your job circulars more professionally with a custom domain. It also helps you to raise your job posts' authenticity, add credibility, and more to find the right talent quickly. 
Follow the guideline below to learn how to set up a custom domain in Easy.Jobs.

Étape 1: Tout d'abord, vous devez vous connecter à votre compte d'hébergement pour démarrer le processus.
Étape 2: Après cela, vous devez rechercher 'Éditeur de zone DNS / DNS', lorsque vous y arrivez, vous verrez votre liste de domaines sur cette page.
Étape 3: If you have several Domains then select the 'Domain' that you want to add in 'CNAME record'. After that, click on the Add 'CNAME record' bouton. 
Étape 4: Cela vous mènera au 'Add CNAME' option, where you will see two input fields.
In the name field, you need to add your

Domain/Subdomain name

from where you will be able to access or browse the Application/Public page/ Company page.




In the CNAME field you must put the

custom.easy.jobs

dévouement dans le processus.
Now, you need to press the 'Add Cname' button. Wait for a while until your CNAME record is publicly discoverable.
Example for DigitalOcean:

Example for Namecheap:

Étape 5: After the Domain/Subdomain name that you name field in the previous step, you need to put that same name under the Settings → Custom Domain of easy.jobs App and click the 'Save' bouton. 
Once it's been verified successfully, your data will be saved and your company page will be served on a custom domain.  If not, your domain name will not be saved and you will receive an error message.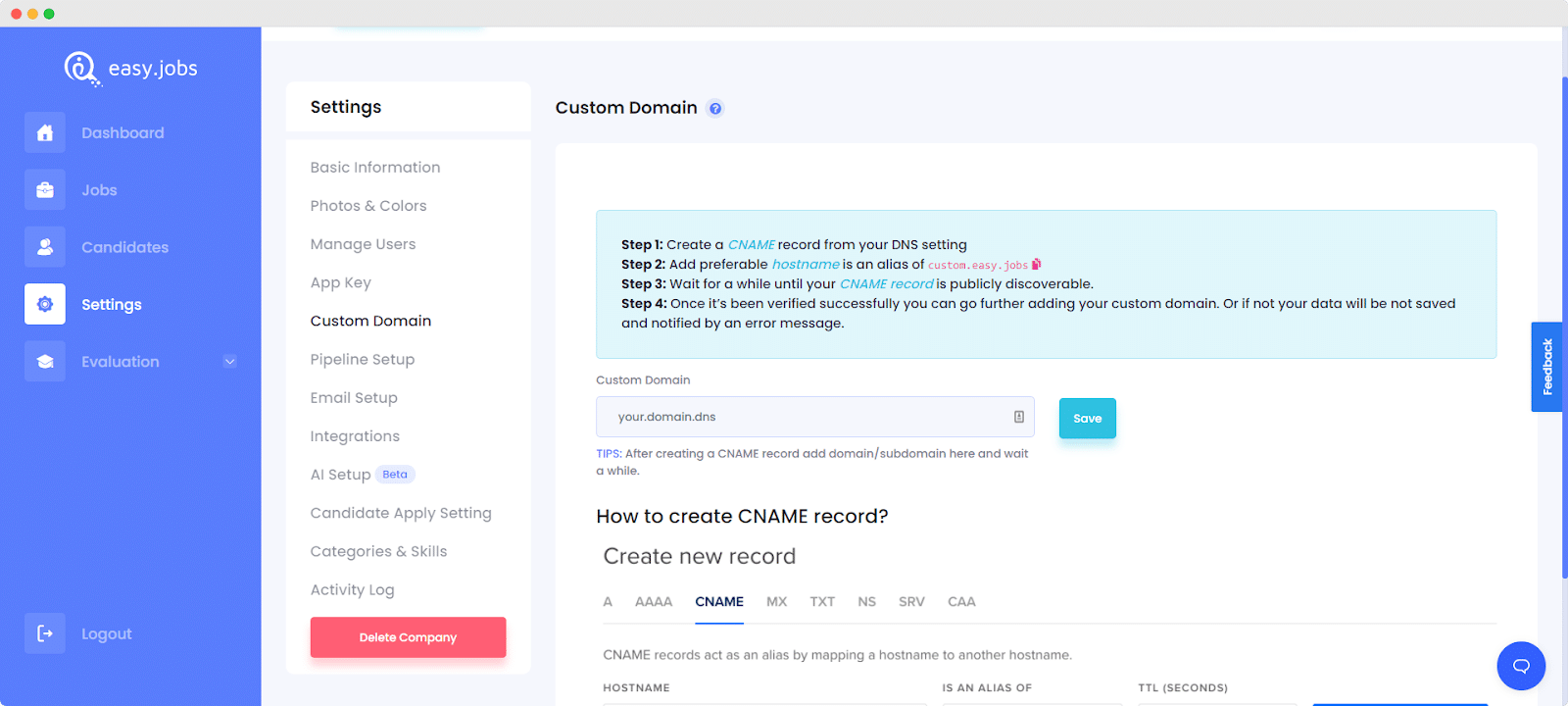 If you have followed all these steps, Congratulations! You have successfully set up a custom domain in Easy.Jobs. Moreover, if you verify your custom domain, then your company will be verified instantly in Easy.Jobs. So that, you won't need to verify your company separately in Easy.Jobs.
Si vous avez besoin d'aide, n'hésitez pas à Nous contacter ou rejoignez notre Communauté Facebook pour vous connecter avec d'autres propriétaires d'entreprise comme vous.