You can configure the 'Candidate Apply Settings' 在 轻松工作 to choose how candidates can log in and apply to available job posts within your organization. You can also configure these settings to create 'Custom Apply Fields' for any job and thus add your own customized job application fields, as well as attach resume with email so recruiters can check them instantly.
How To Manage 'Candidate Apply Settings' In Easy.Jobs? #
Follow the steps below to manage or configure candidate apply settings for Easy.Jobs.
Step 1: Configure 'Candidate Apply Settings' in Easy.Jobs #
Sign in to your Easy.Jobs account and click on the 'Settings' tab from your dashboard. From here, navigate to 'Candidate Apply Settings' as shown below.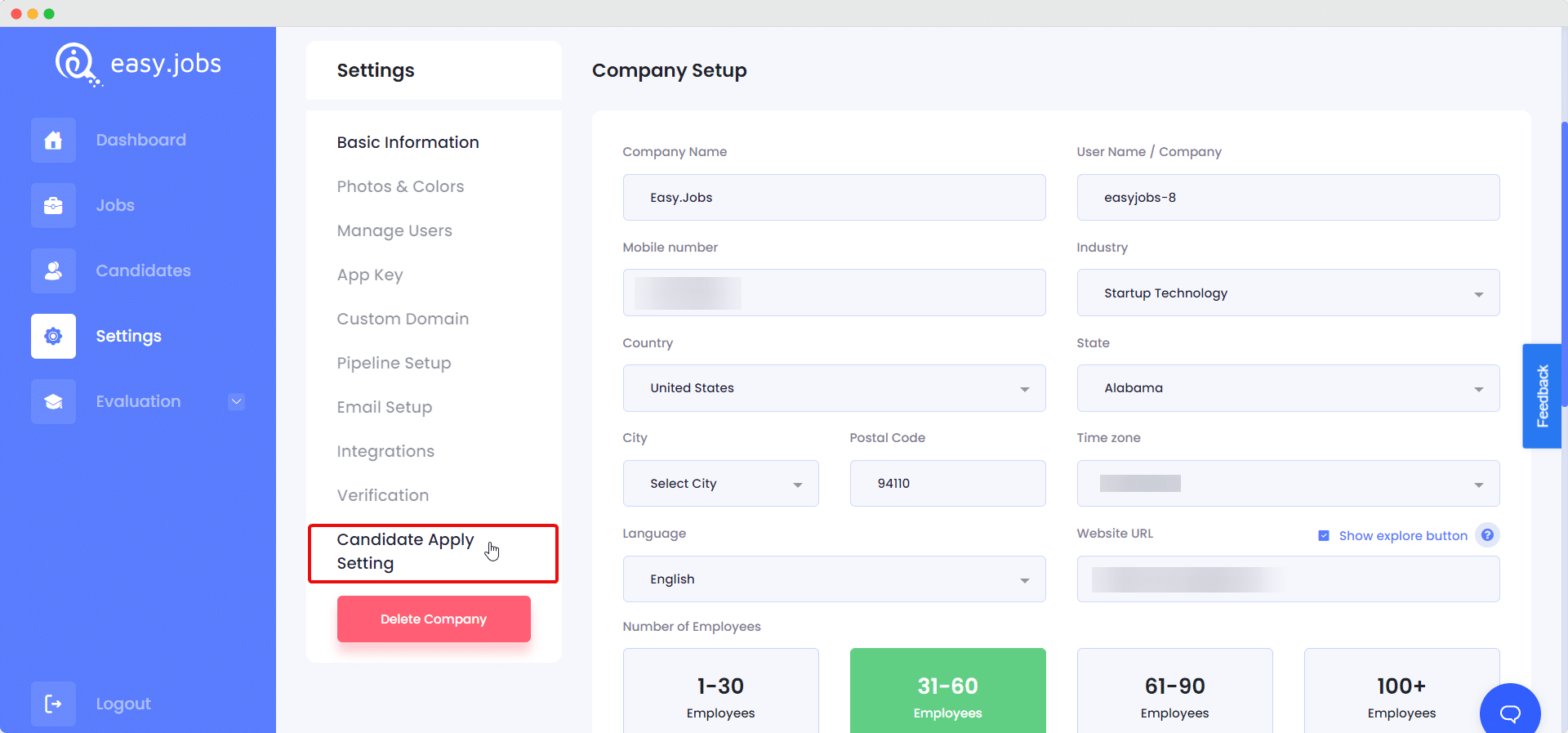 Step 2: Change Login Options And Custom Apply Fields #
You will be taken to a new page where you can change the 'Candidate Apply Settings' to your liking. From here, you can choose the login options that will be available to candidates when they apply for your job posts in Easy.Jobs. You can choose to allow logging in with Google, Linkedin and email address by checking the boxes as shown below.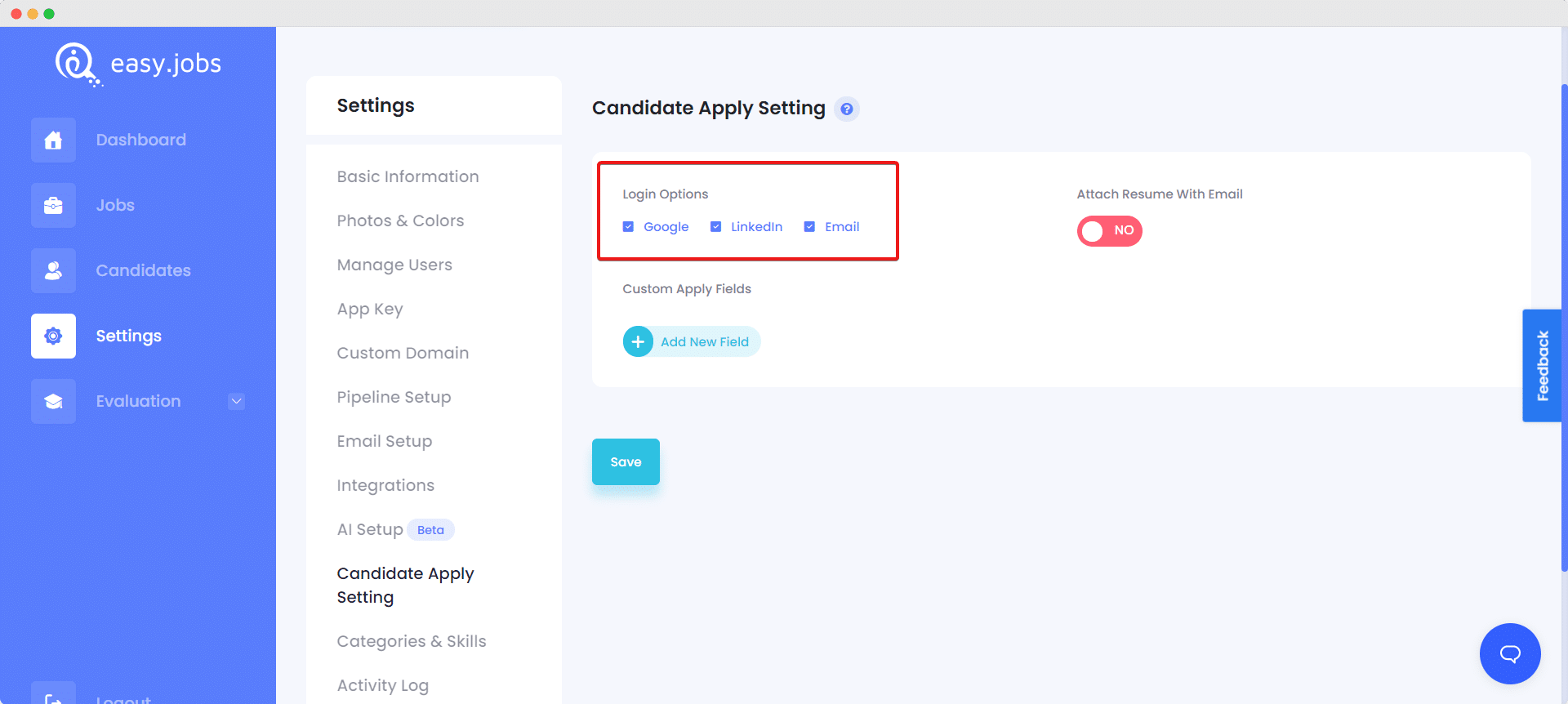 You can also add your own custom apply fields by clicking on the 'Add New Field' button. Add as many custom apply fields as you want and then click on the 'Save' button to update your changes.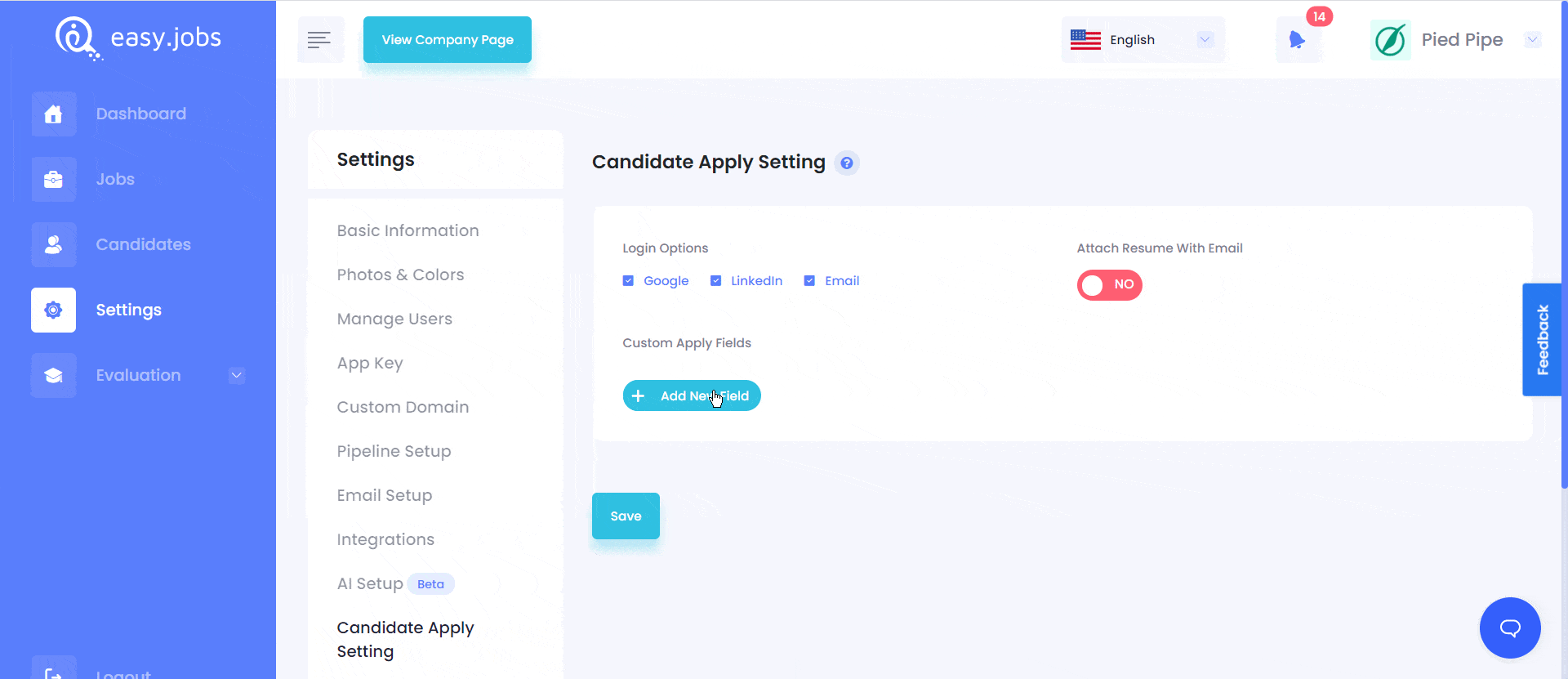 Step 3: Add Your Custom Apply Fields To Job Posts #
Next, when you 在Easy.Jobs中创建新的职位发布, you will have the option to add your new custom apply fields. By clicking on the 'Publish' button after creating a new job, a popup will appear where you can add the required fields that candidates must fill up to complete their application. From here, you can check the 'Custom Fields' box to add your custom apply fields to your job post.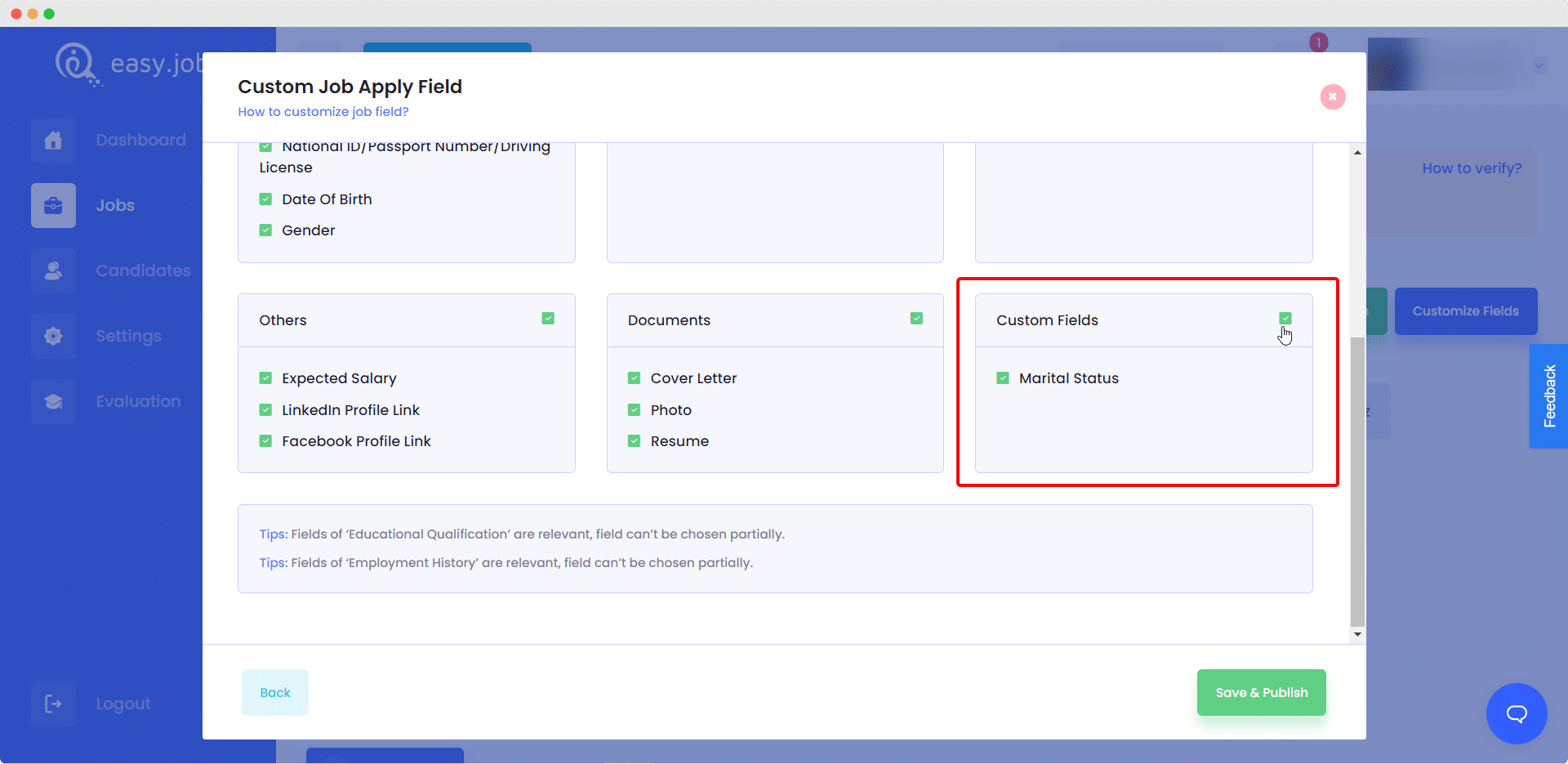 How To Attach Candidate Resume With Email For Recruiters? #
Whenever any candidates apply to your job posts in Easy.Jobs, you will get an email notification with the candidate's Easy.Jobs profile link. Alternatively, you can also enable the option for recruiters or hiring managers to receive candidates' resumes directly by email. 
To do this, from the 'Candidate Apply Settings', toggle to enable the 'Attach Resume With Email' option as shown below. Now recruiters will receive the candidates' resumes in their email inbox automatically.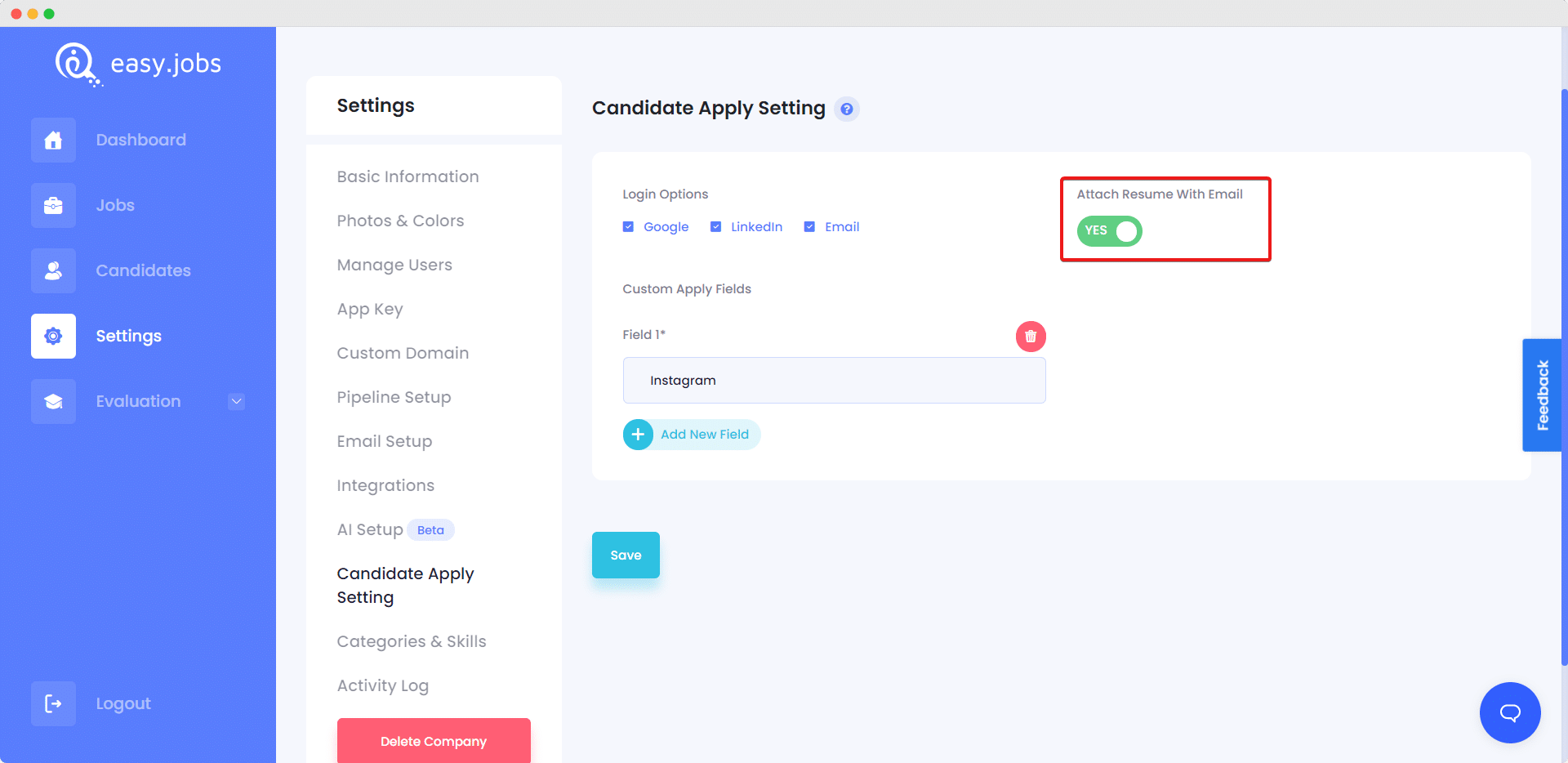 This is how you can configure 'Candidate Apply Settings' 在 轻松工作 to choose login options and custom apply fields for your candidates. You can also manage the settings here to attach resume with email for recrutiers or hiring managers by following this guide.
如果您需要任何帮助,请随时 联系我们 or join our friendly Facebook社区