Whenever companies are planning to handle their recruitment process, it's very possible that some of them are still using Google Forms. But is it the most convenient hiring process in 2021? Let's dig deeper into what you're missing when using Google Forms to hire and learn how to take remote hiring to the next level with modern solutions.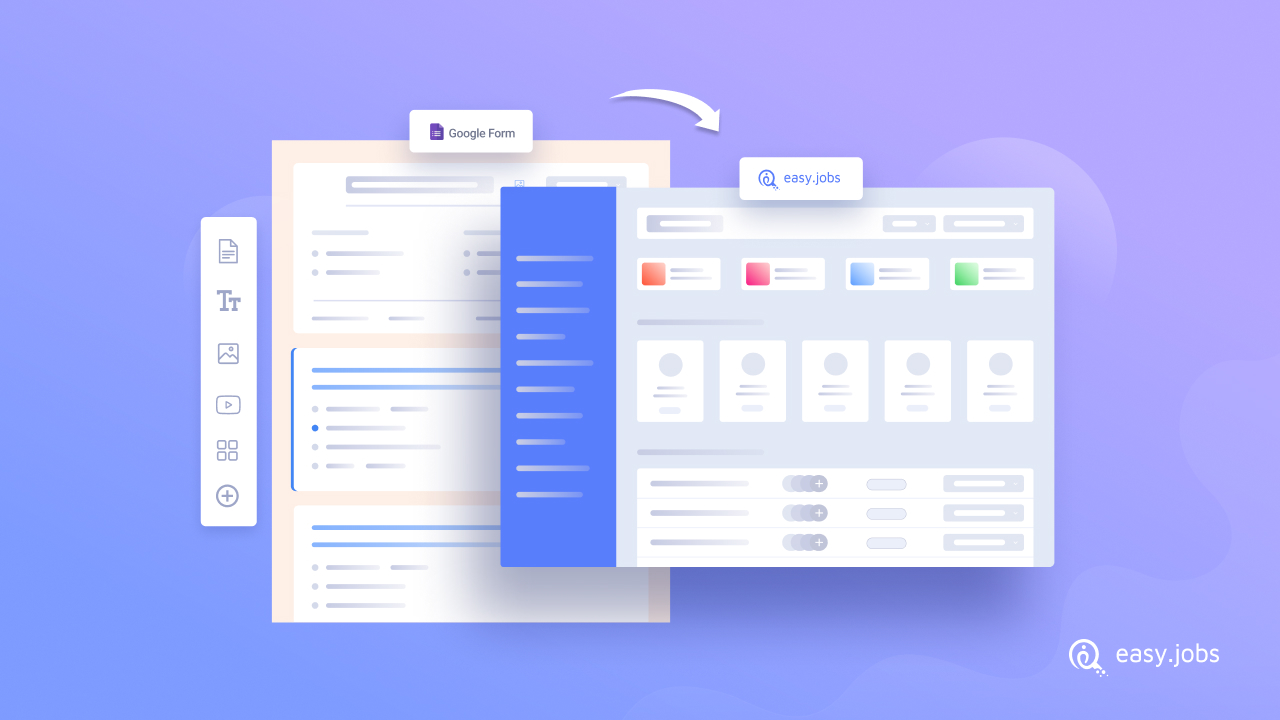 Streamlining your recruitment process with advanced hiring tools is the best way to onboard energetic, enthusiastic, and qualified employees for your business. In the absence of a proper hiring solution and an efficient hiring workflow, it will be hard to find the right candidates. 
When you are using Google Forms to  manage hiring process wrokflow, then you the complete ides of it's limitations and shortcomings. As we are living in the digital era, you must modernize your hiring process. And the best way to do that is by using a remote hiring and talent sourcing solution trusted by large enterprises and startups alike.
Typical Ways To Manage Recruitment Process Workflow
Before presenting you with the modern hiring solution let's take a look at the old-school ways of managing hiring workflow. Hiring process is the most important part of every company from the beginning. This typical old school recruitment process is still maintained by lots of companies. Here we have identified the old conventional hiring workflow that is still available. 
1. Manage Hiring Workflow With Google Forms
As mentioned earlier, a lot of organizations are still using outdated methods like Google Forms for hiring instead of modernizing their recruitment process with advanced tools. Many startups and small businesses prefer this because they are free, and, above all, they are not up-to-date about the latest hiring solutions. But if you want smarter, faster, and more efficient ways to manage your recruitment process, then you should shift from Google forms and use recruiting tools instead.

2. WordPress Form Plugins For Recruitment Process
Aprat from using Google Forms, some people use another way to create jobs posts using WordPress plugins. Companies that have a WordPress career site most often use WordPress plugins for their recruitment process. You can also find plugins from the WordPress repository. But WordPress forms plugins have specific limitations, so they are also considered as old-school ways of managing hiring workflow. 
As WordPress form plugins are a good tool to create quick communication channels or surveys, they are not a perfect option for managing completerecruitment process. You will need additional tools to collect candidate applications, sorting them, evaluating them, and so on. 
Advanced & Modern Alternative Approaches To Manage Hiring Workflow
Until now, we have mentioned the hiring workflow based on typical old methods. Therefore, the question might come to your mind: what is the more advanced and more effective approach for your recruitment strategies?
SaaS tools are the most advanced, modern, and dynamic tools for managing smart hiring workflow. With this tool, you can hunt for potential candidates, sort them, evaluate them, and screen them, all at the same time. Your huge energy and time will be saved by using these SaaS hiring solutions.
The main steps of the hiring workflow are: first, run recruitment campaigns to collect resumes and CVs from the candidates, then screen the applicants, and lastly communicate with the selected candidates. SaaS hiring solutions can help you to manage these efficiently.  At present the most popular hiring solutions are Easy.Jobs, Recruitee, JobVite, and a few others. 
Limitations You'll Face While Managing Hiring Process Workflow In Google Forms
 In this section, we will take you on a short tour of how to manage the hiring workflow with Google Forms and then how SaaS hiring solutions can easily fill up the gaps of Google Forms easily. To point out the limitations of managing hiring workflow using Google Forms, we have chosen Easy.Jobs to compare the differences in the next section. 
Creating A Job Query In Google Forms Is Time Consuming
The first step of the recruitment process is to create a job query. It will give the potential candidates the way to show their interest in your organization and prove eligibility. Usually these days people add quizzes, multiple choice along with the job query form. So the recruiter can easily check out the eligibility of candidates. 
In Google Forms workflow you have to create an answer file manually one by one to collect candidates, names, email addresses, contact details, and so on. You can mark down the required fields, add quizzes for screening, and so on.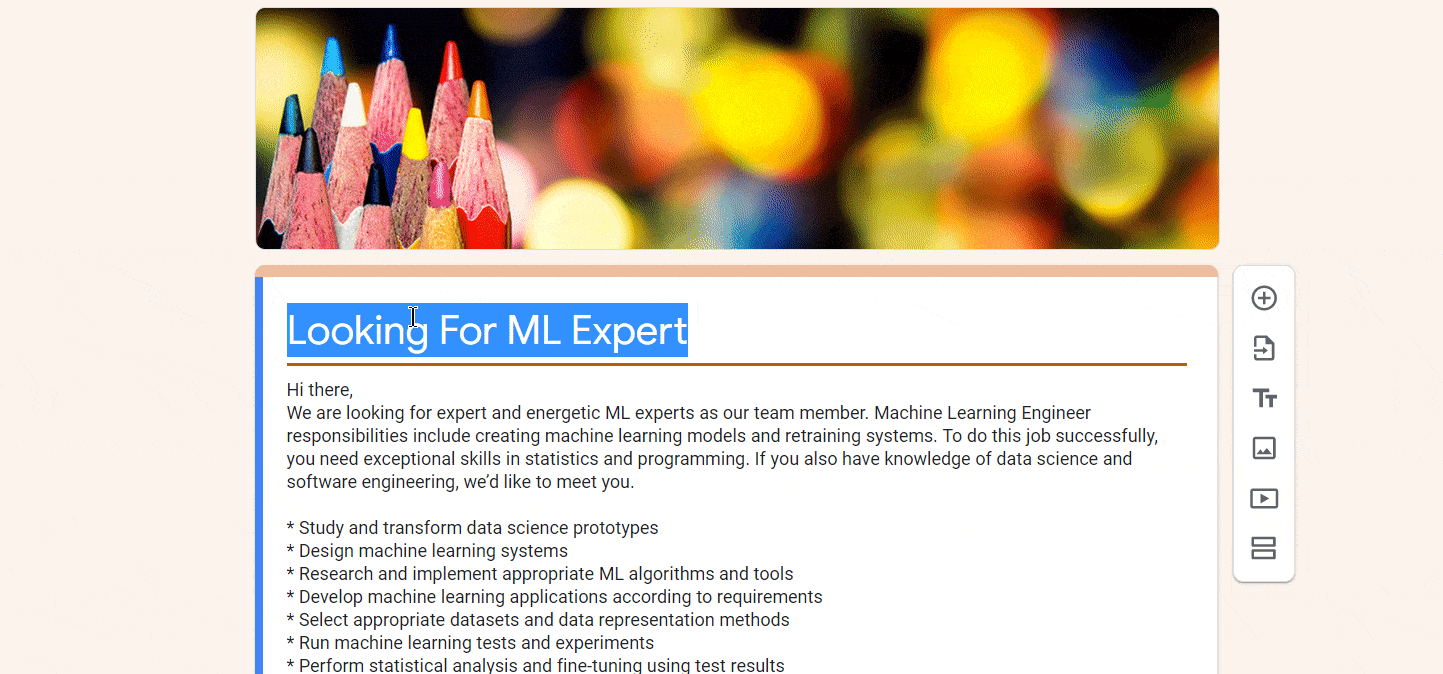 While creating a job query, every time you have to create input fields manually. There is no option of creating templates, so that major information like candidates, names, email, address details won't get missed out. 
Cannot Create Screening Question Sets Easily
As in recent times, recruiters find it beneficial to take a general screening test to get a better understanding of the employees. You have to add screening questions one by one or import questions from any previously created job posts. Also, you can add space for short answers, long answers, multiple choices, and so on. 
Though you can create quizzes in Google Forms but you can't create screening questions templates and use them in other job posts. Moreover, the system of setting quizzes and questions is so simple in Google Forms, so fewer options for innovation.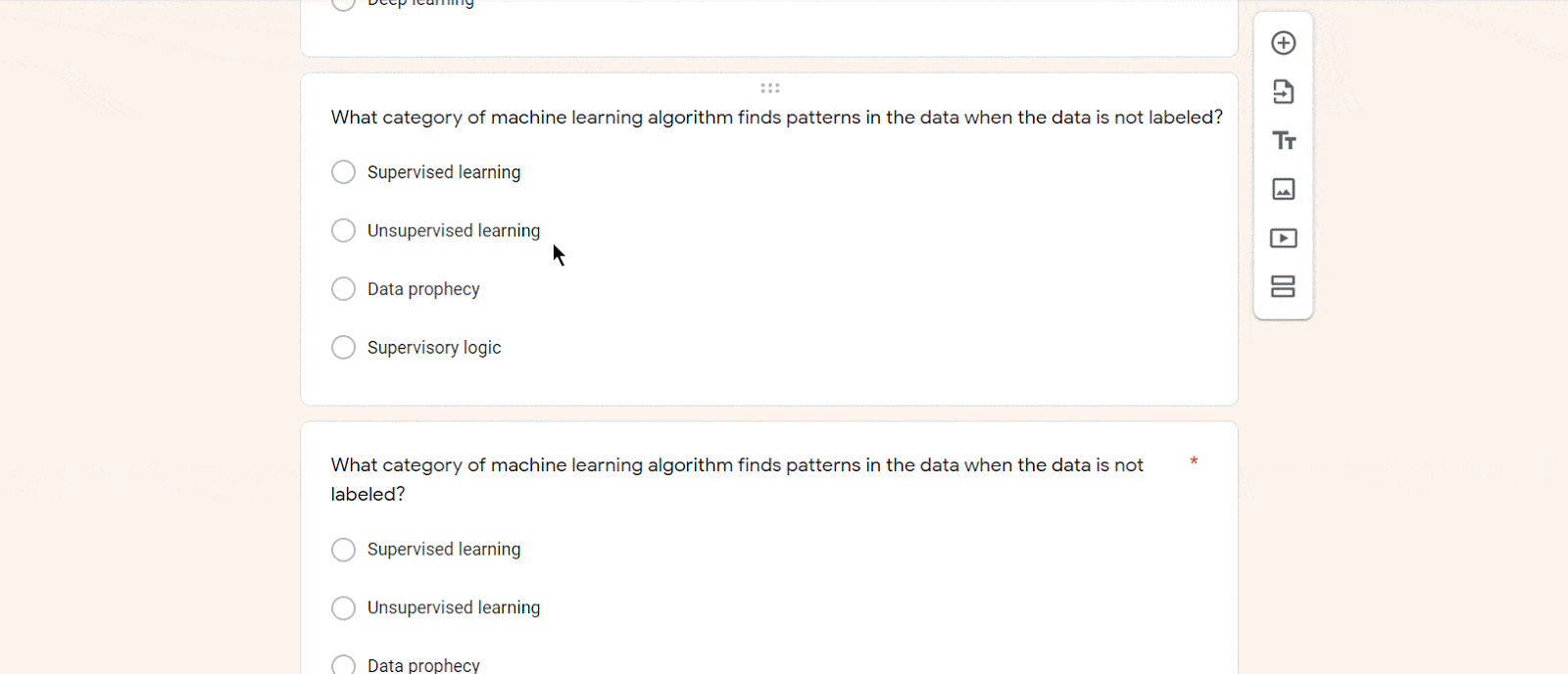 Analyzing Data From Google Forms Can Be Challenging
After creating the job query it is ready to share with all the potential candidates. Google Forms can be integrated with Google Sheets so that you can access a CSV file that contains the information your applicants have provided.
However, you will eventually need to spend time and effort organizing these results, which can slow down the recruitment process. Moreover, you can get any quick evaluation of analytical data based on these data from Google Sheets; for that, you may need to use another third-party tool.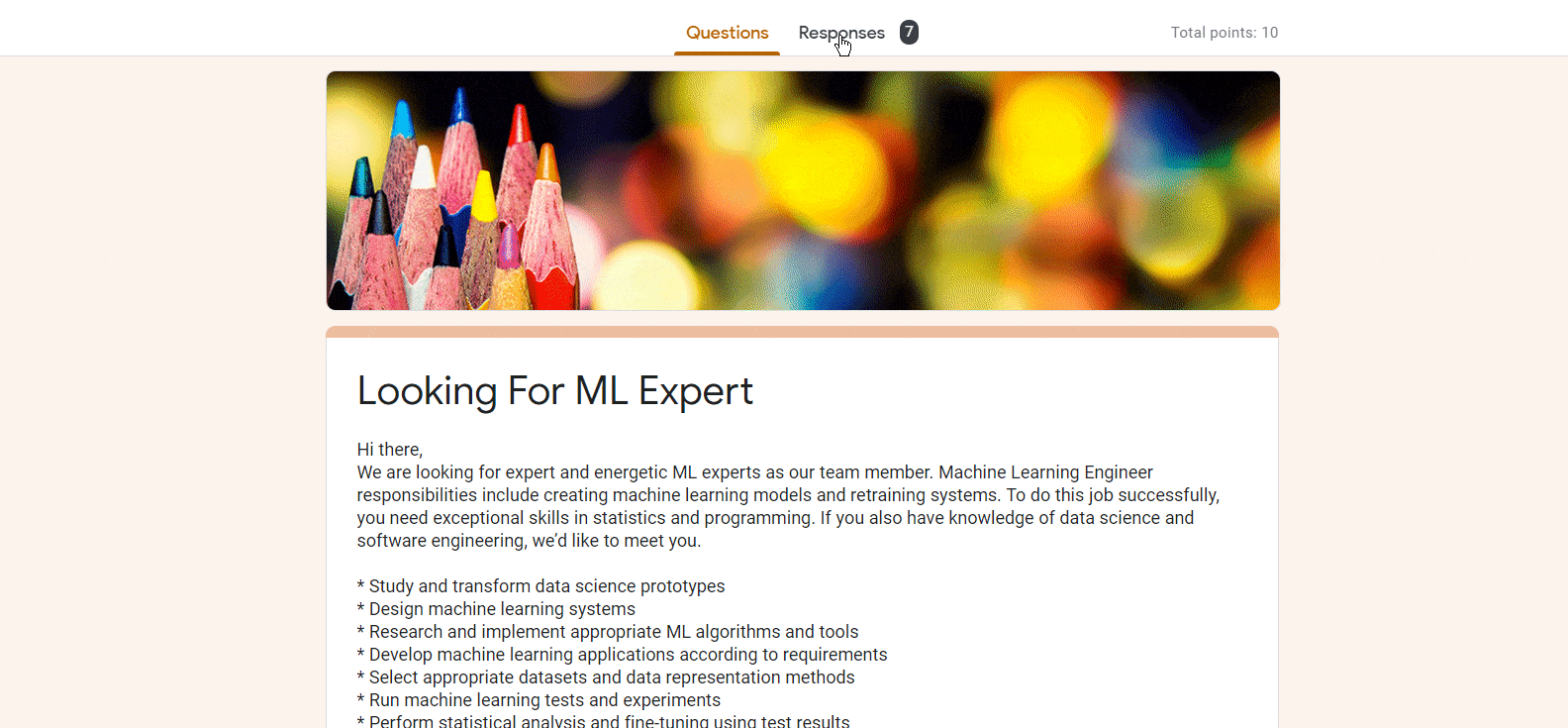 You'll Need To Spend Money On External Email Management System
In hiring workflows, you notifying your candidates about every phase, in very important.  Whether they are selected for the next phase, appointed as an employee, or rejected from this job opening. To keep the communication professional, email is the best tool. As Google forms doesn't have built-in email functionalities, you have to integrate the email management system externally. 
Google Forms doesn't provide any email management system. So you have to depend on 3rd party tools in this regard as well. It will make the recruitment process lengthy. You have to create an IFTTT account and integrate it with the Google sheet. So that you can automate the total email communication with your hiring workflow of Google Forms. Using Gmail isn't necessary for this step. It also works with Office 365 email and any other email service that's integrated with IFTTT. Authenticating the account with IFTTT is all you need to do.
Difficult To Collaborate Seamlessly With Recruiting Team
Handling the entire recruitment process in a single hand is a tough nut to crack. Especially when you are managing the hiring workflow manually in Google Forms. Google forms provide the opportunity to collaborate with other recruiters. With it, you can easily distribute the recruitment related chores.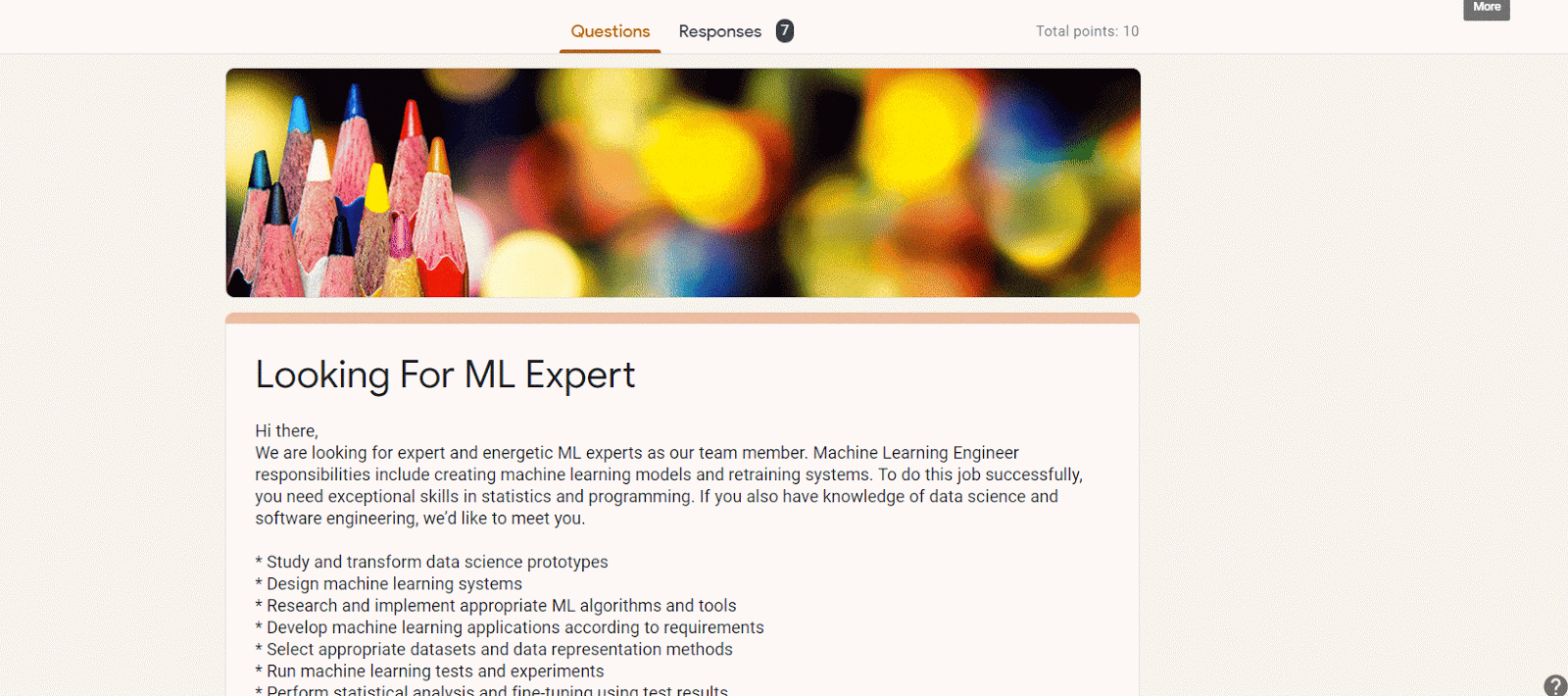 As mentioned above, Google Forms provide you the option to collaborate with your recruiter team. But you can't restrict each recruiter's responsibilities and access. If you need to maintain restrictions, you can't do that with Google Forms. 
More Reasons To Shift From Google Forms Workflow
If you use Google Forms as your hiring solution, then we are pretty sure you also follow the above hiring workflow. Now time to point out more limitations of Google Forms workflow. We are sure that you are facing enormous limitations, here we've pointed out the most major ones that everyone has complained about. 
🔴 Submitting and collecting resumes is one of the essential parts of a hiring Workflow. Google Forms has limitations in this sector also. You can't provide the option to upload a resume and share an online resume URL at the same time in Google Forms.
🔴 Creating a pipeline for the recruitment process is the smartest step of the hiring workflow. With Google Forms flow, you have to do that within Google Sheets and manually. This makes the total recruitment process messier.
🔴 Unless you use the same Google Sheet for any new recruitment, there is no way to store your all applied candidates' information centrally. So you can't keep track of applied candidates easily.
🔴 Google Forms provide a statistical view of the performance of your form. But that limited data isn't enough to evaluate candidates properly. Only you can get a count of how many candidates have applied, who has filled out all the sections, and who's not, etc. 
How Easy.Jobs Helps You To Manage Hiring Workflow Efficiently
Let's give a brief introduction to Easy.Jobs. if you are hearing about this for the first time. Easy.Jobs is the ultimate SaaS hiring solution to find out the right talent for your organization. You name a feature related to the recruitment process, you will find it here. Moreover, Easy.Jobs hiring solution has a WordPress version, using which you can instantly create a stunning WordPress career site, run new job vacancy campaigns, and many more. Its exclusive features and utmost usability is making it the most popular hiring solution day by day. 

Do you want to get rid of the above-mentioned limitations? Then Easy.Jobs hiring solution can save you out. To find out how Easy.Jobs overcome these limitations, let's explore the hiring workflow of Easy.Jobs. 
Step 1: Sign Up To Easy.Jobs & Create Company Profile
To get started with Easy.Jobs are the simplest step. All you have to do is create your profile in Easy.Jobs and provide all the necessary information about your organization. Easy.Jobs offers a built-in career site with the application. With the career site, you can easily run job opening campaigns smoothly.
Step 2: Create New Job Post With Ready Job Templates
Creating job posts is the first step for every hiring workflow and in Easy.Jobs, it's the easiest one. From the Easy.Jobs dashboard you can create job posts easily with all the required fields. All essential fields are added for job posts. So you won't have to worry if any essential files get missed.
Moreover, Easy.Jobs offers ready jobs templates. You can easily search for the job category and insert the job templates instantly. Every job template contains all the contextual information about skills, responsibilities, and so on. You can also customize the contents easily from the Easy.Jobs dashboard.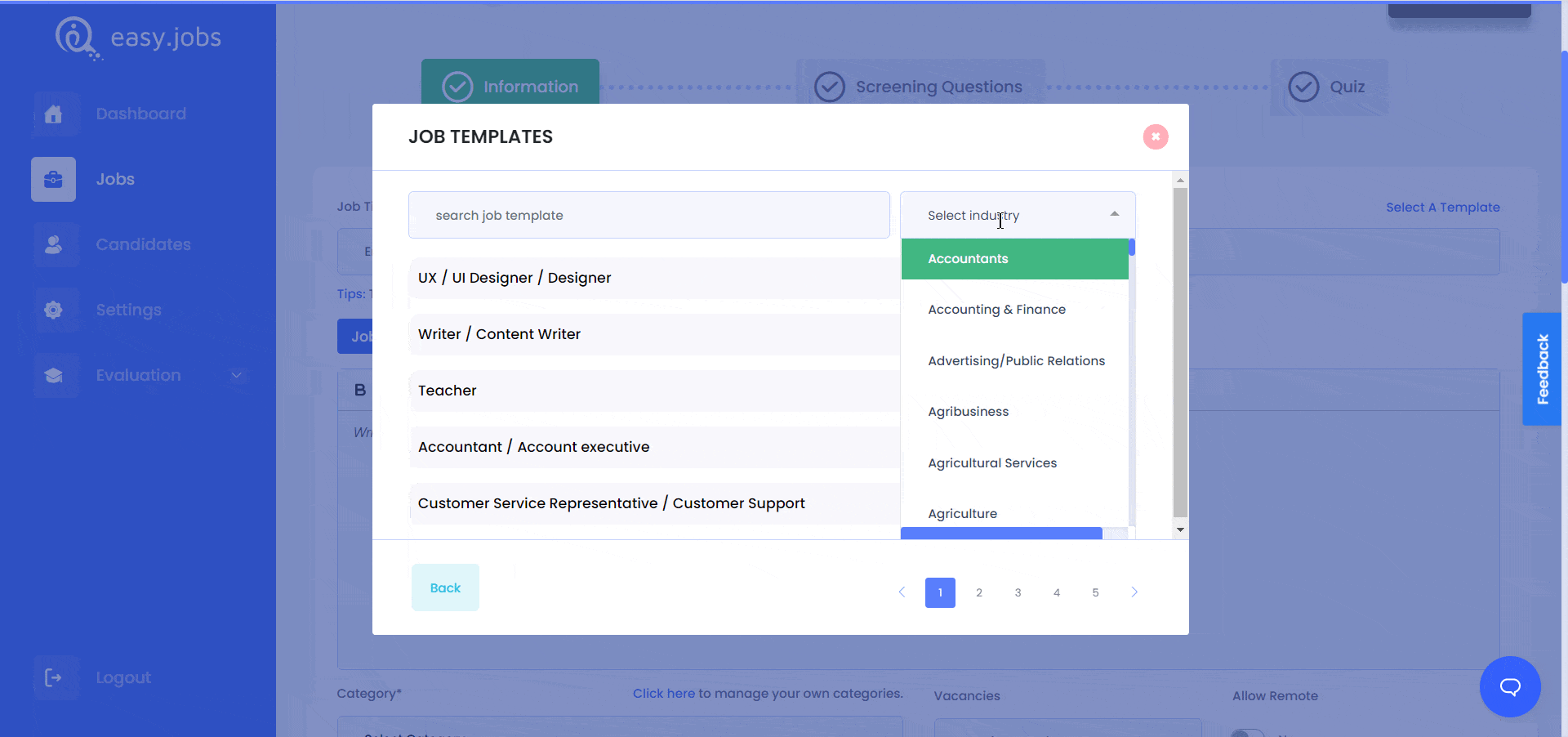 Step 3: Add Screening Questions, Quizzes For Better Evaluation
After creating the job post, Easy.Jobs will take you to the next step, to add screening questions. You can add required questions, multiple choices, short answers, and so on types of questions. There is the opportunity to save your screening questions set for reuse in Easy.Jobs hiring solution. This will save your time to create screening questions every time for your hiring workflow.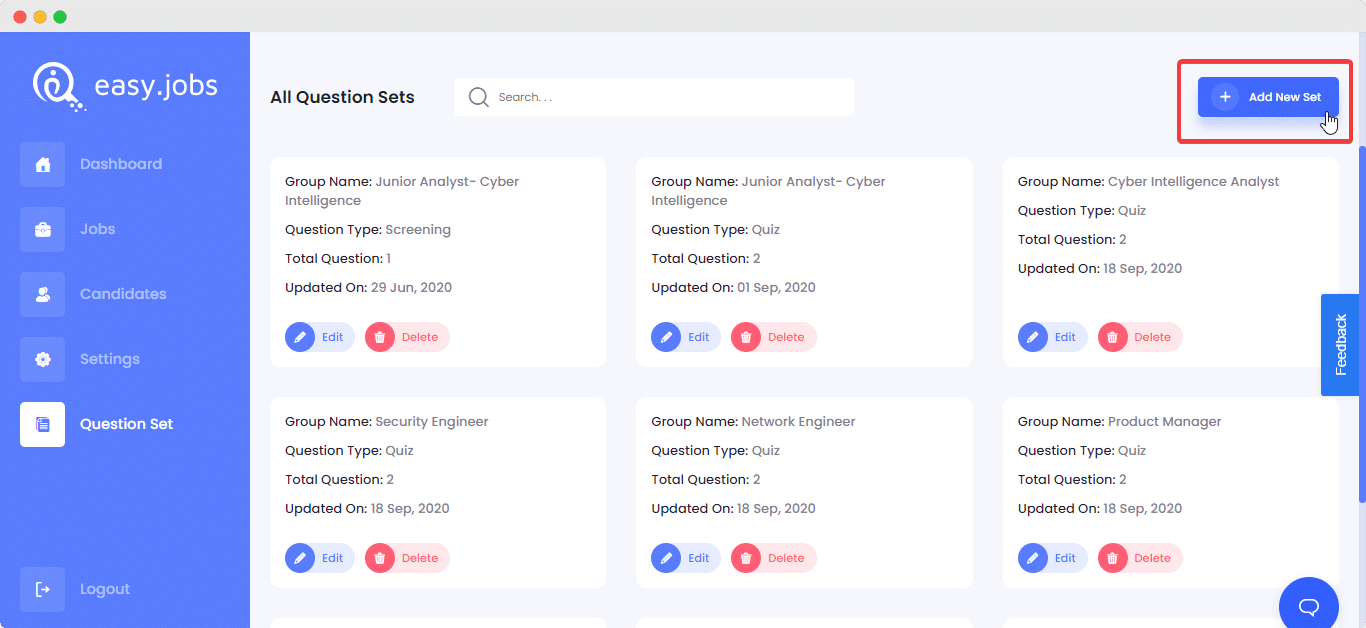 Step 4: Create Pipelines To Manage Recruitment Process Swiftly
With Easy.Jobs hiring solution, you can easily add pipelines to your recruitment campaigns. This will make the hiring process smoother. You will get the privilege to create different types of pipelines for different posts, and if you want to stick to the basics, then you can easily go for the default pipeline. Pipelines help to segregate selected candidates from piles of candidates.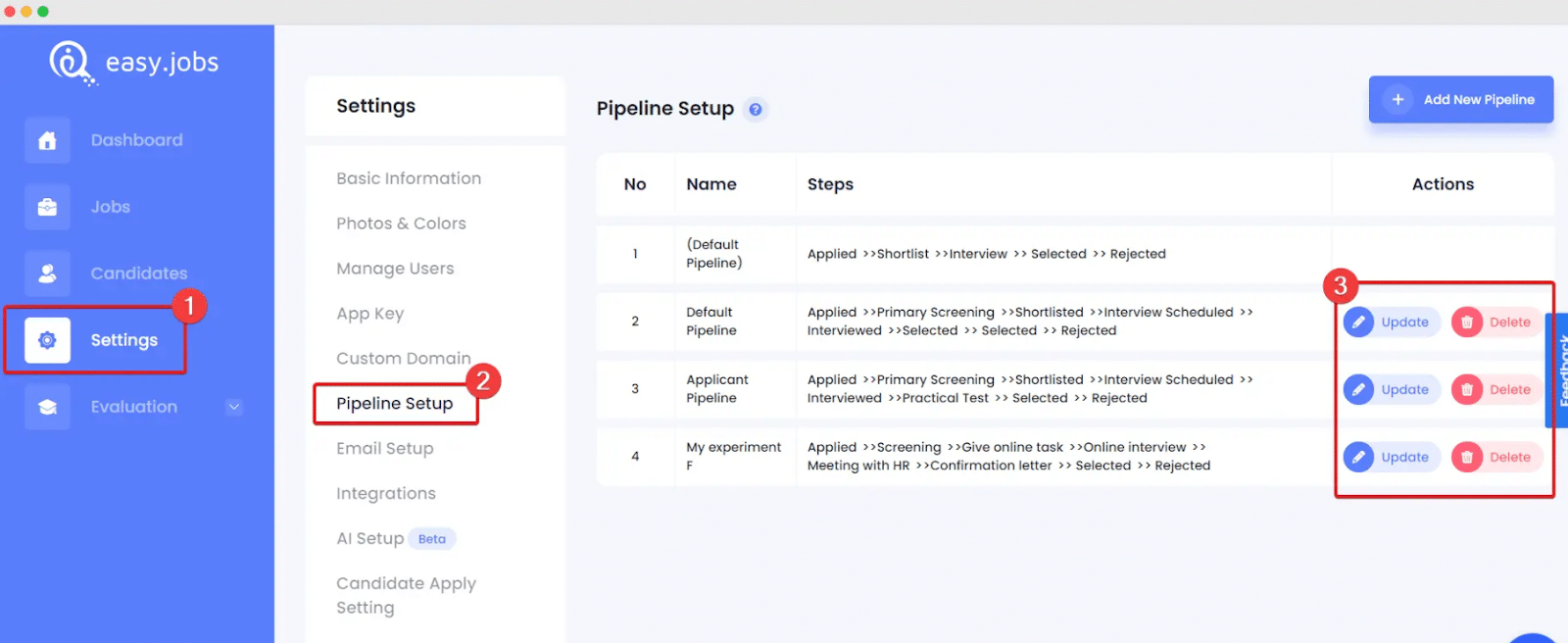 Step 5: Screen Candidates Based On AI Score & Quiz Score
You can easily preview the screening quiz performance of every candidate from the same Easy.Jobs dashboard. Based on the scores you can easily differentiate the eligible ones. To manage the hiring workflow in a more advanced way, Easy.Jobs hiring solution provides AI scores to candidates, based on their skills, experiences, screening quiz performance, and so on. It's a matter of time to find the right candidates with Easy.Jobs.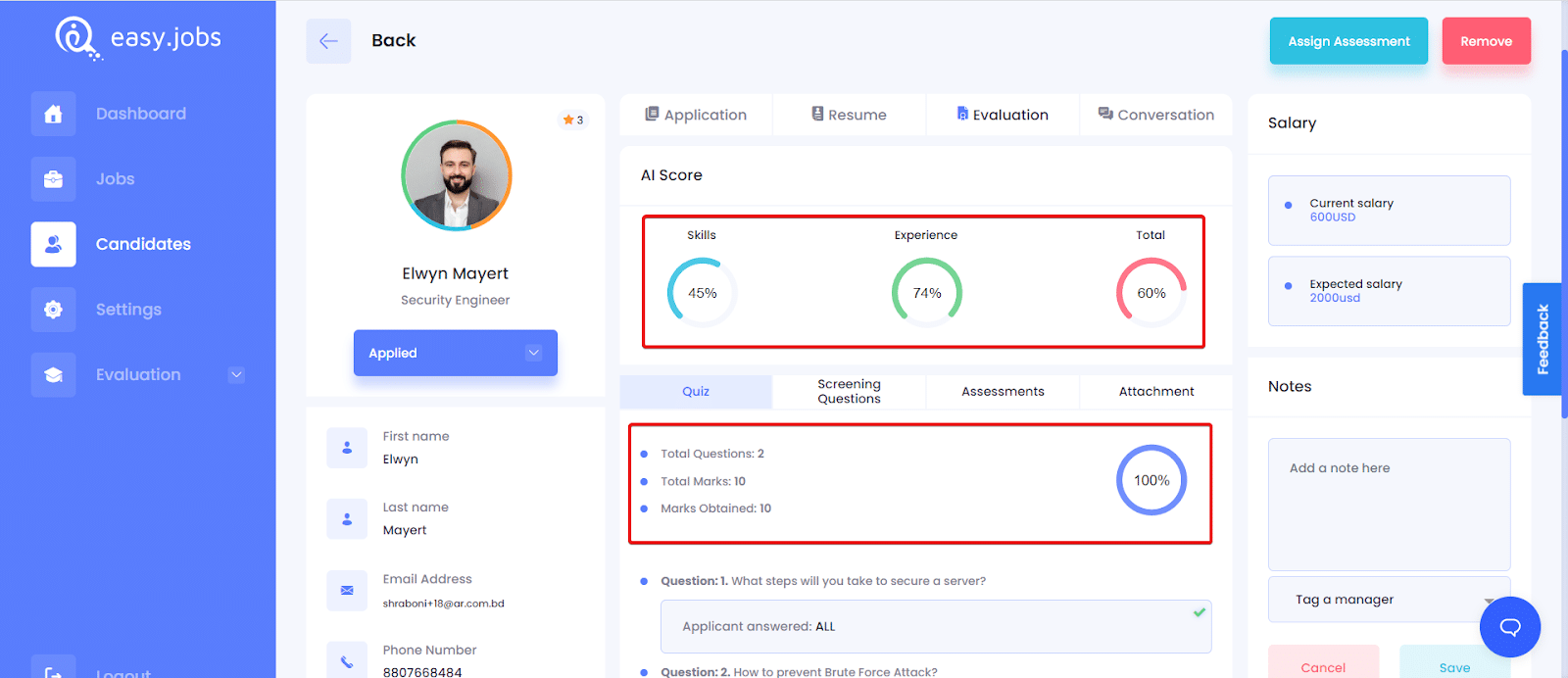 Step 6: Create Communication Channel With Candidates
Besides only analyzing skills and quizzes, you may need to communicate with the candidate personally or assign assessments. To manage these types of communications, Easy.Jobs provide in-app messaging. This way, without leaving the Easy.Jobs dashboard, you as a recruiter can easily communicate with the candidates.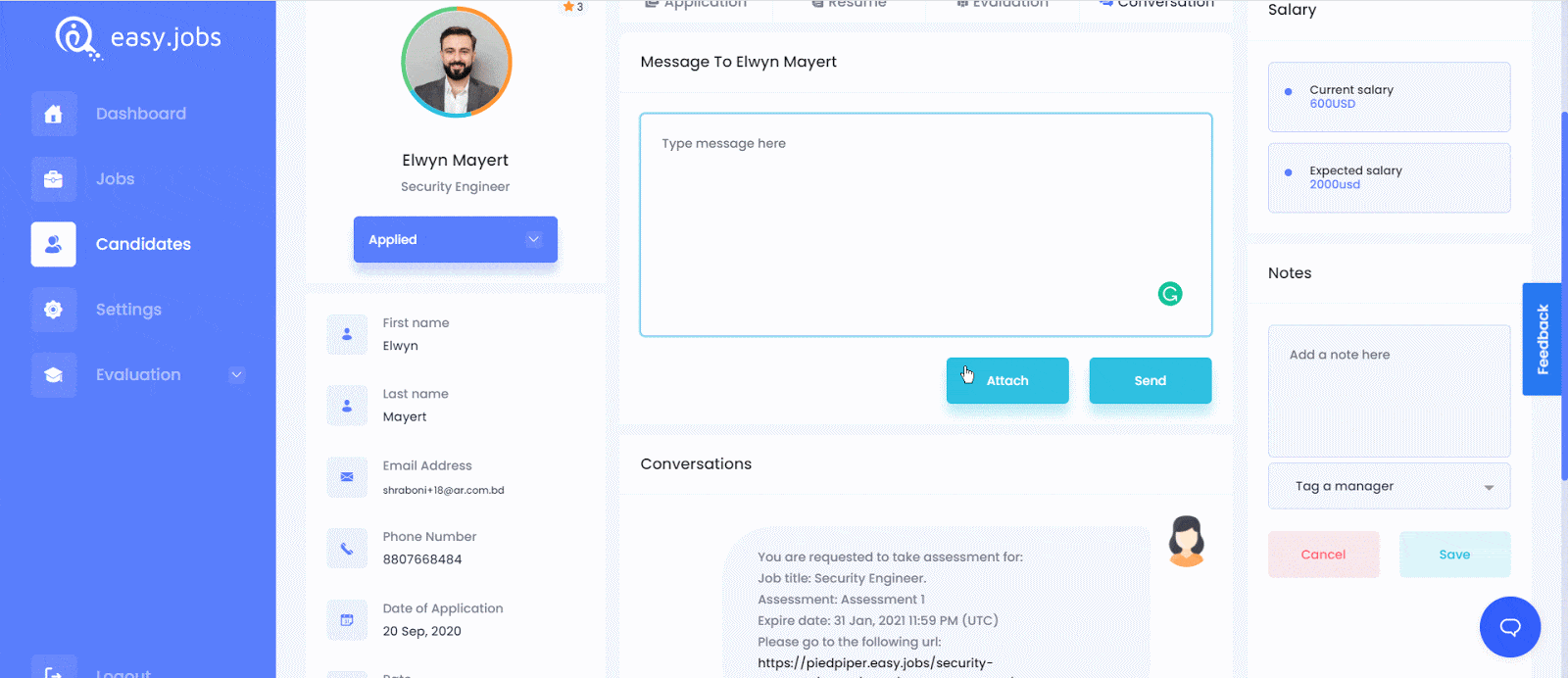 Step 7: Assign Tasks To Your Team Members & Collaborate
Easy.Jobs hiring solutions come up with stunning features to manage your recruiter team directly from the dashboard. You can provide certain access to certain team members and manage the total recruitment process smoothly. In this, you can also boost team productivity as well as streamline your hiring workflow.
Step 8: Update Candidates About Every Phase Via Automated Emails
The most needed feature of any hiring solution by the polls of organizations is a built-in email management system. And Easy.Jobs provides you the facility. With Easy.Jobs you can easily automate the entire recruitment email campaign.
You just have to change the pipeline status. The rest of the work such as acknowledging candidates, sending them invitations for the next steps, etc will be managed by the email management system. Moreover, Easy.Jobs offers ready email template copy, so you won't have to worry about the contents of your emails as well.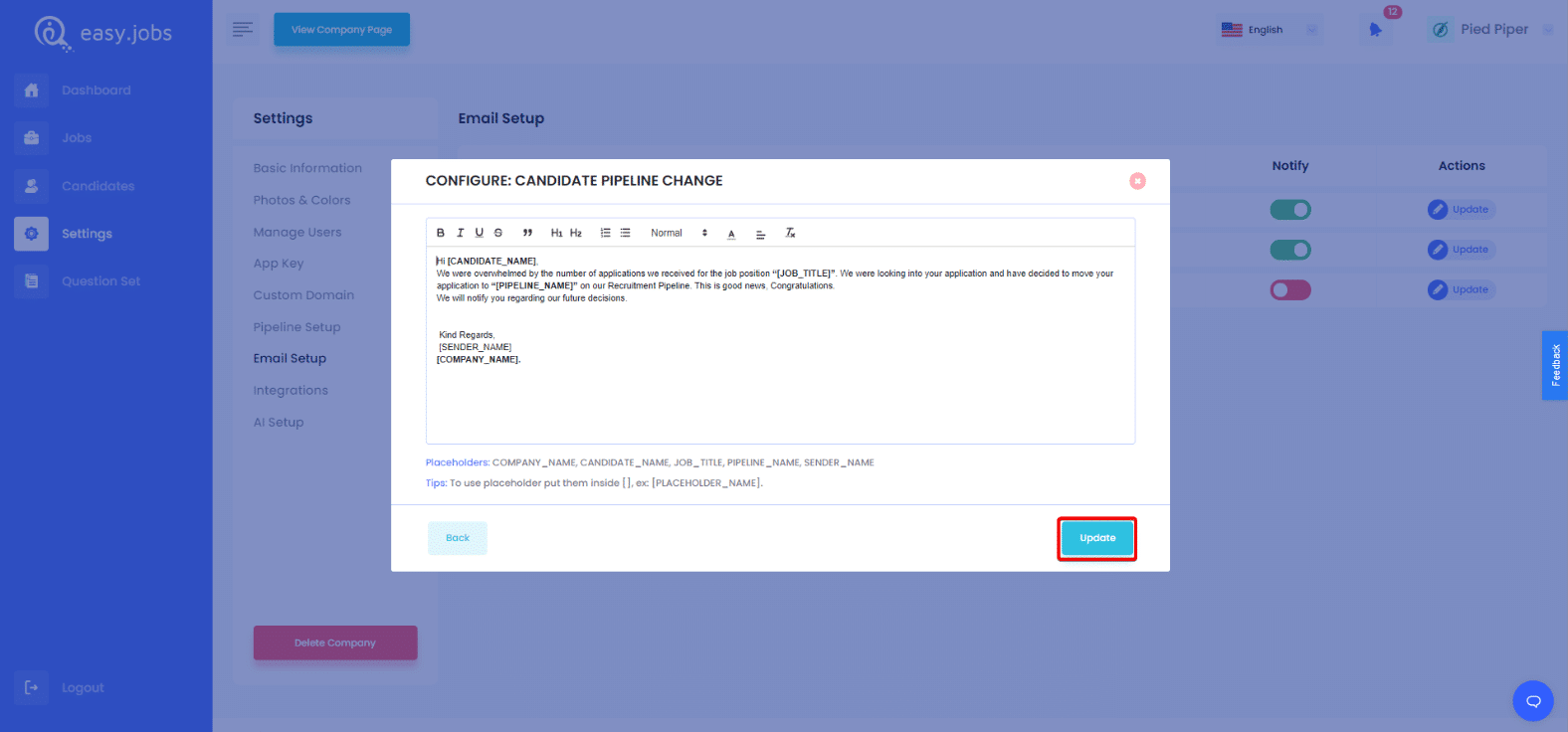 Analyze Your Career Site Performance WIth Built-In Analytics
A hiring workflow completes only when you generate analytics reports of your recruitment campaign as well. And this thing is also nicely taken care of by Easy.Jobs hiring solution. From its built-in analytics, you will get a complete view of your career page engagement, how many people have applied to jobs posts, you are, recurring candidates, and many more.
This insightful data will help you run a smarter hiring workflow in the future. If you have a WordPress career site, then Easy.Jobs will take care of the analytics of that also.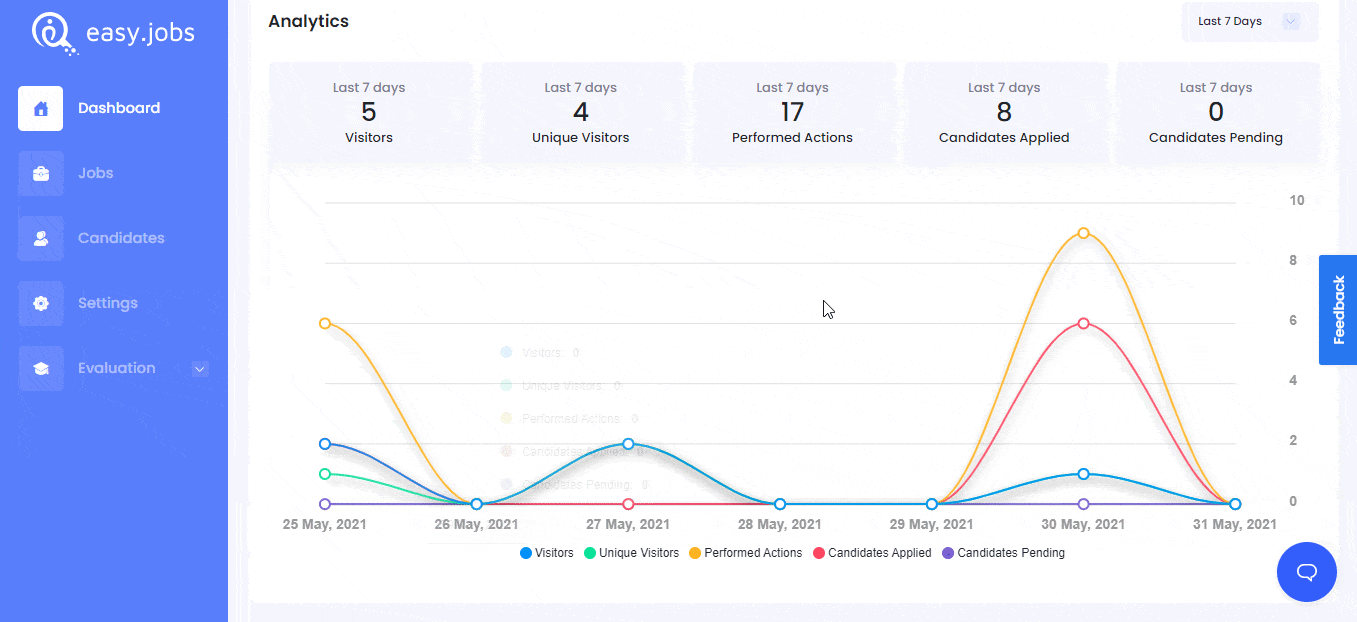 Discover More Stunning Features To Manage Hiring Workflow
You already get a clear idea of how hiring workflow is managed in Easy.Jobs solutions. Now let's take a look at other utilized features of Easy.Jobs at a glance.
Easy.Jobs hiring solution supports more than 30+ languages. So you can easily localize the app interface easily into your own native language. It will help you to get candidates of your native language.
You can add side notes over every candidate in Easy.Jobs hiring solutions. So that if any new recruiter entries to the dashboard, he can get the complete idea of the candidates' updates from the side notes instantly. It will save you from giving a briefing of the total recruitment campaign.
Search engines the most visited place where people look for new job openings. Easy.Jobs provide the opportunity to index your job posts directly to the Google search engine. So when candidates search for the required job post with related keywords, your enlisted job will be visible in the search result.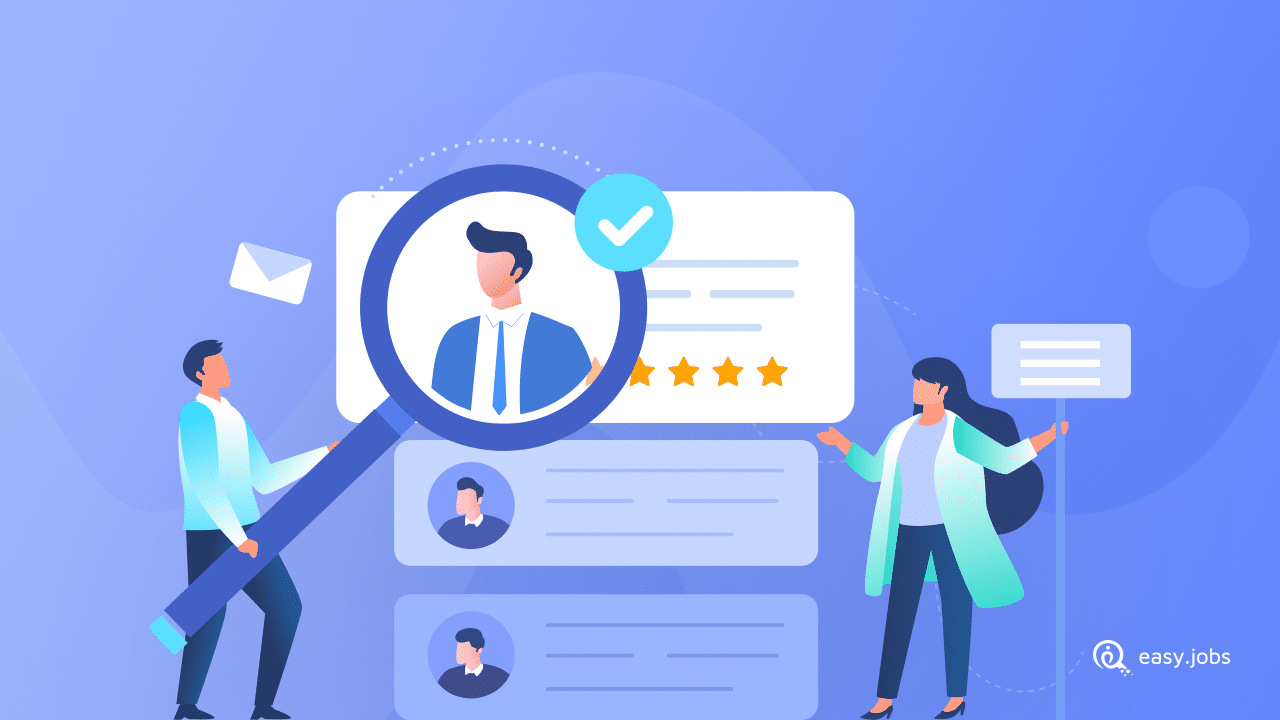 What Stunning Benefits Waits For Candidates In Easy.Jobs?
Not only as a recruiter but also as candidates who apply through Easy.Jobs will get immense advantages in getting hired. Every candidate will get their individual dashboard. From there you can easily check out your status in applied job posts, how much your skills are compatible for the applying jobs, and so on.
While candidates apply through Google Forms, it's mandatory to have a Gmail account. It confined other email holders from applying certain job posts. On the other hand, candidates can create their Easy.Jobs profile via Facebook, LinkedIn, or any email ID. Easy.Jobs helps candidates to represent themselves impressively and make it easier for recruiters to find out the right talent.
Easy.Jobs Vs Google Forms: Which Helps To Manage Hiring Workflow Better?
Which hiring solution is better for you to manage hiring workflow depends mainly on usability and user experience. Between Easy.Jobs and Google Forms, let's check out one more tool which is applicable for when.
Easy.Jobs Hiring Solution Is Recommended If:
If you want to manage your hiring workflow in an automated centralized way, then Easy.Jobs is the best hiring solution.
If you want to make your total recruitment process faster, then you will need a complete hiring solution where you will find all the essential features in the same place.
When you want to get ready templates for job descriptions, emails, and screening questions, there is no alternative to Easy.Jobs in terms of quality.
On the other side, with Google Forms you will not have these stunning flexibilities. Moreover, you won't get enough freedom to manage the hiring process as you want.
Let's have a glance at the feature and usability comparison between Easy.Jobs hiring solution and Google Forms:
| Features | Google Forms | Easy.Jobs |
| --- | --- | --- |
| Onboarding Process | | |
| Create Visual Pipeline | | |
| Add Engaging Quiz | | |
| Email Notifications | | |
| Use For Remote Interview | | |
| AI Scoring of candidates | | |
| Advanced Analytics | | |
| Do In-app Messaging | | |
| Assign Assessments | | |
| Team Activity Management | | |
Shift Workflow Easy.Jobs & Streamline Recruitment Process
If you analyze the above-mentioned use cases, then you can find out how easily you candle complete hiring workflow in Easy.Jobs are than Google Forms. As remote interviewing is becoming essential in today's hiring process, the right hiring solution not only saves your time but also increases the probability of getting the right candidates easily. So, to streamline your hiring process, it's high time to shift from Google Forms and other old-school conventional ways to Easy.Jobs the right way. 
Hopefully, you have enjoyed this post. What types of limitations do you face while managing the hiring workflow with Google Forms? Let us know via comments or by joining our Facebook community. If you want this kind of more insightful posts, and comparisons, then don't forget to subscribe to our blogs.