Tired of screening hundreds of applicants to find the right talent? Save yourself the trouble and use AI for recruitment instead. Introducing Easy.Jobs AI – a modern HR technology for faster, smarter hiring. Now you can save yourself hours of time by intelligently automating your workflow. With just a few clicks you can use AI for recruitment purposes and onboard the right talent in your team.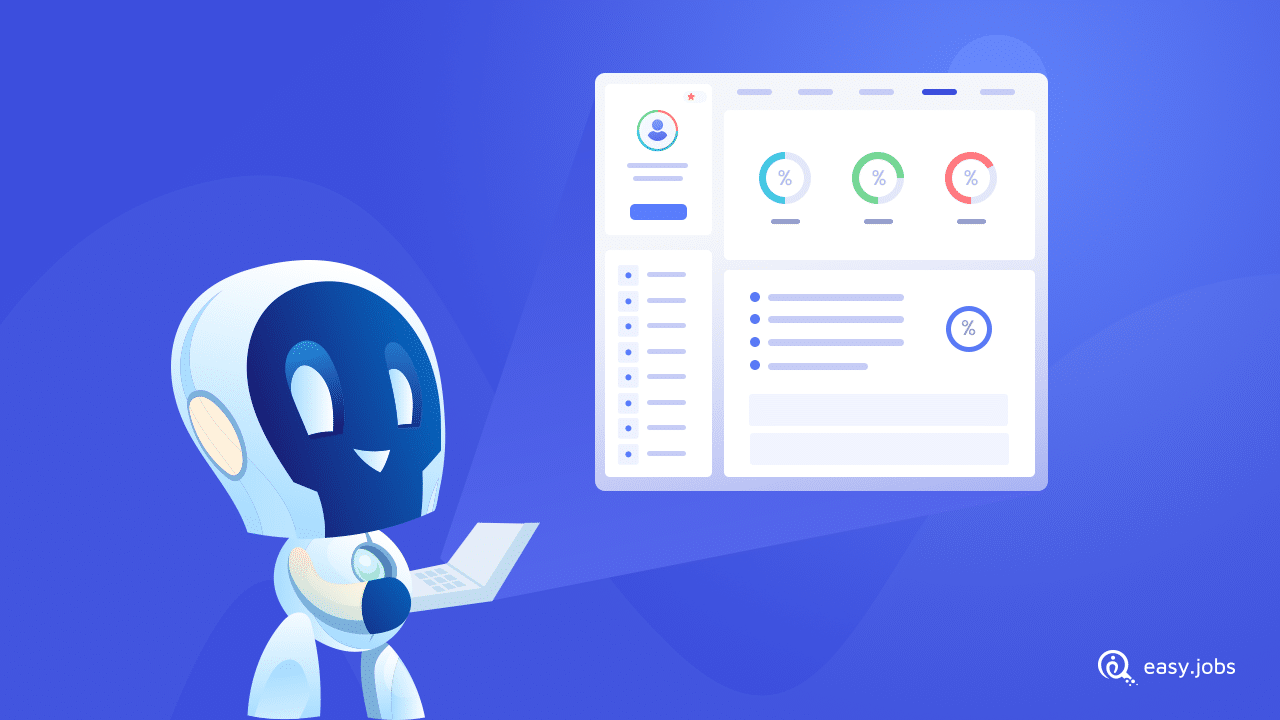 Over 4,000+ businesses trust Easy.Jobs to manage their recruitment process. This new artificial intelligence feature is one of the most popular requests from our users. You asked for it, and we listened. With this new AI for recruitment feature, we hope to make your experience with Easy.Jobs even better.
You can now quickly evaluate each candidate on the basis of their skills, experience and education. Within a few seconds, the AI will match the candidate's qualifications with your job description and give them an accurate score. You can then onboard the candidate with the highest score on your team. 
Want to find out more about this powerful feature? Read on below to learn how you can use AI for recruitment with Easy.Jobs. 
Why Should You Use AI For Recruitment?
Evaluating candidates is always stressful and time consuming for any hiring team. There are several factors involved in the decision making when hiring new people. Thanks to electronic recruitment solutions like Easy.Jobs, we now have better and faster ways to automate our hiring process.
Using AI for recruitment is one of these modern strategies that you can use to onboard the right talent on your team. According to this article from Forbes, "AI technologies have become essential prerequisites for enhancing recruiting efforts". Today, this is true for every business–whether it is a small startup or a large enterprise.
Wondering how it works? Let's take a look at how AI technology is changing the way recruiters find the right people for the job.
Save Time & Screen Candidates Faster With AI For Recruitment
The most important and obvious reason to use AI for recruitment is to save time. In today's world, time is money. The faster you can screen ideal candidates and onboard them, the better it is. With the help of artificial intelligence, you don't have to spend time evaluating each individual candidate. The AI technology will evaluate candidates quickly and more accurately for you.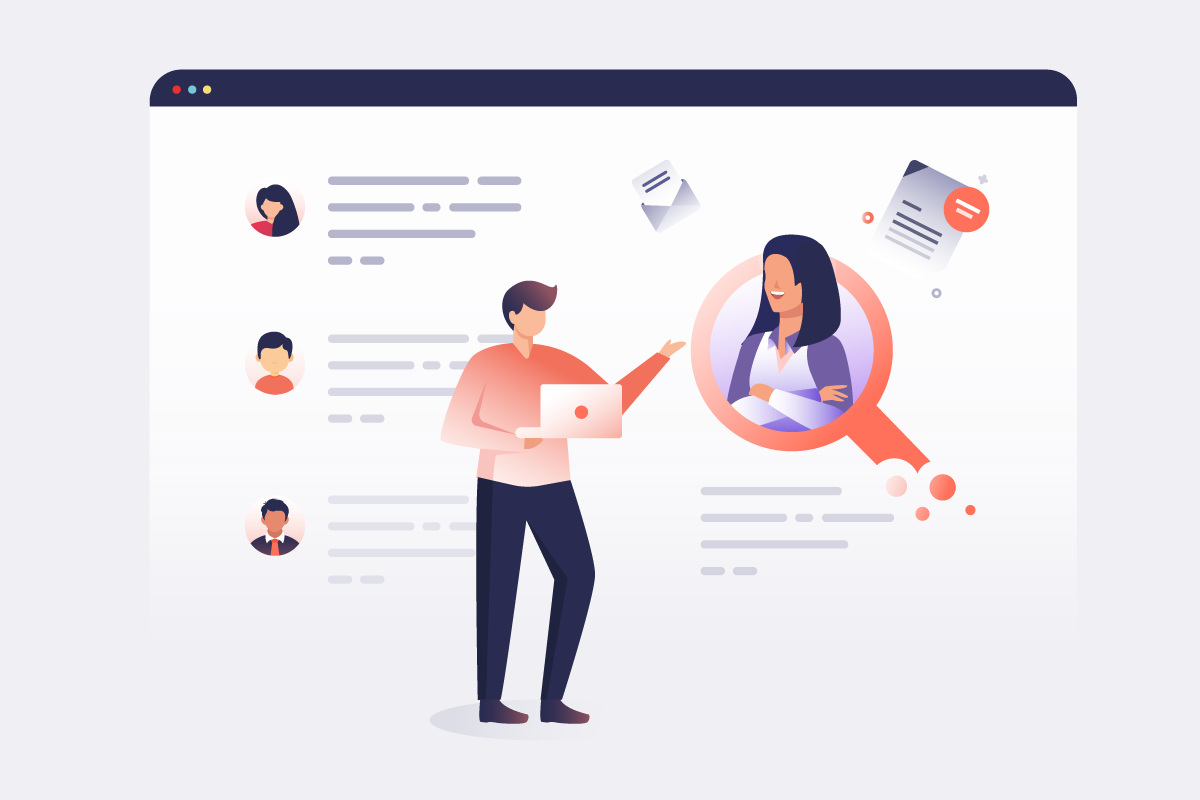 Leverage Modern Technology To Hire The Right Talent
While it's important to be able to hire quickly, onboarding candidates who are the right fit for the job is even more important. This is because onboarding the right talent can reduce your employee turnover rate. This in turn reduces your hiring costs. That's why you need to include AI for recruitment strategy. Artificial intelligence is free from human errors. So, it will screen potential candidates with more accuracy. This way, you do not have to worry about wasting your time and resources. You can rest assured knowing that you are hiring the right talent for the job.
Streamline The Workflow For Your Hiring Team
Artificial intelligence will help you to organize your hiring process. You will be able to streamline the recruitment  process by making it easier for your team to identify potential candidates. Since the AI will automate the screening and evaluation of candidates, your team members can focus more on the candidates who scored well.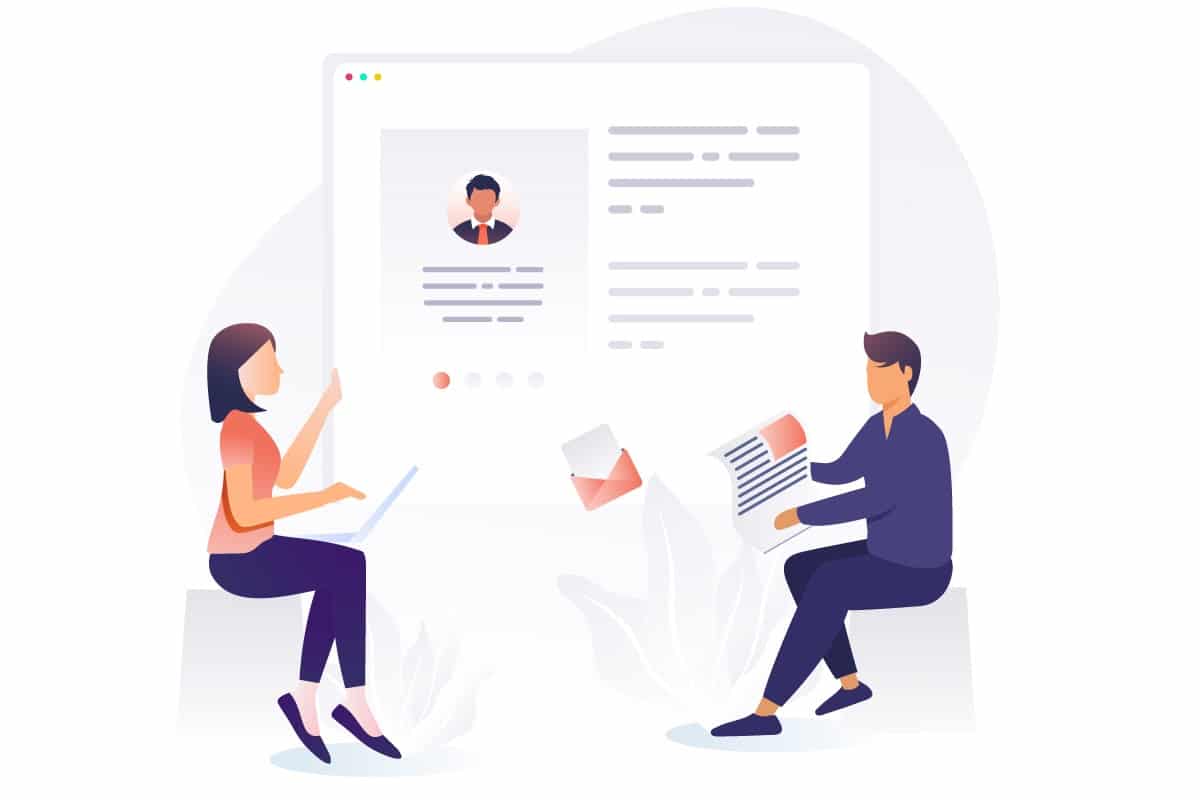 Introducing Easy.Jobs AI For Recruitment: Make Hiring Process Smarter & Faster
Although using AI for recruitment has many benefits, it is usually difficult and costly to set up. But with Easy.Jobs, even new startup businesses can take advantage of this AI technology to improve their hiring process. You don't need to worry about investing in expensive technology or software to do this. Easy.Jobs AI is available with all of our premium subscription packages, starting at only $9.99 per month.
Keep reading to learn how you can automate your hiring process with Easy.Jobs AI in less than 5 minutes.
Instantly Run AI Setup From Your Easy.Jobs Dashboard
You can instantly run the AI setup from your Easy.Jobs dashboard with just a few clicks. Create an account on Easy.Jobs and then log in using your credentials. From the left-hand side menu in your dashboard, navigate to Settings→ AI Setup. You should be able to see the 'Show AI Score' button at the very top of your page. You can toggle this button enable or disable Easy.Jobs AI for recruitment.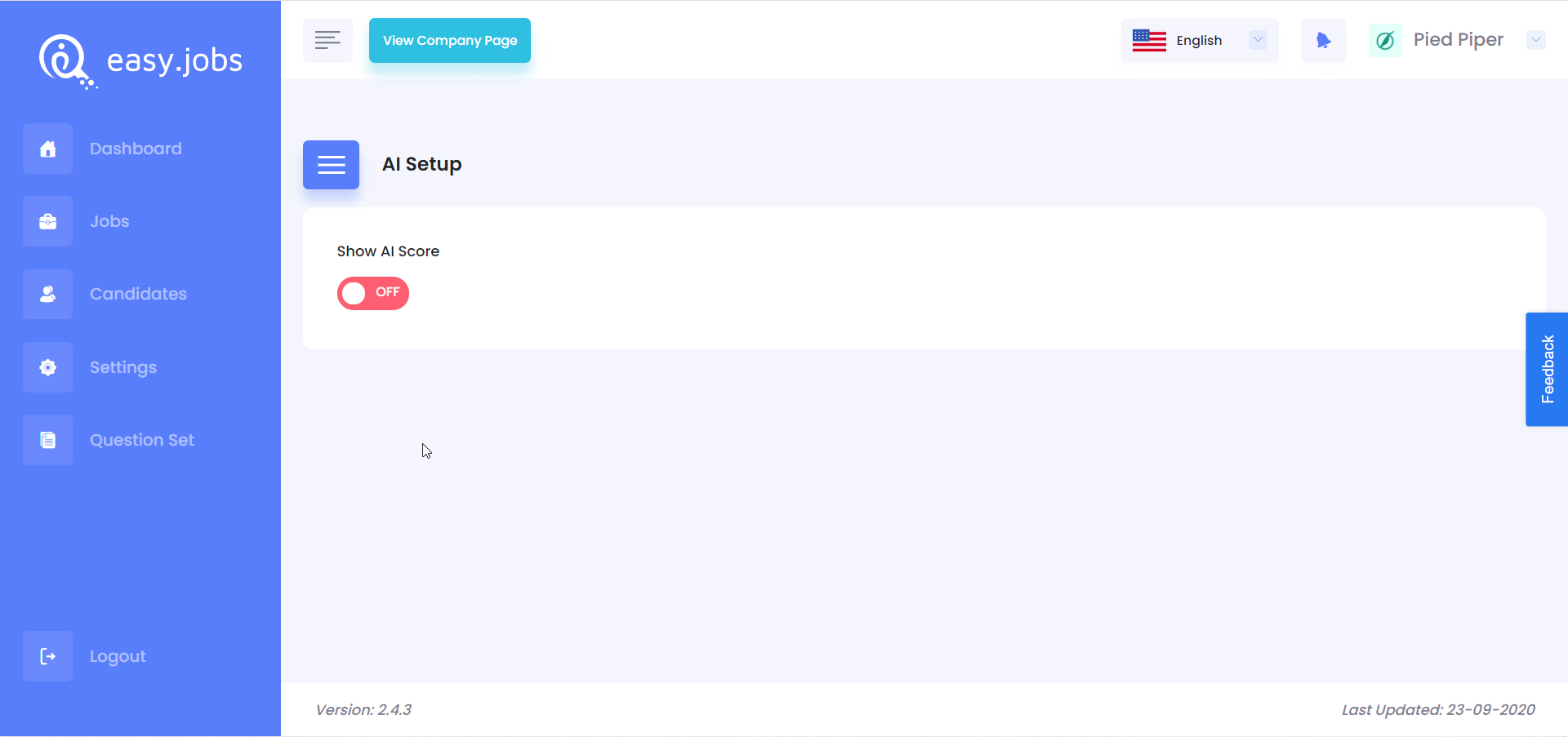 Evaluate Candidate's Score With Easy.Jobs AI For Recruitment
After running your AI setup in Easy.Jobs, you can start using this artificial intelligence to quickly evaluate your candidate's score. The Easy.Jobs AI will take into consideration all the required qualifications mentioned in your job description. It will then match each candidate's application accordingly and evaluate their scores. This way, you get an insightful overview of how each individual candidate qualifies for a specific job in your company.
To evaluate a candidate's score, go to your Easy.Jobs dashboard. Click on 'Candidate' and then click on 'View Details' under any candidate's name. This will redirect you to a new page as shown below.
If you have created question sets for quizzes and screening tests, you can also check the results from this tab. This way, you can use AI for recruitment to quickly evaluate potential candidates.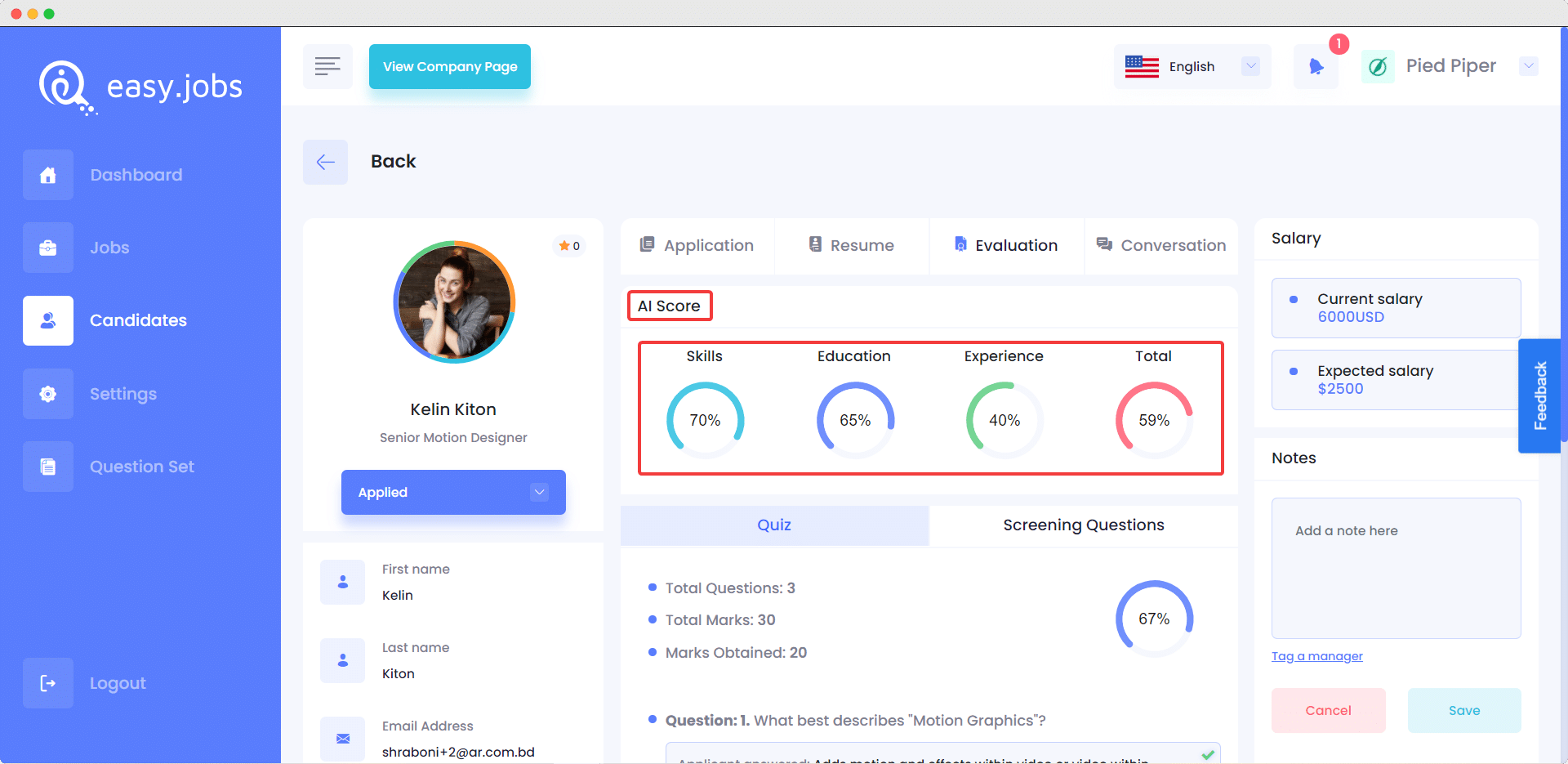 Sort, Screen & Identify The Right Talent Within Minutes
After running the AI setup in Easy.Jobs and checking each candidate's AI score, you can identify the right talent within minutes. All you have to do is decide on a benchmark for candidate AI score, and then screen those candidates instantly with Easy.Jobs AI feature. 
You have the option to sort candidates according to their skills match, AI score, experience match, and more. For example, if you click on the 'Jobs' tab, and then click on the 'Candidates' option for any published job, you will see an option to sort candidates according to different scores. 
If your job requires candidates with a high level of experience, simply choose the 'Sort by experience match' option to find the right talent for you. Similarly, you can choose the 'Sort by skills match' if your job requires candidates to have specific skills.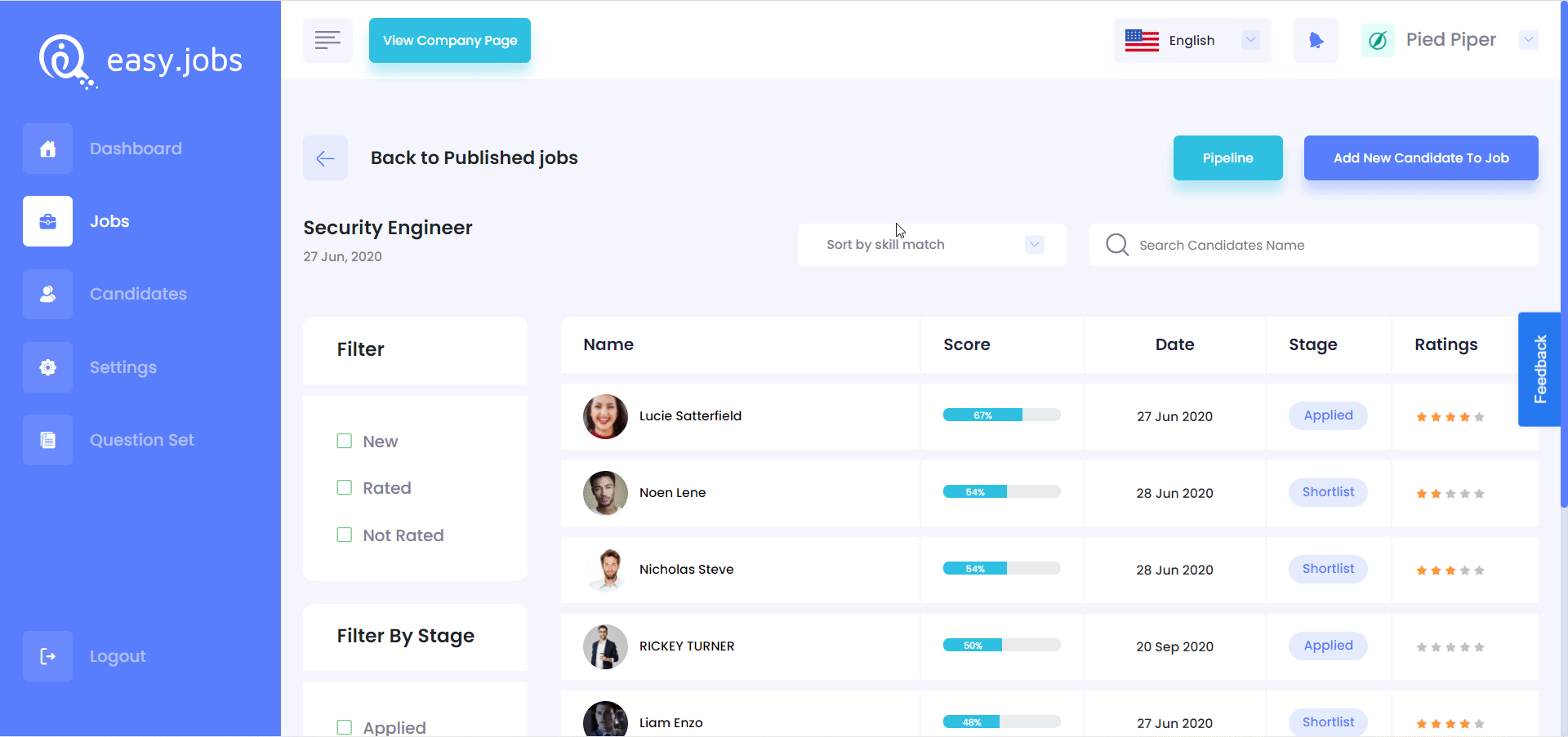 Important Note:
The artificial intelligence feature from Easy.Jobs is still in its beta phase so there may be some changes in the final version. For any issues, contact our support team.
As you can see, the best way to hire faster and smarter is to modernize your recruitment strategy with AI technology. So try out this new artificial intelligence feature from Easy.Jobs, and share your experience of using AI for recruitment with us.
Enjoyed this post? Leave your thoughts in the comments below or join our Facebook Community to stay connected with us.
Career Page Template for WordPress
Try out this ready page template for Elementor & build a stunning Career page website without any coding
Get FREE Template