We are a little more than halfway through 2023 already, and here at easy.jobs, it has been a very busy but amazing year. Through the past 7 months, we have introduced many features and facilities to streamline your recruitment process more than ever. And as we move on to the next half of the year and plan to bring you more surprises, let's look at our half-yearly release note and look at the latest & most exciting things we've had in store for you.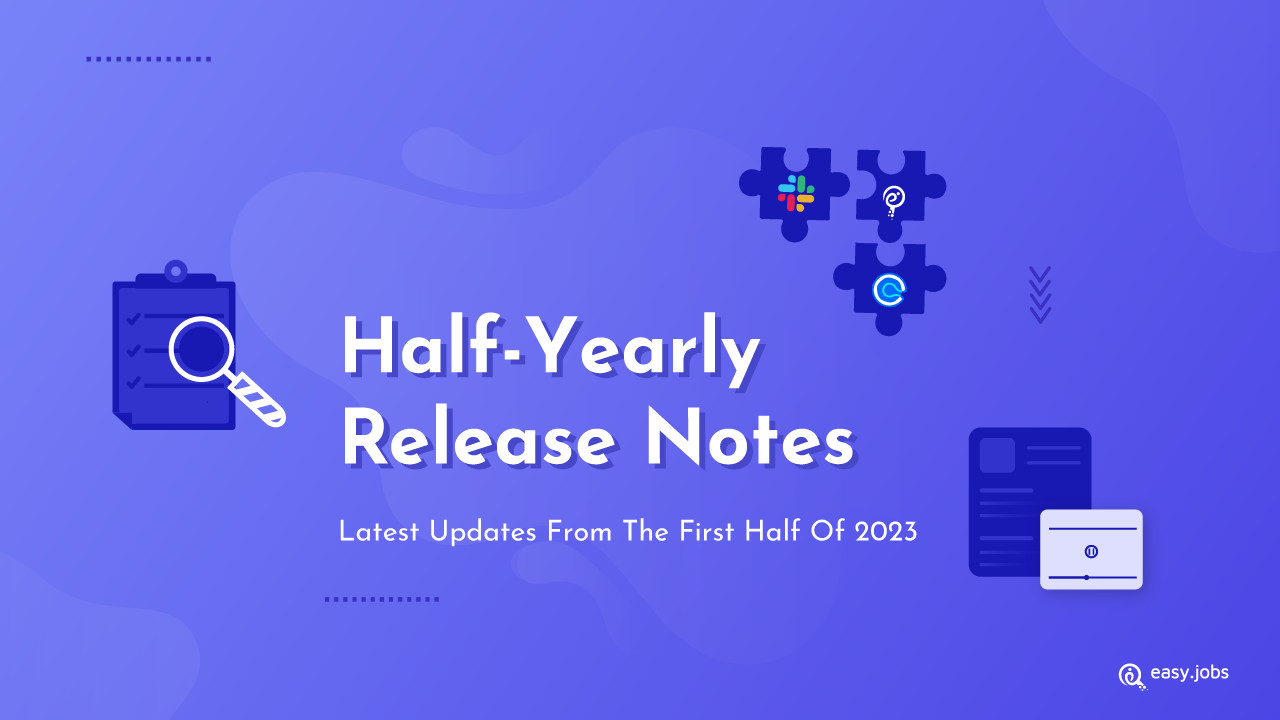 Half-Yearly Release Notes: Seamlessly Integrate easy.jobs With Slack, Calendly & DocuSign
Here at easy.jobs, we are constantly trying to improve recruiters' hiring experience, and so we have always tried to ensure you can seamlessly connect your account to multiple external platforms that can help with the recruiting process. And 2023 has been no different. That's why, as we look into the easy.jobs half-yearly release notes, we have to start off by announcing our 3 newest integrations.
Integrate With Slack: Receive Real-Time Notifications On The Go
Slack is well-known for allowing teams to interact and communicate through different channels, share files indefinitely, and link multiple apps to optimize workflow. And very recently, we have introduced a powerful integration of Slack with easy.jobs to help you receive, review, and stay updated about job applications right from your preferred Slack Channel.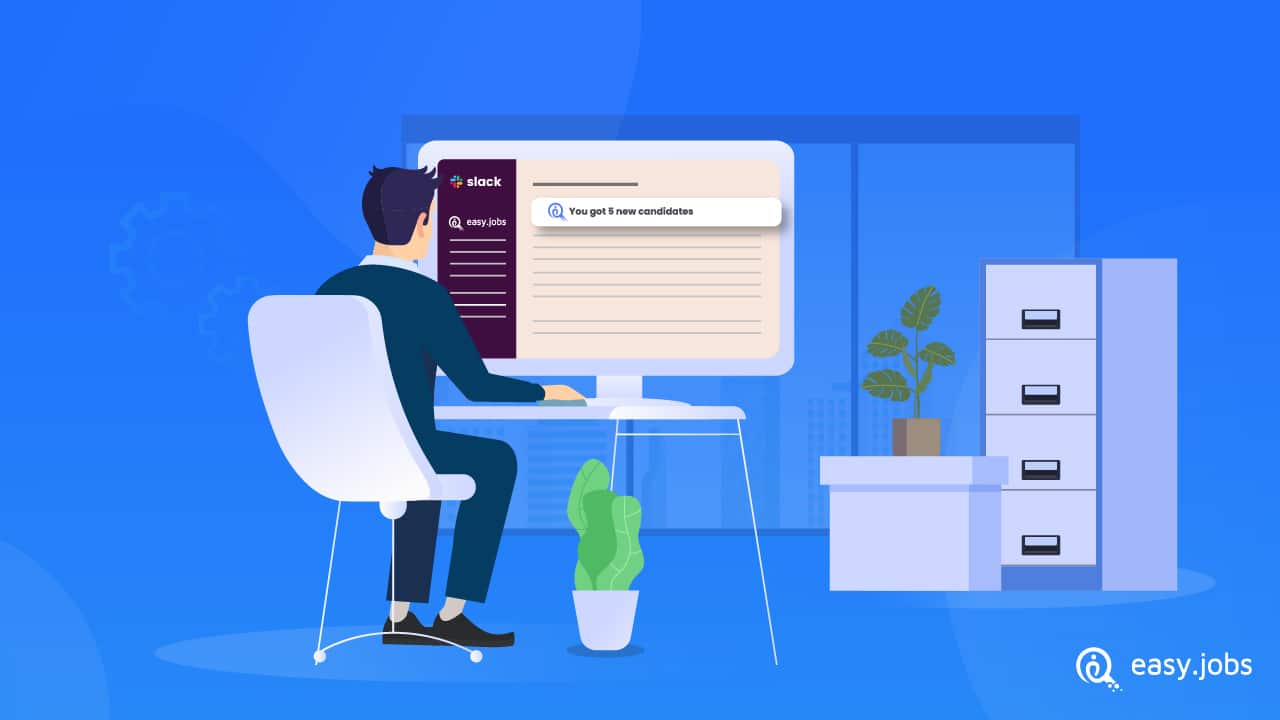 Now your entire HR team can stay alerted about each and every new application, keep track of every new update, manage tasks, and communicate with each other in real-time. This will not only boost team productivity but also keep everyone in sync, helping them to make stronger and faster decisions.
Therefore, this new integration of Slack with easy.jobs can work like a central hub where the stakeholders can find all of the recruitment-related information, communicate well, and make better decisions. And all of these will lead to better recruitment outcomes for sure.
Integrate With Calendly: Manage All Interview Processes From One Place
Next up in our half-yearly release note, we have another integration that can help you make your recruitment process smoother. Very recently, we have introduced easy.jobs integration with the modern scheduling platform, Calendly. It allows you to schedule and share interview times with potential clients, minimizing the need for back-and-forth communication to finalize the schedule.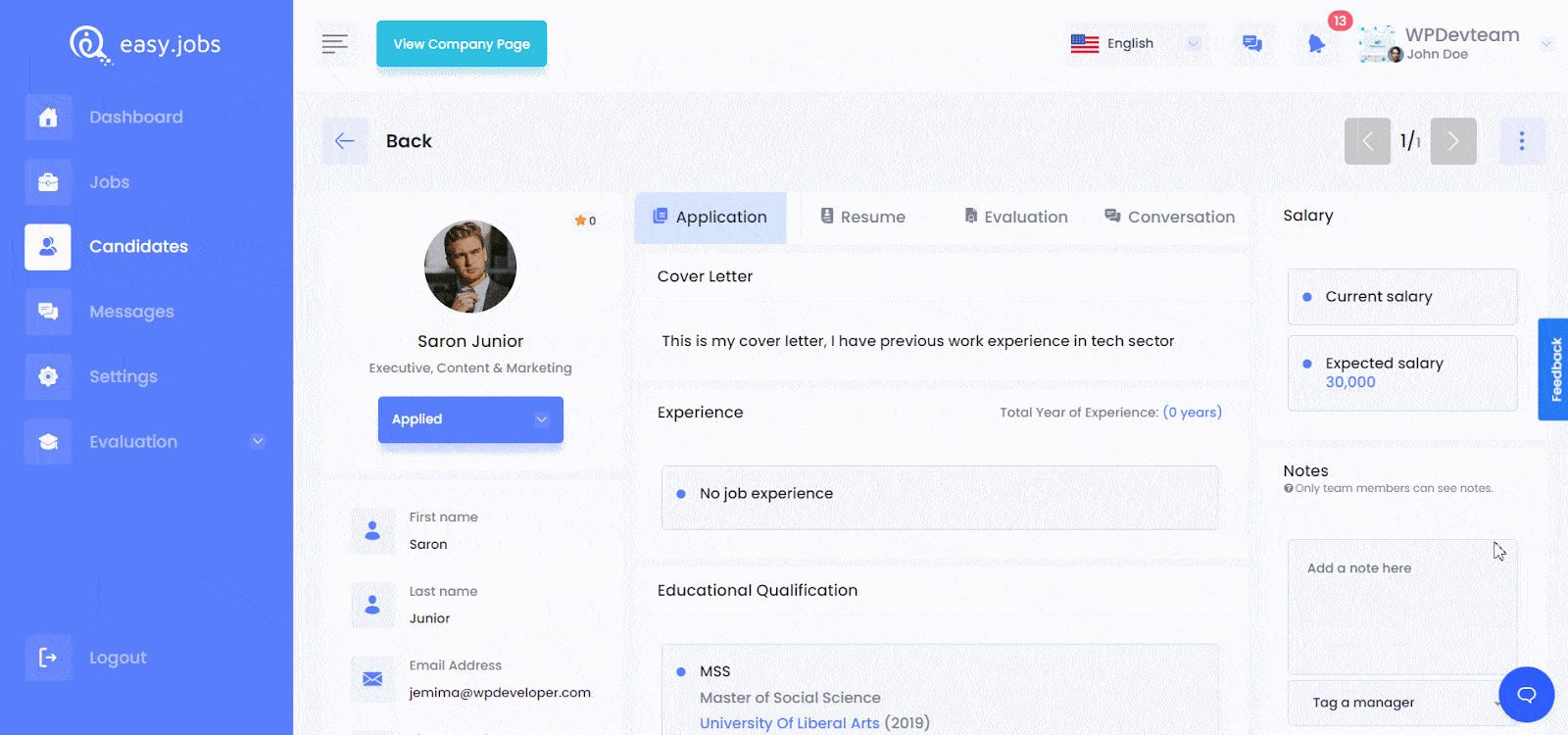 With this new integration in the works, all the recruiter has to do is create a ready calendar event on Calendly and then share the event type with the candidate through easy.jobs. The candidate will be notified immediately, and he or she will be able to pick his preferred schedule from the calendar.
It's the perfect way to connect with your prospective new hires and ensure no 2 interviews clash with one another at the same time. That way, the recruitment process stays smooth and also boosts productivity.
Integrate With DocuSign: Allow Candidates To Upload Their e-Signature Effortlessly
And finally, there is another potent integration that we have introduced with easy.jobs first half of 2023. When recruiting, getting authentic signatures on employment papers or documents can be a very important part. But it's not always possible to collect hand-written signatures – especially if you are recruiting remotely. But easy.jobs is here to help.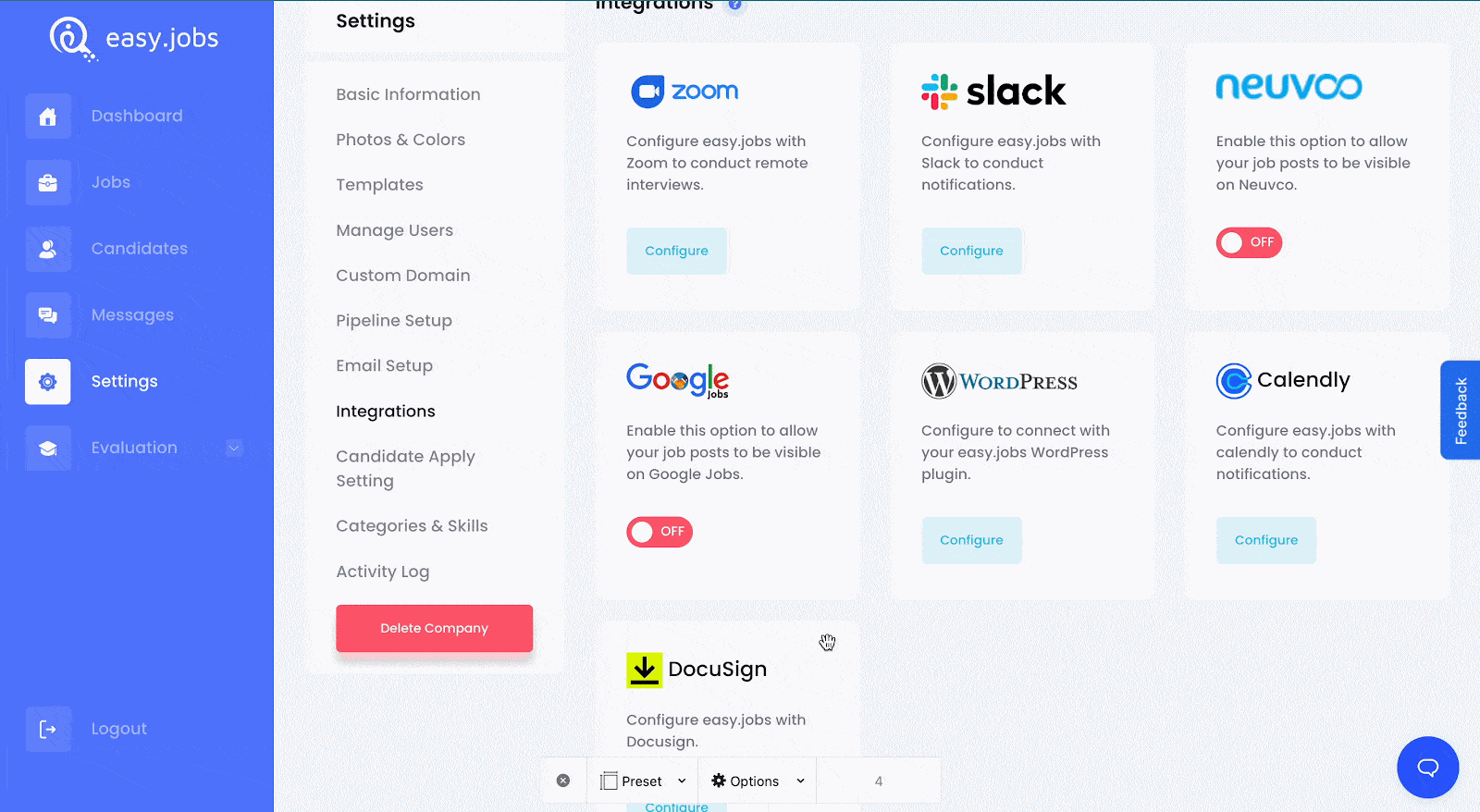 Most developed nations recognize electronic signatures as legally binding. So, now, you can seamlessly integrate your easy.jobs account with DocuSign to allow candidates to upload their e-Signatures to any documentation that you send to them.
Recruitment Process Made More Streamlined With Latest easy.jobs Features
These powerful integrations are not all from easy.jobs half-yearly release notes. Throughout the past 7 months, we have introduced many other new features to help you recruit the right candidate for your company with ease. Read below to find out more:
Show Cool Verified Badge On Your Company's Career Page
From the beginning, you had to verify your company with easy.jobs for a smooth recruitment experience. Now, you can also feature a verified badge next to your company on the career page to give your company the boost of credibility that excellent candidates will be looking for when applying for jobs.
The blue or green badges from easy.jobs will help to represent the authenticity of your company. And help you see a spike in applications to your job posts instantly, letting potential candidates know they can apply to your company without any hesitation and with full confidence.
Pin Or Feature Important Job Posts To Attract Attention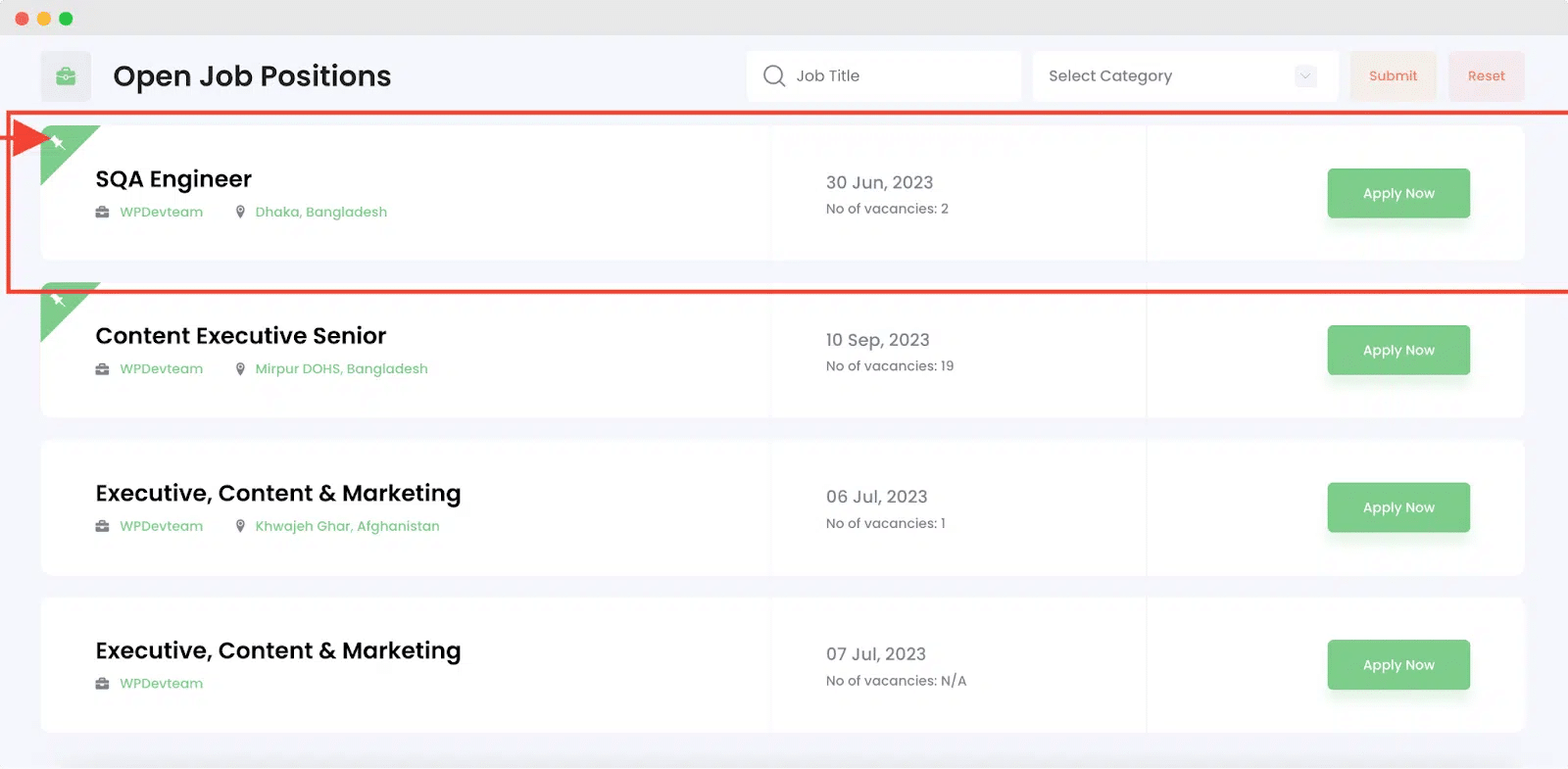 Got a job opening that you want to fill at once with the right candidates? Now, you can ensure career page visitors notice the right post and apply right away every time without a miss. With one of easy.jobs' recent releases, we have introduced the feature to pin job posts that require immediate attention at the very top of your career page.
Allow Candidates To Easily Upload Videos With Their Resumes
Next up on our easy.jobs half-yearly release notes, you can allow candidates now upload a video with their resumes when applying to any job opening. Now, you can easily ask your candidates to introduce themselves or upload their video portfolios directly during the application process. This video can be of multiple types, starting from YouTube videos to MP4 and more.
Create Message Templates For Quicker Communications
But that's not all. We have also introduced the feature 'easy.jobs message box' to help you create ready message templates to facilitate smooth conversation with any candidate.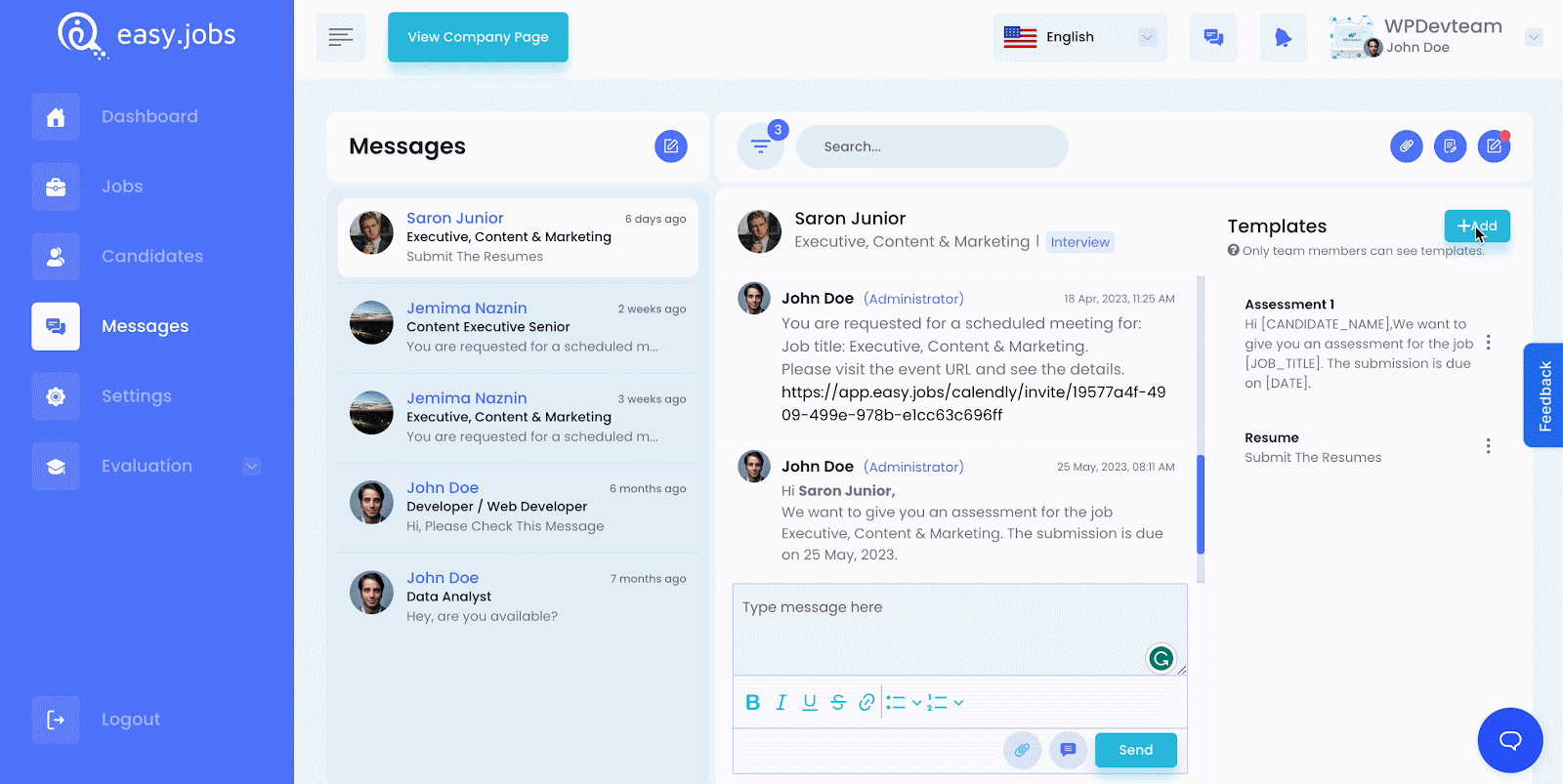 You will be able to prepare templates for any type of conversation or situation with placeholders that get filled automatically with the right attributes. This can help your HR team can converse with multiple candidates at once or repeatedly with the task becoming monotonous.
Introduction To easy.jobs Enterprise: White Label Your Recruitment Process
And if you want maximize your hiring potential, easy.jobs now comes with the perfect solution – the facilities to white label your entire recruiting process. So now, you can use easy.jobs and customize it completely to highlight your own brand and style, but still enjoy all the facilities that easy.jobs offers along with more exclusive feature.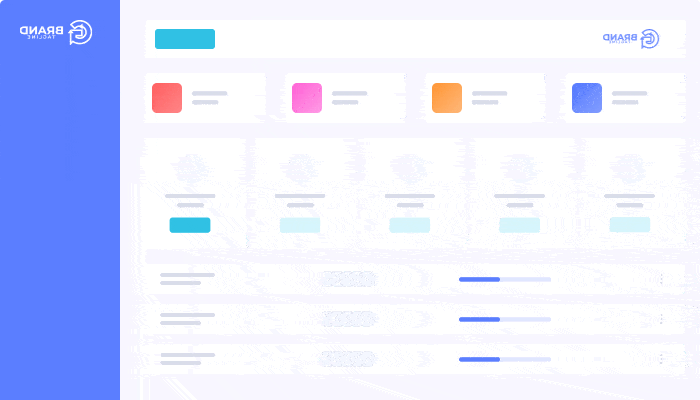 So, now, with easy.jobs you can personalize the career page with one logos and brand colors to reflect your unique branding style, get your own self-hosted platform, maintain data-separation and more. Even more so, with easy.jobs Enterprise, you will get access to an exclusive career page template set aside just for you!
Stay Tuned For Many More Exciting Updates In 2023
In conclusion, the half-yearly quarter release of easy.jobs has truly been a game-changer for recruitment procedures with outstanding features and many more enhancements. But the next half of the year is going to be even more exciting as we have many more releases planned up our sleeves. So stay tuned in our blogs for the latest news and updates.
Did you like reading the blog? Feel to contact our support for further assistance and join our Facebook group for the latest updates.