Nowadays, candidates and organizations want recruitment processes to be online, fast, and seamless. Business communication tools like Slack can streamline the process by giving recruiters real-time updates on ongoing recruitments. If you are using easy.jobs as your advanced recruiting solution, you might wonder if you can integrate Slack with easy.jobs.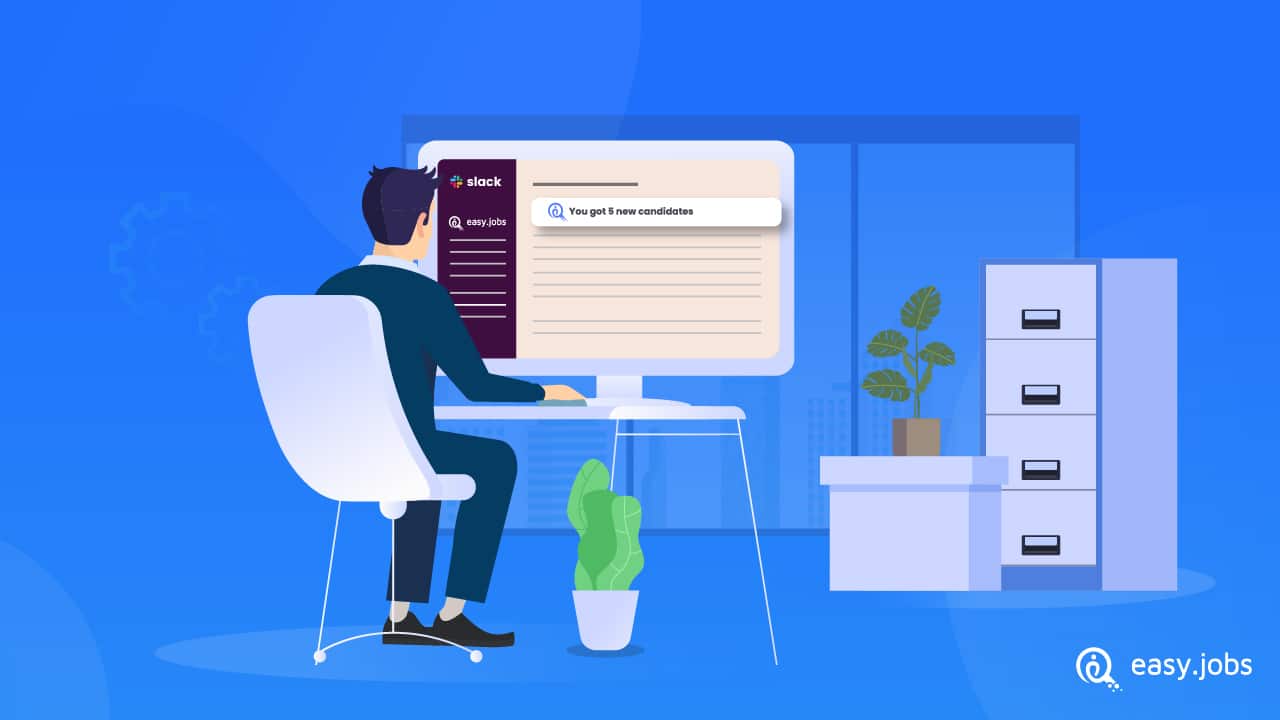 Slack helps recruiter teams communicate flexibly through multiple channels, share files limitlessly, and integrate multiple apps to streamline workflow for businesses with many teams. You can get emails, make calls, get updates on products and services, take notes, and more through Slack integrations. On top of that, you can make the complex recruitment process quite simple if you integrate Slack with easy.jobs – the easiest recruitment tool for growing companies.
💡 How Does easy.jobs Integration With Slack Streamline Recruitment?
Slack is one of the greatest business communication solutions since it allows for automated procedures to send notifications and alerts. You could, for instance, program a routine to constantly update Slack with the latest information.
Slack allows users to send and receive instant messages from anywhere. Since teams can search and archive all Slack conversations, it's a perfect tool for recruiters to keep teams updated about real-time applications, assess candidates instantly and carry out the recruiting process smoothly.
However, are you wondering how all these features will benefit the easy.jobs integration? Let's find out.
🔔 Get And Review Recruiting Updates
If you create Slack integration for easy.jobs, you can set up recruitment alerts to be delivered to individuals or a selected channels in Slack. Your team members can track the number of applications, give approvals, know candidate updates, and get more easy.jobs feature notifications right on Slack.
They don't need to log in too the easy.jobs dashboard to check for updates every time. Slack lets you notify your team members when you accept or decline a job offer.
🏇 Be The First To Hire Talents
Online recruitment approaches have sped up the whole procedure. Qualified and young candidates always want to join the best companies that integrate cutting-edge technologies and hire faster. So, you need the swiftness to recruit talent before somebody else does. The whole hiring process can be completed more quickly after integrating Slack with easy.jobs.
🕰️ Be More Productive And Save Hours
Integrations between Slack and applications like easy.jobs make it possible to manage all of your apps and tasks from one location. This means less time wasted on mindless tasks like opening new browser tabs and more time spent actually getting work done. If you can streamline your hiring procedure, you can save a lot of money.
#️⃣ Maintain A Dedicated Recruitment Channel
You can set up a channel where hiring managers and other staff members can give feedback and have it seen by others if you create Slack integration with easy.jobs. The sooner the job posting is up, the sooner you can start receiving applications from eligible applicants. Then, scheduling interviews, and receiving feedback won't take too long before making the final job offers. So, a dedicated channel can greatly simplify the process.
😇 Satisfy The Candidates Too!
Candidates don't want to wait too long for a single recruitment to finish. They will look for alternatives, and some candidates may snatch your potential talents. Once you integrate Slack with easy.jobs, you can see real-time updates on the applicants and make the reviews quicker. This satisfies the candidates too.
🤹 Prioritize Referrals And Internal Hires
Referrals from current employees are a great way to meet potential new hires, as they often start work sooner and are more satisfied with their jobs than other applicants. By using the communication channels on Slack, you can let your existing employees know that you are hiring, and they can recommend potential candidates.
📝 Reduce Engaging Multiple Reviews
After establishing a dedicated Slack channel, the number of internal review meetings necessary before recruiting can begin will be significantly reduced. As a consequence, you may save time analyzing recruitment scorecards and interview requirements and get to your destination much faster.
🎯 Integrate Slack With easy.jobs: A Step-By-Step Guide
easy.jobs is a single platform that allows users to handle the whole recruiting process by sifting through prospects, scheduling interviews, and interacting directly. It enables you to generate jobs creatively, beautifully, and efficiently as an organization. Furthermore, you can quickly add questions and quizzes to filter out applicants. This is why thousands of organizations and growing choose this ultimate job board solution.
Integrating Slack with easy.jobs allows you to get immediate updates on your Slack channels, which can help you speed up your recruiting process. This saves time and boosts productivity. You can simply integrate Slack with easy.jobs by following a few simple steps. Here is a step-by-step guide.
Step 1: Add Slack From easy.jobs
If you have Slack installed and are already on a workspace, then integrating easy.jobs won't take much time. Start by signing in to your easy.jobs account and going to 'Settings' from the dashboard to find the 'Integrations' options. Find Slack and enable the 'Add to Slack Option' from the 'Configure' tab. You can also go to the easy.jobs app and enable the 'Add To Slack' button. Most of the process is done, and now you can prepare for integration real soon.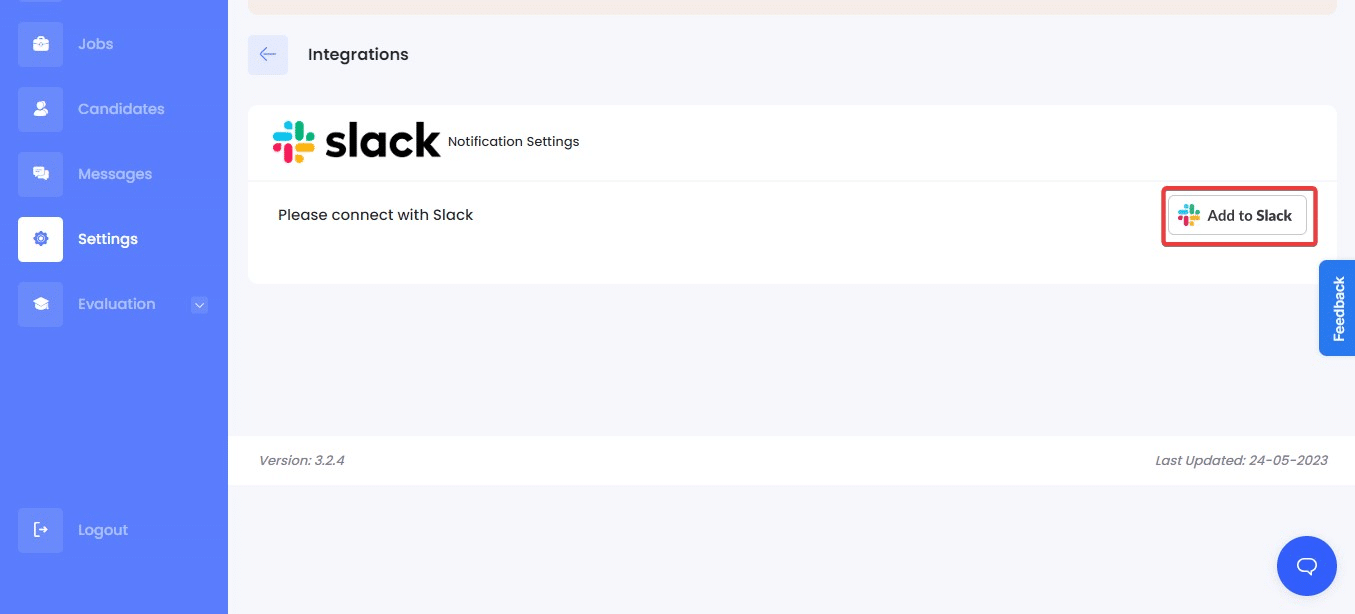 Step 2: Signing In To Workspace
Now, it's time to sign in to your Slack workspace to finish the process of integrating Slack into easy.jobs. Simply type in the Slack URL for your workplace and hit the 'Continue' button to join the channel.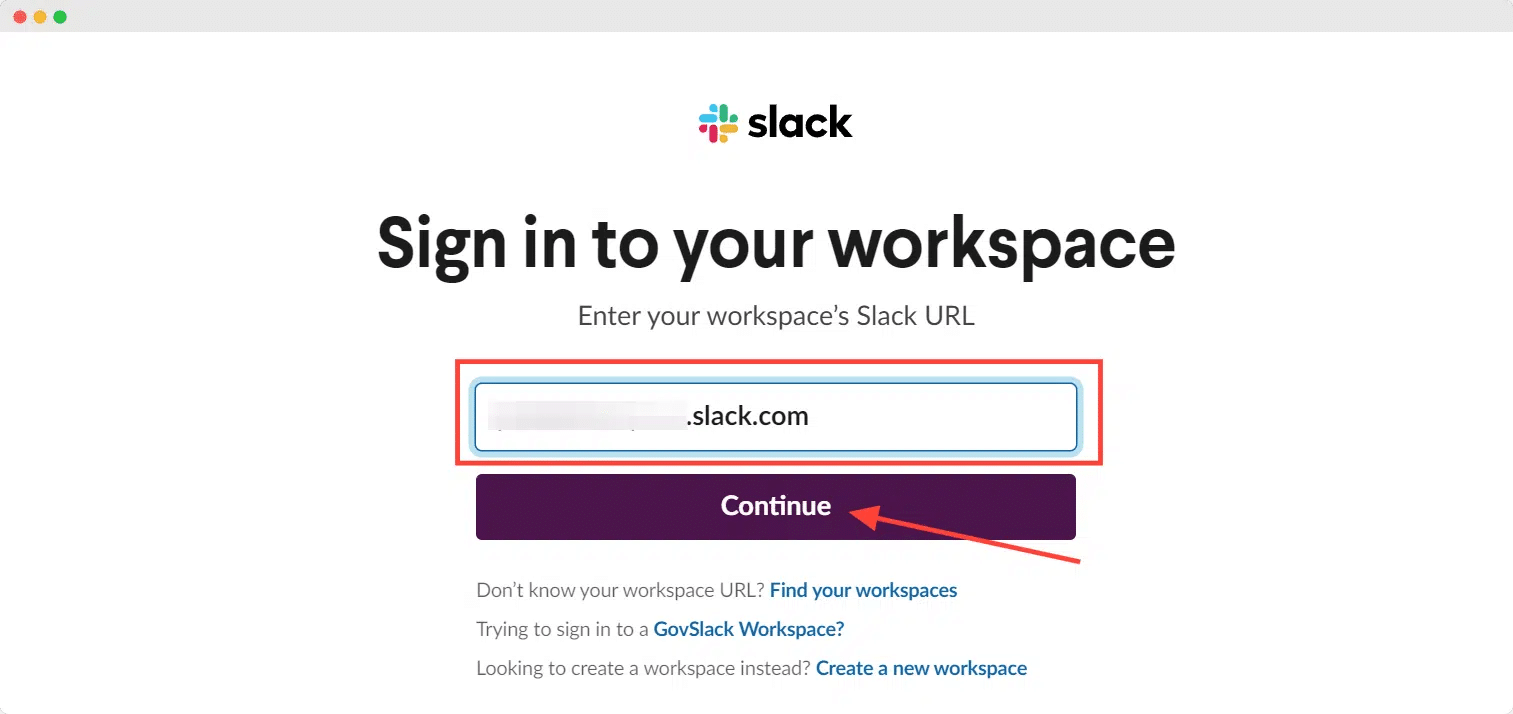 From the 'Where should Easy Jobs post?' selection, choose a destination for app-generated posts and click Allow. You can now expect to see recruitment-related announcements posted here in real time.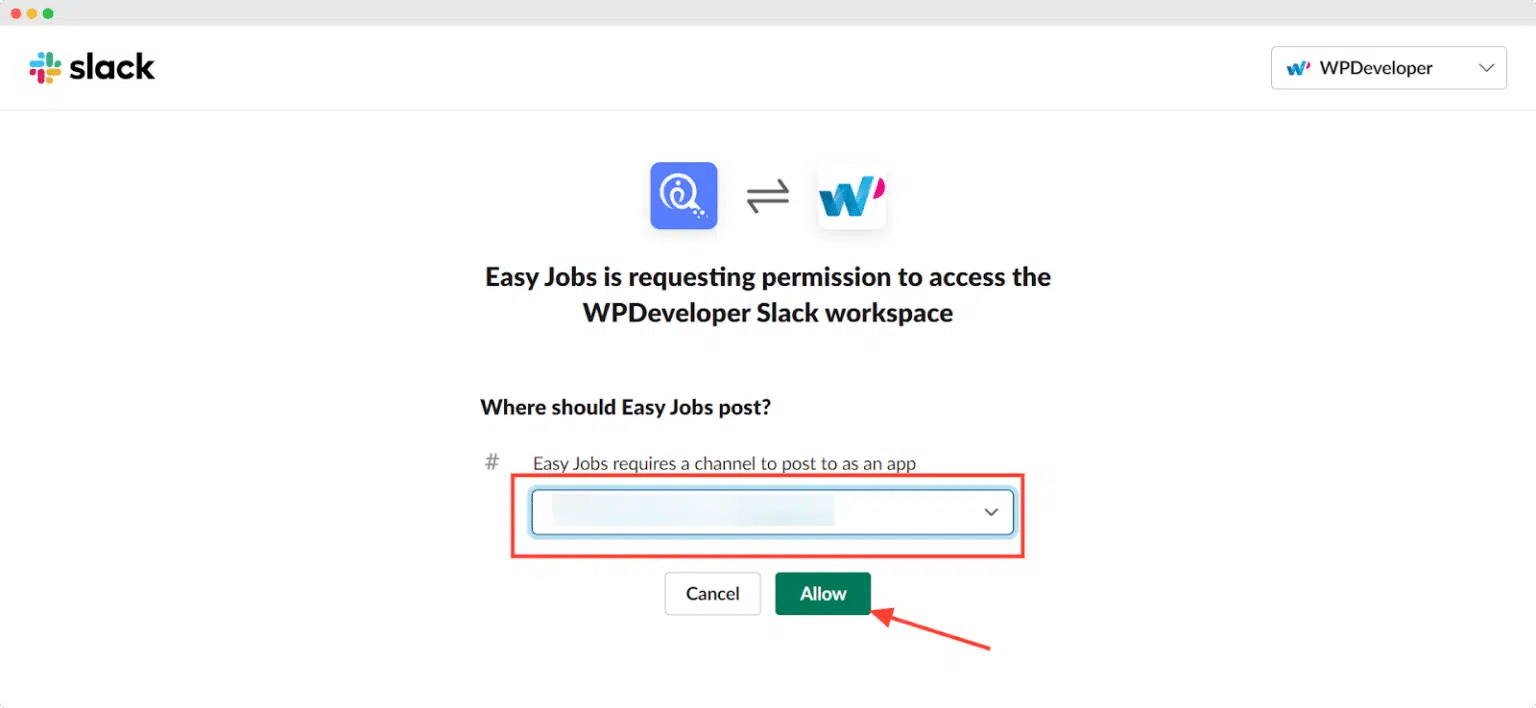 You'll get a message on the designated Slack channel when the integration is finished. All future updates on your easy.jobs will be sent to that channel. Thus, you can easily integrate Slack with easy.jobs to streamline the recruitment process. The relevant documentation is available in case you feel you need more instruction. If you need any help, feel free to contact our dedicated support team, which is available 24/7.
🎉 Integrate Slack With easy.jobs And Boost Recruitment Today!
A more effective recruiting procedure unites team members, makes information readily accessible, and streamlines end-to-end recruitment process management from a single access point. Integrating Slack with easy.jobs can give you the ultimate flexibility to streamline your recruitment process and boost productivity.
If you have found this blog helpful, share your opinion with our Facebook community. You can subscribe to our blogs for valuable tutorials, guides, knowledge, tips, and the latest updates.