If you want to run a successful recruitment campaign, the post Covid-19 candidate recruiting trends are a must to follow. Recently, recruiters have been having a hard time reaching the right candidates. So, today we tried to summarize the top talent acquisition trends that will eventually lead you to the right candidates.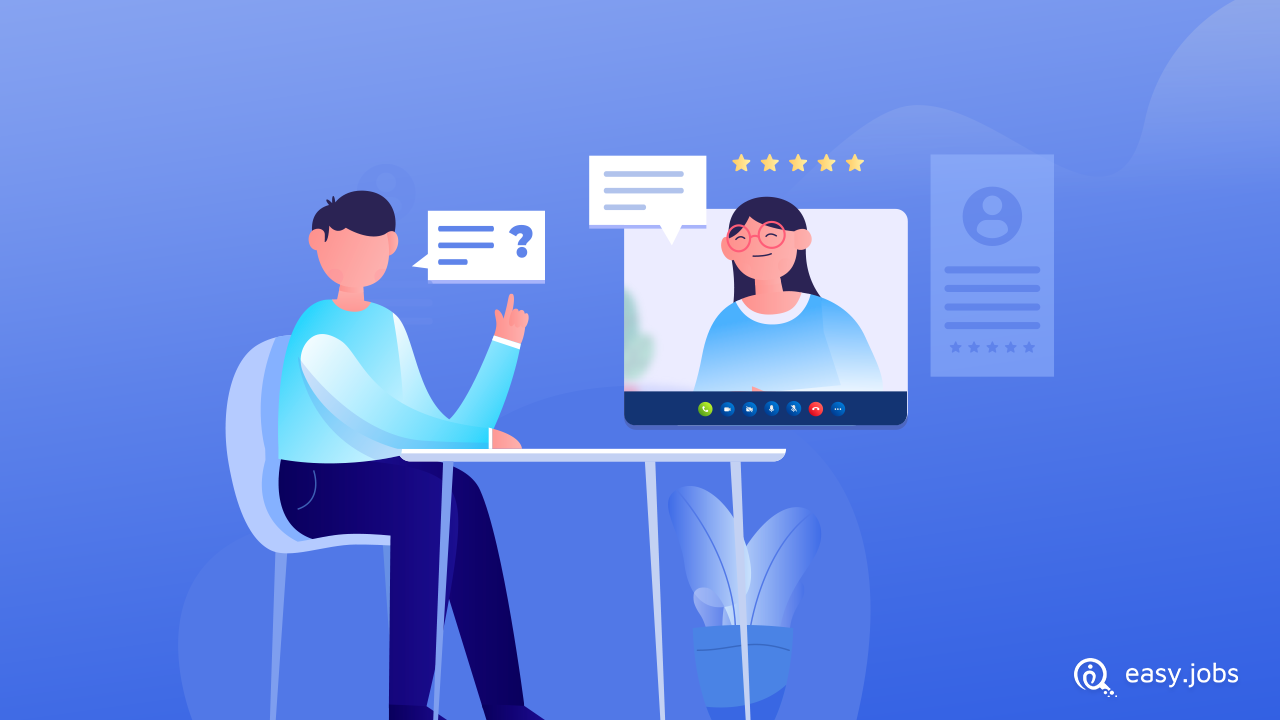 Can you recall working life before Covid-19? Those memories seem distant now. The world has changed drastically and many of us no longer relate to it. Candidate recruiting has been disrupted as much as every industry and every organization on planet Earth.
Why Should You Adopt New Talent Acquisition Trends? 
Before we get introduced to talent acquisition trends, let's find out why we even encourage you to follow them.  People's behavior changes according to their surroundings. This means that our strategies and matrices must evolve accordingly. The same is true for talent acquisition. Let's take a look at the benefits of following talent acquisition trends. 
⭐  As all of us already get habituated with the post Covid-19 world. So, while running recruiting campaigns, if we can't follow the present trends, it will be difficult to reach niche candidates. 
⭐ When you are a newbie in the talent acquisition line, it's quite impossible to have a date that will guide you to run successful hiring processes. In these kinds of cases, the safest way is to follow present candidate recruiting trends. In this way, the chance of failing is decreased. 
⭐ It is not possible to gain knowledge about new tools and technologies without following the latest trends in candidate recruitment. Even if you're following a strategy or action plan, you're likely to hit several limitations. New talent acquisition trends could be the answer. 
5+ Top New Candidate Recruiting Trends In Post Covid-19 World
Wondering which are new ongoing trends to follow for your hiring process? Don't worry, we got you covered. Here we are presenting the most popular yet new candidate recruiting trends to implement for further talent acquisition campaigns.  
Remote Hiring Is The New Normal
In the post-COVI-19 world, office work has become mostly rare and unreachable. Almost everyone stays home locked for long periods of time and people also develop the habit of working from home as well as on a flexible schedule. More and more employees are choosing remote jobs over office jobs. Therefore, when planning for your next hiring process, you might consider including Remote Working in your job postings. 
Virtual Interviews Are No Longer Temporary; They're Essential
While going for physical interviews was the most normal thing and an important part of the hiring process, nowadays it has become the rarest thing. Recruitment agencies and candidates are feeling comfortable conducting virtual interviews. It is another popular talent acquisition trend that seems to be lasting for the coming days as well.  
Hiring Automation Tools Became A top Priority
As of now most of the recruiting processes are happening online so depending on the hiring automation tools also has increased. So managing a list of the applied candidates, screening them, taking assessments, etc turns from manual to automated. So the demand for hiring automation tools is now top demand. 
Among hiring automation tools, at present popular ones are Easy.Jobs, Recruitee, Simply Hired, etc. These hiring automation tools will streamline your hiring process.
Find out the advanced and exclusive benefits of getting Easy.Jobs as your hiring automation tool.
The Use Of AI In Recruitment Process Has Increased
The hiring process of the post Covid-19 world has not only become tools dependent, but lack of human resources also makes organizations more dependent on Artificial intelligence. Furthermore, AI is helping to analyze career sites, job campaigns performance analysis, and also helps in predicting the future. 
As an example, in Easy.Jobs hiring solution, using AI you can categorize best-matched candidates for the post, screen them, and so on. 
Companies Are Emphasizing In Internal Hiring
Before Covid-19 flows, most of the people were comfortable in attending physical workshops, seminars, job fairs, etc. so it was easier to run external recruiting and get the best talents. But due to lockdown, people are not that much connected physically. Also, organizations are giving more priority to run internal hiring. As that helps is easy screening, save times and other many benefits. 
Recruiters Are Prioritizing The Soft Skills More
Candidate skill priorities changed as a result of Covid-19. Now, recruiters give more importance to soft skills. Although the pandemic has created challenges, it has also created positive growth and development in key areas, such as hiring and recruiting. 
With technology adapting to meet the demands of new procedures, recruitment and interviewing have leapfrogged ahead. The importance of soft skills is being placed a newfound emphasis, while issues concerning resumes, locations, and fair and diverse hiring processes are being addressed with greater vigor since the pandemic began. 
Candidate Recruiting Trends That Are Losing Ground
Not only new trends and practices are added in the hiring process in the post Covid-19 world, but many of them are also already losing importance. Maybe in near future, some past popular candidate recruiting trends may go forever. Here we've mentioned the past top trends that are trending down. 
Physical Job Board
Once billboards, in-house job boards, etc was the best place to invest money for advertising job openings. But due to Covid-19 effect, people mostly stopped coming outside of their home. So, the importance of the physical job boards is also falling. People are now getting more dependent on online job boards. 
Here are the top 20+ online job boards for you to check out recent job openings.
Inhouse Candidate Recruiting
Nowadays in-house recruiting is considered the most time-consuming and money-wasting process. Organizing in-house recruitment in your office will require you to allocate space and schedule assessments, and the list goes on. Simply using Zoom, Google Meet, or other virtual communication tools, recruiters now can complete recruiting in a snap. 
Physical mobility is no longer required
Before the Covide-19 affected word, organizations and recruiters used to encourage physical tasks and activities. But Covid-19 has changed the total value and perception. The priority of physical mobility has decreased. Organizations are more interested in turning everything online. 
Here is the present demographics of candidate recruiting trends for the present and the future at a glance: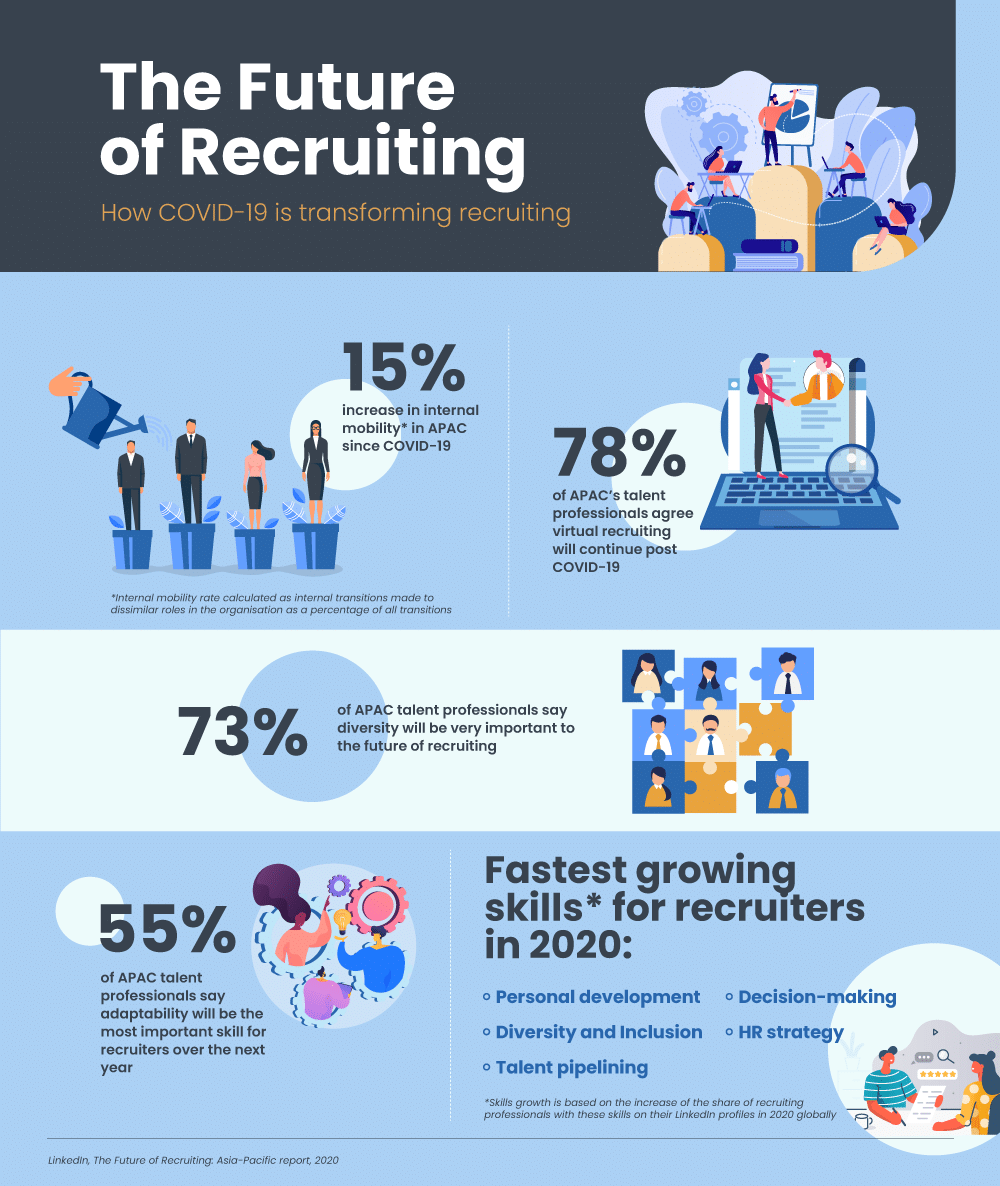 Accelerate Your Hiring Process With The New Recruiting Trends
Candidate recruiting trends are mostly influenced by present lifestyles and status. And Covid-19 has brought dramatic changes in every sector as well as the talent acquisition sector. So, if you want to run successful candidate recruiting campaigns, these above-mentioned trends can save your boat from the storm. 
That brings us to the end of our post. Feel free to share your thoughts with us in the comments below. Don't forget to subscribe to our blog for the latest tutorials and updates, or join our friendly Facebook Community.