The best job boards for software engineers and programmers offer amazing job posts & information regarding relevant fields. You might be wondering which job boards to follow for your desired jobs? Keeping this in mind, we have listed down the best job boards available online, so you can check out all the boards at a glance and apply to the right one.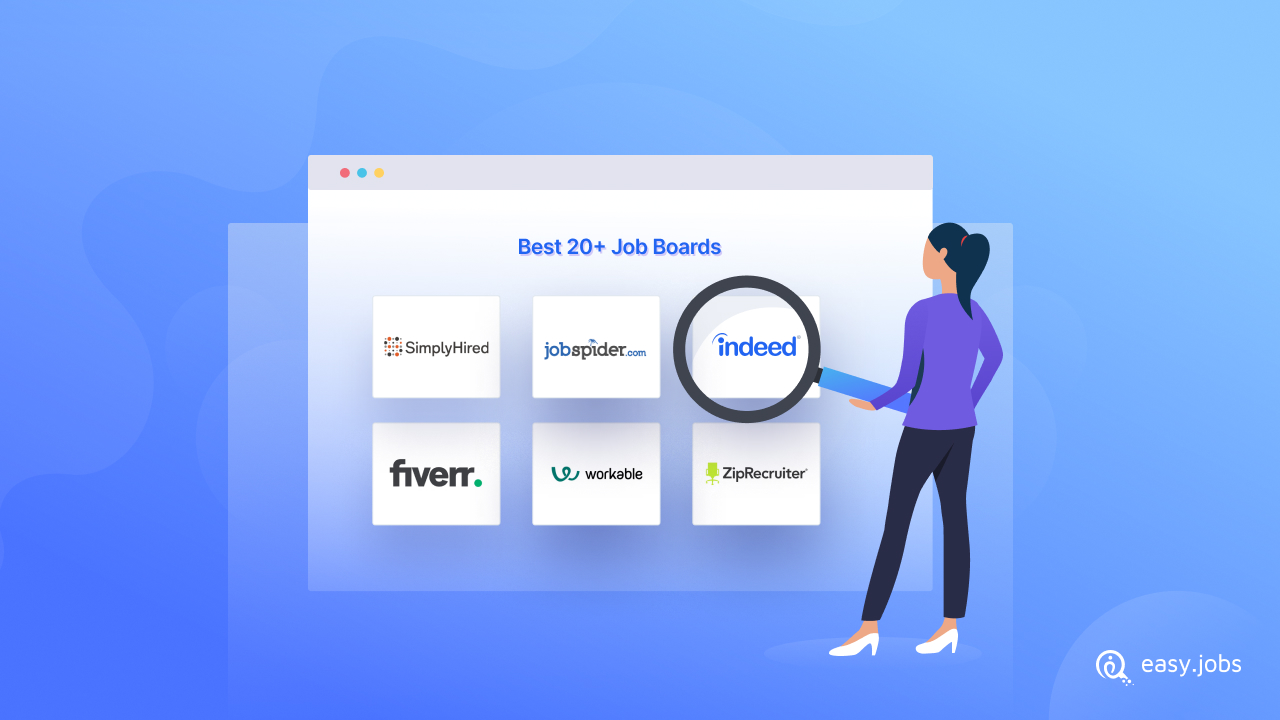 Why Do You Need to Follow Online Job Boards For Software Engineers Or Programmers?
Before jumping to the best job boards lists, let's check out why we are encouraging you to follow job boards. Online job boards are basically a website or webpage of a website where you can find out all the ongoing job postings from organizations. Usually, when any company needs to hire new faces, they post on the best job boards. 
Apart from having their own websites, organizations still choose to post jobs on online job boards. That's because of the rich traffic those best job boards get. So it's become easier for organizers to find out the best candidates instantly. 
Another facility to follow the best job boards is you can look for job posts matching your expertise. Obviously, programmers or software developers are not a jack of all trades! As a software engineer or programmer, you may be looking for remote jobs, have skills in only Python or C++, and so on. So, while searching for job openings based on a specific skill set, the best job boards will take you to the right post instantly in one click. 
How To Decide Which Best Job Boards To Follow? [Must-Have Features To Check Out]
Every job board has its own vision and depending on that has different kinds of features suggestions. So we have prepared a must-have checklist for online job boards, which will help you pick the best job boards for software engineers and programmers. 
📌 The first thing is to look out is whether you can open an account on the job board from your region. Several best job boards contain geo-restriction. So check out for that. 
📌 The next thing you should check out is how in detail you can create your profile on online job boards. Whether you can add your skills, expertise, experiences, etc. these extra data will guide you to get relevant job postings. 
📌 Check out if the chosen online job boards have AI integration for job posting sorting. Popular job boards usually have thousands of job postings. To manually look for the right job openings will take lots of time. When the job board has AI integrated, it will automatically sort down job openings and display them to you. 
📌 Also, look for if your chosen best job board has an advanced search box with lots of filters or not. So that any software engineer or programmer can find out their desired job postings instantly.
These are all features that will help you to find out the suitable job postings from the best job boards. If you can find online job boards maintaining this checklist then start following those. 
List Of Best Job Boards For Software Engineers Or Programmers
From thousands of job boards, which job boards are the best for software engineers or programmers? Nothing to worry about anymore. Here we have listed down 20+ best job boards to follow for your desired jobs. 
NB: This best job boards list is created in a way that recruiters can get enough idea about where to advertise job openings, as well as candidates, get a clear idea where to look for job postings.
Popular Online Job Boards For Every Professional
Here is the list of all-time popular job boards. These job boards are not only postin for software engineers and programmers but also for other diverse sectors. Let's check them out. 
1. Indeed: Best Free Job Posting Site
Though every kind of job post is available in Indeed, still jobs for engineers and programmers are most searched here. Indeed is currently the largest job-search engine in the world, with over 250 million active and diverse job hunters visiting it each month. You can post jobs for free, hire applicants for free, and manage your applications online. Job seekers can apply through mobile apps also.
By sponsoring job postings you can increase their visibility. With the job board, you'll be able to identify qualified candidates, check their qualifications with 100+ assessments, and filter applicants from one dashboard. Additionally, you can let Indeed set a budget for your hiring campaign while you design your own.
2. SimplyHired: Share Open Jobs on Over 100 Job Boards Free
SimplyHired is one of the best job aggregators that post jobs on its platform like Indeed and distributes them to more than 100 job boards. With the pay-to-contact model, you will only pay for the candidates you select to contact after reviewing their resumes. It starts as low as $9.99 per candidate reveal. SimplyHired pre-screens all job postings, so not all types of jobs, job sites, and staffing agencies are eligible to use its free job posting platform.
3. JobSpider: Free Job Posting Alternative to Craigslist
The JobSpider is a free job board for exchanging employment information. Recruiters can post jobs, search resumes, and create job alerts. Depending on the frequency and the number of jobs imported into your database, it offers batch or bulk import of jobs for a fee. This online job board also works well with applicant tracking systems (ATS). Candidates can easily find the open job postings with this best job board.
4. Glassdoor: Find Professional Talent for Free
Glassdoor is mainly an online organization review management tool that comes with a job board also. As part of a partnership with Indeed, you can post a job for free that will appear on both platforms for a limited period. In contrast, if you'd like to extend the lifespan of your job listing, you can sponsor a job on Indeed since Glassdoor focuses mainly on employer branding and insights.
Organizations can easily showcase their culture and company history on Glassdoor and actively engage with job seekers. The platform also offers resources regarding recruiting, including templates, datasheets, and webinars. But unlike Indeed, it does not offer features for searching resumes or reaching out to passive job seekers.
5. ZipRecruiter: Get a Free Trial of This Popular Paid Job Site
ZipRecruiter is a popular job posting site with a database containing over 30 million job seekers. Businesses can easily send jobs to the top 100+ job sites with just one click by using its website, mobile application, and email services. The system has a feature to invite qualified candidates to apply to speed up your hiring process. In general, ZipRecruiter is better suited for entry-level positions rather than managerial positions. 
6. Wisestep: A Popular Job Posting Site for Social Recruiting
Among the best social recruiting job boards, Wisestep lets you post as many jobs as you want and search through as many resumes as you want. Posting your open roles on major job sites like Monster, Dice, CareerBuilder, etc., helps you streamline your hiring process. In addition to parsing resumes, auto-capturing candidate details that match your requirements, and establishing communication between you and potential employees, this job board also handles resume parsing.
7. Workable: Post Open Positions and Advertise Globally
You can post jobs for free on Workable, an all-in-one recruitment platform. By automatically posting your open positions to over 200 job websites, including Google, Facebook, and LinkedIn, your job will be seen by 400 million potential candidates. You can review resumes from different job sites, since Workable collects and organizes them for you. Workable also offers iOS and Android apps for checking resumes, scheduling interviews, and evaluating applicants.
Additionally, Workable provides users with the option to advertise jobs on its platform. You'll then be able to access Workable's traffic from countries across the globe. You'll not only gain global exposure, but you'll also access Workable resources that include 700+ job description templates, 390+ sample interview kits, expert HR advice, 24/7 global support, and many more.
Best Free Job Posting Sites for Developers and Tech
In this section, we have mentioned the best job boards that are dedicatedly created only for tech world people like developers, programmers, software engineers, etc. Let's check them also. 
8. AngelList
 As a platform for hiring tech startups with 27,054 members, AngelList is quickly gaining popularity. A team of developers or designers can use this site since there are around 2.5 million active and passive candidates. Once you create an account with AngelList Recruit, you will have access to seven days of free Pro access. Based on your location, budget, and hiring requirements, you can then select from its three tiers: Starter, Pro, and Team. 
9. Scouted
With Scouted, you can find and hire early to mid-career talent that meets your job requirements. Using it, you can post your job for free, and you won't have to worry about paying unless you hire someone. Scouted makes it easy for you to curate and rank a shortlist of the top candidates, and your personal account manager gives you access to their video interviews and notes.
10. My Remote Developers
Employers have access to 60 million candidates on My Remote Developers' recruiting platform for free. As well as free job postings, you'll get an online hiring manager, instant chat, and video interviews as well as timesheets for payroll. An employee, contractor, or professional can be hired for a fixed-price project. You can alter your search practices or refine the type of candidate you seek by using My Remote Developers. 
11. Stack Overflow
Stack Overflow is a popular online community for software engineers and programmers. Apart from looking for solutions, they offer one of the best job boards. Their job board will suggest creative job openings based on your searches and questions. Also, recruiters can easily find potential candidates just by giving job postings. 
12. Dice.Com
Dice.Com is another best job board that is dedicated only to tech world people. Without signing up, you can easily search for the desired jobs you are looking for based on your location, company size, skills, etc. Moreover, whenever the recruiter opens job postings, instantly they can get the list of available software engineers and programmers with matched skill sets. 
13. The Ladders
With Ladders, employers across the United States and Canada can find qualified professionals with free resume searches. The site allows employers to post vacancies across various industries for positions worth $100k or more. Employers can reach professionals with extensive experience and qualified candidates. Candidates with extensive experience and qualifications can be found on this platform.
14. CrunchBoard
CrunchBoard is the official job board for the TechCrunch Network. It is an online job board that is based on the web. Jobs will be found there related to technology and the internet. TechCrunch, MobileCrunch, CrunchGear, and TechCrunch IT readers can access the platform's job board and search for suitable employment opportunities. 
In addition to offering affordable job posting packages, CrunchBoard features an easy registration process and job posting procedure for employers. Recruitment services offered on the site include social media visibility, email advertising, and featured listings.
Best Free Job Posting Sites for Freelancers
Doing remote jobs or independent jobs is very common among software engineers and programmers. Keeping that in mind, we've listed down the best job boards to find or post freelancing job postings. Let's check them out. 
15. Fiverr: Projects Starting at $5 per Task
Fiverr is the 2nd most popular job advertising place for freelancers. This platform works as a marketplace. You have to create a profile mentioning experience and then recruiters or companies who will find you can contact you for their works. You can get started with Fiverr for free and anytime anywhere.
16. Upwork: Screen Freelancer Ratings and Post Jobs
Upwork is the most popular job advertising place for software engineers, programmers, and other professionals. Like Fiverr it's a marketplace also. Recruiters have to create job posts and pick the best candidates through bidding. From the candidate's side, Upwork is so popular among freelancers. Candidates can look for job posts with their matching skill set and bid for them. 
17. Hubstaff Talent: Free Postings to Find Remote Freelancers
Hubstaff Talent may be a new entry in our list of best job boards, but it's a good option for companies seeking remote workers in all corners of the world. It's free to post jobs for freelancers. Unlike other freelance websites, Over 90,000 monthly visitors apply directly to Freelancer instead of submitting bids. You will receive applications that provide details about candidates and why they are qualified for the position. 
18. Guru: Find Technical and Design Free
As a technical and design hub, Guru is one of the most popular places for online freelancers to post their work. Through this platform, you can post jobs and access a global pool of talented professionals to manage your projects. Each job has its own dedicated WorkRoom where you can communicate, collaborate, and track freelancer work. 
Invoices will be charged a 2.9% handling fee if you use Guru to post an open position. Like many freelance websites, Guru offers escrow options so you can ensure the work is completed before you pay your freelancer.
19. Toptal: Share Freelance Jobs With Vetted Talent
Toptal is the right freelancer marketplace to use if you wish to find prescreened professionals. Applicants must go through an entire screening process to test their understanding of the subject matter, professionalism, and communication skills. It then connects Fortune 500 companies with Silicon Valley startups by pairing its top 3% of freelance talent.
Best Social Media Job Boards To Follow
Social media job boards are a new addition to the recruitment world. Popular social media platforms like LinkedIn, Facebook offer free job boards, where candidates can instantly find jobs, and recruiters can advertise their job postings smoothly. Let's check out the handiest social media platforms as dedicated only to job boards. 
20. Facebook Job Board
Facebook is the most popular social media platform and now it offers an interactive job board. Where recruiters can easily through job openings from their own profile or companies page. The most interesting thing for candidates is, they are notified from time to time whenever any job advertising is ongoing matching their own skillset. From your own Facebook profile dashboard, you can instantly navigate to available job postings instantly. 
21. LinkedIn Job Board
LinkedIn is mainly popular for creating a professional community where people can get updates on new tech, workshops, how-to problems, and the list. LinkedIn also offers a job board which is considered as one of the best ones. Just by opening a free account, you can create job postings on LinkedIn and candidates will immediately notify you about that. 
Flourish Your Career With The Suitable Job
Bookmark this post for easy navigation to the best job boards for software engineers and programmers. From a recruiter's point of view, posting your job online broadens your net, increasing your chances of capturing solid candidates. So start looking for your desired job postings on the best job boards and flourish your career. 
Hopefully, this post was resourceful for you. Which job boards do you follow? Let us know through your comments or by joining our Facebook community. Moreover, be the first one to get these kinds of exciting job postings related to blogs, insights, and tutorials by subscribing to our blog.