The key to finding the right employees for any job, is to write a great job posting. If you cannot craft an excellent job vacancy post that highlights the top reasons why a candidate should join your team, then it will be challenging for you to attract talented individuals.
Similarly, if your job posting does not properly describe the kind of talented and qualified individuals you are seeking, then you will not be able to onboard the right person for the job. This will lead to high employee turnover rates, hiring costs and waste of your time and resources.
That's why in today's post we are going to give you some tips and tricks on how to write a great job posting with real-life job posting examples, so you can hire the right people on your team with ease.
How A Great Job Post Can Help You Recruit Top Talent
A great job posting is an essential part of any hiring strategy. After all, job seekers need to know why they should join your team, and at the same time, they will also need to know if they have the required skills for carrying out the responsibilities you expect from them.
In other words, a great job description can help you recruit top talent by giving them incentives to join your company while deterring unqualified candidates by clearly explaining the duties associated with the role.
Tips For Writing A Great Job Post To Attract Candidates
The secret to writing a really great job posting is to remember that each section of your job post should be written with a specific goal in mind.
You have to keep in mind what kind of person is the right fit for your team and tailor each section of your job post or hiring post accordingly. This way, you will be able to create an effective job post that will attract the right candidates for your team.
Here are some tips for writing a great job posting to attract top talent to your company, along with some real job posting examples.
1. Research Similar Job Postings In The Industry
When writing your job post, it is always important to research what other companies in your industry are offering for the same position and responsibilities.
After all, you want to give attractive incentives to job seekers if you want them to become a part of your team. This could include offering a competitive salary, benefits package, or other advantages that your targeted applicants would be interested in.
In fact, research shows that 60% of applicants say compensation is one of the most important factors they consider when applying for a position. So you need to make sure that your compensation package is attractive when compared to what others in the industry are offering.
It is important to keep in mind that when you are hiring, you are not only looking for someone who can add value to your team, you also have to offer value to those you are recruiting and thus enhance your employer branding.
2. Make Sure The Job Title Is Specific And Direct
Being specific with the job title is important because it helps interested applicants understand what the expected role is and what responsibilities they may have to take on.
For example, if you are hiring content writers, it is best to specify the job title as either "Junior Content Writer" if you are looking for fresh graduates with good writing skills, or "Senior Content Writer" if the job responsibilities require more experience and knowledge.
3. Keep The Job Posting Short But Precise
This is because most job seekers do not want to waste time reading long job vacancy notices. So, it is important to write a job vacancy post that is short, around 300 words, but contains all the important information that a candidate may need to want to apply for the position.
Take a look at this job posting example from Walmart for 'Maintenance Area Manager'. Note how the job posting is short but contains all the necessary information that interested candidates would want to know when they apply for the position.
4. Describe The Responsibilities And Goals
While it is important to keep your job posting short, make sure you are explaining the responsibilities and goals clearly. This will help candidates understand whether they can take on the required tasks and if they should apply for the position. 
It will also help you attract candidates who are capable of carrying out the responsibilities listed in your job post and thus help you reduce employee turnover rates more effectively.
Below is a great job posting example from Elastic that clearly but succinctly describes the responsibilities and goals expected from a candidate.
5. Focus On Company Culture And Vision
Different organizations have different company cultures, work environments, visions, and goals. To make sure you are recruiting the right people who will not only be a good fit for the job but will also thrive in your organization, you need to briefly give ideas about what life at your company looks like.
This could involve sharing images of what your company does beyond the daily work-related tasks such as any company retreats, fun events or programs that you organize, or other details that could be appealing to the candidates.
6. Structure And Organize Your Job Posting
Great job postings are not only short and precise, but they are also organized and neatly structured so that candidates can quickly go through all the necessary details at once.
For ideas, take a look at this job posting example from T-Roc where they start by giving a brief overview of their company culture, before swiftly moving on to the job position, what responsibilities they expect, what qualifications they are looking for, and what benefits they are offering in return.
How To Write A Great Job Post In 5 Minutes With Easy.Jobs
Now that you know some of the key elements of a great job description and have seen some job posting examples from real companies, let's see how you can write a great job vacancy post in 5 minutes using Easy.Jobs. 
This is an advanced remote hiring solution that is helping all kinds of businesses, from small startups to large enterprises to quickly attract, screen, and onboard top talent for their teams. 
To help you do this, Easy.Jobs comes with tons of features that you can use to attract ideal candidates. One such feature is how Easy.Jobs lets you quickly create and publish a job post for any vacant position in your organization.
Step 1: Create An Account With Easy.Jobs
First, create an account with Easy.Jobs and get started with any of the flexible subscription packages. There are several available options for you to choose from, such as the Startup pricing plan and the Business pricing plan. If you want, you can also get started with the free package from Easy.Jobs and check out the features at no cost.
You can create your account by filling out the necessary information in the login page of Easy.Jobs as shown below. When you are done, just click on the 'Sign Up' button.
Step 2: Create A New Job Posting With Easy.Jobs
After creating your account, make sure to set up your company profile so that you can gain credibility and build your employer branding. You should also take the time to create a stunning career site or career page so that you can build credibility and also attract candidates for available positions in your company.
Once that's done, it's time to create a new job post. To do this, head over to your Easy.Jobs dashboard and click on the 'Jobs' tab. This will redirect you to a new page where you can click on the 'Create A Job Post' button to add a new job posting for your company.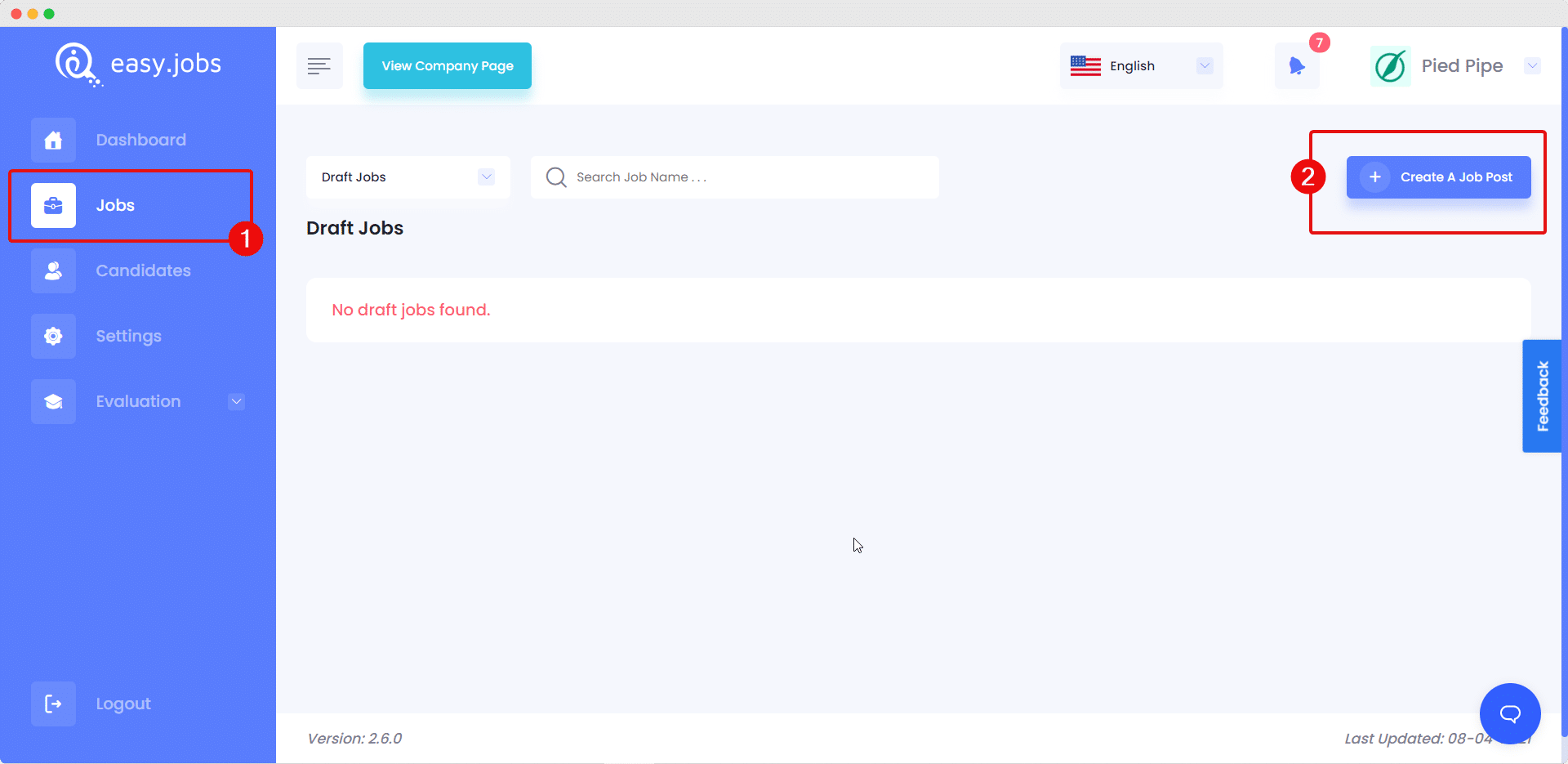 As soon as you click on this button, you will be taken to a new page where you can enter all the necessary information for your job posting. You can see that Easy.Jobs already comes with all the relevant fields that are needed for creating a great job posting.
You can quickly add the job title, describe the job responsibilities, and add other important information such as job category, required skills, job location, number of vacancies, and much more. 
You can even mention if the job posting is for remote working, which is very crucial information for candidates during the COVID-19 pandemic situation and also for recruiting candidates from overseas.
In addition to this, there is a separate section here where you can add information about the working hours, nature of employment (such as a part-time job or full-time job), salary type, and other company benefits and details.
Simply fill in these required fields to create your job posting with Easy.Jobs. It will take you less than 5 minutes to complete, and by the time you are done you will have crafted a great job posting for your company. You can even add custom job categories and skills to your job posting to tailor it even further.
If you want to speed things up even more, you can use the ready job templates from Easy.Jobs to get a quick start. Simply click on the 'Job Templates' link as shown below, and choose a ready template that fits the available job position in your organization.
All the needed information for that particular job offering will be automatically inserted in Easy.Jobs. 
You can then make changes according to your company policies to create a job posting with Easy.Jobs in a matter of minutes.
Step 3: Preview And Publish Your Job Posting
Once you have added all the needed information in the previous step, you may be asked to create screening questions or quiz for your candidates. These will help you screen the right candidates for the job. For more information, check out our detailed guide on how to add screening questions for candidates with Easy.Jobs.
If you do not wish to add any screening questions, you can directly preview or publish your job posting by clicking on the 'Publish' button as shown below.
When you are done, this is what your job posting will look like on your company profile in Easy.Jobs. You can customize your job posting to make it look more attractive and professional to interested applicants.
Grow Your Team With Easy.Jobs Smart Recruiting Solution
This is how you can write a great job posting in a matter of minutes using Easy.Jobs. There are tons of more features available with this modern, talent sourcing and hiring solution that you can use to onboard the right people on your team.
For instance, you can use Easy.Jobs Artificial Intelligence to evaluate and sort the right candidates for a job, create and assign assessments for candidates and even hire remotely by setting up remote interviews with Google Meet or Zoom.
Try Easy.Jobs today, and let us know your feedback. We are constantly trying to improve your experience with Easy.Jobs and would love to add new features and enhancements to make the hiring process easier for you.