Recruiting email template samples are the best savior for modern recruiters, as it helps to streamline the hiring process. While everything is going online, emails are becoming part and parcel of running successful recruiting campaigns.
But writing and managing recruiting emails of every category isn't a one-man job. If you also agree on this point, then this blog is for you to make your email communication easier for hiring recruiters.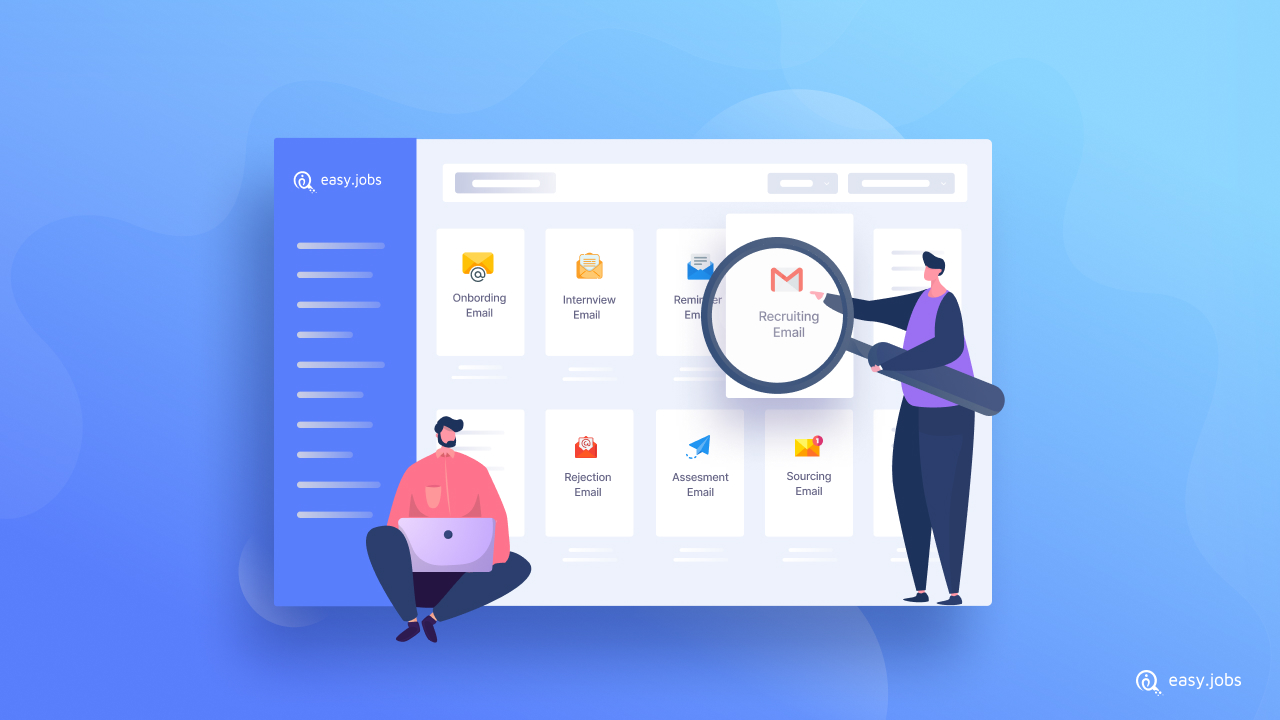 Why Do Modern Recruiters Use Emails For Hiring?
It takes time and effort to maintain a pipeline of qualified candidates. Building relationships, pitching roles regularly, and being trusted will be key to helping your candidate find jobs.
It is your job as a recruiter to engage candidates before, during, and after the hiring process. Keeping candidates in the loop is the only way to retain them. The best way to accomplish this is through recruiting email.
Candidates can tell at a glance at what stage they are in the hiring process by reading recruitment emails written in a personal, direct, and active tone. Additionally, recruiting emails assist in automating the hiring process.
Emails keep every conversation in a loop, so candidates can take a look at the previous email and measure the progress with your company instantly. It isn't possible if you maintain the hiring process through paper-written candidate applications.
Using the email system gives you the ability to communicate with many candidates at the same time. It saves recruiters a great deal of time.
In order to enjoy the privileges mentioned above in your hiring process, you need to familiarize yourself with emailing in the hiring process.
5 Ground Rules For Writing Recruiting Email Templates
You have to be careful when writing emails to candidates. Particularly when you are new to managing the hiring process, it is difficult to decide what you should include, how often you should follow up, and when you should reach out. No matter what type of recruitment email you send, mentioning the five ground rules for recruiting emails.
Avoid Jargon In Your Email Templates
Keeping your recruiting email templates simple is the most important thing. When you are communicating with your present team members through email and with new candidates, two situations are completely different, so is the email template content. So, you can't use in-house jargon in your recruiting email templates.
According to 71% of respondents, failing to understand a term in a job description makes candidates feel like they are underqualified. Simple and to the point recruiting email template content will save your day.
Establish & Maintain Your Employer Brand
Although the writing tone of recruiting email template content should be adjusted based on a candidate's position, maintaining with your company's brand. A formal manner of communication is appropriate when writing to an executive or a recent college graduate.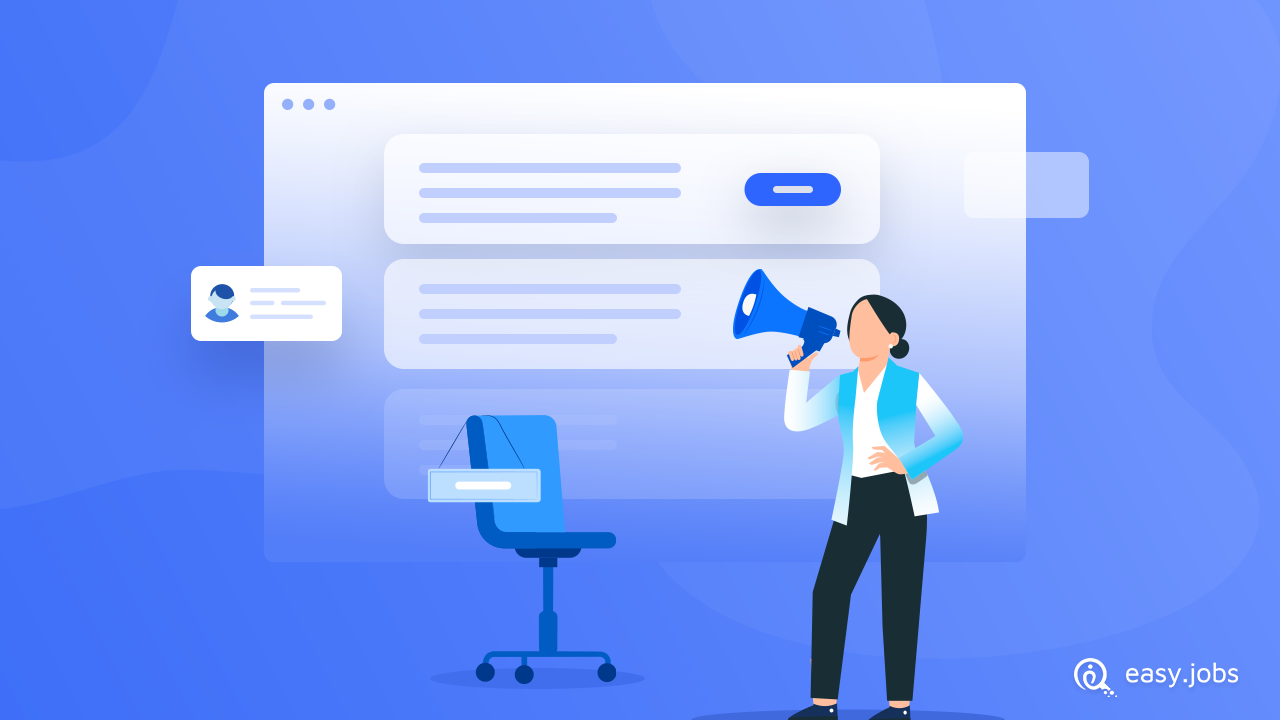 It is important to tailor your message to the specific candidates you are targeting but maintain consistency overall. Also, don't leave your candidates in the dark. It's better to clarify job duties, salary range, and location upfront if you are actively hiring. 
Always Be Timely In Sending Recruiting Emails
Send your emails on time and keep to any deadlines that you set. You are allowing others the opportunity to swoop in and hire your candidate. If you wait to send a follow-up email or an application status update, the above scenario will definitely happen. 
In order to avoid this, you should not wait too long to deliver the information you stated you would send to a candidate.
You should respond to emails within 24 hours, but keep in mind that the average response rate for email is two hours.
Make Your Recruiting Emails Concise
Long emails are annoying, especially when they are from strangers trying to sell you something. Your recruiting email templates should be brief regardless of when the process is in progress; emails between 75 and 100 words are most likely to generate a response. 
Do not include more information than is necessary to avoid confusing or disengaging the candidate. It doesn't mean your emails cannot be engaging. If you're passionate about a candidate, tell them to keep their attention.
Don't Forget To Proofread Before Sending
Over half of people admit to making embarrassing mistakes when using recruiting email templates. You will not only appear unprofessional, but your company will look bad as well, as the candidates will think you are not concerned about grammatical accuracy. Make sure that there are no unnecessary placeholders in your email content.
10 Best Recruiting Email Template Samples To Save Your Time 
The goal of using email templates is to ensure candidates have access to all the information they need during the application process to be successful. Here are some easy tips on how you can manage emails during the recruitment process in a time-efficient manner. We have templates that are perfect for every situation, from cold outreach to follow-up after an interview. So, Let's get started!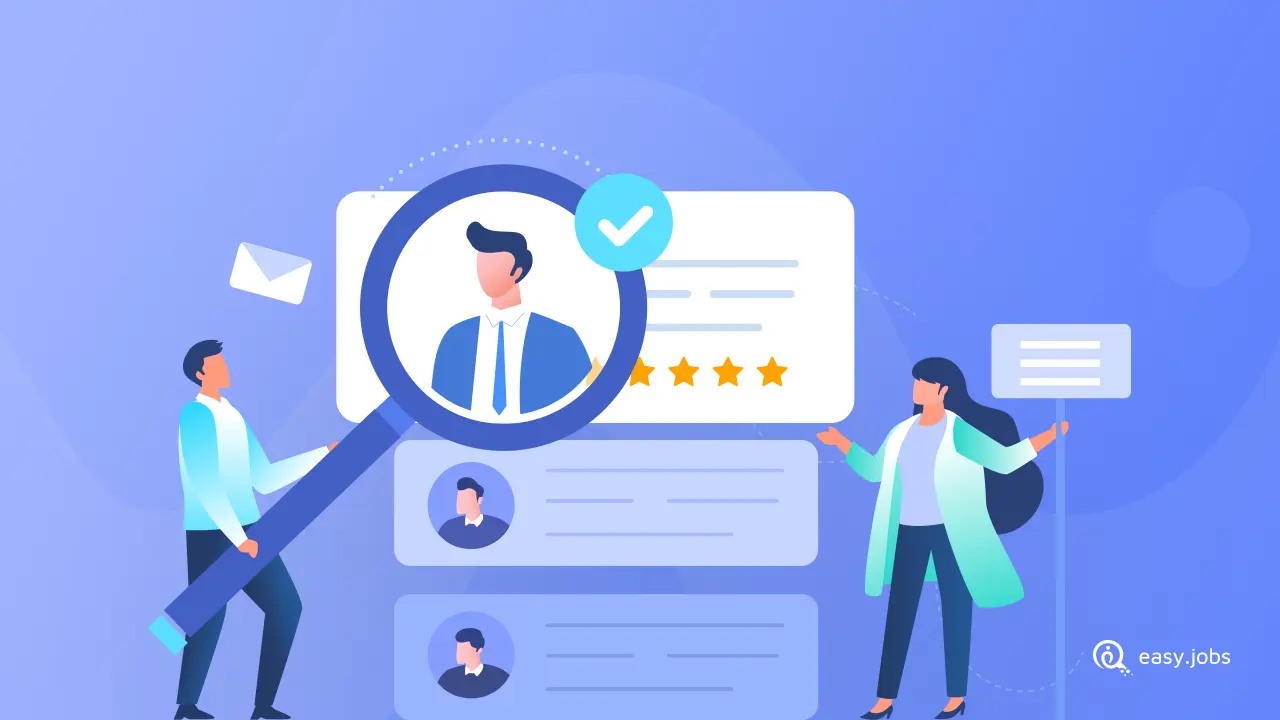 Sourcing Email Template Samples
Creating a list of candidates is the first step of your hiring process if you manage your entire hiring process via email. And send them invitations or acknowledgement emails about your new job openings. These types of emails are called sourcing emails. Add a brief explanation of how you located them and why you would like to contact them in your sourcing email template.
You can notify about your new job opening to past employees, previously applied candidates, leads collected from workshop or job fairs, potential candidate lists, and so on. When you are sending sourcing emails to candidates make sure you have mentioned these points: 
Establish a network of candidates

A clear and straightforward explanation

Add a call-to-action that a candidate can answer
Here is a 'sourcing email' template that you can use: 
Hello there,
It is [your name], a recruiter with [Company]. About a few months ago, I met you at a job fair. I recall that you were searching for a new opportunity at that time. How did the hunt go?
It is our pleasure to inform you that we are seeking to recruit for [Job Position Name] and you may fit the bill. This time we decided to move forward with a more experienced candidate. Now that we have a new opening, if you feel confident, you definitely should apply. 
I would be happy to explain the role in more detail if you are interested. Also, don't forget to check the job details here [Job Posts URL].
Thanks in advance. 
Request For Work Samples Email Template
As soon as the candidates have responded, the next step is to screen them and select the potential candidates. To successfully execute online screening, you can ask for work samples, resumes, portfolios, and so on from the candidates. So your request for work samples email template must have the below-mentioned points: 
Ask for resume, CV, and online portfolio

Live link of his or her work samples

URL of active social media profiles
Here is a 'request for a work sample' email template that you can use:
Hi [FIRST NAME],
Please accept our sincere thanks for your interest in [COMPANY NAME]. We are hoping that you will be the suitable one for the open [JOB TITLE] position. 
Someone from our team will contact you within [TIMEFRAME] to let you know the status of your application.
In the meantime, please share your below-mentioned resources:
Your resume with your photo

Your online portfolio (if you have)

Link of your social media profiles

Live work samples
Best,
[COMPANY NAME] Recruiting Team
Follow-up Email Template After Receiving Resume
It's always a great practice to keep track of every step of recruitment via email. A warm follow-up email will help candidates to feel assured about the hiring process after receiving their resumes and work samples. This you must mention in this type of email template samples:
A big Thank You

Share candidates about the next steps 
Here's a 'follow-up email' template that you can use after receiving resume from an applicant:
Hi [FIRST NAME],
Hope you are having a wonderful day. Today we have received your resumes and work samples. Your hard work and experience reflect on them. Thank You. 
As part of the recruitment process, the next step is to assign you some easy yet insightful tasks to get a clear idea about your expertise. We will soon let you know about the assessment and its submission date. 
Till then, take care and have a good day. 
PS: Someone from our team will contact you within [TIMEFRAME] to let you know the next steps.
Best,
[COMPANY NAME] Recruiting Team
Email For Inviting Candidate Assessment 
Assessment emails are the most crucial one while you are managing the entire recruitment process via emails. Through this email, you will assign candidates tasks with complete direction and time frame. These responses will make your screening easier. 
Here is an email template sample for inviting candidates for assessments that can you use:
Hi [FIRST NAME],
Thank you again for applying for the post. To move forward with you, we would like to invite you to complete an assessment for the next round of our interview process. 
Please find the assessment attached. The purpose of this assessment is to gain an understanding of your abilities, how you approach tasks relevant to the job and provide us with some talking points. 
It would be great if you could return the completed assignments to us [by X date/by Y deadline]. Also while submitting the assignment, make sure you have followed below instructions:
[ADD INSTRUCTIONS]
Best,
[COMPANY NAME] Recruiting Team
Email For Inviting Candidates For Interview
The next step is to call for an interview for the shortlisted candidates. You have to keep this email template sample sleek and to the point. So candidates can easily get a clear idea about when to attend the interview. 
Here is a 'call for interview' email template sample that can you use: 
Hi [FIRST NAME],
Thank you for applying to the [JOB TITLE] position at [COMPANY NAME]. 
Upon reviewing your application, we are looking forward to conducting an interview with you.
It is my pleasure to schedule an [INTERVIEW FORMAT] with [INTERVIEWER], [INTERVIEWER JOB TITLE] at [COMPANY NAME]. It will take approximately [LENGTH OF INTERVIEW] to complete the interview.
Are you available on [DAY, DATE] at [TIME, TIME ZONE]? 
I would appreciate it if you responded directly to this email and let me know what time you are free.
Best,
[YOUR NAME]
[YOUR EMAIL SIGNATURE]
Reminder Email Template For Interview
You should always send an interview reminder email to the candidates the day before the interview. Additionally, it helps to increase the number of candidates and prepare them for interviews. 
Here is a 'reminder email' template sample that you can use:
Hi [FIRST NAME],
Please be reminded that you will be interviewed soon for [JOB TITLE] at [COMPANY NAME].
We will conduct your interview on [DATE and TIME] at [START TIME – END TIME]
Where: [PHONE NUMBER / MEETING LINK / ADDRESS ]
Interviewer: Your interview will be with [INTERVIEWER, JOB TITLE]
Agenda:
[INCLUDE AGENDA]
Ensure you are prepared to discuss:
[TALKING POINTS]
FOR IN-PERSON INTERVIEWS
Upon arrival:
Arrive at the front desk and check in. You will be given a temporary elevator pass by the security guard. 
Office dress code:
If you prefer to wear something comfortable, you may wear anything you wish. Our office is [DRESS CODE].
We look forward to seeing you! 
Best,
[YOUR NAME]
[YOUR EMAIL SIGNATURE]
Job Rejection Email Template
In order to be selected for a job post, every employee tries their best. Thus, not selecting news for an interview is not a good thing. By identifying candidates who aren't eligible for open positions, you are respecting their time and improving their candidate experience. Rejection emails must be soft and encouraging, so that rejected candidates do not lose their self-confidence.
Here is a 'rejection email template' sample that you can use:
Hi [FIRST NAME],
I hope you are having a productive day. Thank you for your strong application materials, but we regret to inform you that we cannot select you for this position this time. [CONSTRUCTIVE FEEDBACK].
We hope you'll keep in touch through our social profiles [LINK TO SOCIAL PROFILES], and be on the lookout for job openings on our career page [LINK TO CAREER PAGE].
Thank you so much for your time and consideration of [COMPANY NAME]. We'll keep your resume on file for future positions, and we'll reach out if it looks like you're a match.
All the best for the future,
The [COMPANY NAME] Team
Job Offer Email Template Sample
The hiring process ends with offer letter for candidates. It's a big moment for any company, it represents growth. Offer email is sent to the selected candidates whom you want as your teammate. As a result, you must provide all the details in the email template sample as well as express excitement.
Upon receiving this offer email, the selected candidate will contact a recruiter to express interest in joining. While creating a job offer template, make sure:
Email template sample is written in professional tone

It's informative

Express excitement and joy
Here is a 'job offer' email template sample that you can use:
Hi [FIRST NAME],
Hope you are doing well. Now sharing the news to make your day more joyous. It is my pleasure to offer you the position of [JOB TITLE] at [COMPANY NAME]! 
In the interview process, our team was extremely impressed with you, and we are excited to have you on board. We believe that your skills and experience will be an excellent addition to the team at [DEPARTMENT].
Take a look at these details carefully. 
Position
The position is a [FULL-TIME/PART-TIME/TEMPORARY] role as [JOB TITLE] at [COMPANY NAME]. In this position, you will report to [DIRECT MANAGER] in [DEPARTMENT].
As a [FULL-TIME/PART-TIME/TEMPORARY] employee, the position requires [HOURS/WEEK]. Your working hours will be [START TIME – END TIME] with a [30-MINUTE/HOUR] break for lunch. 
Your first day will be [MONTH DAY, YEAR].
Compensation
[COMPANY NAME] will compensate you [DOLLARS] per [HOUR/WEEK/YEAR/ETC.] for the stated position.
Benefits
When you are hired for the position and employed by [COMPANY NAME], you will receive the following benefits:
We offer health insurance; stock options; 401K matching; 15 days of vacation; dental, vision, and life insurance. [ADD OR REMOVE BENEFITS]
In addition to these perks, [COMPANY NAME] also provides its employees with [LISTEN TO SPONSORSHIP BENEFITS].
Attached is your full offer letter. In order to accept this offer, sign the document and return it to me by [DATE].
[COMPANY NAME] is delighted to have you as a member of our team. Please feel free to contact me directly at [PHONE NUMBER] with any questions you may have regarding the attached offer.
Best,
[YOUR NAME]
[YOUR EMAIL SIGNATURE]
Onboarding Email Template Samples
Upon hiring your chosen candidates, you will send them onboarding emails. Onboarding emails introduce job responsibilities, office cultures, etc. The right onboarding email shows that you have planned for your new hires and are organized throughout the recruiting process.
Here is an 'onboarding email' template sample that you can use: 
Hi [FIRST NAME],
Welcome to [COMPANY NAME]! We look forward to your first day! 
Here are some tips on how you can prepare:
Your Arrival: 
It is advisable to arrive by [TIME]. The address of our office is [OFFICE ADDRESS]. Your temporary ID badge will be waiting for you when you arrive at the security guard's station. Soon after your start date, you will receive an official badge.
Your Agenda:
Please find attached an agenda for your first day. There is a chance that it might change slightly, but that's a good indication of who you'll meet.
Documents/ID to Bring:
Your identification documents should include the following: [LIST OF DOCUMENTS]
What to Wear:
As you know from your interview, our office dress code is [DRESS CODE].
Lunch:
Lunch is usually eaten at the conference room, and there are several food options nearby, such as: [LUNCH OPTIONS].
Your Onboarding Plan:
Below is a schedule of the onboarding activities you will participate in over the next [TIME FRAME]. Within your first week, you will discuss it more in detail with your manager.
I would be glad to answer any questions you may have.
You'll be a great addition to the team. Welcome aboard!
Best,
[YOUR NAME]
[YOUR EMAIL SIGNATURE]
New Team Member Announcement Email Template
When you have a bigger team, email is the best way to announce the new joining in your team. To make the workplace more comfortable for the new member, mention new joinings' personal information, area of expertise, a little back story, etc. in the email template. This recruiting email template will also help other members to welcome new one warmly. 
Here is a 'new member announcement' email template sample that you can use:
Team, 
[FIRST LAST NAME] has joined the [COMPANY NAME] team! I'm extremely happy to introduce him.
[FIRST NAME] is joining us on the [DEPARTMENT] team as our [JOB TITLE]. From a [DESCRIBE LAST COMPANY], [HE/SHE/THEY] bring a staggering amount of experience with [SKILL/FIELD].
We have the pleasure of having [FIRST NAME] in the capacity of [JOB TITLE], working closely with [TEAM LEAD] on [PROJECT OF FOCUS/JOB RESPONSIBILITIES].
A little bit more about [FIRST NAME]:
[INCLUDE 3-5 PERSONAL DETAILS/FUN FACTS ABOUT THE NEW HIRE]
It's great to have [HIM/HER/THEM] on board. [FIRST NAME'S] first day is [START DATE]. 
Welcome aboard, [FIRST NAME]!
Best,
[YOUR NAME]
[YOUR EMAIL SIGNATURE]
Bonus: Manage All Types Of Recruiting Emails Using Interactive Tools
Utilizing a management tool for managing your emails to candidates during the hiring process would help you simplify the hiring process. Instead of managing spreadsheets and other manual tools, you can directly use a SaaS recruitment tool such as Easy.Jobs. 
Easy.Jobs helps its users to run successful job opening campaigns from scratch. Using this single recruitment tool, you can manage your career site, job board, analyze job campaigns performance, and so on.
Moreover, Easy.Jobs comes with an email hub, where you can find email template samples for each stage of the hiring process. The platform also allows you to modify email template samples, as well as add new pipelines, and many more. 
How To Manage Recruiting Emails Using Easy.Jobs: Guideline
Here's presenting you the easy-to-use guideline to manage recruiting email templates directly from Easy.Jobs.
If you are hearing about Easy.Jobs for the first time, then first create a free account in Easy.Jobs. in Easy.Jobs for free you can run 1 active job campaign at a time and use the email hub as well. To unleash all exclusive features of Easy.Jobs at a time, then choose your favourite pricing deal from the available pricing plans.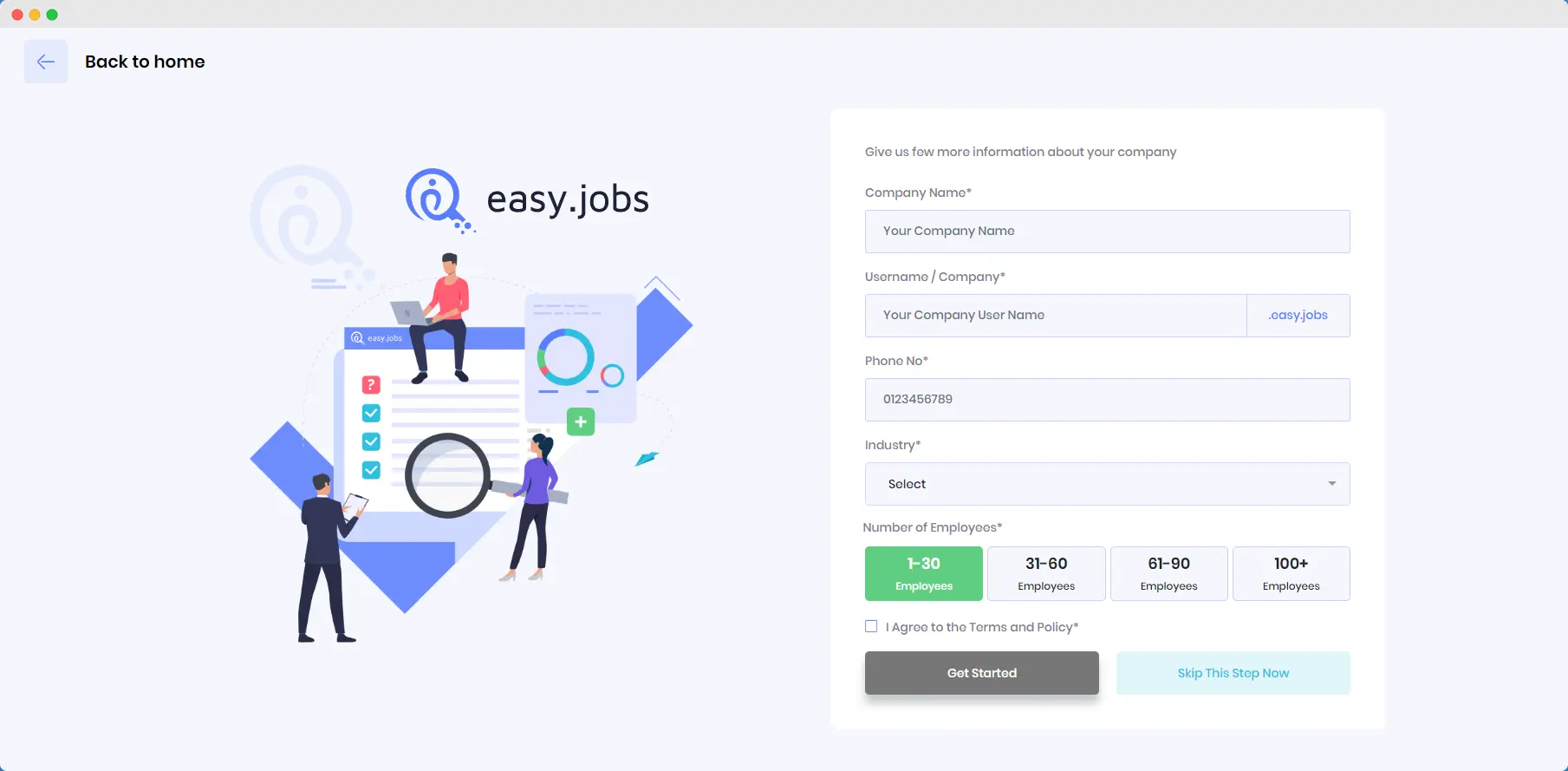 Step 1: Create A Company Profile In Easy.Jobs
After creating an account in Easy.Jobs, it's time to completely update all your company information. From the dashboard, go to «Настройка» and update all the fields available there. Add a company logo, company details, employee benefits, team images, and so on. Easy.Jobs will instantly create a career site for your company using this basic info. You can customize the career site look as well.
Step 2: Set All Recruiting Email Templates
Now is time to create pipelines of your hiring process and add email template samples as well. Easy.Jobs has a default pipeline, you can continue job campaigns with it or create a new one from Dashboard → Settings → Pipeline Setup.
In the 'Email Setup' section, you will get all the available recruiting email template samples there. You can customize them, add new placeholders, and many more. After making changes, don't forget to click on the 'Save & Continue' кнопка.
Step 3: Create A Job Post In Easy.Jobs
Your environment for running job opening campaigns is all set. Now you have to create a new job post and run your hiring process in the search for the right talents. Easy.Jobs also comes with 40+ ready job templates as well as a default job description template. These job templates make it easier to launch job campaigns instantly.
All you have to do is, go to "Работа" from the dashboard and click on the 'Create A Job Post' → ' Select A Template'. From there search for the desired job post, insert the template and publish the job post. That's it! This is how easy it is to run job campaigns with Easy.Jobs.
Run Successful Hiring Process With Best Recruiting Email Templates
You require emails in order to manage the hiring process to close business deals. It is an essential tool for your company. The following email template samples will aid you in completing your hiring process in a timely and efficient manner.
So get started with these appealing email template samples and improve productivity with Easy.Jobs. Now it's your turn to share your thoughts and insights. If you have found this blog helpful then do share it with others. And to get more of these kinds of tips and tutorials, subscribe to our blog или присоединяйтесь к нашему facebook community today.