An effective job board is very important to hire the right candidates. Having a WordPress career site has made it easy to create and manage job postings effectively. This post is for you if you are planning to create a WordPress job board all by yourself.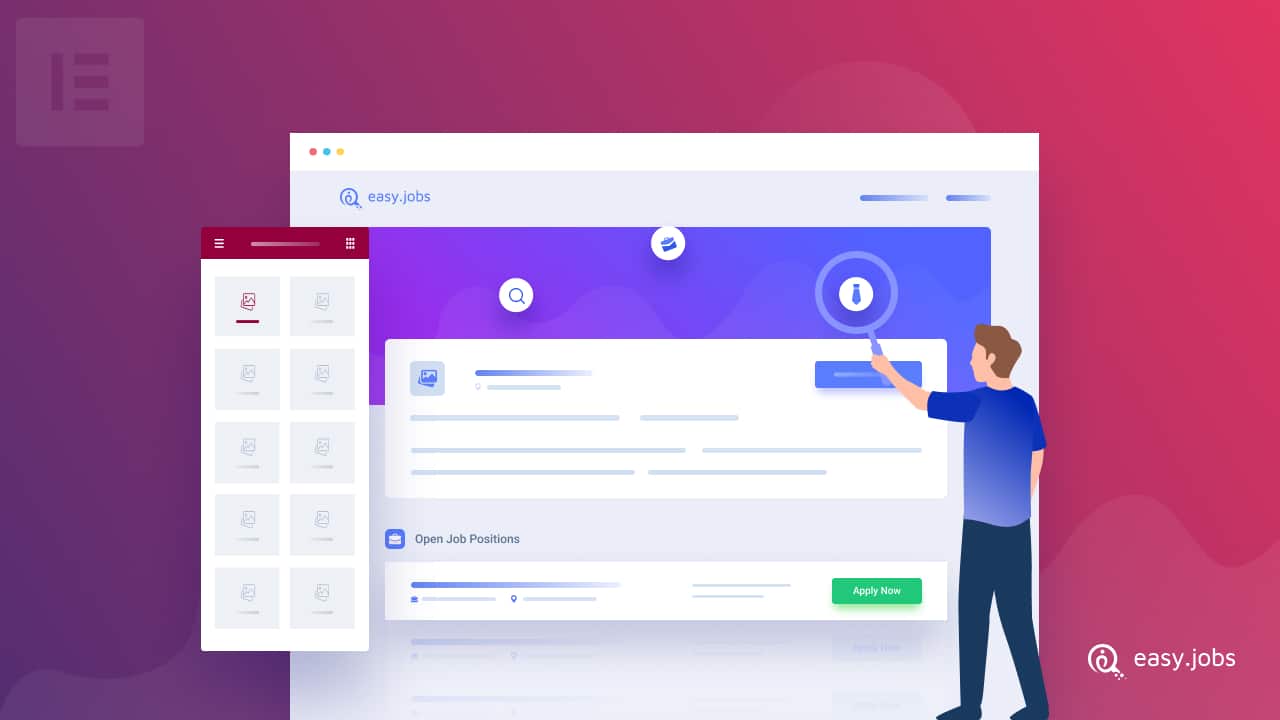 Days are gone when job seekers look for jobs in the newspapers, billboards, or in-office job boards. Almost all dynamic companies maintain online job boards to attract candidates and make the hiring process smoother. In this tutorial, we will show you the easiest and effective way to create a job posting for your company without coding. 
How Can A Job Board Streamline Your Hiring Process? 
In the past, job boards were physical boards where companies post about their vacancies and new job openings. In the digital era, the job board is considered a web page of your career site. Let's explore how job postings can streamline your hiring process. 
According to LinkedIn research, 59% of candidates visit a company's career page after discovering a job! It is important for candidates to learn more about your company's culture, values, benefits, mission statement, and vision. Career sites are great places to showcase these, as they're not just a collection of job descriptions.
Why Is It Worth It To Create An Elementor Job Board? 
If you are set to create job postings for your career site all by yourself, then the best and easy medium is WordPress. With WordPress, you can easily manage all your hiring process activity from the dashboard interface. So, whenever you need to update any information, you can do that easily from your WordPress career site. 
As you will be creating a job posting on your WordPress career site, there are lots of opportunities to go with.  While creating your WordPress job board without coding, it is worth it to go for Elementor website builder. Let's break down the benefits of creating an Elementor job board. 
⚡ Elementor gives you the facility to create the WordPress job board by drag and drop instead of coding. So you won't have to be tech-savvy to create a WordPress job board for your career site. 
⚡ You can see the live preview of your changes in Elementor. So no floor for making mistakes while designing the WordPress job board. 
⚡ You will get stunning Elementor widgets to make your career site more interactive and attractive. You can add a subscription form, contact form, navigation tool, and so on. These will help you to improve your WordPress career site user experiences. 
Key Elements For Your Amazing WordPress Career Site
Time to look through the mandatory features that must be present in your WordPress career site apart from job postings. Here we have listed the most essential features that must be present in your WordPress career site. 
According to a Taleo study, 73% of multinational websites had careers pages located on the home page.
Make Your Career Website Easy to Find
Ideally, the navigation to your WordPress career site should be located in the top navigation bar or at the bottom. Applicants should be able to discover your job board in just one click. If candidates cannot find your career page, your beautiful work will not attract them.
Display Company Awards & Achievements
Your career site is the best source for branding your company. How much your company has evolved, reaching towards vision depends on the awards and achievements you acquire. Moreover, not only candidates pay visits to job postings. Potential clients, competitors also pay visits to company career sites. So displaying all achievements and awards is a nice strategy. 
Make Your Career Page Mobile Friendly
Website ranking in search engines not only depends on how attractive your WordPress job board is but also mobile responsiveness, cross-browser compatibility, and so on. While you are creating your WordPress job board with Elementor, the mobile responsibility of your site will be taken care of instantly. 
Showcase Employee Benefits Interactively
By the recent and updated curriculum, employees are counted as human resources for every company. So, besides salary, the thing most of the candidate values is the benefit that the company will provide. Every company has its own core value, indoor and outdoor activities, compensations, provident funds, and so on. If you can display these facilities in an interactive way, that will boost the candidates' number for your job openings.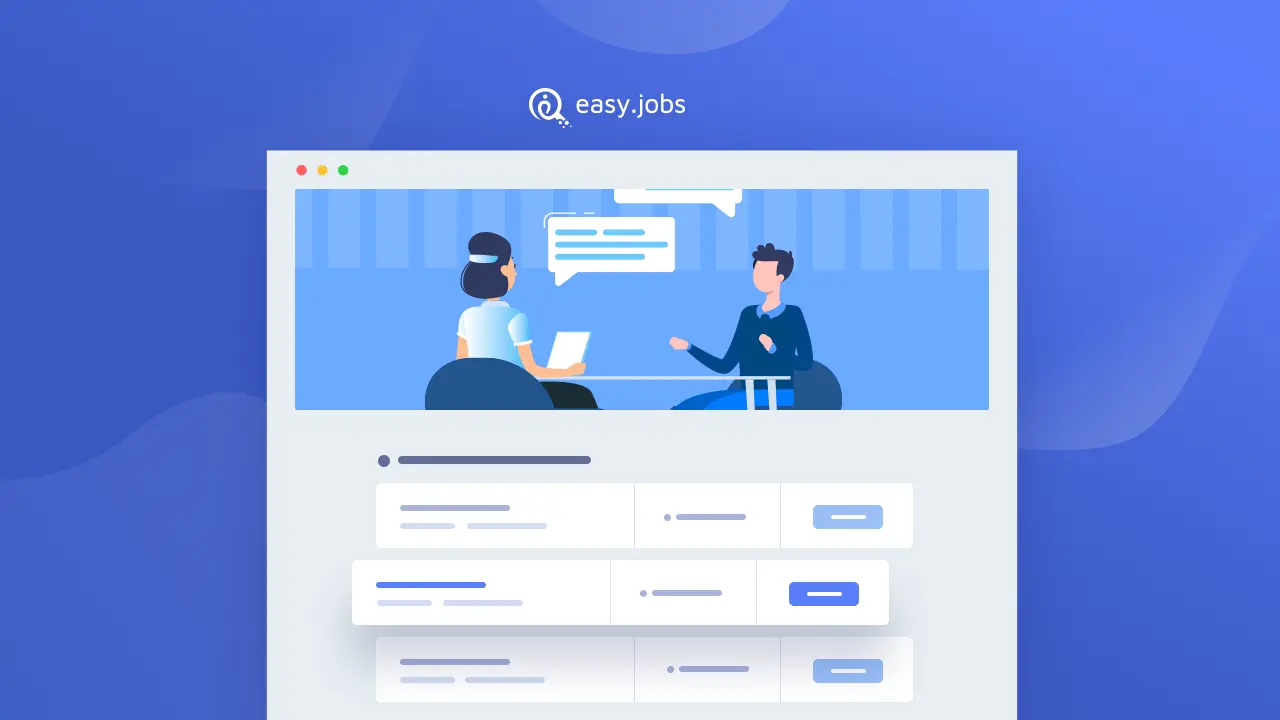 Complete Guideline: How To Create A WordPress Job Board Using Elementor
Now time to create your own WordPress job boards without coding using Elementor. It's a good idea to backup your career site before setting up a WordPress job board. Besides, we'll install and activate some new plugins that make some significant changes. As soon as you're finished, you can move on to the first step.
Step 1: Get The Essential Plugins For Your WordPress Career Website
To create a fully functional WordPress job board, we will need to get plugins. Here mentioning the list of plugins we will need to install and activate. 
➡️ Elementor: Elementor is the most popular website builder. As we are creating a WordPress job board in Elementor, we must install and activate this plugin.
➡️ Easy.Jobs: Easy.Jobs is the ultimate recruitment solution for managing your hiring process. Install and activate the WordPress plugin.
➡️ Essential Addons For Elementor: it's the most popular Elementor library for designing stellar career sites. Install and activate this plugin too as it has Easy.Jobs widgets that will help you to create WordPress job boards in Elementor. 
➡️ Templately: To give your WordPress job board a stunning appearance, you must get ready Elementor templates from Templately. These templates are easy to use and customize.
Step 2: Create Your Company Profile In Easy.Jobs
After setting all the essential plugins, time to fill up all the required information of your company in Easy.Jobs. Don't forget to include your company logo, favicon, images, video on your career site. You can also translate the career site in your own language from settings. From the Jobs tab, create new job posts with job descriptions, responsibilities, and benefits. 
Step 3: Insert A Stunning Elementor Job Board Template 
To create job postings on your WordPress career site, open a new page and click on the 'Edit with Elementor' button. In the middle of the page, you will find the 'Templately Blue' icon. By clicking it will take you to the ready Elementor template library of Templately. Search for a career page there and include a suitable one. For the tutorial purpose, we are using Careerly ready Elementor template from Templately.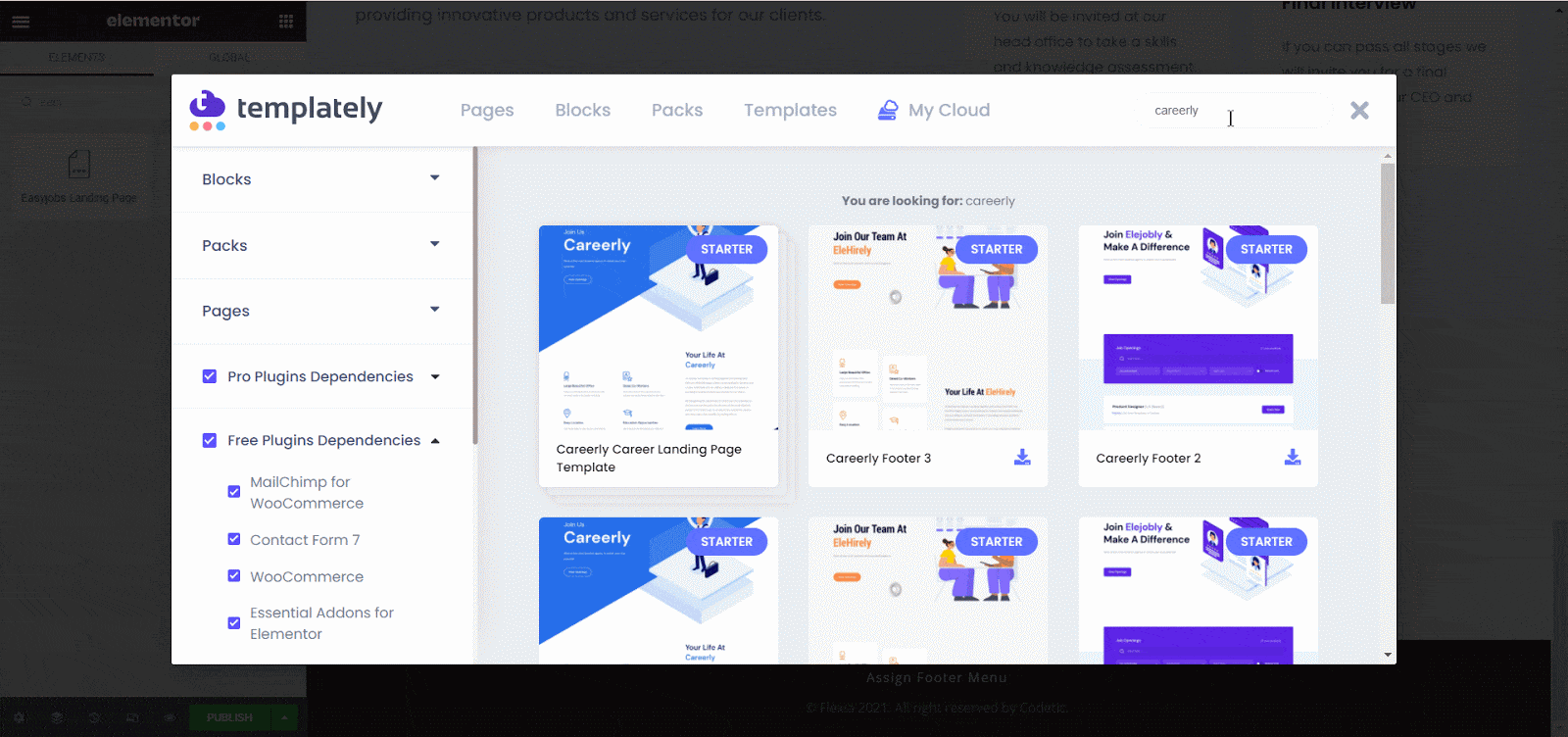 Step 4: Design Your Job Postings Using Stunning Widgets In Elementor
Now time to add Elementor widgets of Easy.Jobs in your WordPress job board. Easy.Jobs has two Elementor widgets: Landing page widget and Job list widget. You can easily find them in the Elementor widget panel. Drag and drop the widgets into your job postings page. As you have already created job posts, and career sites, these widgets will directly fetch information from there.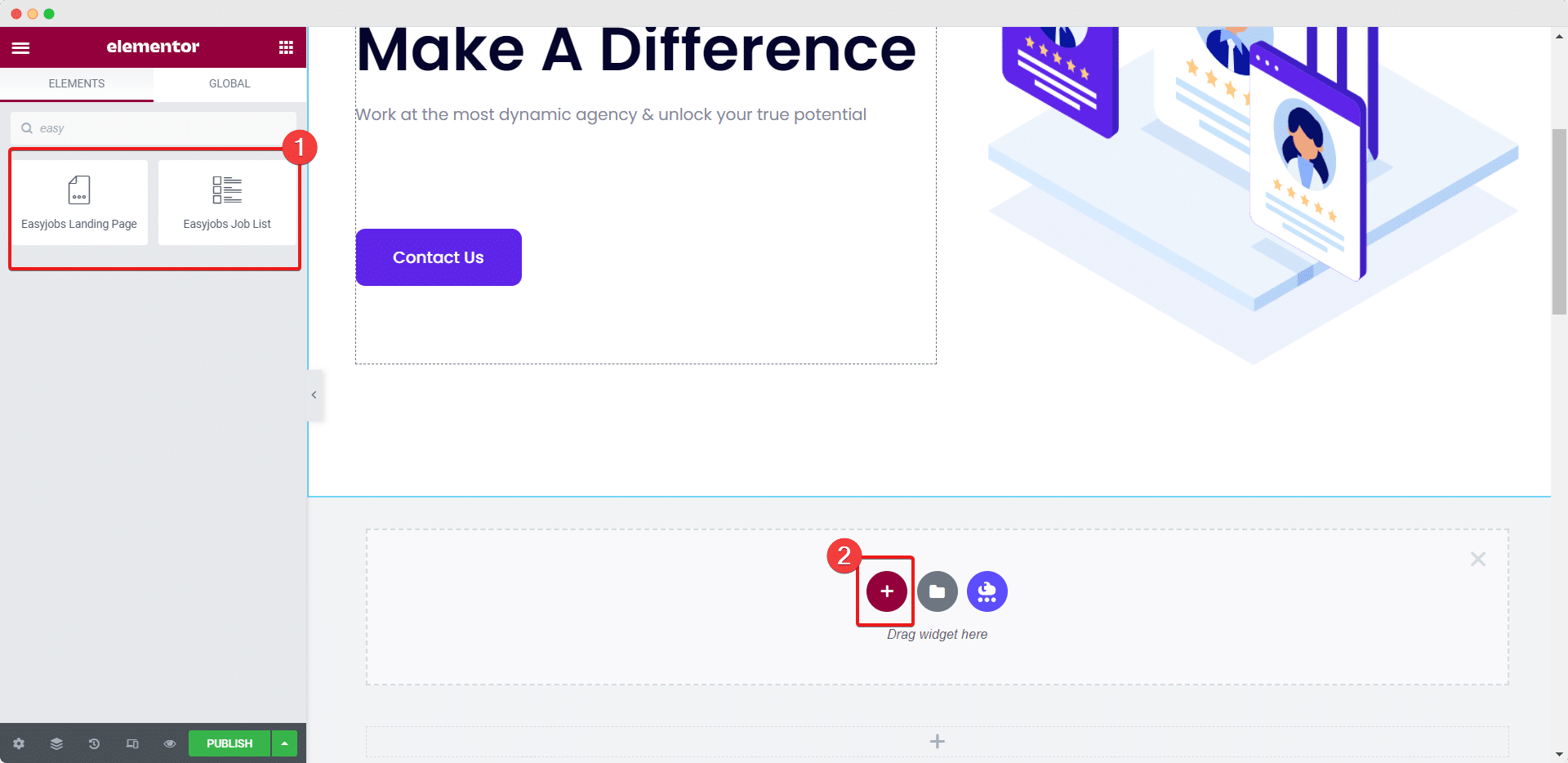 From the Content tab, you can control which sections to show or not. You can hide company logos, descriptions, etc. Also, you can select how many job posts to show at a time, how to order job posts, etc. You can also customize the text settings of your WordPress job board easily.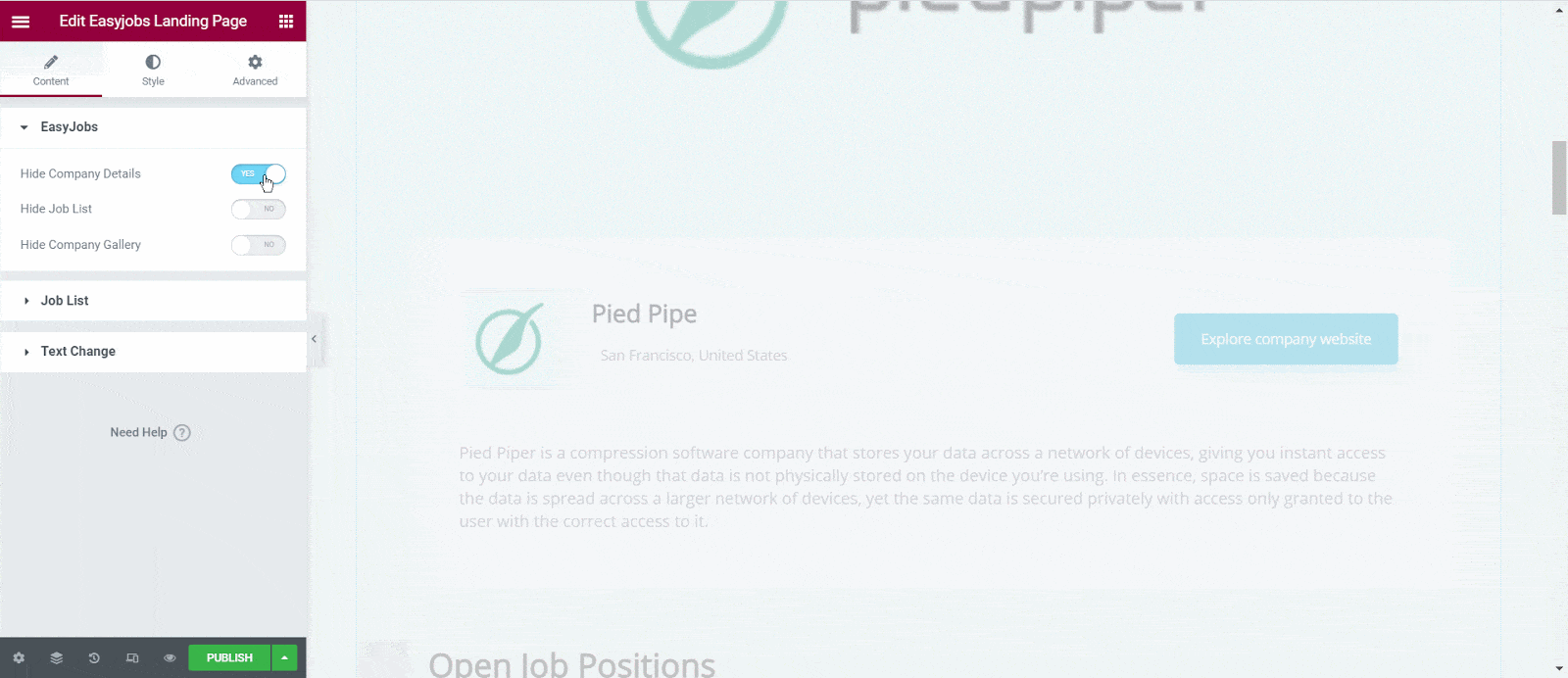 From the Style tab, you can customize the background color, height, width, padding of the widget. Also, the list's you can customize the job post list's appearance as well. 
Time To Launch Your WordPress Job Board
After making all the changes, click on the 'Preview' button to check out the final look. If you are happy with the outlook, then click on the 'Publish' button. Your WordPress job board will be published successfully. Check out the final outline of your WordPress job board.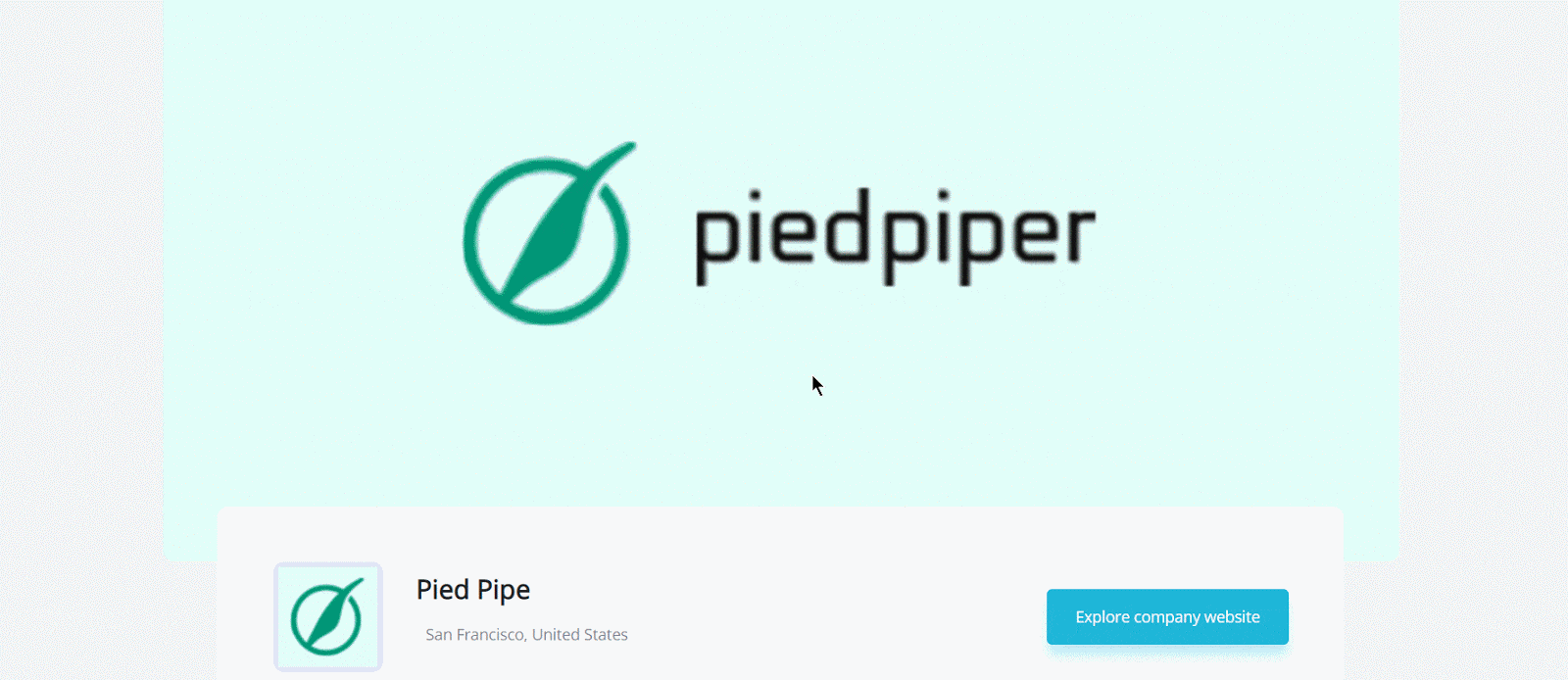 ✨ Bonus: Exclusive Easy.Jobs Features To Automate Recruitment Process
Easy.Jobs is not only a plugin to create a  WordPress career site and job postings page, it is the complete solution for your hiring process. Check out what exclusive features you will get with Easy.Jobs. 
💡 Advanced Built-In Recruitment Analytics
With Easy.Jobs, you can measure every page performance and well as every action taken by your visitors. The built-in recruitment analytics will provide you with every type of data in a different timeline. Moreover, you can check out at a glance how many candidates have seen posts, how many have applied, and the list goes on. This feature will help you to make decisions in the future based on analysis reports.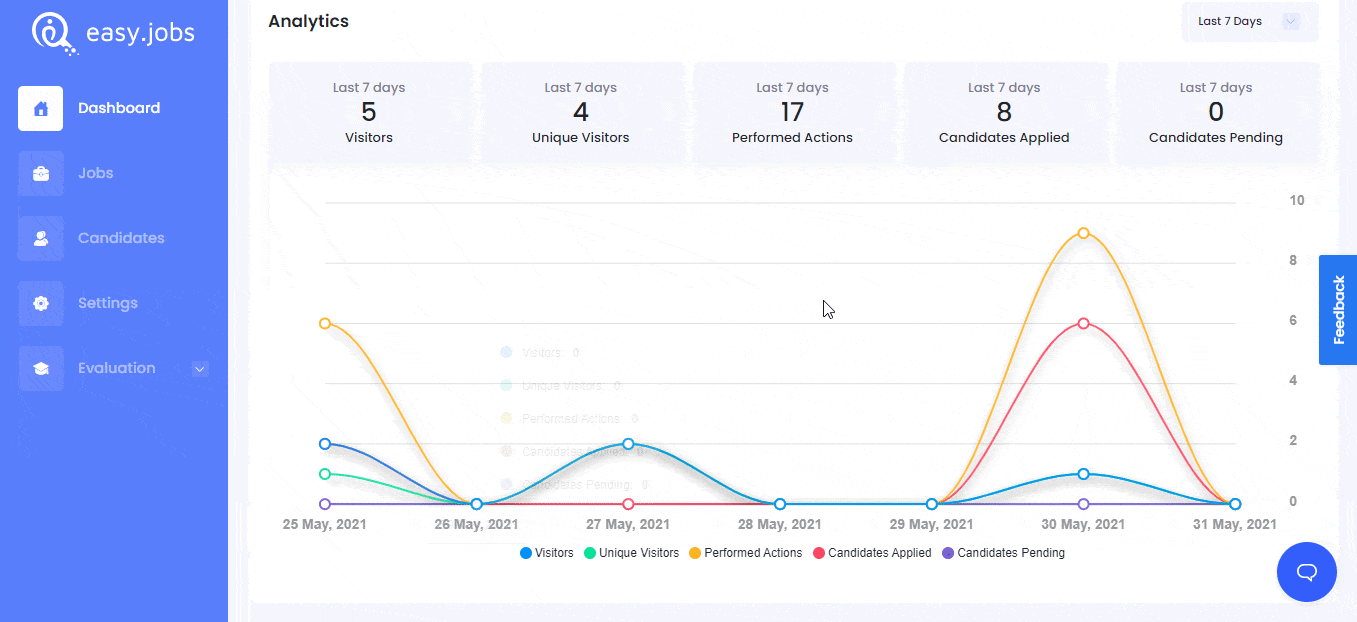 💡 Exclusive AI powered Screening System
Based on candidates' skills, educational qualifications, assessment, and quiz scores, Easy.Jobs provide AI scores to all candidates. This AI powered screening system will help you to pick the most suitable candidates as you can check out their scores visually.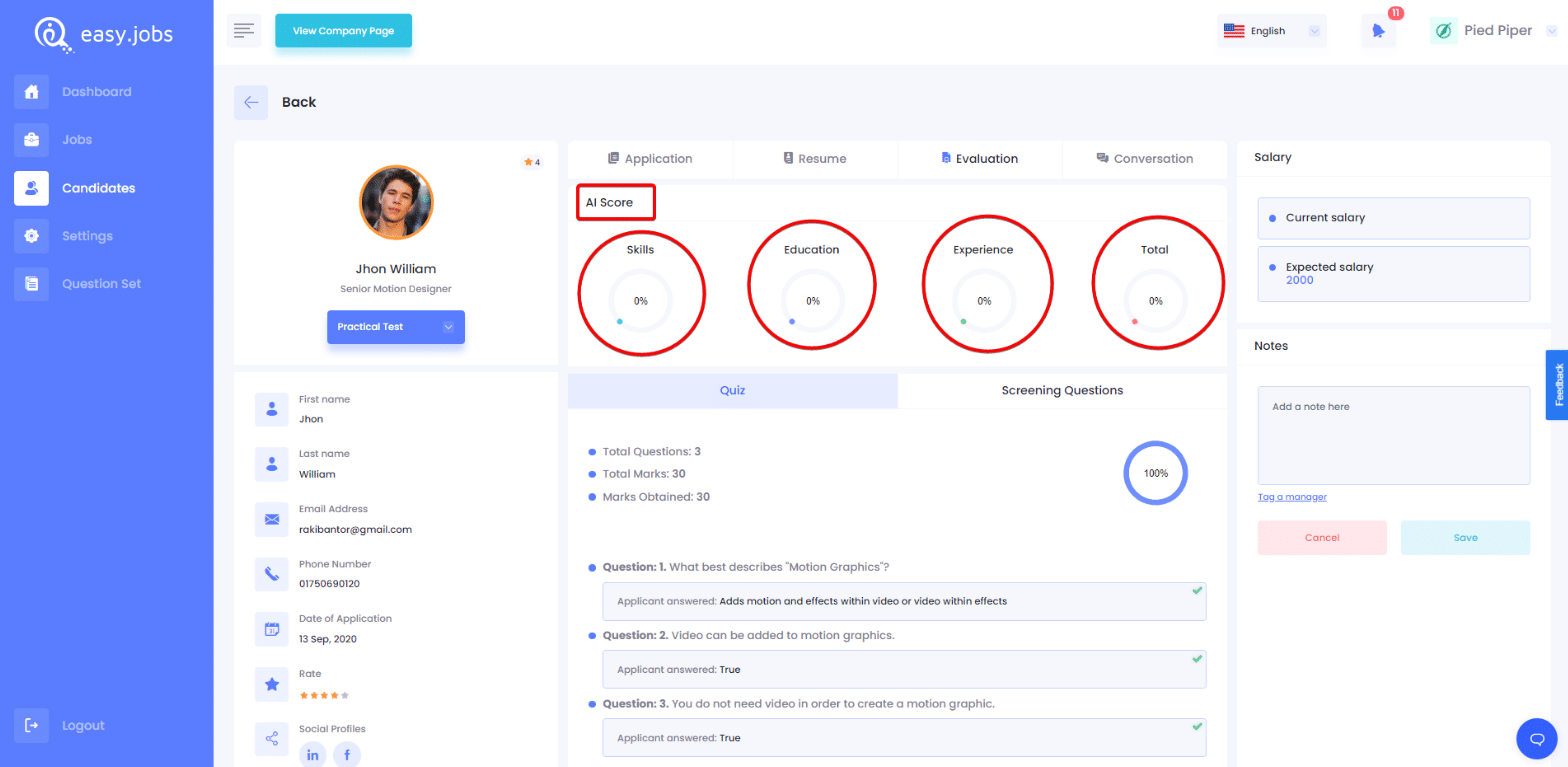 💡 Ready Templates For Creating New Job Posts
When you are managing a job postings, it's pretty obvious to post job openings regularly. To make your job post creating process faster, Easy.Jobs offer ready job templates. All you have to do is search for your job name and insert the template. Here is also a default template included, which you can use to create any generalized job posts.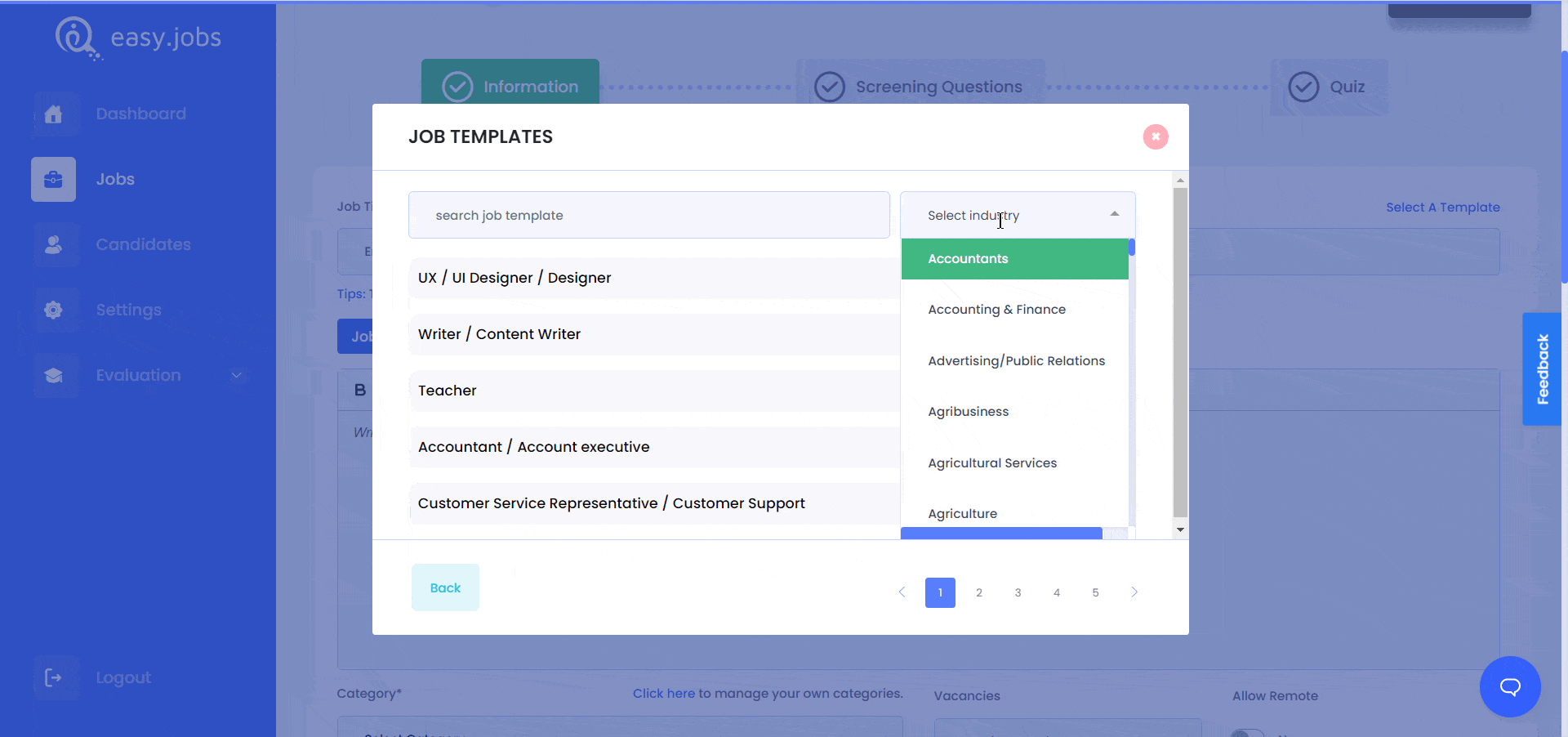 One of the best ways to find work online is through job boards. You shouldn't have any trouble attracting members if you set up a board and curate its listings so they're something visitors will be interested in. The best part is that you can charge a recurring subscription, ensuring that your job postings page continues to earn you money for years to come.
With the help of Easy.Jobs creating and managing a job board for your career site is like a piece of cake. Don't forget to share your thoughts after creating a WordPress job board for your website via comments. If you want to keep up to date about the latest tutorial, recruitment hacks, then subscribe to our blog and join our Facebook community.