Wouldn't it be easier to manage recruitments if you get access to an advanced notification panel that allowed you to customize notifications for your entire HR team? Then here is the good news: Easy.Jobs 2.9.2 release comes with all the features you need to streamline your recruitment process, along with mandatory improvements and bug fixes. Without further ado, let's take a closer look at the features your favorite hiring solution offers you in their new update.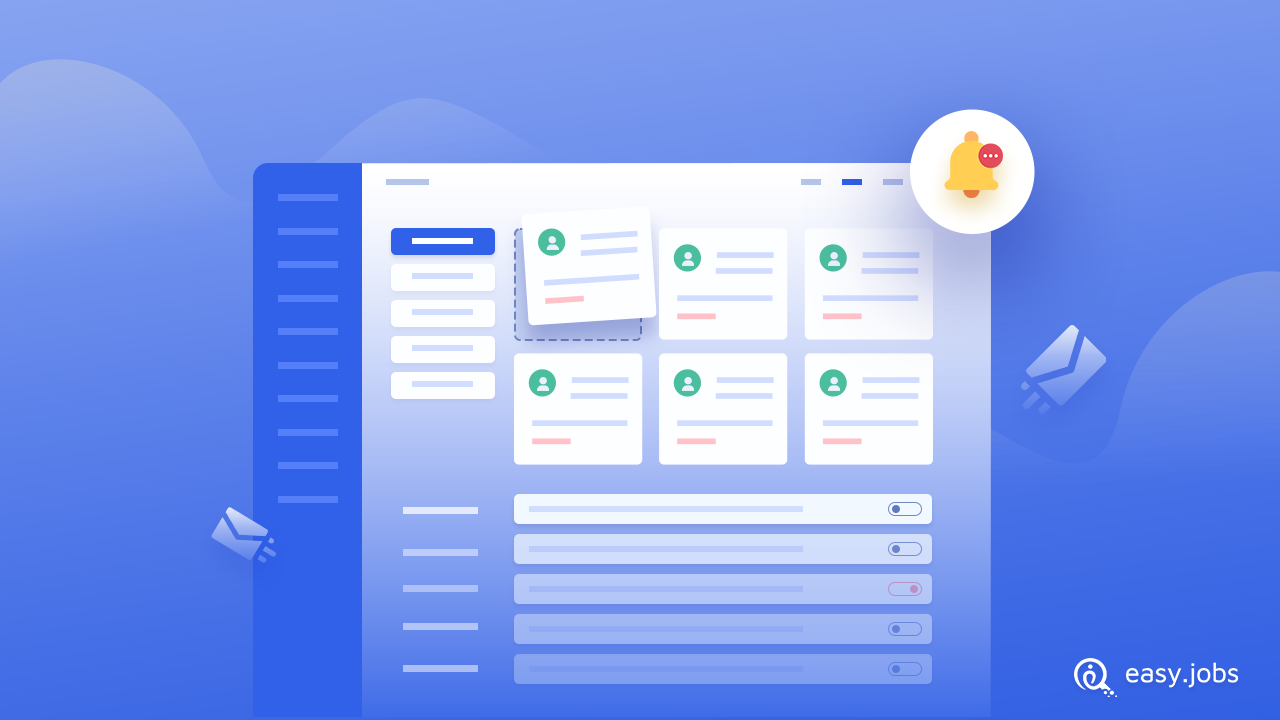 Overview of Easy.Jobs 2.9.2: New Stunning & Advanced Implementations
Easy.Jobs was founded to assist organizations onboarding, manage online job boards, and more so that they can hire the right candidates more efficiently. In the new update Easy.Jobs 2.9.2 makes your recruitment process more efficient with all the latest features, improvements, and bug fixes. These are the highlights of Easy.Jobs 2.9.2 at a glance: 
🎯 Customize the company's public page with stunning brand colors
🎯 Rearrange customer profile based on employment history
🎯 Brings advanced notification panel to personalize based on roles
🎯 Drag & drop pipeline dashboard to manage candidates flexibly
And many more. Let's take a look at Easy.Jobs' new features that will bring more speed & flexibility.
Customize Recruitment Notifications With Utmost Flexibility
Easy.Jobs already offers a robust notification panel where you can decide whether to receive notices for candidate applications, pipeline changes, and user role activity. The new updates, Easy.Jobs 2.9.2 enable teams to customize and adapt the system to meet users' needs. For example, you can select which notifications will receive through push and which via email from advanced notification panel.
Also, more permission levels are added so that you can get notified for each activity on your hiring solution and ongoing recruitment process. You can customize each team member's notification access while assigning them in the beginning.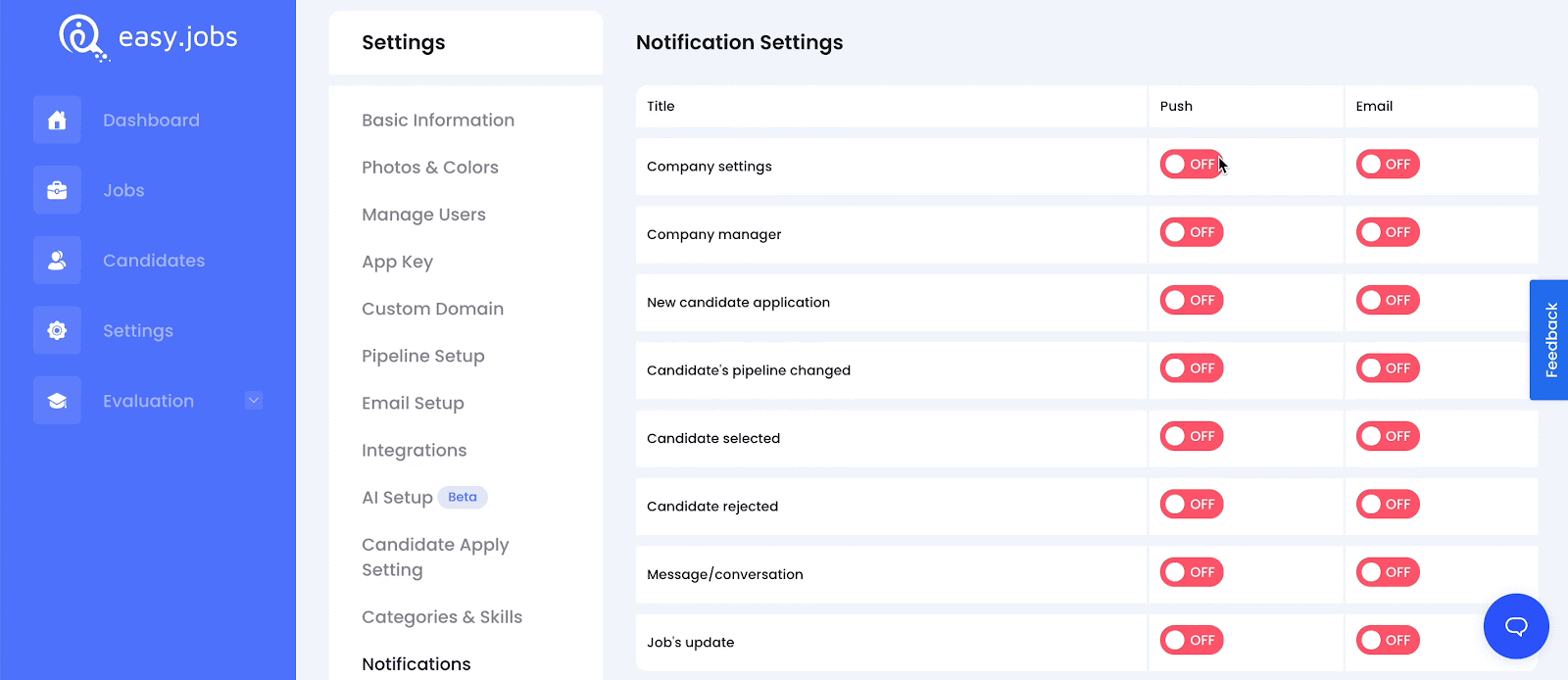 Pipeline Dashboard Comes With More Revamped Appearance
One of the important parts of the recruitment process is to screen candidates and onboard new candidates through pipelines. To make this process smoother, Easy.Jobs 2.9.2 brings a flexible pipeline dashboard along with advanced notification panels and more. From now on you will get two types of stunning views on your job posts pipeline dashboard. 
Simply by dragging and dropping you can update the candidates' status in the pipeline. Also, you can take bulk actions, directly onboard candidates by skipping pipeline stages, and many more. These stunning additions are available for both free and PRO users.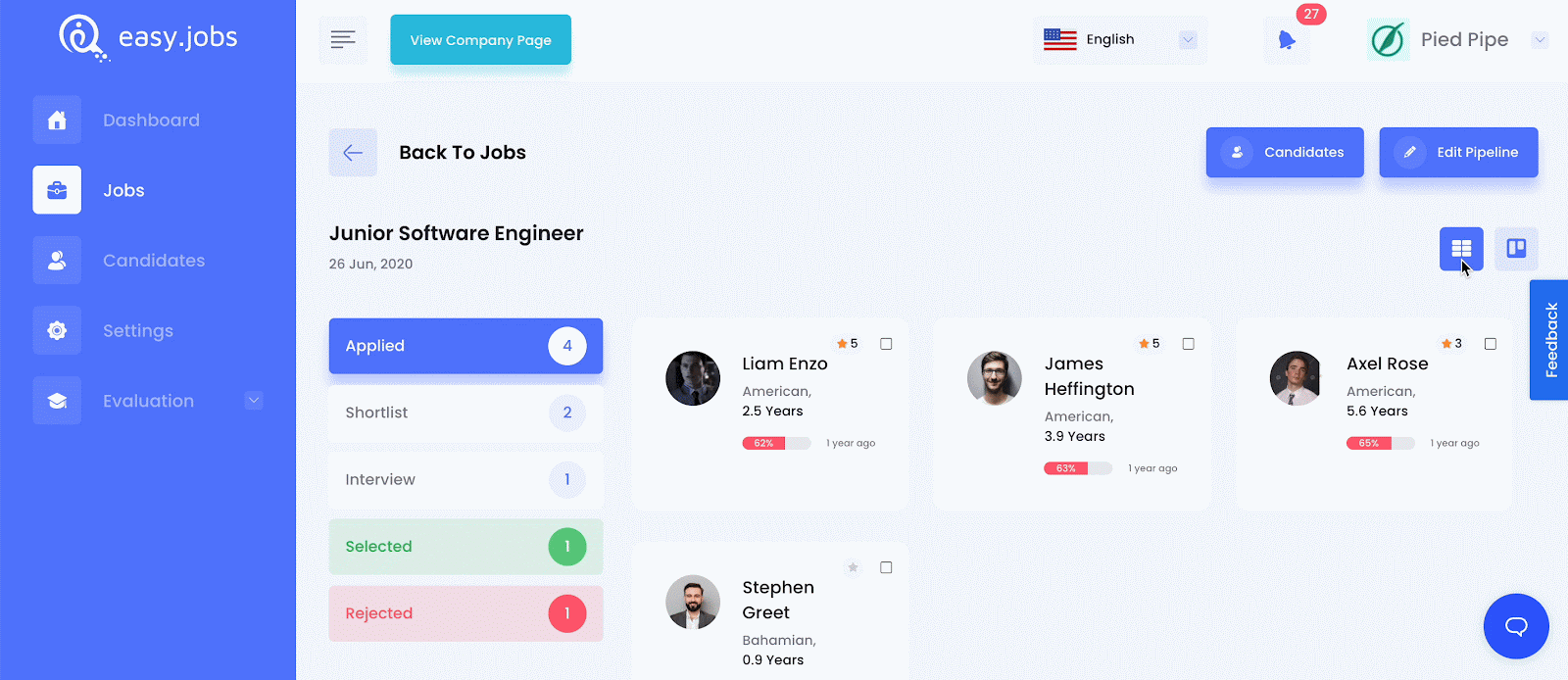 Easy.Jobs Hiring Solution's Notable Bug Fixes & Improvements
Apart from new and exciting features, Easy.Jobs 2.9.2 brings improvements in so many major features as well as resolved many bugs. Here check out the important improvements and bug fixes at a glance in your favorite recruitment solution. 
✅ No more job apply section warning text where they aren't necessary
✅ Made HTML editors' placeholders more advanced and customizable
✅ Improvised push notification content with a more user-friendly tone
✅ Added conversion section hyperlink support for the company end-users
✅ Improved real-time countdown on candidate assessment and quiz
✅ Responsive support on the job pipeline page is sorted
✅ HTML editor Unicode-related minor bugs are fixed
✅ User personal information sidebar menu bug is sorted now
✅ Device responsive issues for job candidate filters are fixed for small devices
✅ Problem in conversation or messaging responsive issue has already been fixed
✅ The issue in quiz concurrent users is fixed and removed
Enhance Your Recruitment Process With Easy.Jobs
Team Easy.Jobs is working hard to provide all the advanced and automated hiring solutions for your hiring process every day. This new update Easy.Jobs 2.9.2 is the reflection of that. In the upcoming updates, what features or improvements are you looking forward to most? Let us know via Contact Page. 
Also don't forget to subscribe to our blog for the latest updates, blog, and tutorials and start connecting with other users through our Facebook community.