Streamlining recruitment processes is essential to securing top talent and staying ahead of the competitive job market. Knowing that well and keeping up with the latest hiring trends, easy.jobs keeps updating its list of outstanding features, integrations, and technologies. And among with it latest release, easy.jobs introduced a seamless integration with DocuSign to revolutionize how employers and applicants manage documents in the recruitment process. Dive right into our complete guide below to learn how to easily integrate easy.jobs with DocuSign today.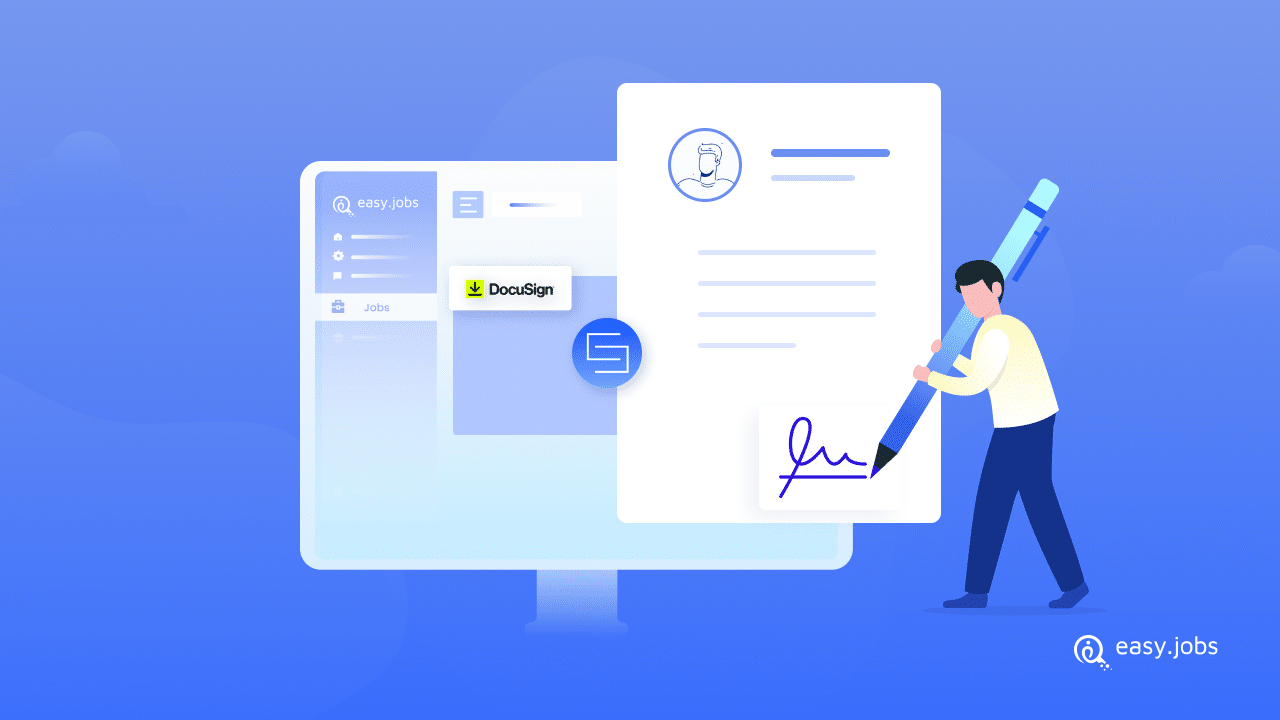 💡 Getting eSignatures On Important Documents: The Know-How & Benefits
An electronic signature, or eSignature, is a computer copy of a person's or organization's signature. It denotes permission, agreement, or authentication on digital records or documentation. eSignatures are now widely used in many businesses, and the law in many countries recognizes them as legal.
eSignatures can be made in several ways, such as by typing your name, drawing your signature with a digital pen or mouse, or sharing a picture or scanned copy of your handwritten signature. Most of the time, the paper to be signed is converted into a digital file, like a PDF. Software or tools for eSignatures, like DocuSign or Adobe Sign, make this process easier and even allow you to place a digital signature on important documents in a few clicks.
👉 eSignatures speed up the signing process without printing, scanning, and sending papers manually.
👉 It cuts down on paper, ink, postage, and more costs. Plus, it helps protect the earth by lowering the amount of paper used and carbon emissions.
👉 No matter where someone is, they can sign documents with an internet connection.
👉 eSignatures use advanced encryption and verification methods. So, they are often safer than actual signs, which are easy to fake.
👉 eSignatures work well with various software and apps, such as document management systems, SaaS, and CRM platforms.
✍️ Integrate easy.jobs With DocuSign: How To Collect eSignatures?
DocuSign is a popular electronic signature service that makes it easier to sign papers online. It gives companies a safe and legal way to get computer signatures from people or groups involved in different deals, contracts, and other papers. And now, you can find this platform seamlessly integrated with easy.jobs to make it easy for both companies and job seekers to handle digital agreements.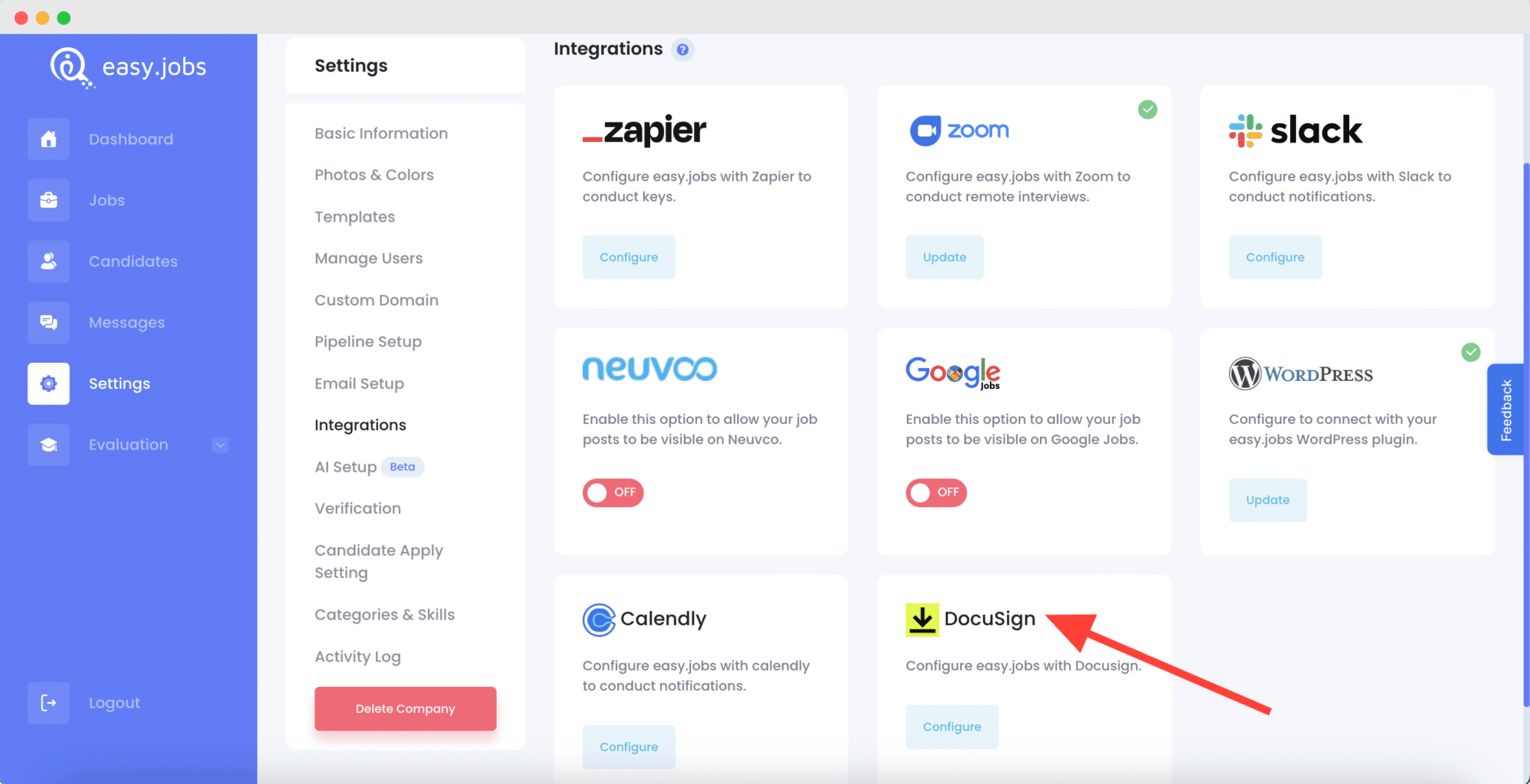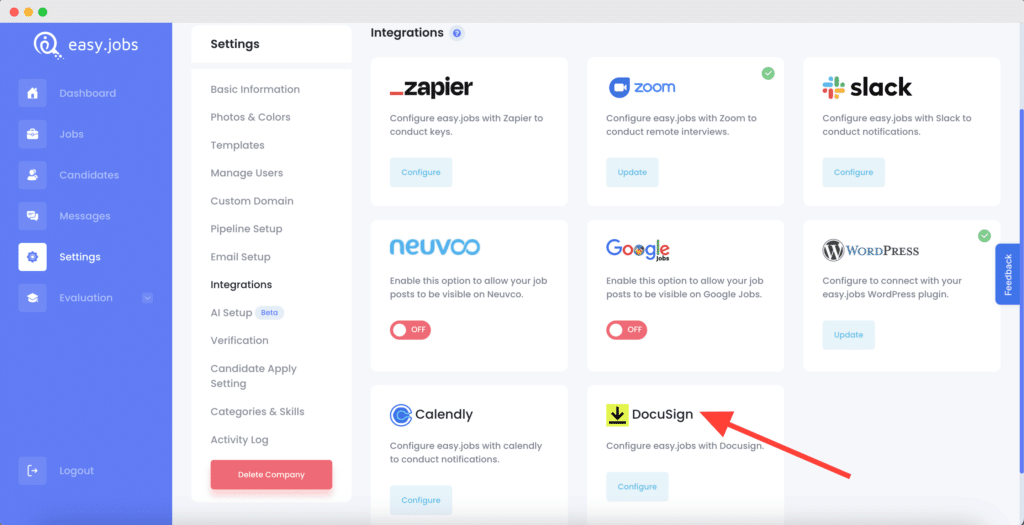 DocuSign integration with easy.jobs allows recruiters to get e-signatures on essential documents conveniently straight from within their hiring platform. This eliminates the need for time-consuming paperwork exchanges or back-and-forth emails. This blog will demonstrate how DocuSign integration can boost your hiring experience while ensuring a hassle-free experience for candidates.
This not only makes the hiring process quicker and easier, but also allows for a much better candidate onboarding experience for both the hiring team and the job seeker. Moreover, this feature can be especially helpful if any business is planning to take remote interviews or hire remote workers altogether.
📝 Upload eSignatures With Resumes On easy.jobs: A Complete Guide
By making it easy for users to send documents to people for electronic signing, DocuSign integration with easy.jobs speeds up eSignature processes. The easy.jobs platform makes it easy for users to configure their DocuSign accounts, select templates, and send documents directly from the platform. Following is a guide on how you can upload eSignature with resumes on easy.jobs and boost recruitment experience.
👉 Configure DocuSign From easy.jobs
Log in to your easy.jobs account and locate DocuSign from the 'Integrations' section. Configure the app by providing your login details, and establish a secure connection between your easy.jobs platform and DocuSign accounts.
👉 Send Documents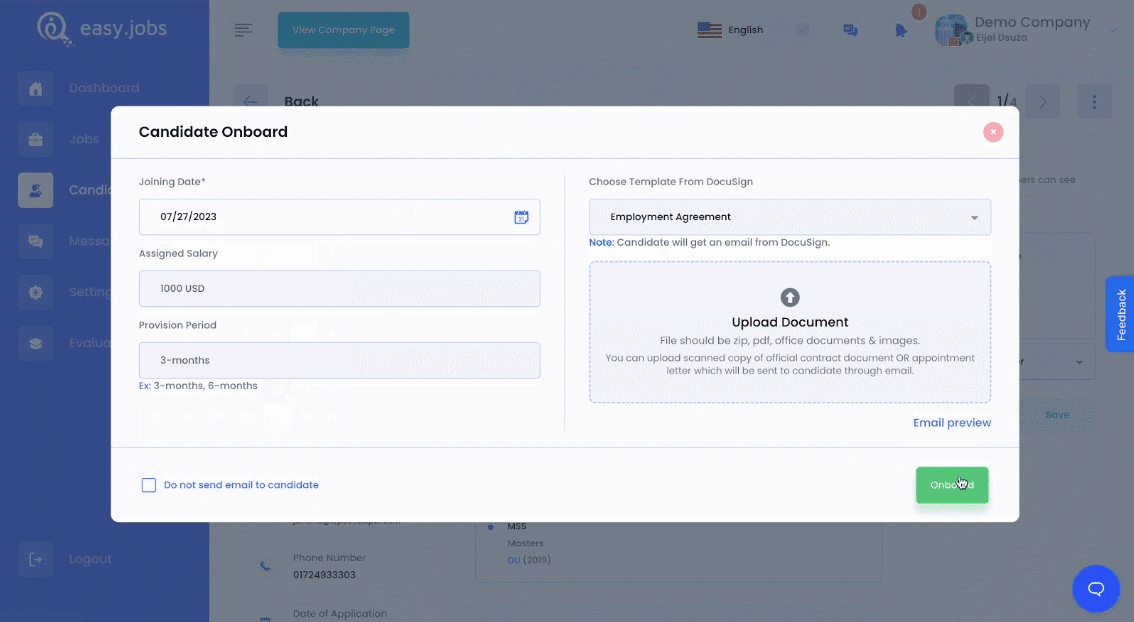 Once the integration is set up, you can proceed to the 'Candidates' tab in your easy.jobs dashboard. Select the candidate to whom you wish to send a document for signing. Choose the appropriate template from your DocuSign account. Specify details like the candidate's joining date, salary information, and any other relevant data. Then click 'Onboard' to proceed.
👉 Candidate Signing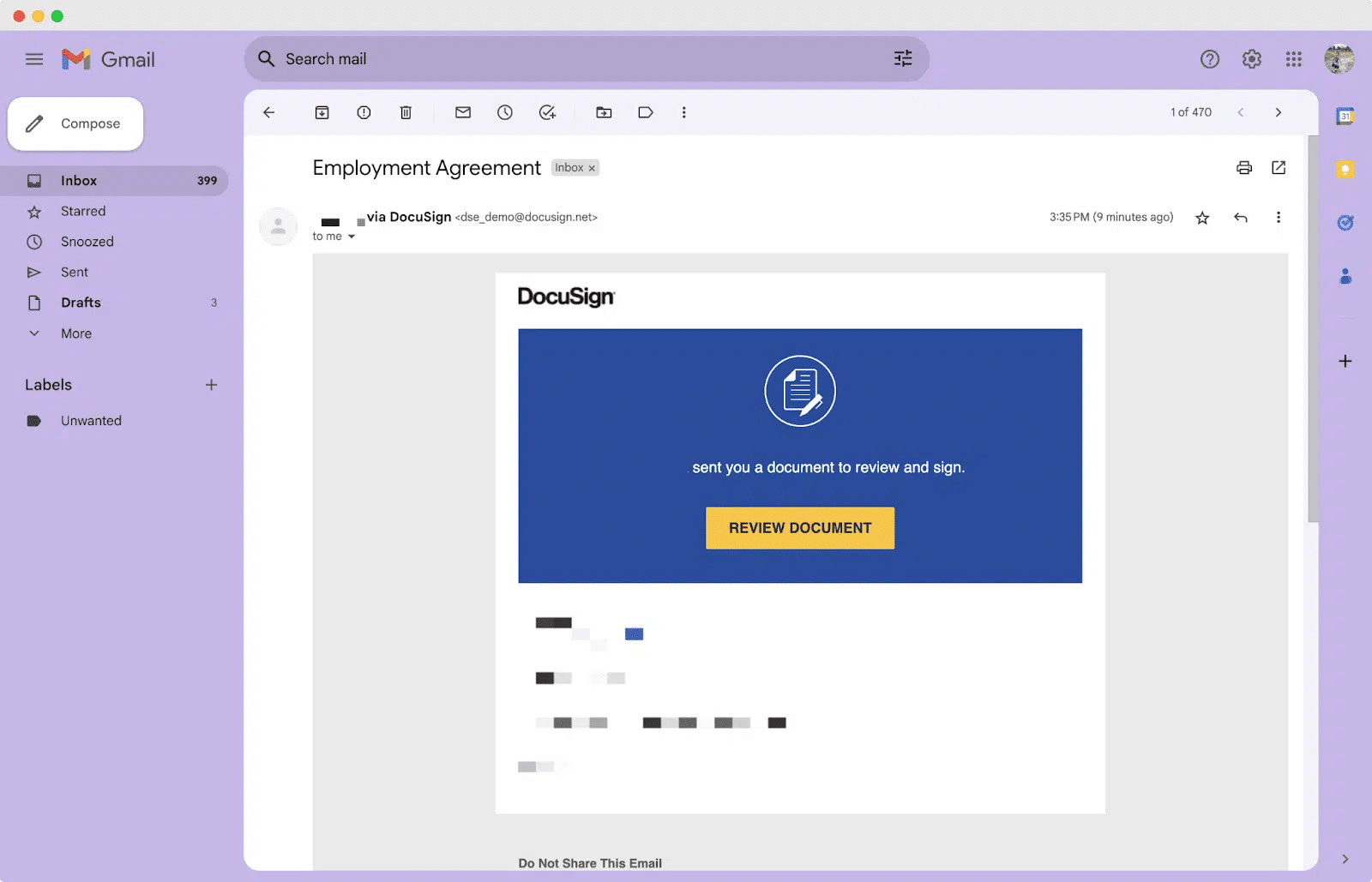 An email notification will be sent to the candidate, allowing them to review the document and sign electronically. Candidates can either draw their signature or upload an image of it. Once the candidate signs the document, the process is complete, and the signed document is securely stored for your records.
That's how easily you can integrate DocuSign with easy.jobs and ask your candidates to upload eSignatures with their resumes and offer letters. If you need a thorough guide with detailed steps and images, you can check our documentation for this feature.
🎉 Boost easy.jobs Recruitment With DocuSign Integration
DocuSign integration with easy.jobs simplifies the document signing process, making it efficient and user-friendly for both recruiters and candidates. It ensures that important agreements and paperwork are swiftly completed, enhancing the overall recruitment experience.
If you have found this blog helpful, share your opinion with our Facebook community. You can subscribe to our blogs for valuable tutorials, guides, knowledge, tips, and the latest recruitment updates.