During the hiring and interview process, businesses frequently employ assessment tests for jobs to determine whether candidates are a suitable fit for a position. Tests for work assessment may rate your personality, knowledge, or talents. You may prepare for and succeed on tests by being aware of what to anticipate from the various types of exams. Seven different job assessment test types are discussed in this article.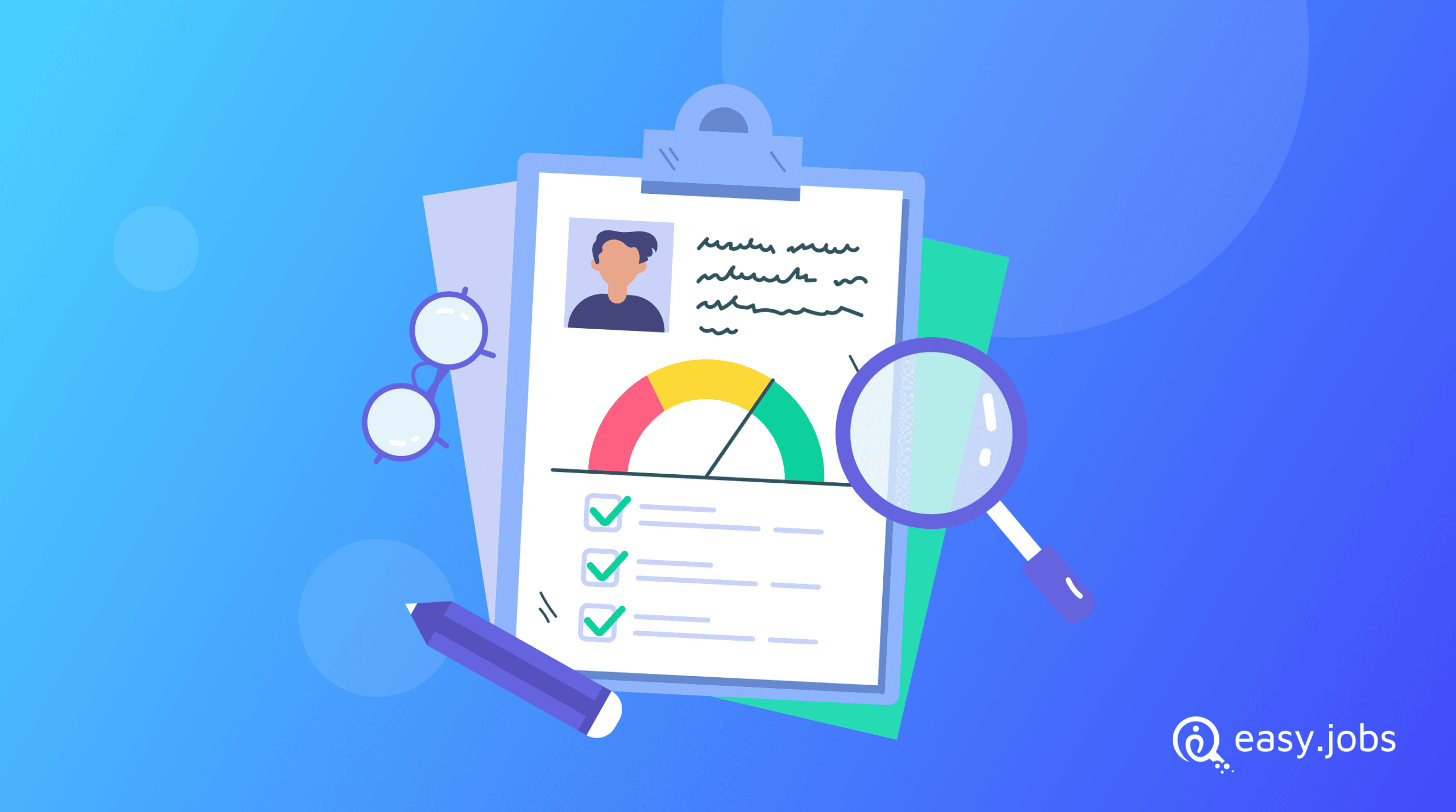 What Are Job Assessment Tests And How To Prepare For One?
Pre-employment exams, also referred to as assessment tests for jobs, assist hiring managers in determining whether a candidate has the abilities, work ethic, background knowledge, or personality to thrive in a position. Assessment tests are frequently used by businesses at the beginning of the interview process to help them make wise recruiting decisions. Assessment tests save hiring managers time, guarantee that they select the most competent candidates, and reduce the amount of time and money needed to educate new recruits.
When Might You Expect A Call For An Assessment Test?
You might be required to take an evaluation test by your employer:
Using your submission
After receiving your application, they will decide whether to have you for an interview.
Either an in-person or online test is possible. It may be a standardized exam or a homework assignment that you must finish and turn in, depending on the kind of test.
7 Common Types Of Job Assessment Tests
Job assessments differ by industry and corporate objectives. For instance, a company looking to hire a computer programmer might want to make sure you have the necessary coding skills. A company that bases hiring decisions on culture fit may put you through a work style or personality exam. Seven different forms of job evaluations are listed below.
Skills Assessment Tests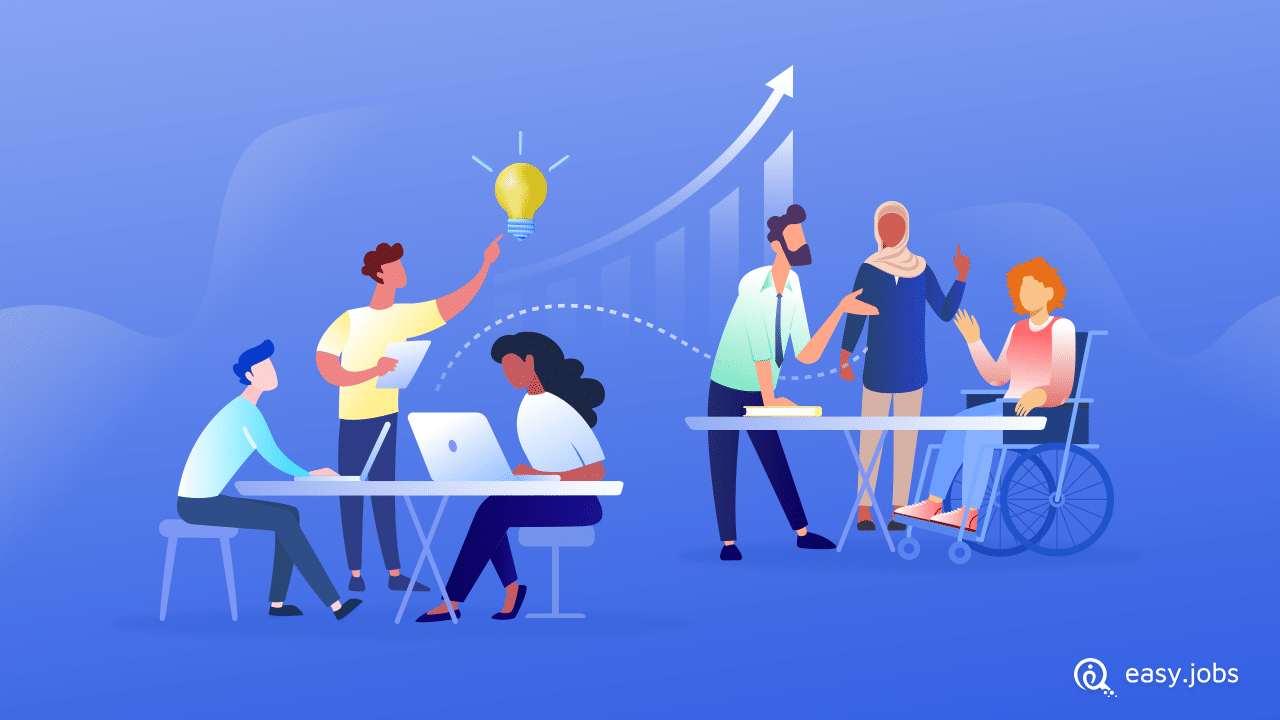 Tests of skill assessment gauge a candidate's hard or soft talents. A hiring manager may ask you to describe how you may approach or resolve circumstances in order to gauge soft skills like critical thinking. Writing assignments and typing tests are two instances of hard skills evaluations. Due to their objectivity and dependability, skills evaluation tests are popular among businesses.
Job knowledge tests
Exams of job knowledge, often known as achievement or mastery tests, gauge a candidate's level of expertise in a particular subject. These tests may be used by hiring managers for positions that demand extensive expertise or highly specialized knowledge. Instead of evaluating your capacity for learning or potential, these examinations evaluate your current knowledge.
Personality tests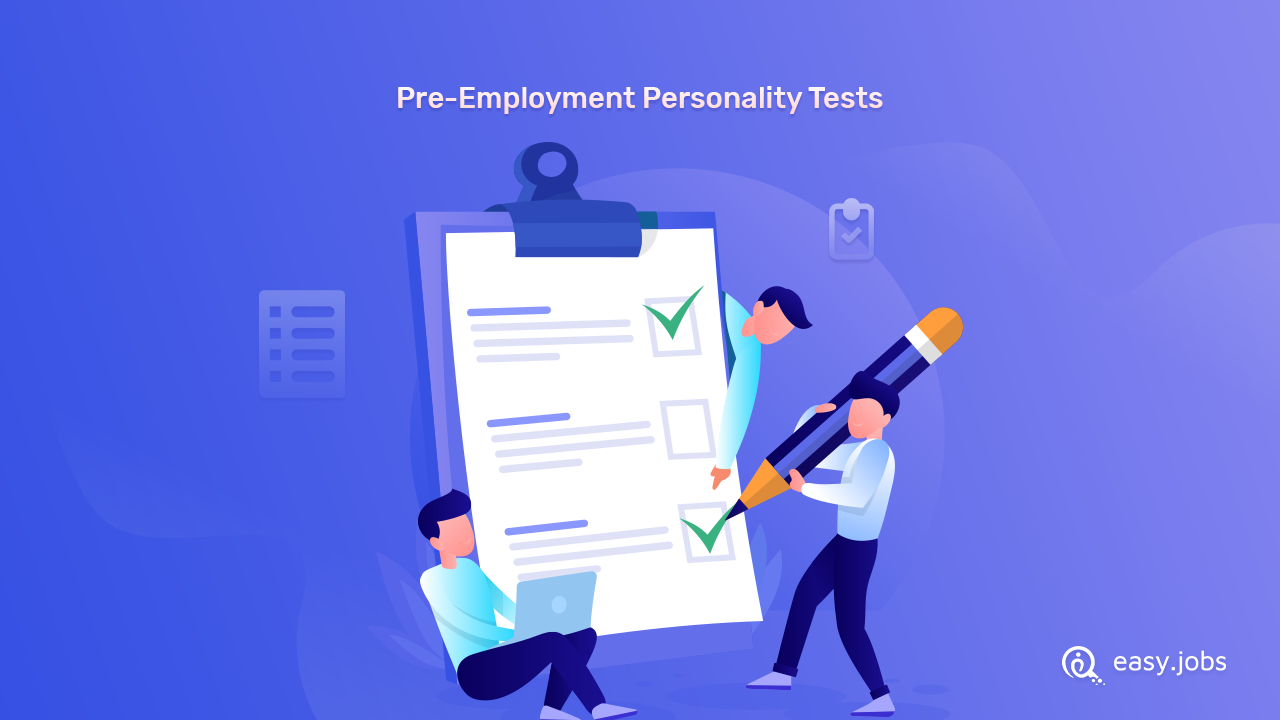 Personality assessments gauge a candidate's motivations, preferences, interactions, and areas of interest. These tests may be used by organizations to assess how well a candidate fits their corporate culture. Typical examples of personality testing include:
A person's extroversion, emotional stability, agreeableness, conscientiousness, and openness to new experiences are all assessed using the Big Five Model.

Tests of motivation are used to evaluate factors that motivate people, including achievement, financial gain, identity, authority, independence, and status.

the degree of extroversion or introversion, sense or intuition, reasoning or feeling, and judging or perceiving, which places people into one of 16 personality types.
Cognitive ability tests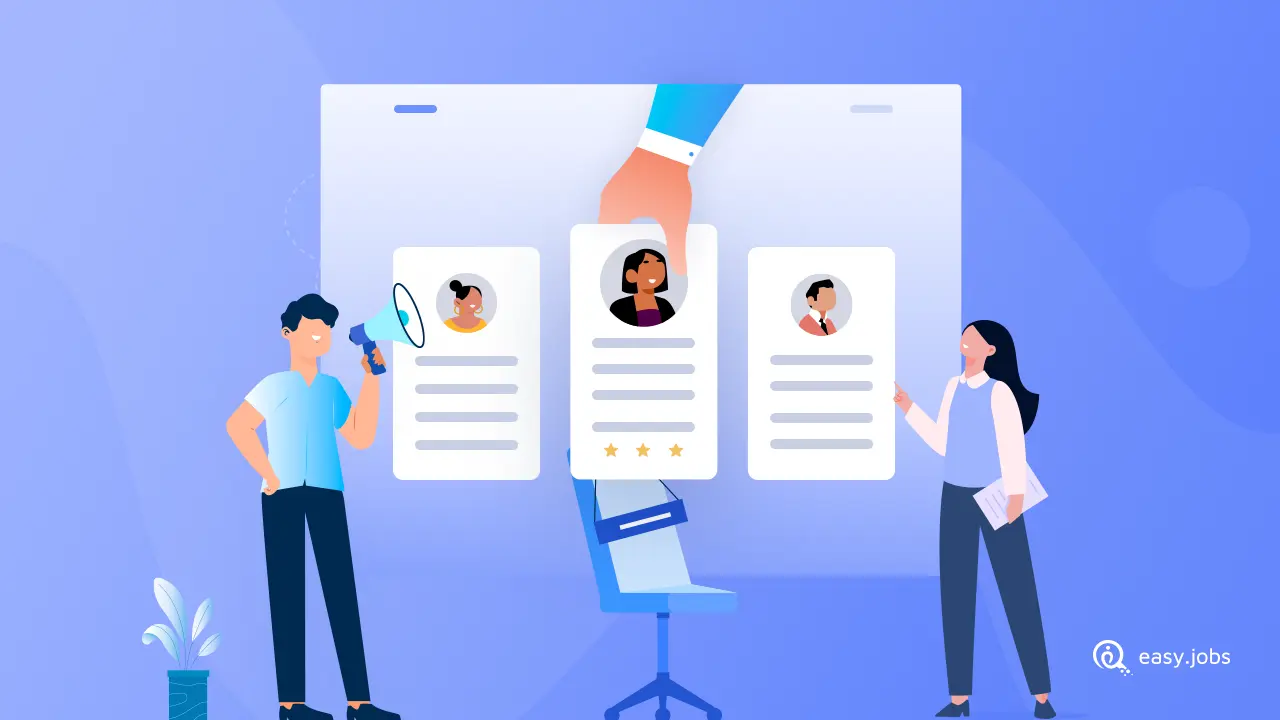 Tests of cognitive ability gauge a candidate's ability to reason, solve problems, recall information, and see things. They frequently take the shape of multiple-choice, true-or-false, or short-answer questions from standardized tests. IQ tests and general aptitude exams that evaluate linguistic, mathematical, and logical reasoning skills and thinking are examples of cognitive ability assessments. These exams may be used by employers to assess applicants' problem-solving and learning skills. They are precise and excellent at predicting how well an applicant will achieve.
Emotional intelligence tests
Tests for emotional intelligence gauge a candidate's level of self-awareness, empathy, and relationship management skills. These exams are crucial for positions requiring leadership or excellent interpersonal skills. They could ask about how staff members handle delicate circumstances or respond to difficult scenarios. How would you handle a friend who is furious about losing their job, for instance?
Integrity tests
Integrity evaluations gauge a candidate's dependability and honesty. When hiring for roles requiring a high degree of responsibility or dependability, businesses may employ these exams. Bank tellers and cashiers, daycare workers, security guards, or home healthcare assistants are among the occupations that can need integrity testing.
Physical ability tests
Physical tests are used to gauge a candidate's strength and endurance. For occupations like firefighting or construction where standing or performing strenuous lifting is a requirement, these exams are crucial.
How To Create Assessment Tests To Screen Candidates With easy.jobs?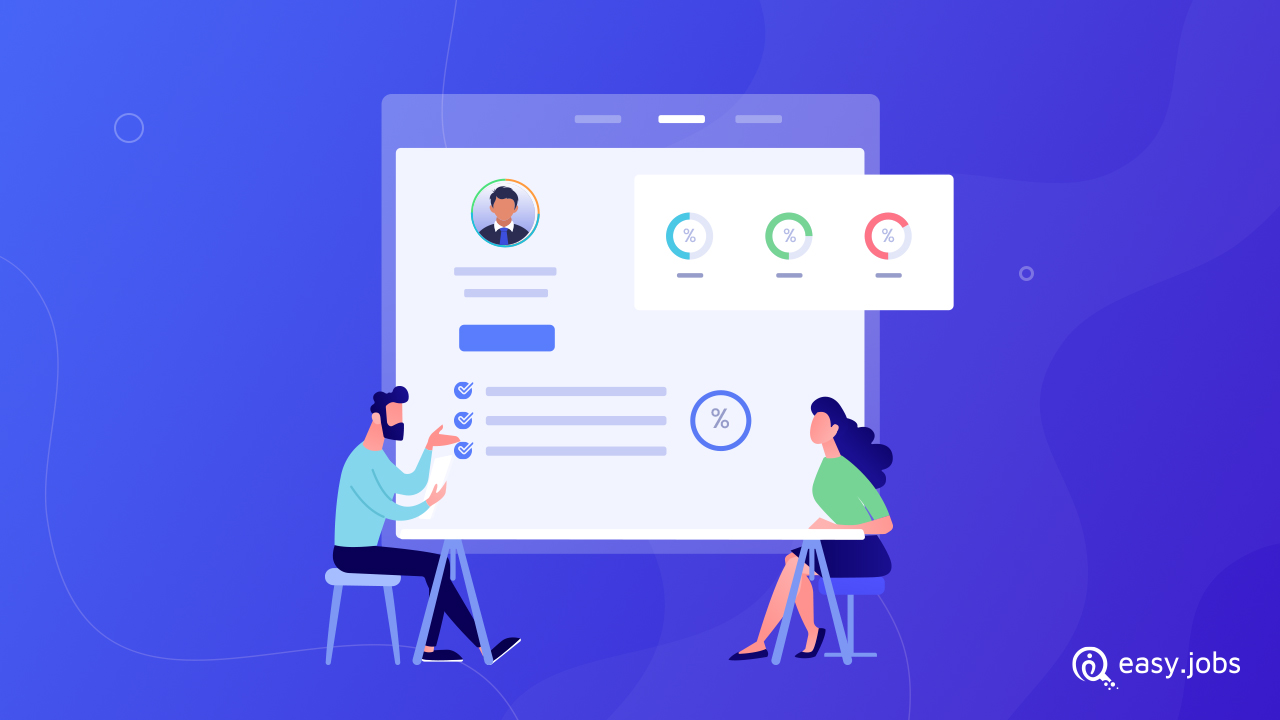 With easy.jobs, you can easily create assessment tests to screen and sort the right candidates for your team. Simply from your dashboard, you can prepare a series of assessment tests for the various job openings in your company, and ask applicants to complete them at any point during the hiring process.
Just go to your dashboard and select the "Evaluation" tab, as displayed below. After that, choose "Assessment".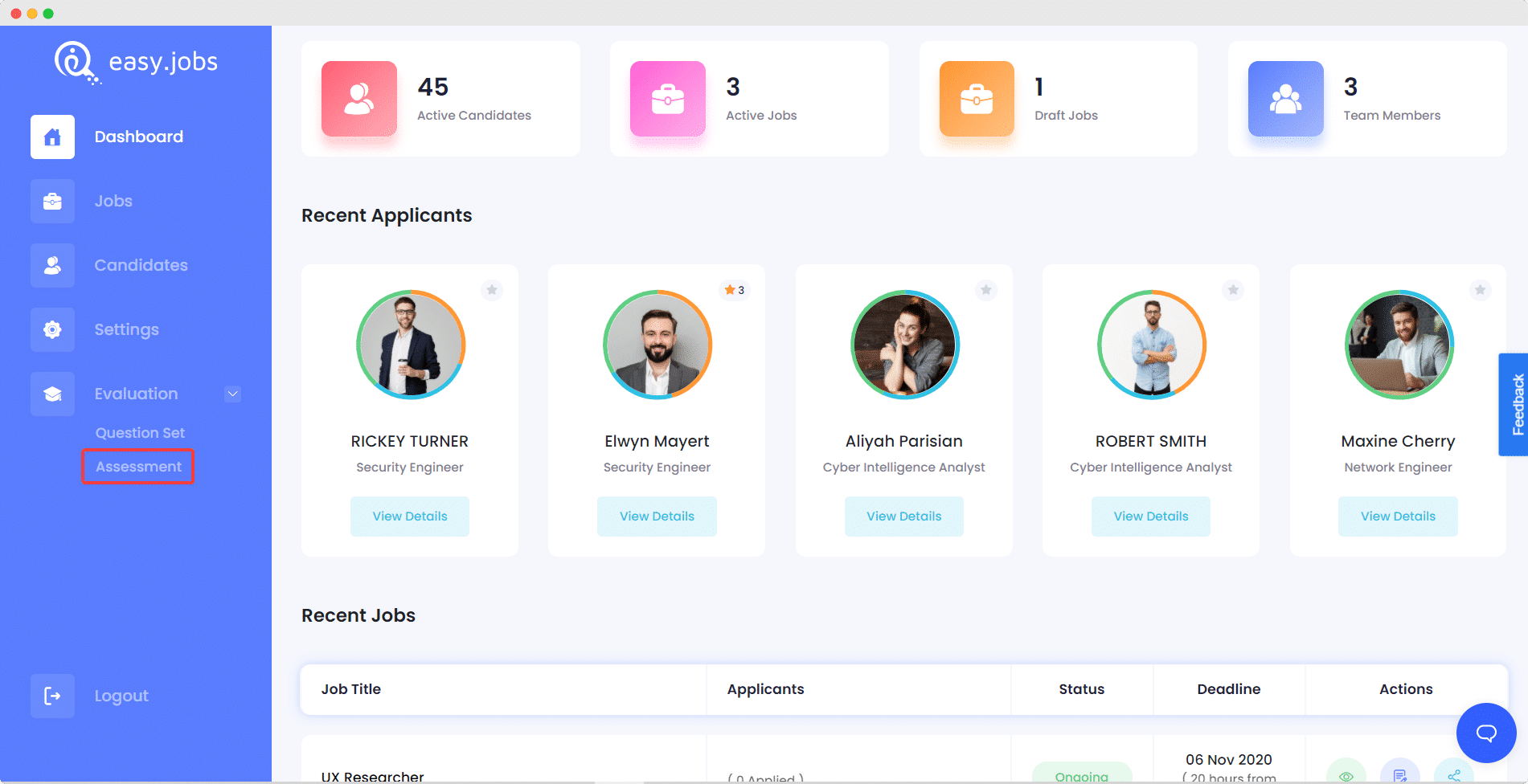 By selecting the "Create Assessment" button from here, you may add a new assessment question.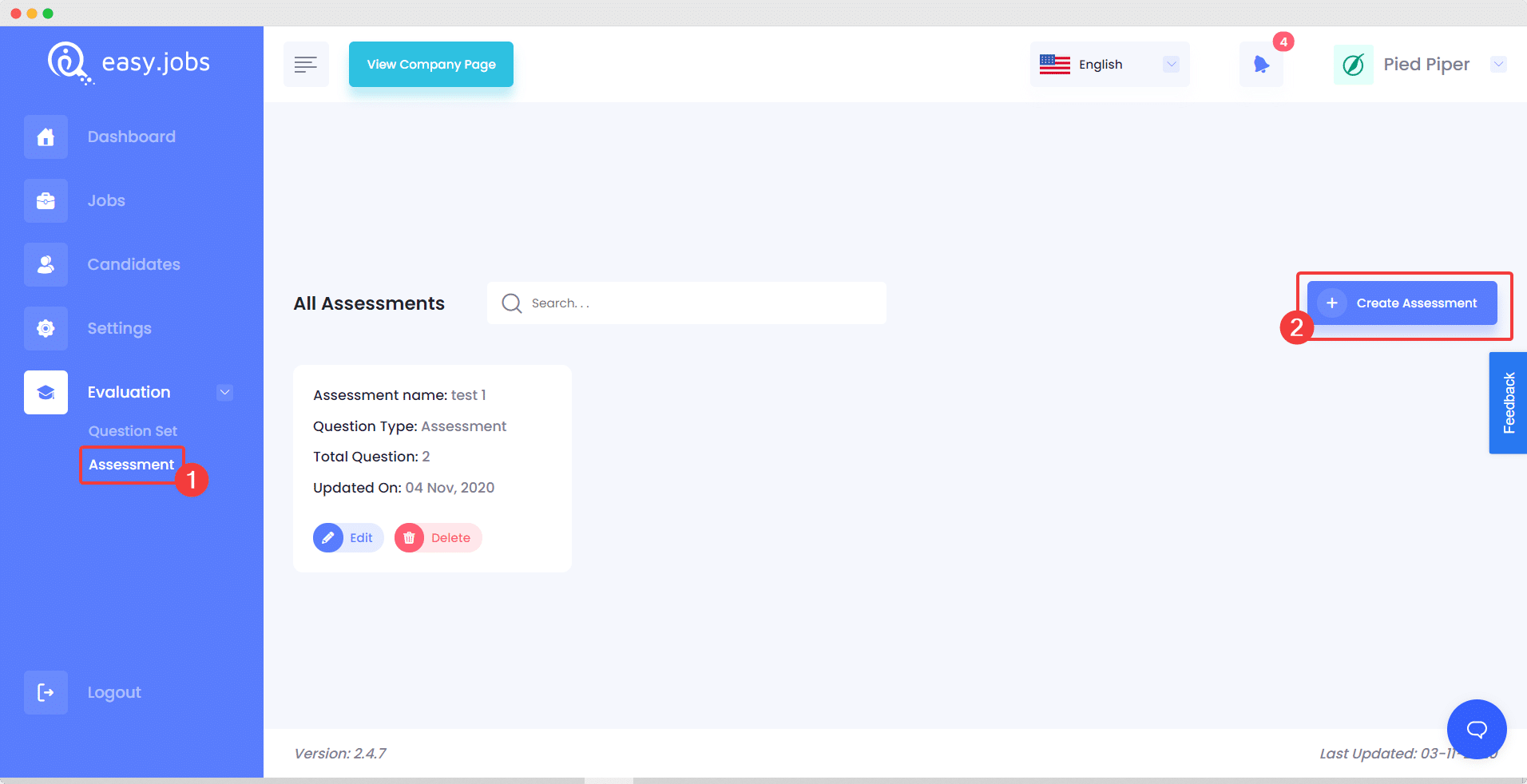 That's not all. In addition to creating assessment tests with easy.jobs, you also have the flexibility to assign these assessment tests to any candidate, at any given stage of the recruitment process. You can even set assessment expiry dates to make sure your candidates are able to complete the task within a set deadline.
To explore the assessment test feature from easy.jobs in more details, check out our complete guide on how to assess candidates with easy.jobs.
Things To Expect During A Job Assessment Test
A hiring manager might ask you to complete an assessment test in person, by email, or online through the company's or a third party's website. Regardless of the platform, the business must give you instructions on how to access and finish the test. Ask the employer if any step in the process is unclear.
The exam you take is determined by the nature of the evaluation and the responsibilities of the role. For instance, if you're looking for a position as a content writer, you might have to take a typing test to gauge your accuracy and speed. Here are a few suggestions to help you succeed:
Do some research on the business to learn more about the testing procedure from former candidates and staff. Reviews and information may be found on message boards, social media, online forums, and business networking websites.

Make sure you are well-prepared and take your time whether you are taking the test at home or online. For instance, if a corporation allows you 48 hours to do a writing task, take that time to give your answers more care and consideration.

If you're taking a personality or integrity test, in particular, be honest about your interests and knowledge base. Giving honest responses guarantees that you will enjoy working for the organization and fit with its culture.
Enjoyed this post? Subscribe to our blog for more guides, tips and tricks and tutorials or join our friendly Comunità di Facebook.