As the world is shifting through a major change, the HR industry is also going to match the shift of the global workforce. That being said, you can expect a mixture of both in-person and virtual upcoming HR conferences in near future. The HR industry is all about keeping up with current industry trends regarding recruitment and managing human resources, being familiar with the latest solutions and methodologies of recruitment. We have listed down both in-person and virtual HR conferences to help you grow your skills and networking.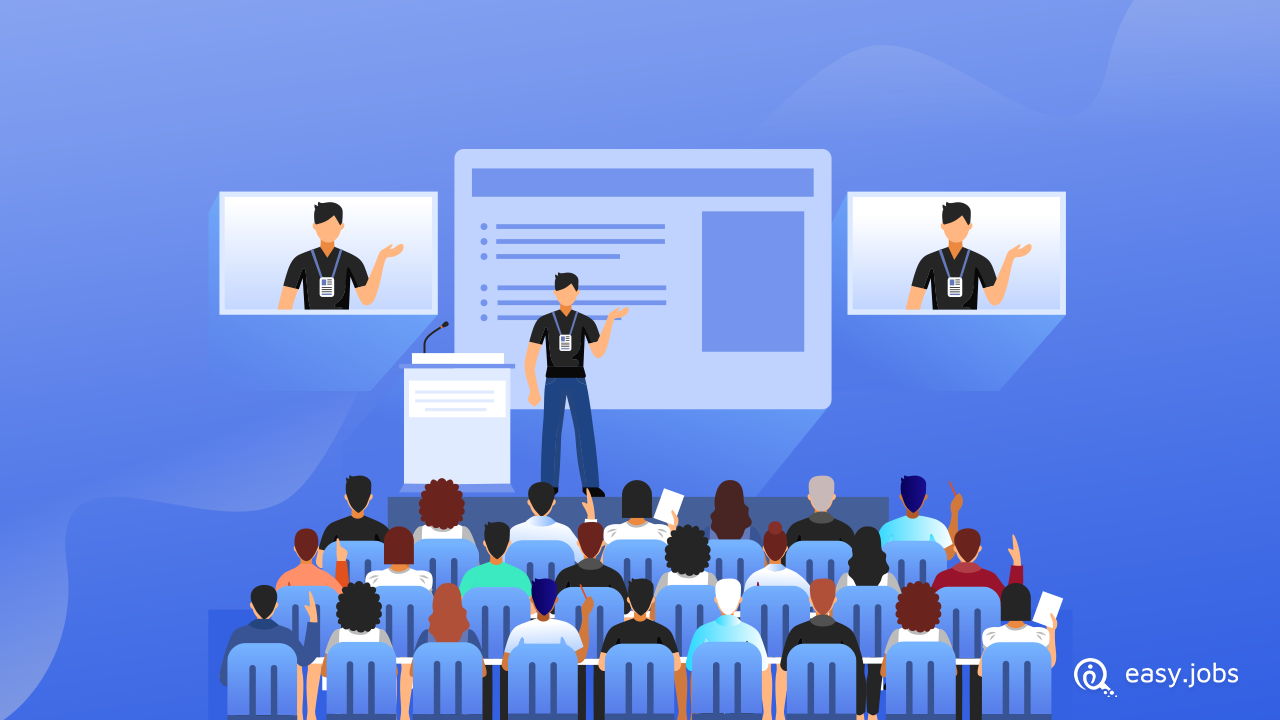 From all the upcoming HR conferences you will get to know a lot about current HR trends. A workplace is a fairly complicated place where maintaining a healthy environment is a must. Human resources do not just include recruiting people for the company. It is also about seeking sustainable solutions to many workplace issues. Let's dive in and find out everything you need to know about HR trends with a comprehensive listing.
Top Advantages Of Attending Human Resources Conferences
As mentioned before, human resource is a complicated field where the HR department has to deal with the real emotions of employees. Keeping employees motivated, loyal and active, is also an essential part of their duty. That's why business enthusiasts encourage people to attend HR conferences to keep up with the best HR trends of the year and bring a balance in their workplace diversity. Let's learn some of the top benefits of attending upcoming HR conferences below:
💡 Widen Your Network Through Socializing 
According to research, highly successful people tend to learn continuously to succeed. No matter how much skill or experience you might have, there is always room to improve. Networking is an essential key to find out like-minded people and learn from them. Every HR enthusiast is a living book to learn from. When you attend an HR conference, you will get to know different perspectives towards handling people and recruitment. Every other individual has their own way of maintaining balance in their workplace. For better HR career development, networking with the right people will help you to learn more about solving problems. 
💡 Gather Knowledge About Current HR Trends
HR trends are evolving and changing too fast as we are going through an unpredictable time like this. Shifting from the offline workplace to the online, many HR trends have been modified and regenerated already. Attending upcoming HR conferences can help you become up to date about technological advancement to cope with the upcoming workplace challenges. For example, as online and remote working has become a trend in 2021, there is a major change in hiring methods. If you are someone who is just figuring out different hiring methods, attending upcoming HR conferences might help you to get to know about it in detail.
💡 Get Solutions For Workplace Issues
As said before, every workplace has its own sets of issues that need to be solved to keep a balance. Even if you are facing difficulty in your own career, by attending HR conferences and sharing your thoughts with experts, you can get a constructive guideline or solution to that. No matter what kind of issues you might be facing as an HR personnel, for better HR career development, you will find a way out just by attending a few HR conferences. HR conferences can be a key to many work-related problems. 
How To Get The Most Out Of HR Conferences? 
You might be considering attending the upcoming HR conferences that we are going to mention below. Before that, you must keep in mind some of the tips to make your journey worthwhile. These tips can help you to sort out which HR conferences are applicable for you. You can then easily decide upon upcoming conferences and explore a successful HR event.
1. Do Your Research Before Attending
Before you register and show up at an HR conference, you need to research the event beforehand and see which one helps your HR career development. Starting from who will be attending the conference, the key speakers, extra activities to develop your knowledge about this field, you can dig it all and get sufficient information about the conference. Not all conferences are applicable for you to attend. That is why you can do a little research and decide if you will get the most of it or not.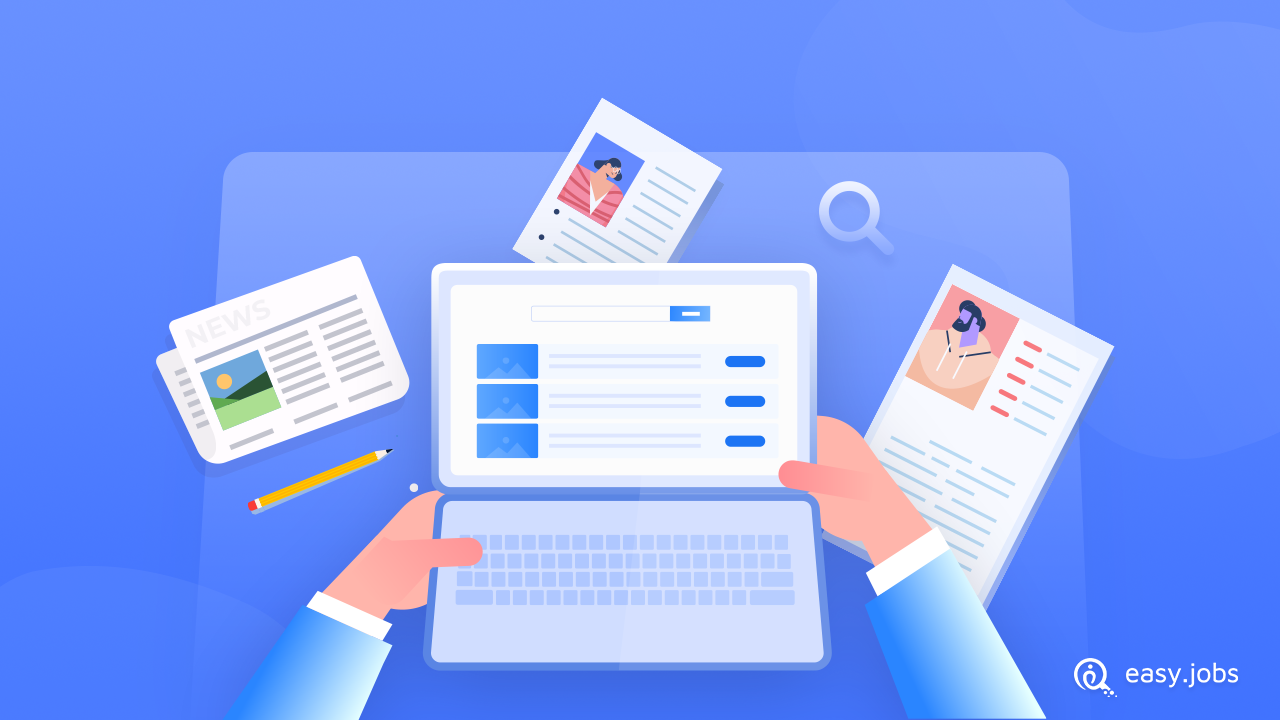 2. Socialize With People More
An HR conference is a great place to learn from like-minded people of the same background. To approach the right people, you need to socialize with them whenever you can get a chance. Staying close to HR personnel can help you to learn more than any other HR workshop. It will also help you with your HR career development. Make an effort and initiate a conversation with others to get to close with them.
3. Create A Thorough Plan Of Activities
This is an important step before attending any HR conference. No matter if the conference is a virtual or in-person event, you need to make a thorough plan of activities to make your journey motivating. Instead of roaming around cluelessly, you can research the extra activities or promotional campaigns that you can attend during this event. You can even bring someone with you who can help you get a different perspective of everything you get to learn in an HR conference. That is why creating a plan of activities is a must for anyone who wants to attend the upcoming HR conferences.
4. Note Down Everything You Learn New
You can take notes on everything you witness at an HR conference to maintain track of your learnings. You are welcome to bring your own pen and paper to jot down names, upcoming conferences, and other vital information. The most crucial piece of advice is to save someone's visiting card whenever you get the opportunity. This stage is important for you to feel a part of the community.
Top Upcoming HR Conferences In 2021 You Should Attend 
As 2021 has witnessed the rise of remote work culture and online events, HR conferences have also shifted to online platforms to make it accessible for all. We have listed down some of the major upcoming HR conferences below that you must attend:
1. The HR Southwest Conference 2021

Date: October 18th – 20th, 2021 
Location: Virtual 
Event Summary: В HR Southwest Conference, presented by DallasHR, is one of the largest regional education and networking events for HR professionals and those who sell HR services. From the convenience of your own home or workplace, attend The Virtual HR Southwest, an upcoming HR conference in 2021 that will take place on October 18–20. Earn 12 HRCI and SHRM recertification credits and participate in a live Q&A with all the presenters.
2. Optimise Your Talent Acquisition Tools and Technology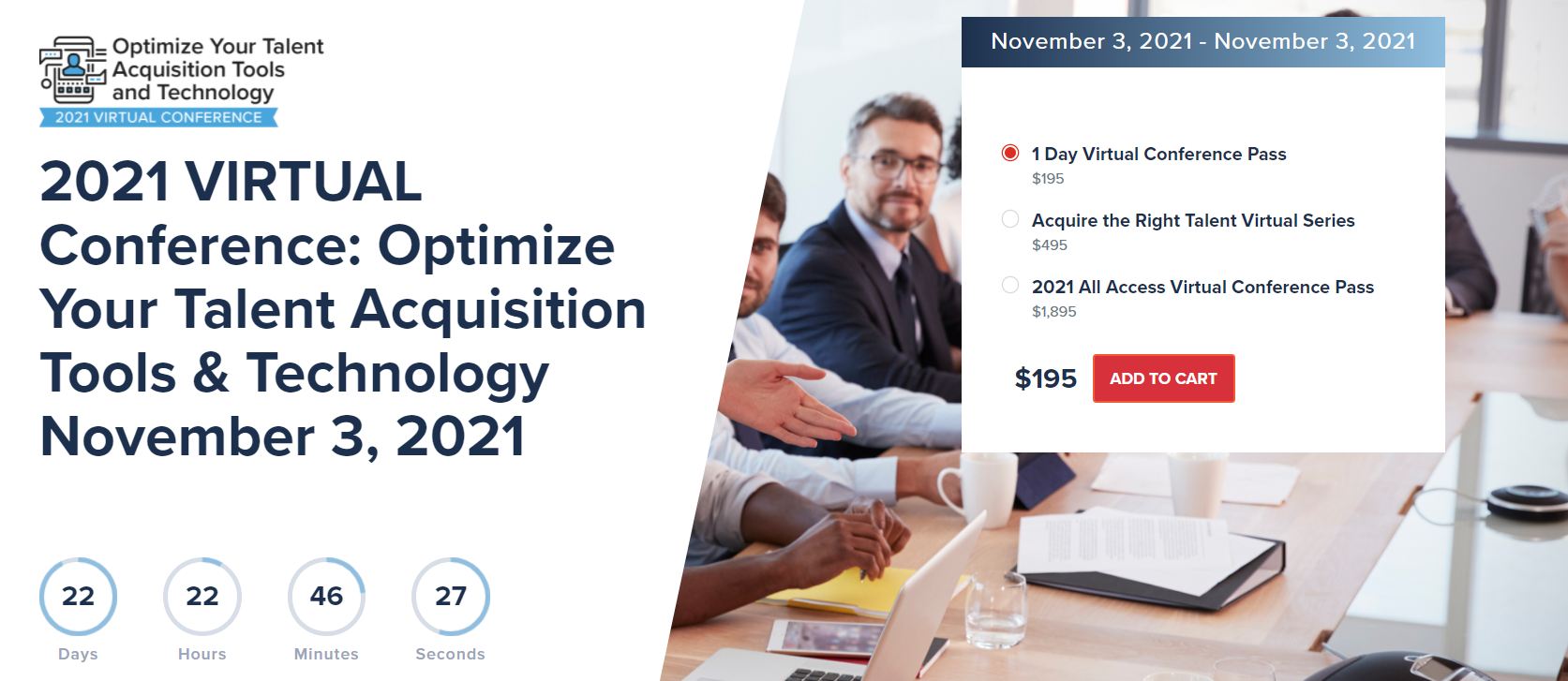 Date: Wednesday, November 3, 2021 
Location: Virtual
Event Summary: Technology is costly, and justifying the expense of desired technology to your organization can be difficult. At the same time, technology has the potential to revolutionize your hiring process. During this session, keynote speakers will teach you how to look at technology in different ways so that you can understand its full potential and acquire approval for the money you'll spend on it. 
They'll also look into free or low-cost technology that can speed up the filling process or save you time during the day. The conference, 'Optimize Your Talent Acquisition Tools & Technology', will look into the findings from both the employer and candidate perspectives in this session, highlighting what it takes to hire and retain the talent you need. It's time to go beyond the headlines and do something about it.
3. The State of HR Skills And Education 2021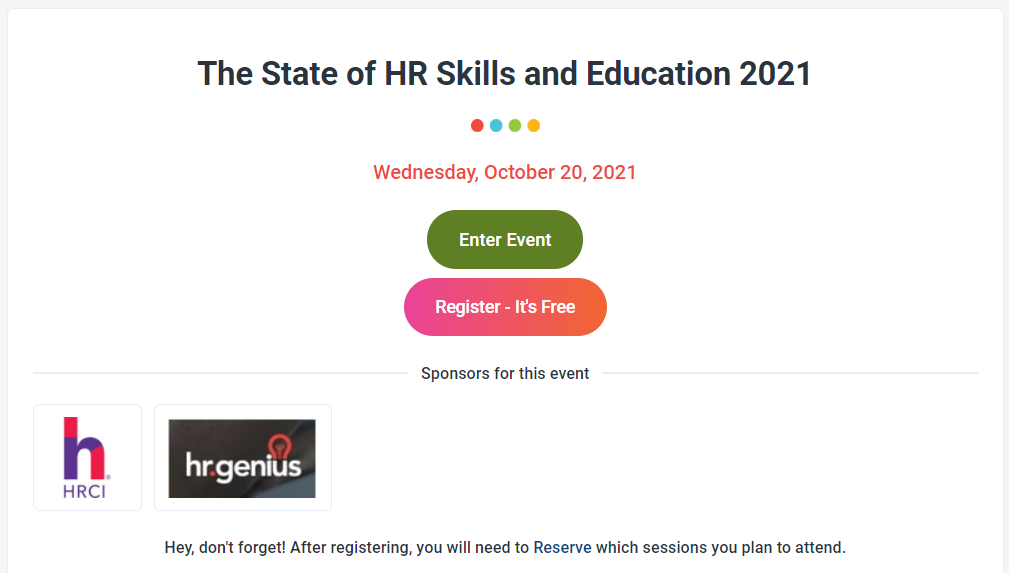 Date: Wednesday, October 20, 2021
Location: Virtual
Event Summary: This upcoming HR conference will look at today's HR professionals' qualifications, educational levels, degrees of expertise, and learning experiences at this event.
This conference, 'The State Of HR Skills and Education 2021 will focus on:
Emphasize the various degrees of education required of today's Practitioners

Review HR professionals' experiences 

Learn about the different types and quantities of certificates.

Show the amount of money spent on HR career development
4. International Conference on Human Resources, Strategies and Development ICHRSD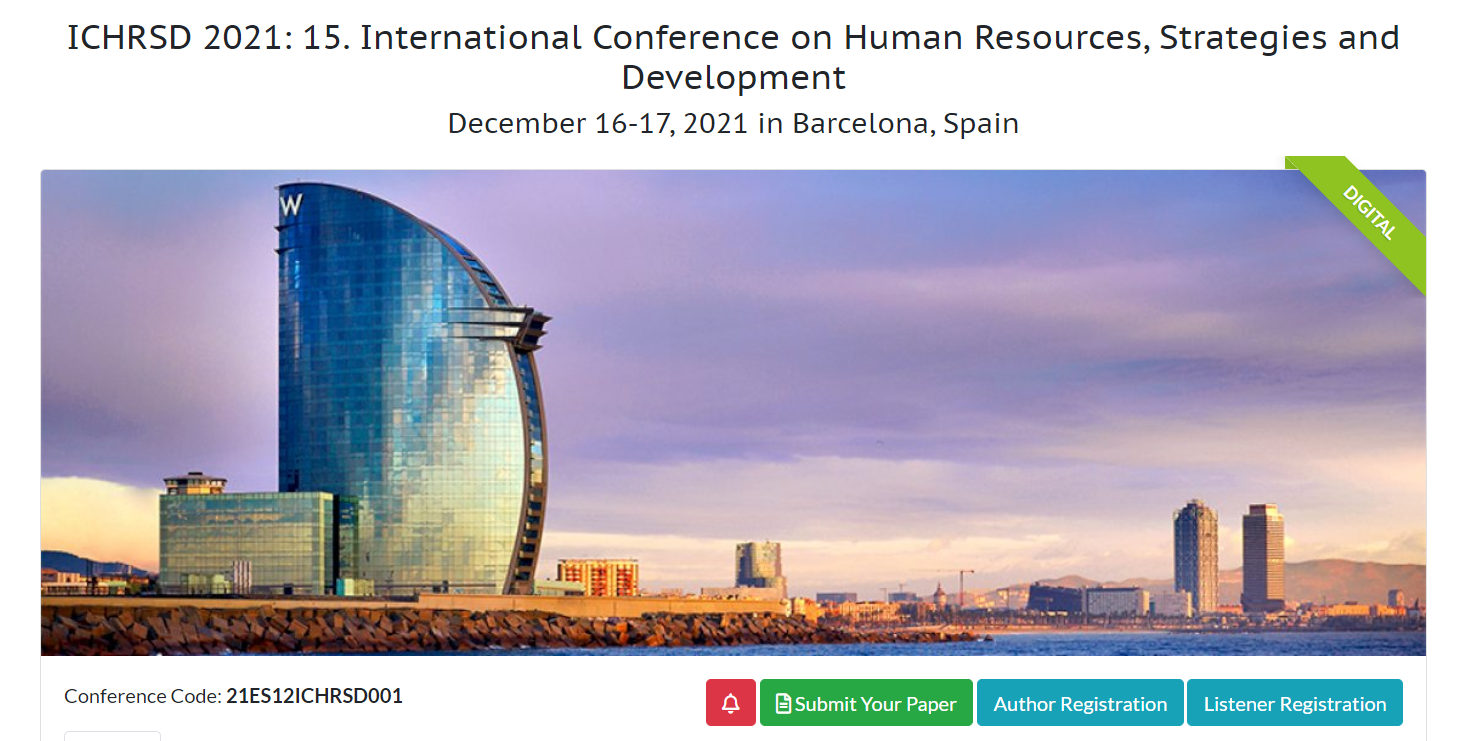 Date: December 16-17, 2021
Location: Barcelona, Spain 
Organization: World Academy of Science, Engineering and Technology
Event Summary: This upcoming HR conference will focus on HR management, HR career development and different technologies and theories of policies. International Conference On Human Resources, Strategies and Development, will excavate other human resource strategies that can power any company or business from around the world. Based on employee involvement and participation in any workplace, the keynote speakers will bring their proposals and introduce the audience to a new perspective towards HR trends from a different cultural point of view.
5. The Future Of Employee Engagement 2021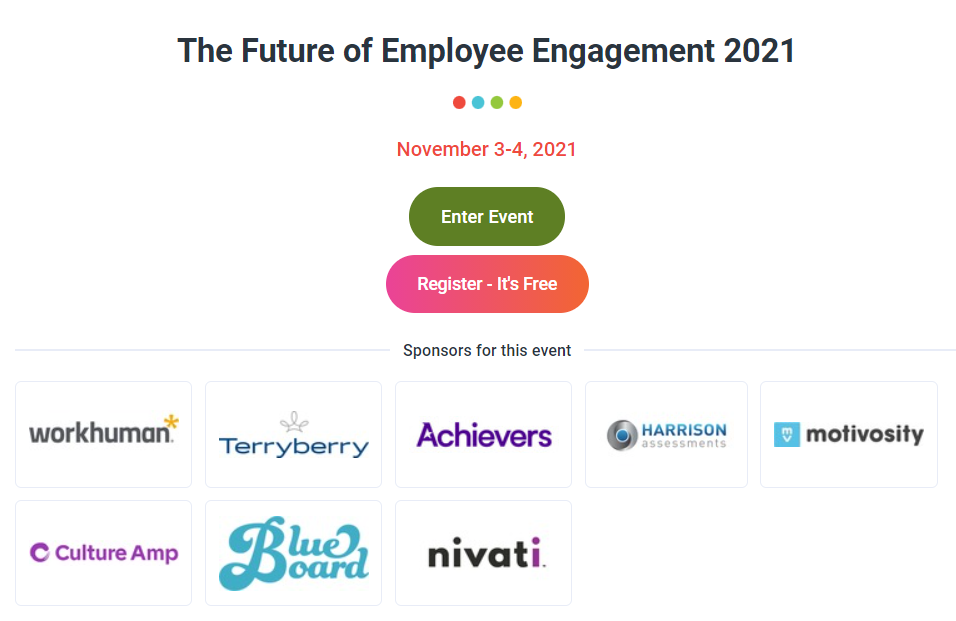 Date: Wednesday, November 3, 2021 
Location: Virtual 
Event Summary: In this upcoming HR conference you will get to learn some of the key elements. You will get tips on providing effective feedback in the workplace and how your business can improve from constant feedback. To keep your employees motivated and focused while also improving engagement among coworkers. The keynote speakers of 'The Future Of Employee Engagement 2021' will elaborate on the purpose of these issues with tips and tricks.
6. HR Virtual Summit 2021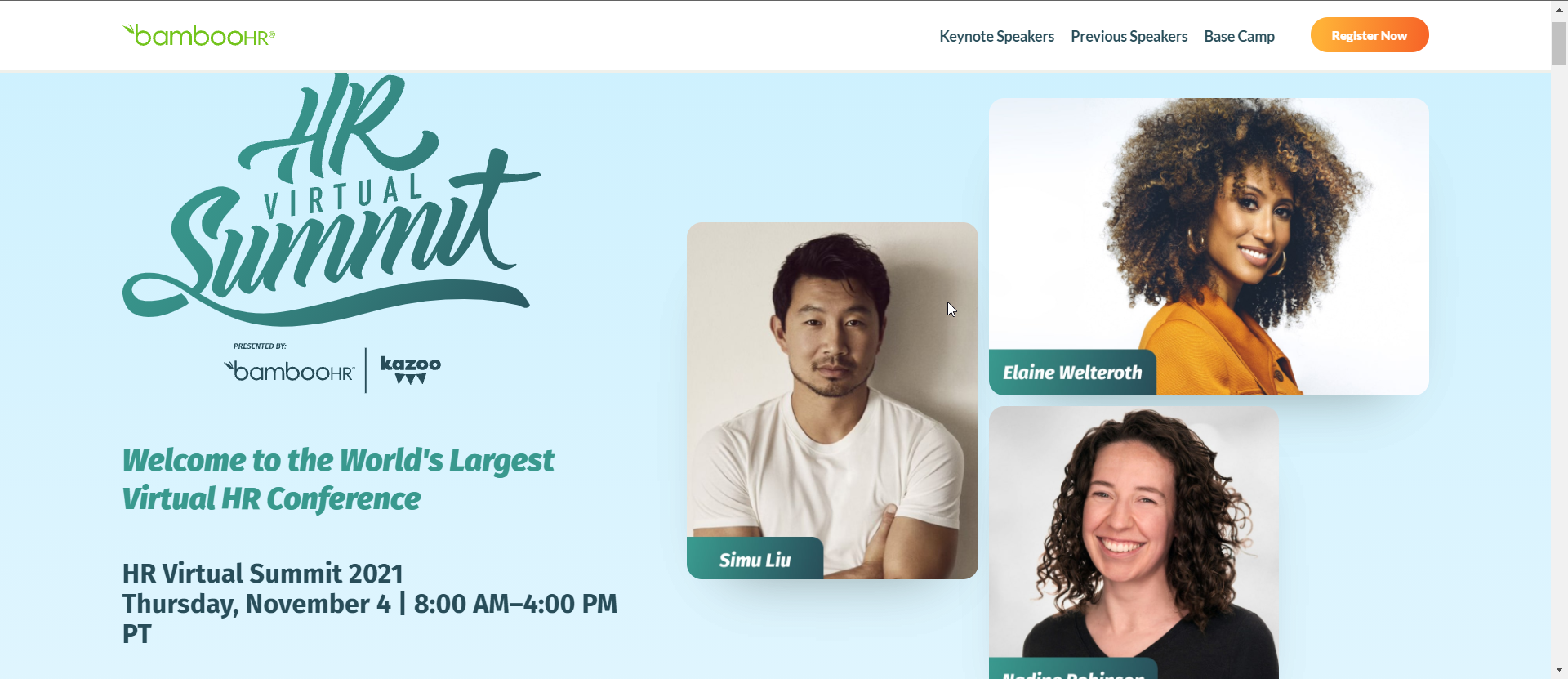 Date: November 4, 2021
Location: Virtual 
Event Summary: В HR virtual summit 2021 is the world's largest virtual summit devoted to the advancement of the HR profession. They are giving over 45,000 attendees the tools they need to break free from transactional HR practice and perform amazing work with the help of industry professionals, authors, thought experts, executive trainers, and visionaries.
7. Develop Your Future Workforce By HCI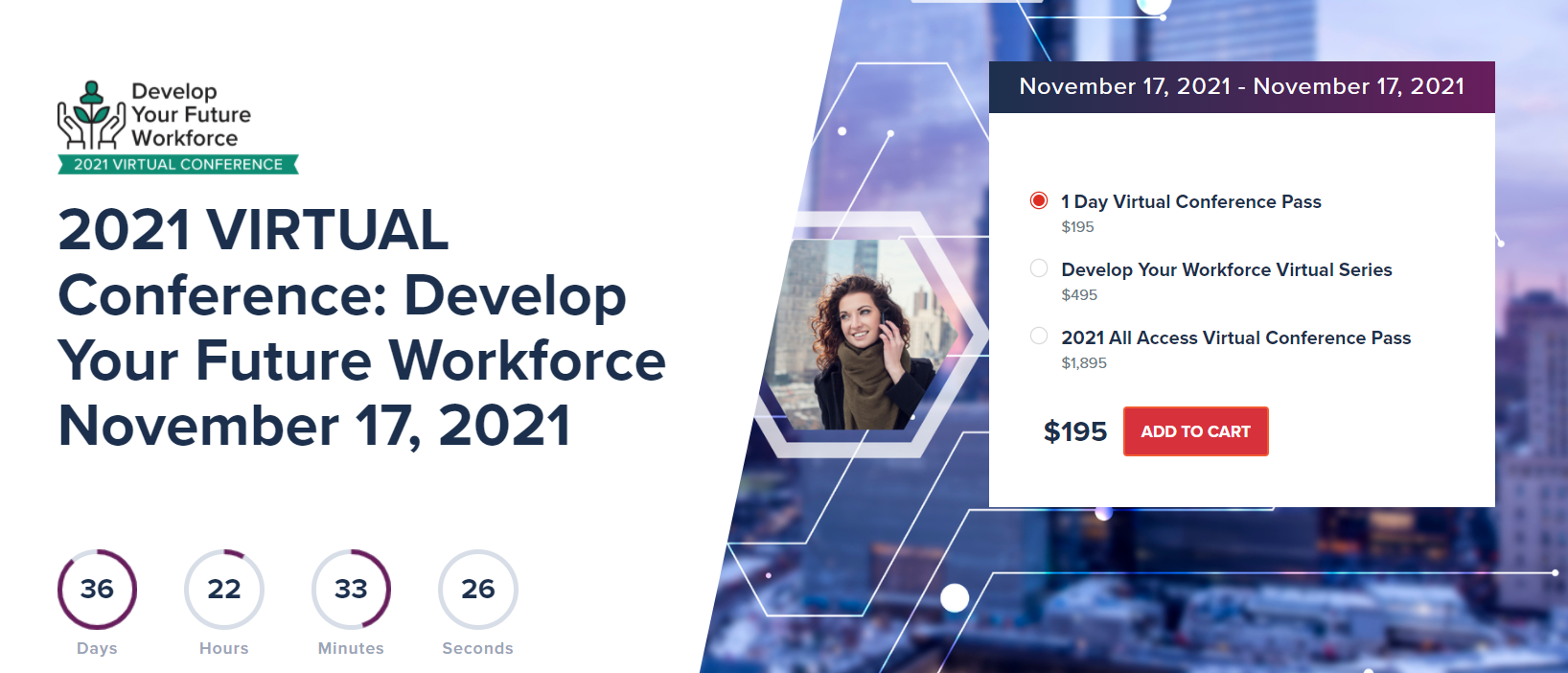 Date: November 17, 2021 
Location: Virtual 
Event Summary: In the 'Develop Your Future Workforce By HCI' event, the talk will be around understanding the technology that is dominating and changing the HR trends. To reduce the skill gap in the workplace, a thorough and better understanding of data analytics. The keynote speakers will discuss the possible tools that every HR firm can use in their own company. 
8. The State of Internal Mobility, Succession, and Career Development 2022

Date: Wednesday, November 16, 2022
Location: Virtual 
Event Summary: This upcoming HR conference called 'The State Of Internal Mobility, Succession, and Career Development' will include information on how to set up career development efforts that engage employees while also assisting them in acquiring the knowledge and skills necessary to become even more important assets to their companies. Internal mobility is difficult because when an individual moves to a new role, their old one must be replaced. Such mobility, on the other hand, can be a terrific method to keep employees and improve their overall workplace experience. 
This begins with building a culture that allows and even encourages internal movement. HR activities can contribute significantly to the development of such a culture. However, not everyone wishes to be in a position of leadership. Instead, for HR career development, they want to improve their skill sets so that they can take on new challenges, and become more valuable to the company. This upcoming HR conference 2022 will present a comprehensive overview of today's talent pools and mobility trends, as well as prospective best practices, development outlook, and how these efforts can be crucial to a company's success.
9. The State of Legal, Compliance and Employment Law 2022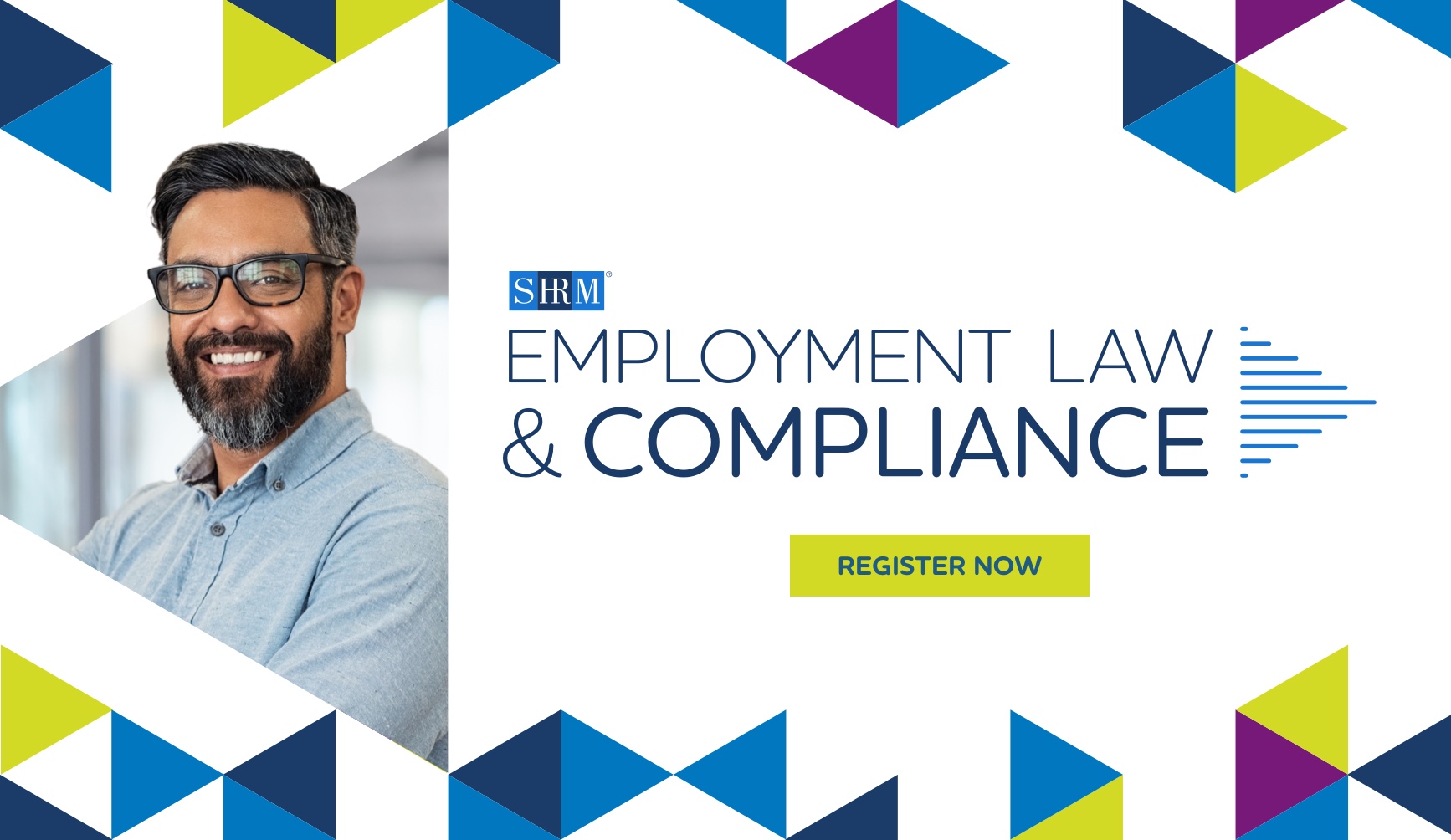 Date: Wednesday, October 26, 2022
Location: Virtual
Event Summary: The current condition of legal, compliance and employment legislation will be discussed during this one-day virtual event. To some HR professionals, this may appear to be a demanding topic because rules and regulations differ by location, can be difficult to grasp, and are frequently in transition owing to new legislation and legal interpretations. In this HR conference 2022 called 'The State Of Legal, Compliance, and Employment Law', experts will examine the current status of compliance and employment legislation from both a macro and micro viewpoint, as well as specific concerns that today's HR practitioners face. 
10. International Conference on Human Resources Development and Management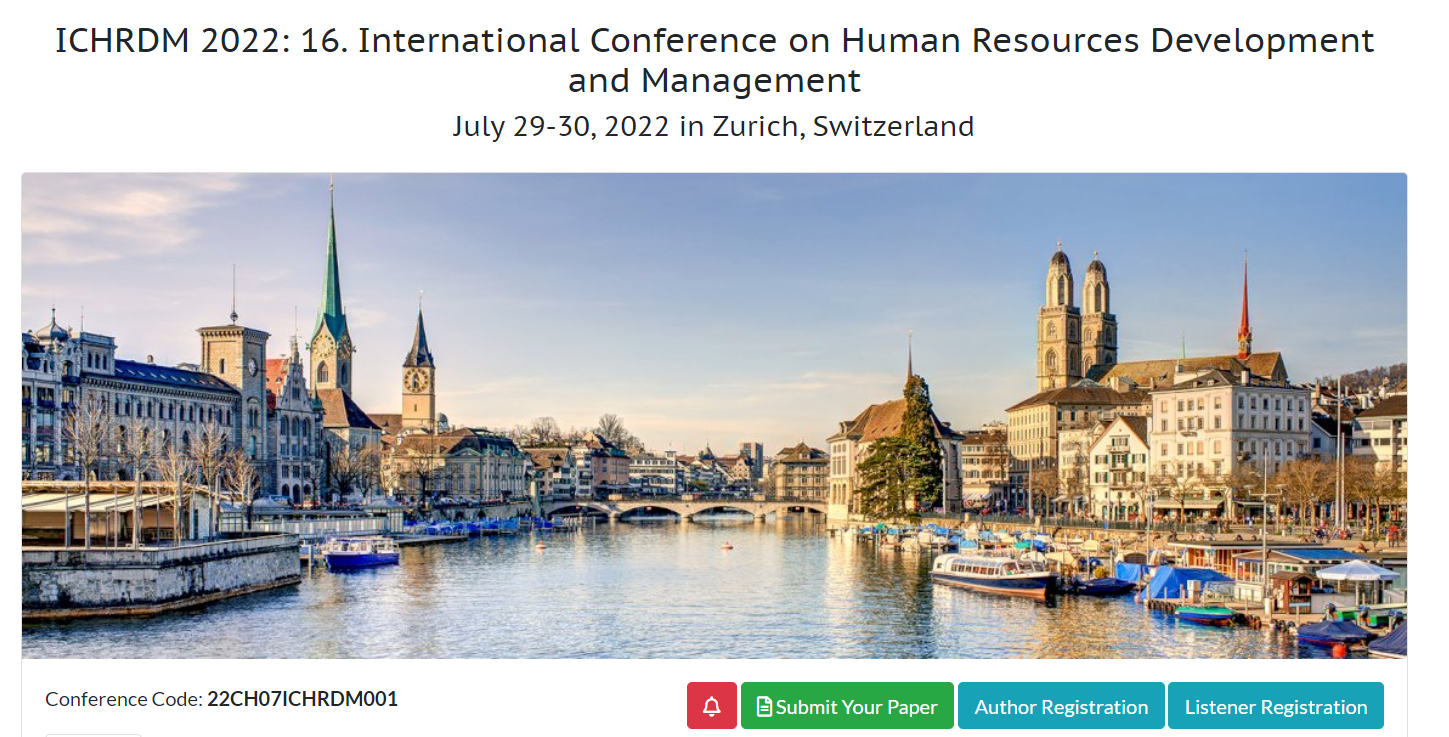 Date: July 29-30, 2022 
Location: Zurich, Switzerland
Organization: World Academy of Science, Engineering and Technology
Event Summary: Every HR department of any company needs to revise and update policy initiatives for employee management. 'International Conference On Human Resource Development And Management' will discuss training programs for the employees to make them skilled and professional. Education and training for them will be covered in this session. From cross-cultural issues at work to worker retirement issues will also be covered.
If you have decided to attend any of these upcoming HR conferences in near future, brace yourself for an amazing learning experience. Every HR conference is different from the other and offers different types of values to different companies. But if you are here to gather any type of suggestions and keep up your HR policies according to world standards, an HR conference can surely help you out in this case. 
To read more blogs like this, subscribe to our blog and share your thought by joining our Facebook community.