When it comes to hiring new employees, there are several challenges recruiters face on any given day. And now, when the Covid-19 pandemic is still affecting the job market in many parts of the world, recruiters should no longer hire through email in 2022.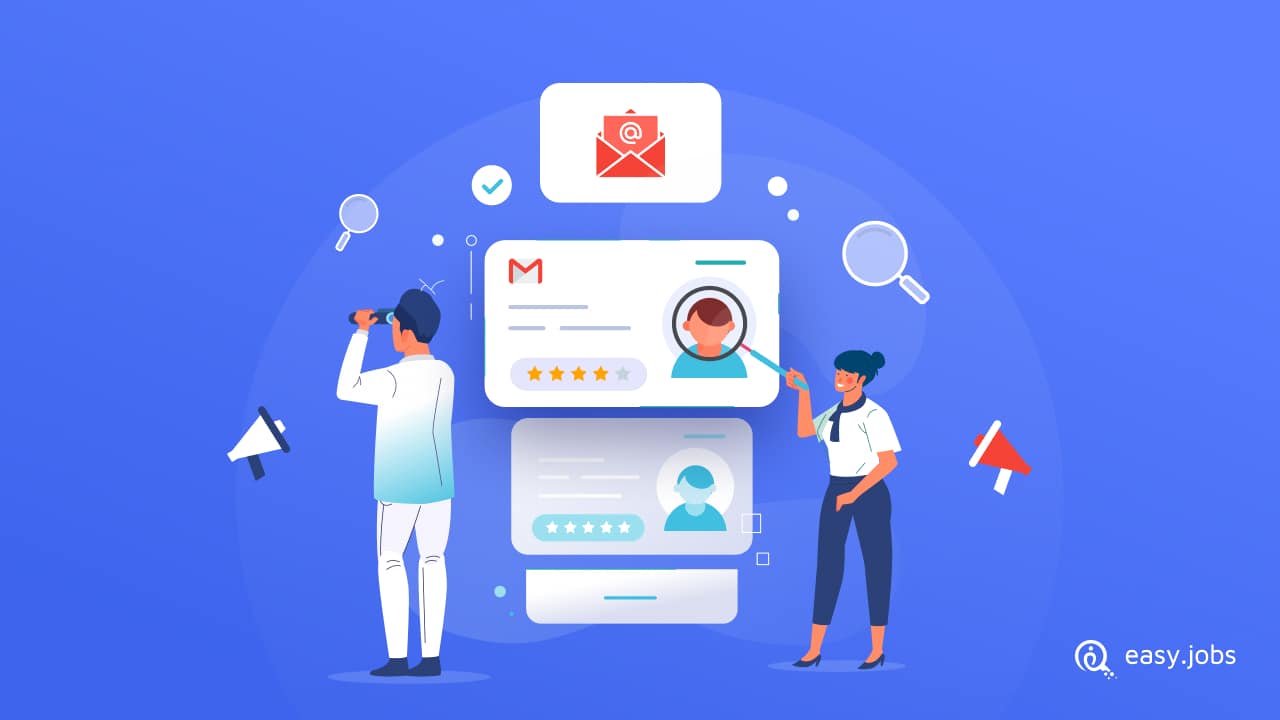 When you put up a job description for any vacancy in your company and add an email address for candidates to send their resumes to, you may come across several unexpected challenges. 
For instance, a candidate may send you their resume but in the subject line, they may not make it clear which position they are applying for. Or, they may not add all the required information you had asked for in their application. 
While these problems may seem like minor nuisances, when you are a hiring manager trying to sort through hundreds of applications to find the person for the job, these inconveniences can become a major challenge in recruitment.
Let's go a bit deeper and see some of the most common challenges you may face where you hire through email.
Common Problems You May Face When You Hire Through Email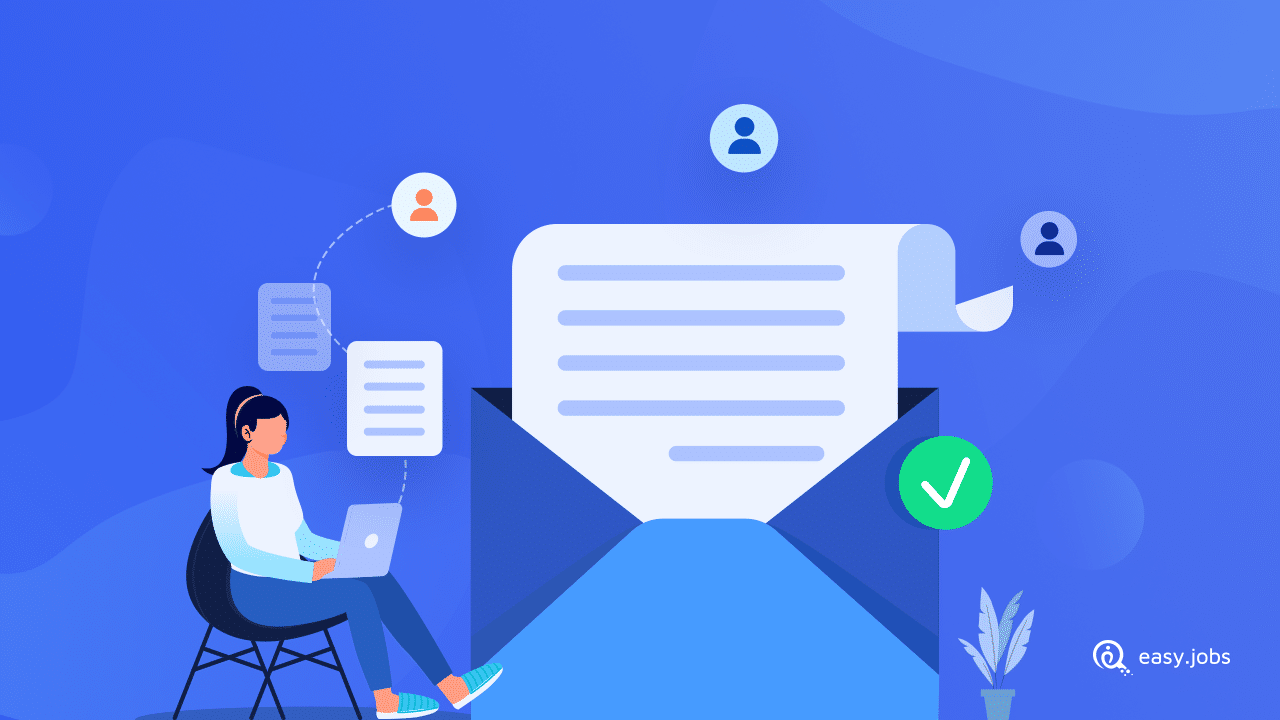 With remote recruiting becoming the norm, hiring through emails is the old-school approach to get new members on your team. Recruiters will have their inboxes flooded with emails from many interested candidates, and similarly, you should assume that candidates will also be applying to different organizations through email as well.
So what can you do to really grab their attention and attract the right candidates? That's where advanced applicant tracking systems and remote hiring solutions come in. In 2021, when competition in the job market is high, recruitment tools are the modern and better alternative to hiring via emails.
Here, we are going to take a look at some of the most common challenges you may face if you still want to hire through email and how to effortlessly overcome them with easy solutions and strategies.
1. Candidates May Not Provide All The Information You Need
As we mentioned before already, one of the reasons why it is not a good idea to hire through emails is that candidates do not always provide all the information that you need. For example, they may fail to mention which role they are applying for.
Even if you include all the required information in your job description and then add an email address for the candidate to send their resume, applicants may still not provide all the information you need to make the most accurate hiring decisions.
2. Difficult To Manage Candidates Throughout The Recruitment Process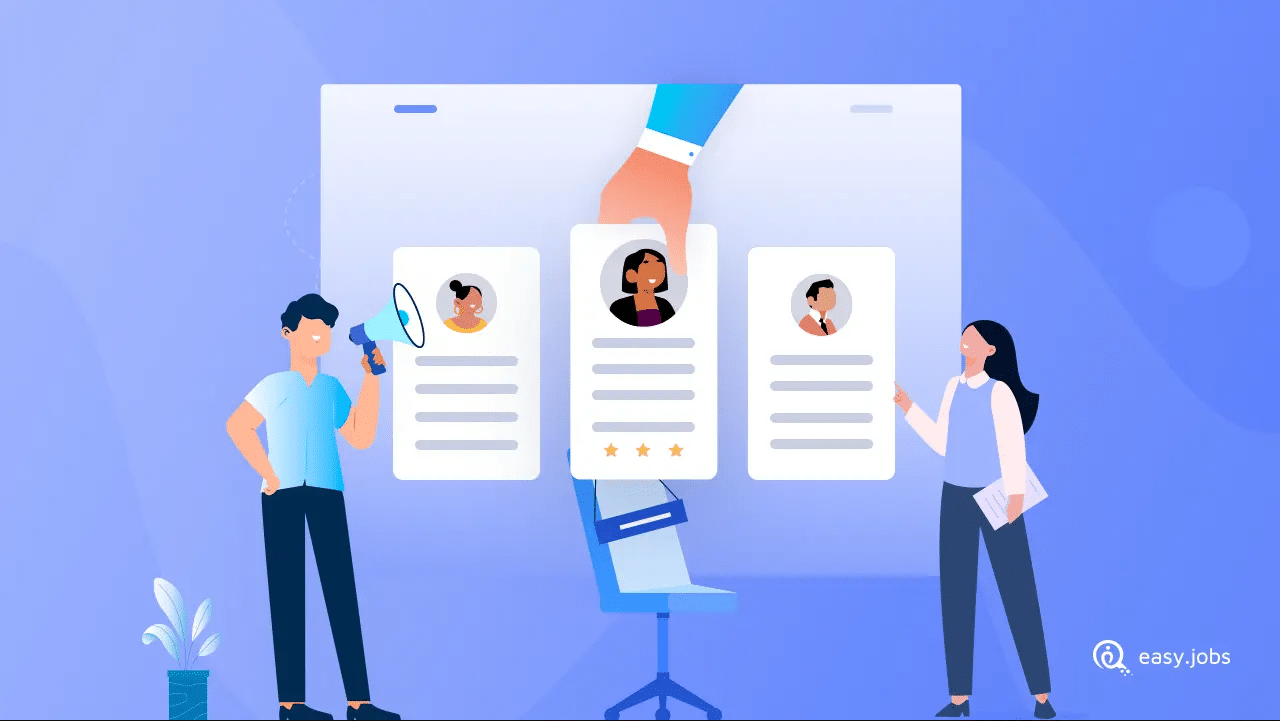 Another very common problem most recruiters face when they hire through email is managing and keeping track of candidates throughout the recruitment process.
When you are not using a remote recruitment solution, and choosing to hire through email only, it might get overwhelming to keep track of every candidate as they pass through every stage of your hiring process or 'recruitment pipeline'. It can quickly become very challenging to organize your workload then. 
3. Hiring Candidates Through Email Can Be Very Time Consuming 
Since you cannot quickly evaluate or screen candidates when you hire through email, your entire recruitment process can become too time-consuming and inefficient. 
Moreover, as your team and your company grow, you may simply not have the time to go through all the responses from candidates in your email every time they move from one stage of the hiring process to another.
In this case, sending recruiting emails just makes the hiring process needlessly long and time-consuming. 
Easy.Jobs: Best Alternative To Manually Hiring Through Emails
So what's the best, fastest and easiest alternative to hiring through emails in 2021? The answer is a smooth, streamlined, remote recruitment solution that also comes with advanced email setup features like Easy.Jobs. 
Using Easy.Jobs, you can effortlessly create email templates for every stage of the hiring process or "recruitment pipeline", and send them to your candidates in a matter of seconds. You can customize these email templates straight from your Easy.Jobs dashboard, which will help you save hours of time and make the entire recruitment process faster and more streamlined for you. 
Here are the ways you can improve your hiring process with Easy.Jobs.
Create A Detailed, Effective Job Post To Hire Candidates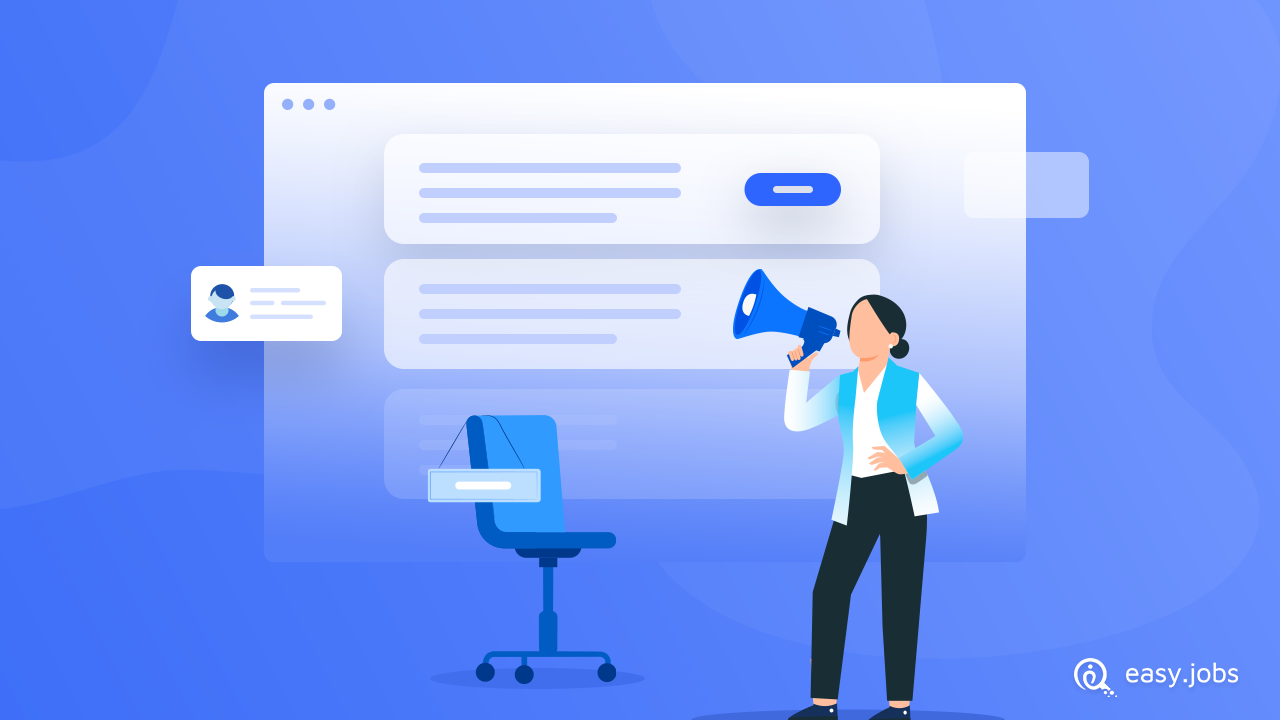 With Easy.Jobs, you can easily write a detailed, and effective job post to attract ideal candidates to apply for any vacant position in your team. It only takes a few minutes to Erstellen Sie eine neue Stellenanzeige in Easy.Jobs, and you can easily add detailed information about that job such as the location, office hours, company benefits and present all of that information neatly to attract the right candidates. 
Get All Required Information From Candidates With Their Resume
When you recruit candidates with Easy.Jobs, you can get all the detailed information about their application straight in your Easy.Jobs dashboard along with their resume. This is because when candidates apply for a position in your team through Easy.Jobs, they would have to fill up all required information you have listed in the job post.
This includes the candidate's resume, cover letter, social media profile links, detailed contact information, and more.
To view this detailed information about your candidates, you can just click on the Candidate tab from your Easy.Jobs dashboard, use the filter to see the candidates for a particular job post and then click on the 'Details anzeigen' button under the candidate's name to see more information about them.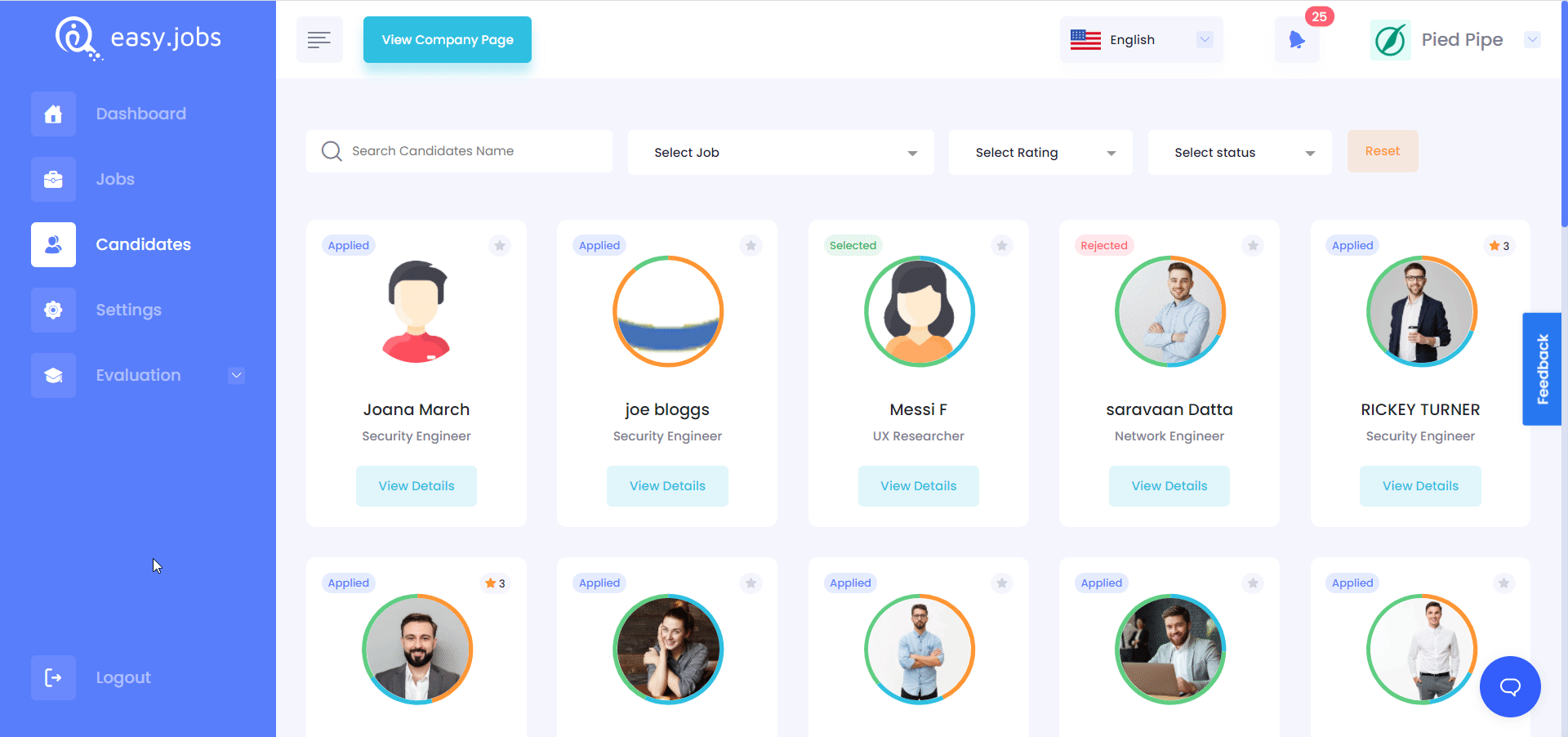 Set Up A Recruitment Pipeline To Manage The Hiring Process
When you hire through email, it can be overwhelming to manage every stage of the hiring process, especially if you are receiving many applications for a single post. This is where modern recruitment tools like Easy.Jobs come in handy. 
With Easy.Jobs, you can create a recruitment pipeline to manage and keep track of each candidate as they move through the hiring stages. Easy.Jobs comes with a default ready pipeline for you to use, but you can also create your own recruitment pipeline in a matter of minutes.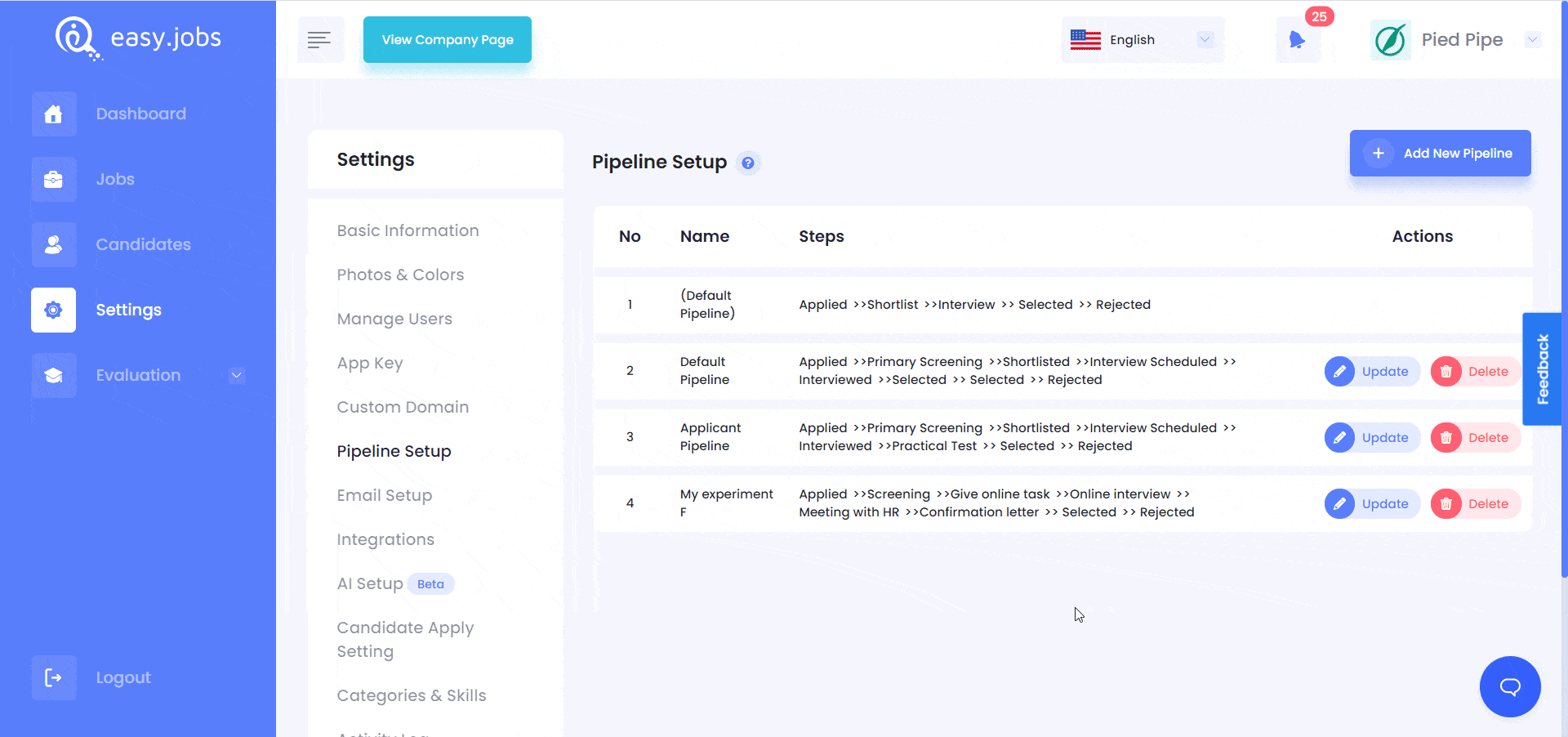 Speed Up The Hiring Process With Screening Questions & Quizzes
When you hire through email, your recruitment process can become a bit longer as you have no way to instantly screen the candidates when they apply for the available position in your team. With Easy.Jobs though, you can speed up the hiring process by adding screening questions and timed quiz sets.
When you create a new job post in Easy.Jobs, you get the option to add a screening question for the job which candidates would be required to take in order for their application to be complete. 
You can choose to create the screening questions when you are creating a new job post, or you can create question sets in advance and simply select one as your screening question set when you are creating the job post.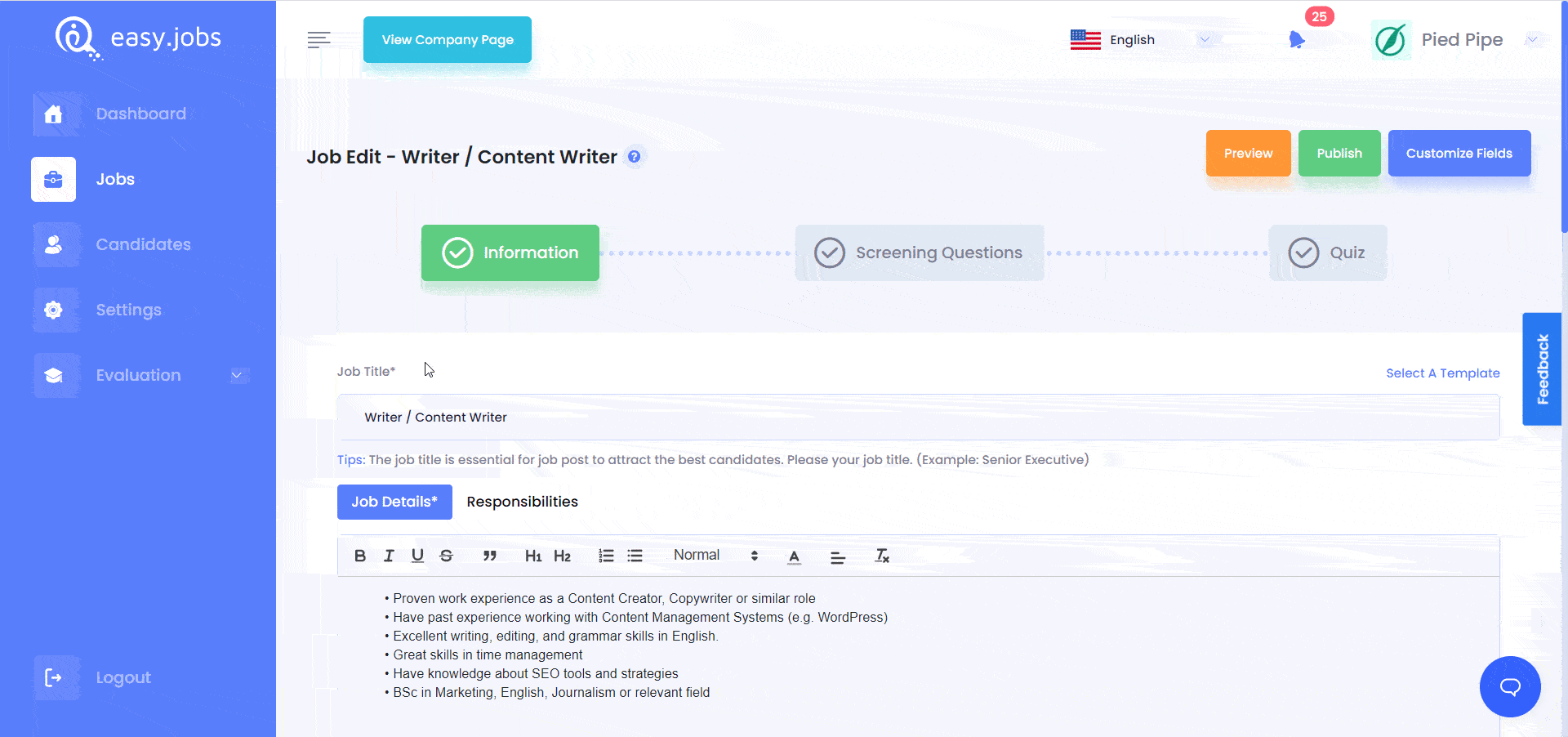 Similarly, you can also create and add timed, marked quizzes for your candidates which they will have to participate in when they apply to a job post in your company. When you hire through email, you would not have been able to quickly sort the applicants and would not have been able to make more accurate hiring decisions.
Invite Candidates For Assessment & Interviews From Your Dashboard
While you can assign assessments to candidates or invite them for interviews when you hire through email, wouldn't it be more convenient to be able to do that in one place? That's where Easy.Jobs can help. 
With this advanced hiring solution, you can both create an assessment and also invite candidates to take the assessment without ever having to leave your dashboard. What's more, you can also set or change the assessment expiration date, and also view the assessment score of a candidate straight from Easy.Jobs.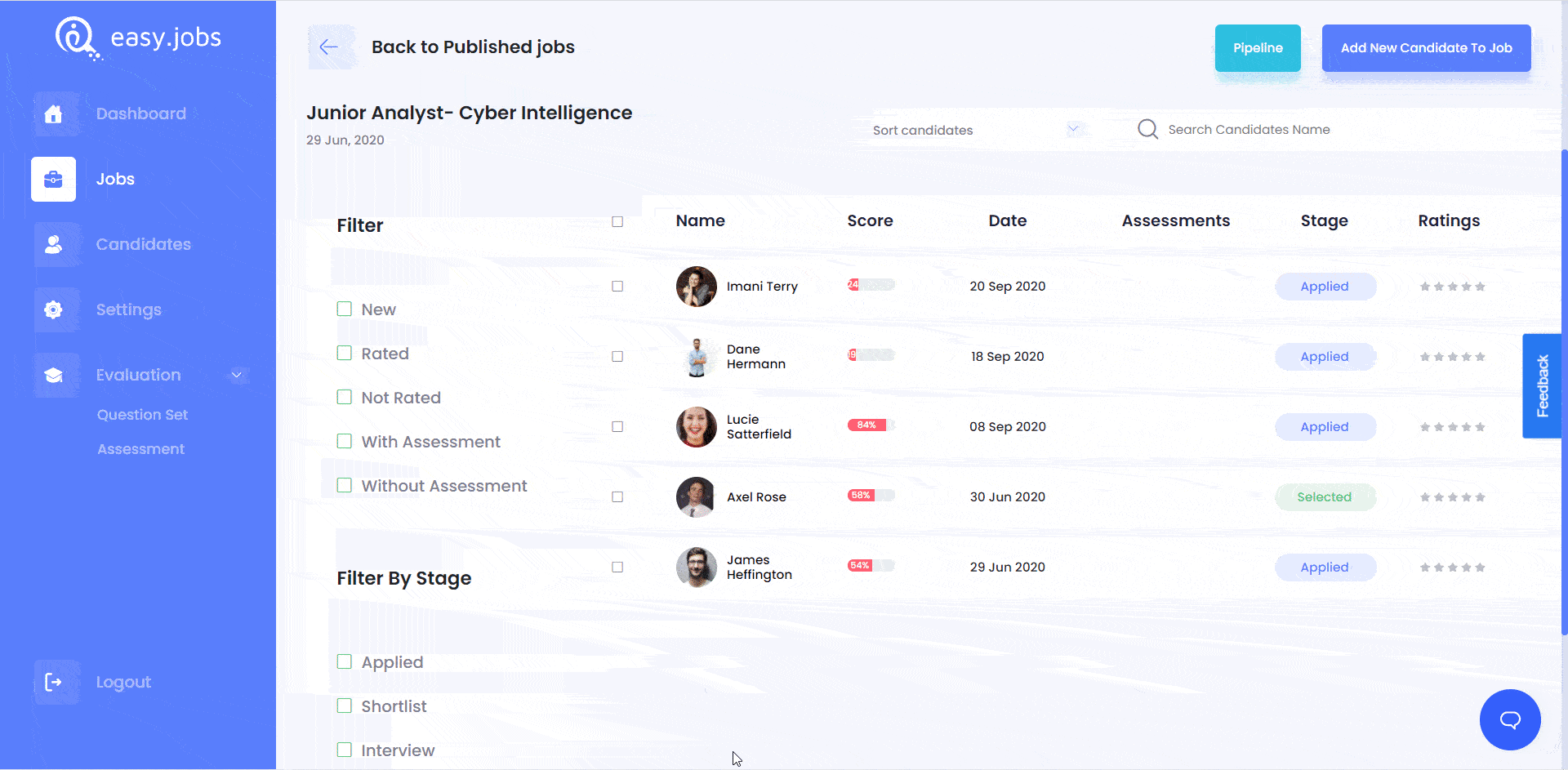 More Tips & Tricks To Improve Your Hiring Process With Easy.Jobs
As you can see, there are several challenges that you may face when you hire through emails, and the easiest way to overcome these challenges is by using applicant tracking systems or remote recruiting solutions like Easy.Jobs. With this modern hiring tool, you can find and onboard the right talent faster and make better hiring decisions.
Here are some more ways you can improve your talent sourcing or hiring strategies with Easy.Jobs.
Streamline The Entire Workflow & Manage Everything From One Place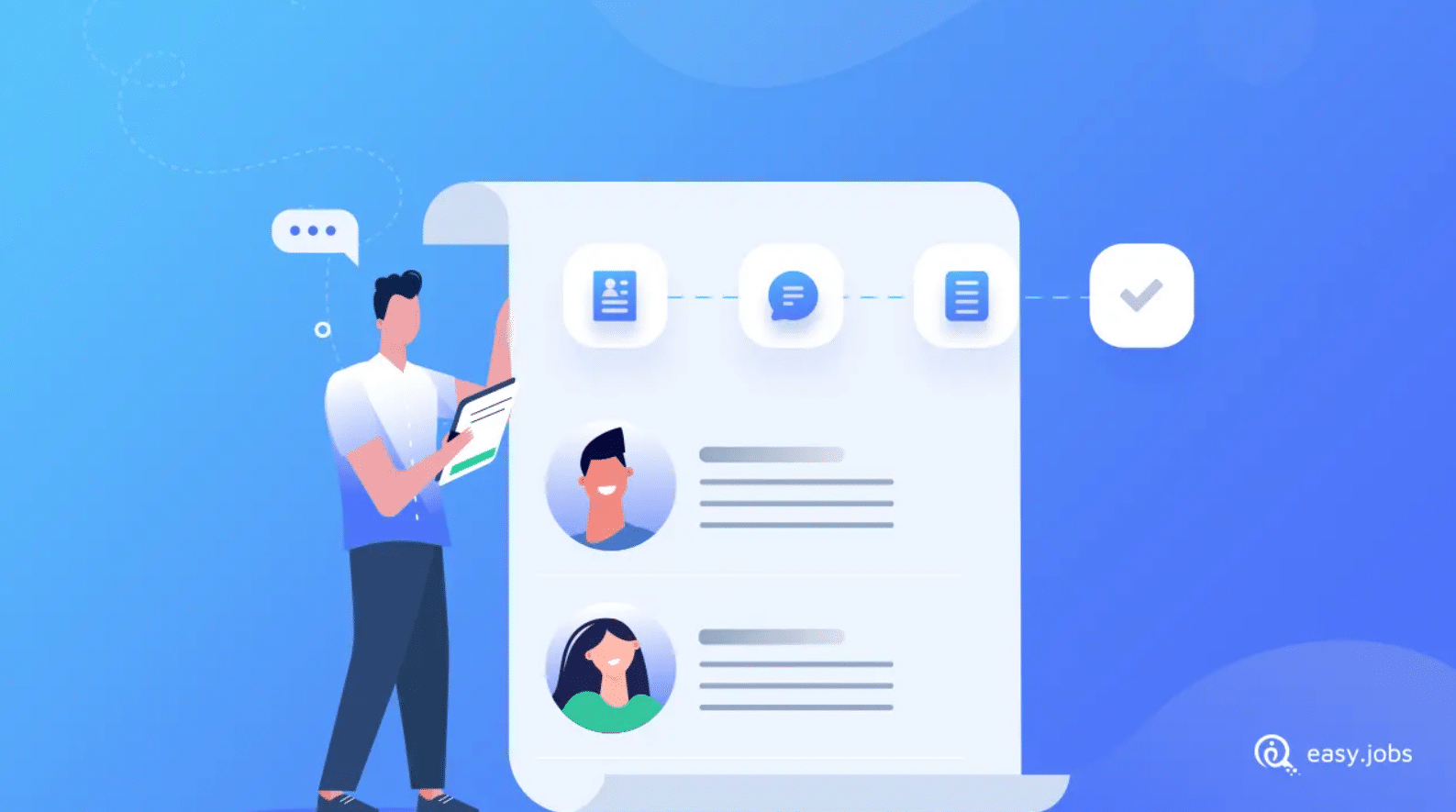 The best thing about Easy.Jobs is that you can manage your entire hiring workflow all in one place. From your dashboard, you can get a quick overview of your published job posts, the candidates who have applied, your recruitment analytics and much more.
You can easily create a branded career site, add new job posts with ready templates, prepare question sets and assessments and communicate with hiring managers and candidates alike, all in one place with Easy.Jobs.
Measure The Performance Of Your Job Board With Analytics Tool
If you cannot measure the performance of your job posts, then you will not be able to understand how you can improve your recruitment strategies. And to help you do that, Easy.Jobs come with a built-in analytics tool that lets you quickly see how many candidates have viewed your job postings, how many have applied to job vacancies and much more during any given period of time.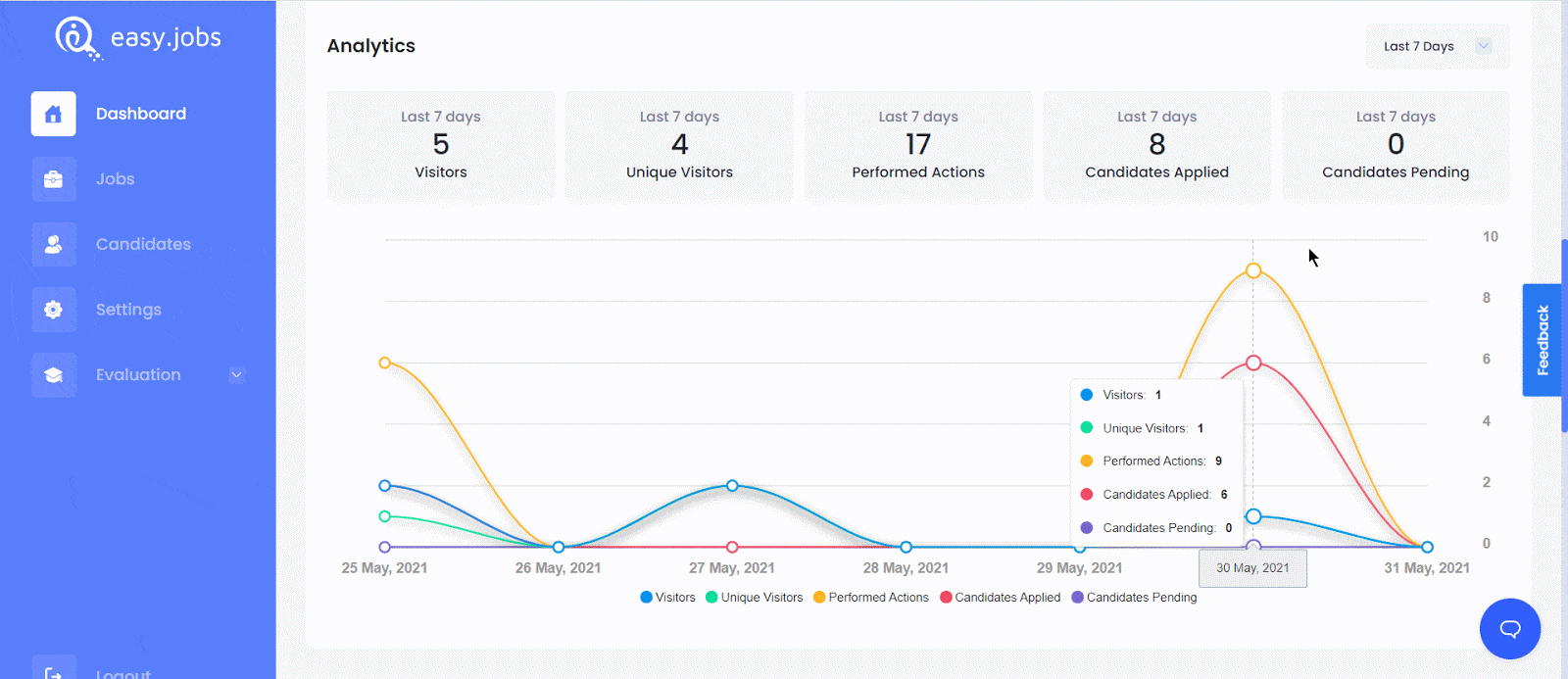 Evaluate Candidates Effortlessly With AI-Powered Screening Systems
In addition to all of these, using Easy.Jobs you can also effortlessly evaluate candidates and make more accurate hiring decisions with its advanced AI powered screening system. 
Easy.Jobs AI will evaluate every applicant's resume, their scores during screening tests, assessments and quizzes, and assign them a weighted average score. Based on these scores, you can quickly evaluate and sort your applicants and make faster hiring decisions.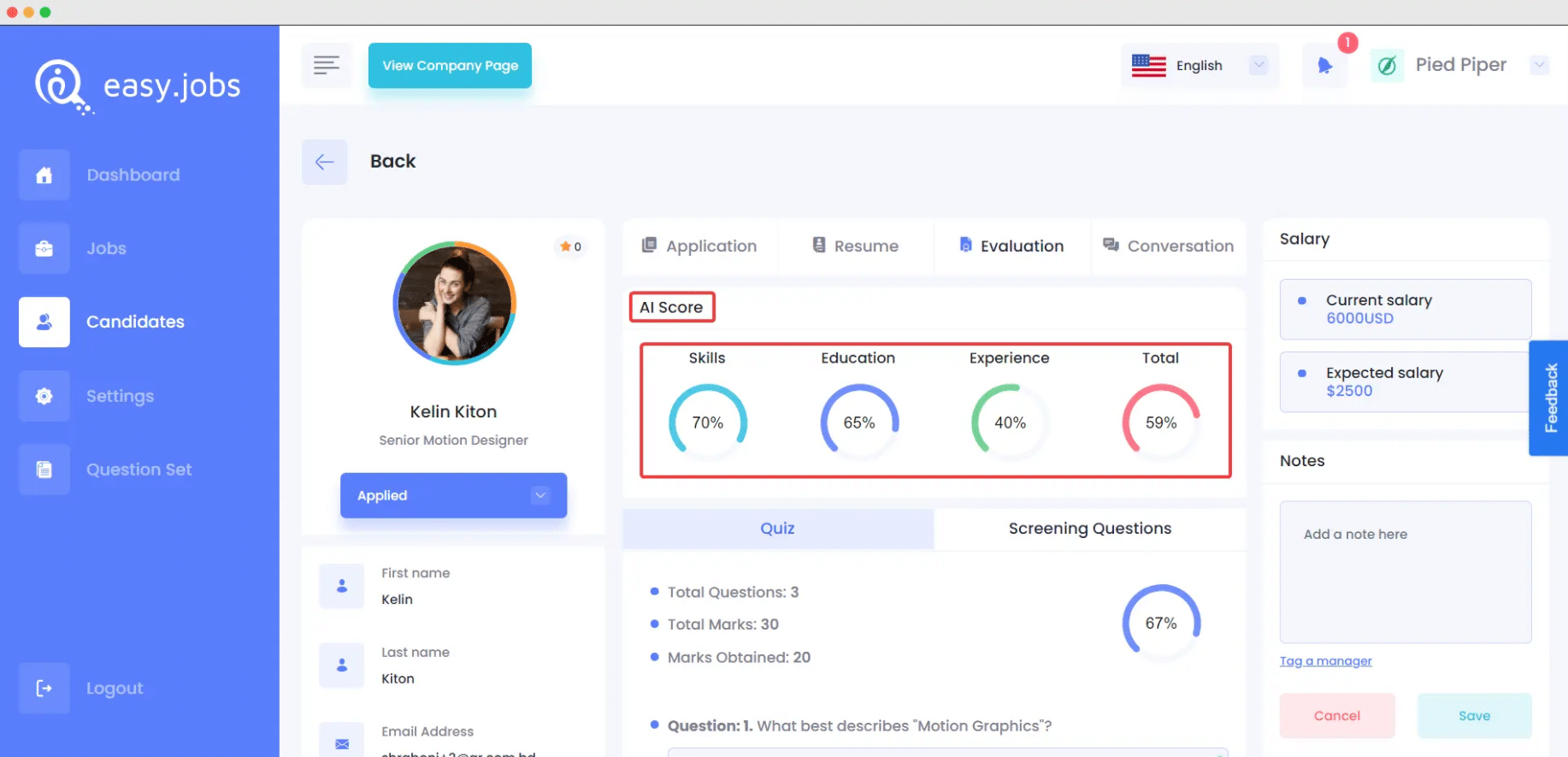 Grow Your Team With Easy.Jobs Advanced Recruiting Solution
Now that you know the problems that come with hiring via email, why not get started with Easy.Jobs and onboarding the right talent faster? Try out all the features of Easy.Jobs for free, or check out our flexible pricing plans starting from $9.99 per month only.
Enjoyed this post? Subscribe to our blog for more remote hiring tips and tricks, fun tutorials and updates; or join our friendly Facebook-Community.